October, 31, 2013
10/31/13
8:00
AM ET
ALAMEDA, Calif. -- Confidence is not one of
Oakland Raiders
quarterback
Terrelle Pryor
's shortcomings.
Because while it did not have the same ring or feel as another signal-caller from western Pennsylvania sitting poolside in Miami in 1969, Pryor did have a pseudo-Joe Willie Namath moment.
"I mean, this isn't a potential four-win team," Pryor said. "We're definitely going to get to four wins. That part's easy. I'm not worried about that."
Say what? Pryor, who has started all of seven games in his nascent NFL career and is 3-4, is guaranteeing wins now? And for a rebuilding team coming off a 4-12 season?
[+] Enlarge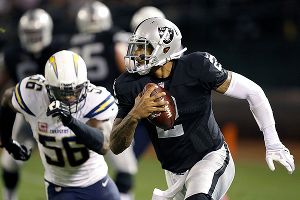 AP Photo/Ben Margot"Whether it's this week or next, we're going to get to four wins and get a lot more wins, I guarantee that," Terrelle Pryor said.
Well, um, yeah.
"Whether it's this week or next, we're going to get to four wins and get a lot more wins, I guarantee that," he added. "If we work our butts off, it's only clear for us to win, and I expect that from every team in the NFL to think like that.
"For as hard as they all work, I expect them to believe that they're going to get more than four wins, more than eight wins. That's my mindset, and that's guaranteed."
So there.
No one can question Pryor's work ethic ... or his running ability. Least of all the incoming
Philadelphia Eagles
, whose rookie head coach once unsuccessfully recruited Pryor to Oregon.
"I thought he could be a college quarterback because I'd seen him work, and I know how important playing quarterback was to him," Eagles coach Chip Kelly said on a conference call with Bay Area reporters. "A lot of people were telling him that he was a really good athlete and that he could do anything, but Terrelle was always driven to be a quarterback, which is an awesome thing.
"I've seen him play quarterback for a while -- I lost to him in the Rose Bowl [in 2010] when he played quarterback at Ohio State. He threw the ball on us then. I think he's starting to develop, and we're excited about the challenge of facing him."
But as tempting as rocking the Ducks' ever-evolving gear was, Eugene was simply too far from Pryor's hometown of Jeannette, Pa.
There was also, as Kelly talked about, Pryor's desire to play under center beyond college.
"How many quarterbacks have they developed that have made it to the league? How is their offense run?" Pryor remembered thinking. "You don't see a lot of quarterbacks from their system make it into the NFL because of their style of play versus the style of the NFL. You don't learn how to drop back and run plays, you just look at the sideline and learn.
"I came from a high school like that, so I had to make a grown-man decision when I was 18 and go to Ohio State because they had a lot of pro-style stuff and protection stuff that I knew I had to get caught up on. So, that's why I made that decision."
In six games this season -- Pryor missed the Washington loss on Sept. 29 because of the concussion he suffered six days earlier at Denver -- he has thrown for 1,149 yards on 63.1 percent passing (99-of-157) with five touchdowns and seven interceptions for a QB rating of 77.2.
Pryor is also the Raiders' leading rusher with 391 yards on 53 carries, including his record-breaking 93-yard sprint Sunday against the
Pittsburgh Steelers
that was the longest TD run by a quarterback in NFL history as well as the longest run from scrimmage in Raiders franchise history, eclipsing Bo Jackson's 92-yarder in 1989.
That it came in a victory over his hometown team and childhood idols in the Steelers was gravy.
Is there anything to glean from facing another Pennsylvania team in the Eagles in consecutive weeks?
"I don't even think of it like that, which you could," Pryor insisted. "It was big to get it against the [Steelers], bragging rights a little bit ... but Philadelphia is four or five hours away. It's not very relevant to me.
"I just think getting any win in the NFL is fantastic, and we need to do that. No matter who we're playing, it's going to be the same feeling. Winning is winning, and it's better than losing, no matter who we're playing."
Guaranteed.
March, 19, 2012
3/19/12
4:15
PM ET
After spending 14 years in Indianapolis as the face of the Colts,
Peyton Manning
is poised to join the
Denver Broncos
.
Manning will turn 36 on Saturday. Thanks to ESPN Stats & Information, here is a list of other notable quarterbacks who changed teams late in their careers:
Norm Van Brocklin
Traded to the Eagles after playing nine seasons for the Rams. Won the NFL title in 1951 with L.A., then finished his career in 1960 leading the Eagles to the NFL championship.
Fran Tarkenton
Traded from Vikings to Giants in 1967 and back to Vikings in 1972. Multiple draft picks were involved each time.
Johnny Unitas
Purchased by the Chargers prior to the 1973 season after 17 illustrious seasons in Baltimore. Lasted only five games with the Chargers before retiring.
Joe Namath
Signed with the Rams after being waived by the Jets in 1977. Played only four games in L.A.
Twelve seasons with Jets
Record of 2-2 in one season as the Rams' starter in 1977
Joe Montana
Traded from 49ers to Chiefs in 1993 for a first-round draft choice. Played two seasons with Chiefs, taking them to 1993 AFC Championship Game.
Thirteen seasons with 49ers
Record of 17-8 in 2 seasons as Chiefs starter in 1993-94 (lost conference championship game in 1993)
Drew Bledsoe
Traded from Patriots to Bills in 2002 for a first-round draft choice. With
Tom Brady
taking over in New England, Bledsoe was dealt to a division rival where he started every game in three seasons with the Bills.
Brett Favre
Traded to Jets after 16 seasons in Green Bay. Spent one year with the Jets before joining Minnesota for two seasons.
9-7 with Jets in 2008 (led NFL with 22 interceptions)
17-12 in 2 seasons as Vikings starter in 2009-10 (lost Conference Championship game in 2009)
Donovan McNabb
Traded to Redskins after 11 seasons with Philadelphia. Spent one season in Washington before going to Minnesota.
October, 26, 2008
10/26/08
12:58
PM ET
Posted by ESPN.com's Bill Williamson
EAST RUTHERFORD, N.J. - Pregame buzz:
Jets receiver Laveranues Coles (hamstring, concussion) will start against visiting Kansas City.
Jets tight end Bubba Franks is inactive because of a groin injury.
Chiefs' running back Larry Johnson is inactive today against the Jets. It's the second straight game he has been deactivated. Chiefs coach Herman Edwards is punishing him for off-field issues.
After heavy rains Saturday, it is clear skies in the East Rutherford area and weather should not be an issue for the Jets-Chiefs game.
The Chiefs' plane was delayed a couple of hours Saturday flying into the New Jersey area because of inclement weather.
Several members of the Jets' Super Bowl III team, including quarterback Joe Namath, were in the press box prior to the game.
Former Chiefs coach Marty Schottenheimer is here. His son Brian is an assistant for the Jets.
Interesting development in Baltimore where Oakland running back Darren McFadden has been deactivated because of turf toe. He has been dealing with the injury since Week 2 at Kansas City. Coincidentally, that was his best game. Turf toe can bother a player for an entire season and perhaps this is going to be the case for the No. 4 overall pick of the 2008 draft.
Receiver Chad Jackson is still on target to sign with Denver tonight. He has a flight scheduled to land in Denver on Sunday evening.