October, 28, 2013
10/28/13
12:30
PM ET
A review of four hot issues from the
Kansas City Chiefs
'
23-17 win
against the
Cleveland Browns
:
[+] Enlarge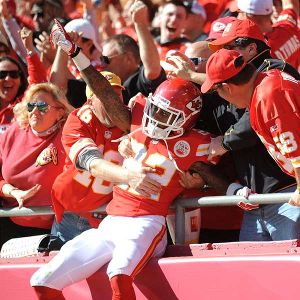 Denny Medley/USA TODAY SportsChiefs WR Dexter McCluster celebrates with fans his first receiving touchdown of the 2013 season.
Slowing Hali:
With five sacks in his previous two games, outside linebacker
Tamba Hali
had been one of the hottest pass-rushers in the league before he ran into Cleveland tackle
Joe Thomas
. Hali was held without a sack for the first time in six games. "Joe is a good player," Hali said. "You could say he's a great player. It's tough to beat him one-on-one. At times, I felt like I won some of the battles [but] the ball was coming out fast."
Sacking Smith:
The Browns sacked Chiefs quarterback
Alex Smith
six times, setting a season high for a Chiefs opponent. The Chiefs can help Smith by using his mobility and moving him from the pocket. Smith has the ability to throw accurately on the run. "A little bit of that is on me trying to make some plays in the pocket on third down," Smith said. "Of course, protection is important, but I don't think that was the sole [problem]." Smith has been sacked 24 times in eight games and hasn't gone one game without being sacked this season.
McCluster's big day:
The Chiefs have been looking for offensive production that comes from someone other than
Jamaal Charles
, and they got it from slot receiver
Dexter McCluster
. He led the Chiefs with seven receptions for 67 yards (both season highs for him), and scored his first receiving touchdown on a 28-yard catch from Smith. For the Chiefs, maybe the most encouraging of McCluster's stats was this: He caught seven of the 10 passes Smith threw his way. Previously, throwing McCluster's way had been a low percentage move for Smith. Before Sunday, McCluster had caught just 16 of the 31 passes thrown his way.
Looking toward the record book:
The Browns scored 17 points, tying a season high for Chiefs opponents. Tennessee also scored 17 against the Chiefs on Oct. 6. In Sunday's game in Buffalo, the 8-0 Chiefs can tie the NFL record for consecutive games of holding opponents to 17 points or fewer (held by the 1977
Atlanta Falcons
). The Chiefs' streak of eight is tied for second in league history with the 1970
Minnesota Vikings
and the 1971
Miami Dolphins
. Opponents have scored only 98 points against the Chiefs this season, but that's just fifth-best through eight games in franchise history.
December, 6, 2012
12/06/12
6:35
PM ET
This is what happens when a team is 4-8 in a season that it must make the playoffs.
Reports of demise flood in.

In the latest evidence that coach Norv Turner and general manager A.J. Smith are entering their final four games with the team,
U-T San Diego reported
that ownership has decided to fire both. The report said that the decision to fire Smith has come after the decision to ax Turner, but both will suffer the same fate. This jibes with what ESPN's Chris Mortensen reported Sunday.
This is no surprise and few in San Diego will complain. In our AFC West poll this week, a whopping 94 percent voted that both Turner and Smith should go. The two were given a surprising reprieve last year. That won't happen this year after yet another disappointing season.
Like Mortensen did, U-T San Diego reported that San Diego personnel man Jimmy Raye will take over for Smith. The Chargers will search for a new coach in January.
What's left for Turner and Smith in San Diego? Four more uncomfortable weeks.
UPDATE:
San Diego owner Dean Spanos just released this statement: "There is only one person in this organization who will make those decisions and that's me, and I haven't shared my thoughts with anyone. I will make my evaluations at the end of the season. Anything coming out now -- from sources or otherwise -- is pure speculation."
In other AFC West news:
December, 6, 2012
12/06/12
12:25
PM ET
U-T San Diego reports
Vincent Brown likely won't play until next year. He broke his ankle in the preseason. Brown finished last season strong and he was great in training camp. The San Diego offense has missed him.
There is hope for the future though with Brown and flier Danario Alexander, who has been tremendous since being signed at midseason. That likely won't help coach Norv Turner, but there is some potentially strong firepower in San Diego.
In other AFC West news:
Kansas City Chiefs running back Peyton Hillis
will not get a welcome
from left tackle Joe Thomas in Cleveland. Thomas said Hillis let his contract situation become a distraction to the team. He left the Browns for a one-year deal in Kansas City this year.
KC Joyner writes why

the Broncos are a serious threat in the AFC.
The Chiefs put defensive end Allen Bailey on the injured reserve and signed linebacker Leon Williams. Williams was with the team in camp.
June, 14, 2011
6/14/11
1:00
PM ET
The AFC West fared well in our left tackle Power Rankings, which were released Tuesday.
Denver's
Ryan Clady
finished third behind Cleveland's
Joe Thomas
and Miami's
Jake Long
. Thomas beat Long by one voting point, 76-75. Clady was a distant third with 55 points. San Diego's
Marcus McNeill
was tied for eighth with 20 points. No other AFC West left tackles received a top-10 vote. Fifteen left tackles received votes.
I voted Clady third and McNeill ninth.
Clady is an elite player, who is growing. I could see him on the top of this list soon. He is one of the best things going for Denver as it rebuilds.
McNeill is not at the level where Clady is, but he is an upper-echelon player at a key position. The Chargers missed him when he held out early in the season and the team was smart to extend his contract.
I also like the other two left tackles in the division, Kansas City's
Branden Albert
and Oakland's
Jared Veldheer
. Both players have potential to reach this list at some point. Albert is entering his fourth season and Veldheer was a rookie last year.
What do you think of the AFC West left tackles? Fill up the comment section below with your thoughts.
April, 30, 2010
4/30/10
8:01
PM ET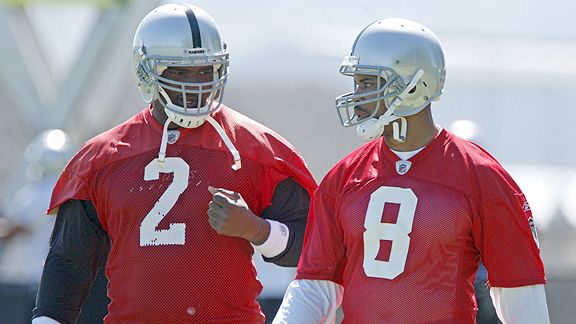 AP Photo/Ben MargotJaMarcus Russell (2) and Jason Campbell (8) took the practice field together Friday.
ALAMEDA, Calif. -- Funny thing happened to
JaMarcus Russell
this offseason: He learned how to be a fighter.
After being saddled with a reputation for being a poor worker who gave little thought about his future or legacy, Russell arrived for the
Oakland Raiders
' mandatory minicamp Friday a determined player.
Russell appeared to be in decent shape (he was not allowed to say how much he weighs, but more about that later). He threw several lasers. There still was the occasional patented Russell pass that sailed above the intended receiver. But there were much fewer than in the past. I was told a big part of Russell's offseason training in Arizona was intended on correcting his high floaters.
Russell was truly the most impressive quarterback on the field Friday. He was much sharper than expected standout
Jason Campbell
. Don't lose faith in Campbell yet, though. He has been a Raider for six days. He clearly isn't comfortable in the system yet. Expect that to change over the course of the next four months.
However, Russell showed that he is not ready to surrender his job.
"My thing is to keep coming out to work until they tell me not to," Russell said. "I'm going to keep coming out to compete for the job and work my tail off."
Russell said he has not been told what his role with the team will be.
"

"My thing is to keep coming out to work until they tell me not to. I'm going to keep coming out to compete for the job and work my tail off."

"

-- JaMarcus Russell
"The only thing I'm here to do is compete until we get a word," Russell said. The NFL's No. 1 overall draft pick in 2007 seems to understand his job's in jeopardy. At one point in his interview session, Russell said this about working with Campbell:
"Another guy here to compete," Russell said. "We're on the same team as of now."
Russell almost seemed surprised that he is still in Oakland. The Raiders can save more than $6 million if the team waives Russell, who seems destined to be a backup if he is kept. Russell said he has not been approached about taking a pay cut.
Oakland coach Tom Cable didn't shed light on what the Raiders plan to do with Russell. He did praise him, though.
"He competed and he worked his tail off," Cable said of Russell. At the end of last season and in the offseason, Cable has been slow to give good reports on Russell.
Friday, he said he expects Russell to compete for the starting job. Asked about Russell's future, Cable said "he's here today and I expect him to be here (Saturday)."
Cable scoffed at the notion of the team keeping Russell out of the minicamp to avoid an injury.
"We're trying to build a team," Cable said. Now that Russell is working with the team at the minicamp, there is no timeline on a decision about his future.
The assumption has to be that Russell will go to training camp and try to win the job. Still, Campbell has to be considered the heavy favorite to win the job.
Give Russell credit for not running away from the competition. "Nothing's changed," Russell said. "I just keep coming to compete every day."
I'm on the record saying the Raiders
should move on from the Russell era. However, I am impressed with how Russell handled himself on the field and with the media Friday. He tried hard to perform well and then he kept a positive attitude when talking about his situation.
The same can't be said for Oakland employee
Eddie Anderson
, a former player. One of his chief duties is to hang with Russell. He stood by Russell's side during his interview session. You'd think Oakland had just traded for
Joe Thomas
. I've never seen Russell get this much protection.
Four times, Anderson shot down reporters' questions aimed at Russell. The rebuked questions included whether Russell thinks he'll be in the starting mix, whether he'll take a pay cut and his current weight. The last subject caused Anderson to pull Russell away from the media.
Anderson should have allowed Russell address the subject. Russell looked pretty good. He's nowhere near the 300-pound level some have speculated he's approaching. Cable expressed satisfaction with Russell's conditioning.
Does Russell's good day mean he'll end up beating out Campbell? Probably not. But he showed he is, at least, going to try.
For his part, Campbell is focusing on his own task. After arriving via trade last week, the former
Washington Redskins
signal-caller said he'd be the starter in Oakland. But Cable has stressed there will be a competition.
Friday, holdover backup
Charlie Frye
and recently signed
Kyle Boller
were among the four quarterbacks who took snaps;
Bruce Gradkowski
, the Raiders starter in the second half of the 2009 season, is recovering from pectoral tear. He'll be back for summer training camp.
"I'm just here to work. Just here to work, get better every day," Campbell said. "I'll let coach Cable makes that decision and Mr. Al Davis. My job is to come out here every day and compete, keep working on things and try to improve the offense."
If Friday's performance is any indication, Campbell might have company in the form of a revived Russell.
April, 21, 2009
4/21/09
12:00
PM ET
Posted by ESPN.com's Bill Williamson
This afternoon, we are going to look back at the last 10 years for every first-round pick held by an AFC West team. First up is the No. 3 pick, which is held by Kansas City:
The No. 3 Pick Since 1999
Year
Team
Player
Pos.
School
Comment
2008
Atlanta
Matt Ryan
QB
Boston College
Ryan was the Rookie of the Year and he looks like a sure superstar.
2007
Cleveland
Joe Thomas
OT
Wisconsin
Thomas is already known as a premier left tackle.
2006
Tennessee
Vince Young
QB
Texas
Young has struggled in the NFL and is now a backup for the Titans.
2005
Cleveland
Braylon Edwards
WR
Michigan
He has a Pro Bowl under his belt but has fallen out of favor and could be traded.
2004
Arizona
Larry Fitzgerald
WR
Pittsburgh
He is widely considered the best receiver in the NFL today.
2003
Houston
Andre Johnson
WR
Miami
Johnson is a superstar who is not far off from Fitzgerald.
2002
Detroit
Joey Harrington
QB
Oregon
Harrington was a bust. He has bounced around the league and has made little impact.
2001
Cleveland
Gerard Warren
DT
Florida
Warren has had his moments but he has not, overall, lived up to his potential.
2000
Washington
Chris Samuels
OT
Alabama
He has been an outstanding player for the Redskins.
1999
Cincinnati
Akili Smith
QB
Oregon
Smith was a tremendous draft bust.
November, 21, 2008
11/21/08
12:00
PM ET
Posted by ESPN.com's Bill Williamson

It is the massive left tackle who has shut out sack masters Joey Porter and John Abraham this season.
It is the dynamic receiver and return man who caught nine passes for 146 yards in his NFL debut and is a legitimate rookie-of-the-year and Pro Bowl candidate.
It is the fullback -- a former college linebacker -- who on Sunday became the first NFL player in five years to start on offense and defense.
It is the seventh-round pick, best known for blocking for Darren McFadden and Felix Jones in college, who has made the sudden switch from fullback to tailback quite nicely.
It is the undrafted linebacker who took over for one of the leading tacklers in the NFL and has given the team a spark.
It is all of these players who have made the Denver Broncos' 2008 rookie class arguably the best in the NFL and one of the deepest rookie classes in team history.
Before the season, it was widely regarded that the Kansas City Chiefs had one of the best rookie classes in recent memory. The Chiefs' deep rookie class is good. But it has been overshadowed by the Denver class that wasn't as ballyhooed. However, thanks to stunning and historic performances by the Denver rookies, the team has rebounded from a midseason malaise and is taking control of the AFC West with a 6-4 record.
If Denver is going to close out strong and win its first division crown since 2005, these rookies will have to play a major role.
"It's gone so quickly that we haven't had a chance to sit around and feel good about what we are doing," said fullback Spencer Larsen, who started on offense and defense against the Falcons. "I just thought this was normal. I thought a bunch of rookies played on every NFL team, but you look around and you realize this is a pretty good group."
When Broncos coach Mike Shanahan predicted on a Denver radio station during training camp that his team would make the playoffs, he probably knew he had a nice crop of youngsters. But he couldn't have known it was going to be this good.
"These guys aren't only excellent athletes, but they are very sharp football players," Shanahan said. "Some guys got their opportunity because of injuries and some guys got their opportunity because they proved in practice that they can make plays."
Seven rookies have started at eight positions for Denver in 2008. Receiver Eddie Royal has twice won rookie-of-the-week honors and Larsen won the honor this week.
This is Denver's third straight strong rookie class after years of failing in the draft. Denver has rebuilt its team through the draft since 2006, when it drafted quarterback Jay Cutler, tight end Tony Scheffler, wide receiver Brandon Marshall and defense end Elvis Dumervil. This year's rookie crop may be even deeper.
A look at some of the Broncos' key rookies who are contributing for the first-place team:

Clady
First round, offensive tackle Ryan Clady:
Clady, the No. 12 overall pick, has been as good at left tackle as Cleveland's Joe Thomas was last year as a rookie. Clady should get serious Pro Bowl consideration. He has allowed a half a sack in 10 games. He is one of three tackles in the NFL not to allow a full sack this season. Clady shut down Porter and Abraham, who have a combined 24.5 sacks this season, in games this season. He is arguably the team's MVP. The Broncos struck gold at one of the most vital positions on the field.

Royal
Second round, wide receiver Eddie Royal:
I recall talking to a member of the Denver staff in June. He said the staff was convinced, after the minicamp season, that the Virginia Tech product would be an impact player. Originally, the Broncos drafted Royal to be an impact player in the return game and a developmental player as a receiver. But Royal came to town as a polished player. He has teamed with Marshall to give Denver one of the best 1-2 receiver punches in the NFL. Royal, who is also getting it done as a returner, has 56 catches and four touchdowns in nine games. He has compiled at least 200 all-purpose yards in three games. Royal turned the league on its ear with his big game in Oakland to start the season and he hasn't stopped. He looks like a long-term answer at receiver.

Torain
Fifth round, running back Ryan Torain:
The Broncos love this player but it will have to wait until 2009. Torain was on the verge of winning the starting tailback job early in training camp when he broke his elbow. Shanahan compared him to legendary Broncos running back Terrell Davis. Torain came back temporarily earlier this month. He had 68 yards midway through the second quarter against Cleveland when he tore the ACL in his knee.

Larsen
Sixth round, fullback/linebacker Spencer Larsen:
Larsen was a tackle machine at Arizona as a linebacker. However, the Broncos liked him as a fullback and told him that when they drafted him. He practiced at both fullback and linebacker but became primarily a fullback. As the season progressed, Larsen became one of Denver's best special-teams players. He would routinely blow up people while covering kicks. However, after a rash of injuries at both running back and linebacker, the Broncos decided they needed Larson on bo
th offense and defense. Last Sunday at Atlanta, Larsen became the first NFL player since 2003 to start on both sides of the ball. He started at fullback and middle linebacker. He hadn't practiced at linebacker since training camp but still came up with seven tackles. The Broncos expect to use Larsen in a similar role as the season progresses.

Hillis
Seventh round, running back Peyton Hillis:
After season-ending injuries to four tailbacks, the former Arkansas standout was forced to move from fullback to tailback. In the past two weeks, Hillis has run hard and gained tough yards. He is a great receiver out of the backfield. Denver thinks he can help down the stretch. He's a very tough player and could do well in a committee with tailbacks Tatum Bell and Selvin Young.

Woodyard
Undrafted free agent, linebacker Wesley Woodyard:
A special-teams ace, the Kentucky product has played very well in the last two games as a replacement for D.J. Williams at weakside linebacker. Woodyard is very active and always near the ball. When Williams returns in a couple of weeks, expect Denver to find a way to keep Woodyard in the defensive mix.

Bell
Undrafted free agent, cornerback Josh Bell:
The Baylor product was originally with San Diego. Denver signed him to the practice squad earlier in the season. He quickly impressed coaches with his play in practice. He has moved past fellow rookie Jack Williams and veteran Karl Paymah. He started in front of Paymah with Champ Bailey out. When Bailey returns, Bell will be the nickel cornerback.

Kern
Undrafted free agent, punter Brett Kern:
Kern has brought stability to a position from which Denver has had none in recent years. He's very steady and has a strong leg.