AFC West:

Joey Clinkscales
May, 15, 2012
5/15/12
7:20
PM ET
As part of their front office and scouting restructuring, the Oakland Raiders have formally announced several new appointments.
Here are new positions, in alphabetical order, as relayed by the team: Teddy Atlas, scouting coordinator; Calvin Branch, college scout; Joey Clinkscales, director of player personnel; Zack Crockett, college scout; Tom Delaney, director of football administration; Shaun Herock, director of college scouting; Von Hutchins, pro scout; Brad Kaplan, college scout; Larry Marmie, pro scout; Mickey Marvin, college scout; David McCloughan, college scout; Raleigh McKenzie, college scout, Trey Scott, college scout; and Dane Vandernat, pro scout.
In other AFC West news:
ESPN's Adam Schefter is reporting that the Chiefs will visit with former Miami safety
Yeremiah Bell
. The Chiefs are looking for depth at the spot. They recently visited with veteran safety
O.J. Atogwe
.
The Rams signed two AFC West players Tuesday when they inked Kansas City free-agent tackle
Barry Richardson
and former Denver linebacker
Mario Haggan
. Neither was in his former team's plans.
Recently retired Denver safety
Brian Dawkins
will appear on ESPN's "NFL Live" on Wednesday at 4 p.m. ET.
UPDATE:
As expected, the Raiders signed fullback Owen Schmitt.
He played for Oakland offensive coordinator Greg Knapp in Seattle. He is a hard-nosed player, who has a chance to make the team. Restricted free-agent Marcel Reece is and still will be the starter. He has yet to report to the team. Perhaps this minor heat will persuade Reece to join the team.
May, 11, 2012
5/11/12
4:00
PM ET
The Kansas City Chiefs just announced that their rookie free-agent class is signed. Here is the team's release:
WR Josh Bellamy (6-0, 206)
played in 26 games (17 starts) in two seasons at Louisville, compiling 53 catches for 681 yards (12.8 avg.) with seven touchdowns. Bellamy spent two years at Butte Community College in Oroville, Calif., prior to his arrival at Louisville. Bellamy prepped at Boca Ciega High School in Gulfport, Fla.
TE Tim Biere (6-4, 260)
played in 44 games (28 starts) at Kansas, recording 66 catches for 798 yards (12.1 avg.) with six touchdowns. He was an all-super state first-team selection his senior year at Westside High school in Omaha, Neb.
OL Justin Cheadle (6-2, 290)
played in 47 games (33 starts) at California. Cheadle started 21 consecutive games at right guard spanning all 13 contests of 2009 and the first eight of 2010, before returning to start all 13 games his senior season. He prepped at Bakersfield High School in Bakersfield, Calif.
RB Nate Eachus (5-10, 212)
played in 37 games (28 starts) at Colgate, rushing 838 times for 4,484 yards (5.4 avg.) with 53 touchdowns and hauled in 40 receptions for 395 yards (9.9 avg.) with two touchdowns. He was team captain in his senior year at Hazleton Area High School in Hazleton, Pa., and was named the 2007 PIAA District Dream Team Player of the Year.
DB Jean Fanor (6-1, 200)
played in 37 games (22 starts) at Bethune-Cookman, registering 127 tackles (70 solo), 6.5 tackles for loss (-26.0 yards), three interceptions for 19 yards, 13 passes defensed, two forced fumbles and two fumble recoveries. He also spent time on offense as a wide receiver, recording five receptions for 91 yards (18.2 avg.) with a touchdown. He was an all-county performer at North Miami Senior High School in North Miami, Fla.
DB Chandler Fenner (6-1, 189)
played in 44 games at Holy Cross, tallying 133 tackles (108 solo), 3.0 sacks (-14.0 yards), four forced fumbles and one fumble recovery. He added two interceptions returned for 49 yards and 18 passes defensed. The Virginia Beach, Va., native prepped at Frank W. Cox High School in Virginia Beach, Va.
FB Taylor Gentry (6-2, 250)
played in 44 games at North Carolina State, catching 38 passes for 313 yards (8.2 avg.) and recording 61 tackles (22 solo). He was two-time all-conference, all-area and team MVP at Leesville Road High School in Raleigh, N.C., as a tight end, wide receiver, outside linebacker and defensive end.
DB Tysyn Hartman (6-3, 206)
played in 50 games (45 starts) at Kansas State, tallying 258 tackles (155 solo), 10 interceptions returned for 119 yards and 12 passes defensed. He was a three-year starter at both quarterback and defensive back at Kapaun Mt. Carmel High School in Wichita, Kan., earning first-team all-state honors as a defensive back.
LB Dexter Heyman (6-3, 238)
played in 43 games (23 starts) at Louisville, compiling 156 tackles (98 solo), 23.5 tackles for loss (-80.0 yards), 6.5 sacks (-43.0 yards), three interceptions, a forced fumble, two fumble recoveries and five passes defensed. He was a first-team all-state selection at Male High School in Louisville, Ky.
OL Cam Holland (6-2, 320)
played in 36 games (30 starts) on the offensive line at North Carolina, primarily at center. He was a first-team all-state performer at Perry Traditional Academy in Pittsburgh, Pa.
DE Ethan Johnson (6-4, 300)
played in 47 games (37 starts) at Notre Dame, compiling 97 tackles (43 solo), 18.5 tackles for loss (-83.0 yards), 12.5 sacks (-68.0 yards), a forced fumble, four fumble recoveries, six passes defensed and a blocked extra point. He was a U.S. Army All-American selection at Lincoln High School in Portland, Ore.
WR Brandon Kinnie (6-3, 220)
played in 40 games (20 starts) in three seasons at Nebraska, recording 81 receptions for 892 yards (11.0 avg.) with six touchdowns. He caught 62 passes for 845 yards (13.6 avg.) and 10 touchdowns as a freshman at Fort Scott Community College in Fort Scott, Kan. He was an all-state performer at Grandview High School in Grandview, Mo.
DB Terrance Parks (6-2, 218)
played in 43 games (25 starts) at Florida State, compiling 99 tackles (65 solo), nine passes defensed, two fumble recoveries and an interception returned for a touchdown. He was an Under Armour All-American at Creekside High School in Fairburn, Ga., where he played in the same secondary as Chiefs S Eric Berry.
K Matt Szymanski (6-1, 196)
played in 52 games between SMU (2009-10) and Texas A&M (2006-07), competing in 26 contests at each school. He converted 35 of 58 (60.3 pct.) career field goal attempts with a long of 61 yards and was successful on all 131 extra point attempts. He also punted 123 times for 5,105 yards (41.5 avg.) with a long of 74 yards. He was rated the No. 1 kicker in the nation at A&M Consolidated High School in College Station, Texas.
DB Neiko Thorpe (6-2, 185)
played in 51 games (40 starts) at Auburn, compiling 279 tackles (172 solo), seven interceptions returned for 189 yards (27.0 avg.), 35 passes defensed, two forced fumbles, a fumble recovery and a blocked field goal returned for a touchdown. He was an Under Armour All-American at Tucker High School in Tucker,
In other AFC West news:
ESPN's Adam Schefter reports the Raiders have given former Jets vice president of college scouting Joey Clinkscales the title of Director of Personnel, overseeing pro and college operations. Schefter reported the Raiders hired Clinkscales earlier in the week. Clinkscales and Oakland general manager Reggie McKenzie were childhood friends.
U-T San Diego reports
that Chargers' first-round pick Melvin Ingram lined up at strongside linebacker at the team's minicamp. The paper also reported former San Diego star safety Rodney Harrison is no longer scheduled to speak at Friday night's celebration of life for Junior Seau at Qualcomm Stadium.
May, 11, 2012
5/11/12
12:00
PM ET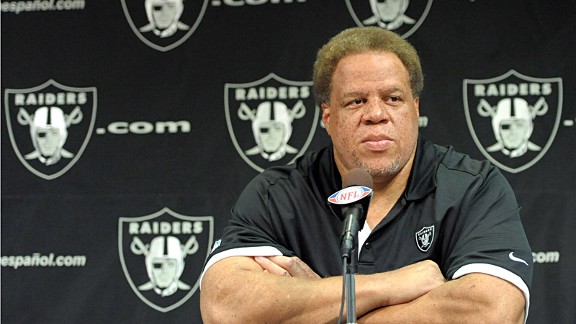 Kirby Lee/Image of Sport/US PresswireNew GM Reggie McKenzie is in the process of remolding a Raiders franchise fallen on hard times.
If anyone still hasn't grasped that the
Oakland Raiders
are a changed organization, all they have to do is watch
Juron Criner
run routes during this weekend's rookie minicamp.
A player with potential, Criner has speed in the 4.7-second range. He is not the burner former owner Al Davis craved, and if Davis were still alive Criner would likely not be in Oakland today.
The Autumn Wind is still a Raider, but it blows on a different course.
When Davis died at age 82 on Oct. 8, it was clear that the Raiders were going to embark upon a major transition period. Davis was the Raiders' decision-maker for nearly 50 years, even into his ailing final days. That just doesn't happen in the NFL anymore. Can you imagine George Halas still running the Bears, or Vince Lombardi still on the sideline in Green Bay?
While we anticipated change, the modification since the 2011 season ended in Oakland has been swift, dramatic and wildly intriguing. The Raiders are suddenly moving on from the staunchly independent ways of Davis and emerging as a modern outfit with youthful spirit and ideas.
"I think the biggest challenge is that because the leadership has been the way it's been done for so long, people are used to doing things one way," new Oakland head coach Dennis Allen said earlier this offseason. "I think the biggest challenge is just getting people within the organization to open up the thought process to doing things another way. There are different ways to do things in this league. I think everyone within the organization has been open and receptive to conforming to the way (new general manager) Reggie (McKenzie) and I are trying to do things."
Though Davis was a legend, his ways didn't always work in today's NFL. The Raiders' last Super Bowl title came nearly 30 years ago and Oakland hasn't had a winning season in 10 years. Its nine-year playoff drought is tied for the second-longest in the NFL.
If there has been an MVP in Oakland since Davis' death, it has to be his son, Mark. While his father ran the team, the affable younger Davis chose to ride in the background. Once he took over as the leader of the Raiders, Mark continued that approach.
Davis -- who was being advised some of his father's top lieutenants in John Madden, Ron Wolf and Ken Herock --- listened to advice and hired Green Bay personnel man Reggie McKenzie as general manager shortly after the end of last season. Mark Davis deserves credit for respecting his advisors' recommendations (McKenzie has a strong ties to Wolf and Herock) and for allowing McKenzie to run the team once he was hired.
McKenzie's task is a tough one and it will take time. But thus far, McKenzie -- a former Raiders linebacker -- has put his head down and dug in. The Raiders didn't hire an Al Davis clone in McKenzie. The new GM is doing things his way.
McKenzie hired Allen, then Denver's defensive coordinator, as head coach. The last defensive-minded head coach in Oakland was Madden -- who was hired in 1969. McKenzie fired longtime scouts and revamped the team's draft preparation, focusing on modernizing the process. He has reportedly already hired a new college scouting director, former Green Bay colleague Shaun Herock, and has added former Jets' executive Joey Clinkscales to the front office. More scouts are likely on the way in.
McKenzie cut several players to whom Davis gave supersized contracts in his final years -- part of what should be a new emphasis on salary-cap management under McKenzie. The Raiders also added players in free agency and in the draft who fit Allen's schemes, rather than a rigid scouting plan. Speed and measurables are no longer as important as when Al Davis was running the team.
On the first day of the Raiders' offseason program, newly signed linebacker
Philip Wheeler
made some eye-opening comments.
[+] Enlarge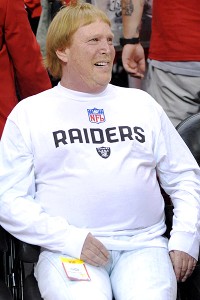 Kirby Lee/Image of Sport/US PresswireUnlike his late father, Al, Mark Davis appears to be allowing the Raiders' football experts to manage football operations.
"I actually heard some of the coaches saying we're not just big and fast anymore," Wheeler said. "We're going to be big, fast and we're going work harder and have good football players. The (Raiders) were always bigger, faster and stronger than everybody. But the awareness of the game, some of it was down or whatever. I feel like Mr. McKenzie brought in a lot of players in who actually know how to play the game and aren't just faster than everybody. We have actual football players here now."
Change in Oakland haven't stopped with the players. It has flowed throughout the organization in the past few months, including the hiring of a new public-relations director with whom McKenzie has a history. The Raiders have become more accessible and appear to be willing to be more transparent than under the Al Davis regime.
It's a new NFL world and McKenzie is introducing his team to it. Allen said the plan is to meld the past and the future in Oakland.
"It's an exciting opportunity for all of us that are involved," Allen said. "To take over such a historic program, be a part of that tradition there with the Raiders, is obviously exciting for all of us. We're excited about the opportunity to put our stamp on the program.
"I think with every great program in the National Football League, I think you really have to respect the history and tradition within the organization. The Oakland Raiders. It's one of the most storied franchises in all of sport, not just the NFL. We want to embrace those, embrace the past, and the history of the organization. But yet, we want to do it our way. Reggie and I are going to work together to do it the way we want to do it, and put the best team out on the field we can put out there."
Much of the transformation will be based on bringing stability to the franchise. The past three head coaches -- Lane Kiffin, Tom Cable and Hue Jackson -- all created distractions for themselves and for the team. Throughout the years, instability caused many former Oakland players to be relieved when they became former Oakland players.
"There's definitely a difference," former Raiders cornerback
Stanford Routt
(whom McKenzie released) told reporters in Kansas City after he signed with the Chiefs this offseason. "You know what? I think there's a little more stability here to say the least."
Still, Allen made it clear the building process in Oakland will involve every facet of the organization.
"Our deal is, we want to foster an organization that's based on trust, honesty, integrity, doing the right things, doing it the right way," Allen said. "Those are things that both Reggie and I believe in. That's the way we're going to run that organization. We're going to do things the right way. We're going to do things in a first-class manner. We're going to build a team that's going to be tough, smart, disciplined. Just like I talked about doing the right things within the organization, that's the way we're going to do it as a team."
Call it new shades of Silver and Black.
May, 8, 2012
5/08/12
11:55
PM ET
As expected, Joey Clinkscales is joining his childhood friend in Oakland.
ESPN's Adam Schefter is reporting
that Clinkscales, former Jets director of college scouting, is taking a prominent scouting job with the Raiders; there is a strong chance it will be on the pro-personnel side. The Raiders have reportedly already hired Green Bay's Shaun Herock as their college scouting director.
ESPN New York reported prior to the draft that the Jets and Clinkscales were headed for a mutual parting of the ways, and that Clinkscales would likely end up in Oakland. Clinkscales played at the University of Tennessee and was childhood friends with Oakland general manager Reggie McKenzie.
McKenzie has been making wholesale changes since he took over in Oakland in January.
In other AFC West news:
Two Kansas City rookies will miss a day
of minicamp so they can graduate from college. Class move, Romeo Crennel.
Jeff Allen
and Tim Biere will have a million more NFL practice days. No more graduation days.
Kansas City signed defensive end
Ropati Pitoitua
. Pitoitua, 27, played in 22 games with the New York Jets over the 2009 and 2011 seasons; he will be a bottom-of-the-roster type if he makes the team.
April, 24, 2012
4/24/12
5:05
PM ET
The
Oakland Raiders
appear to be poised to add an experienced draft evaluator as they continue to rebuild their franchise after Al Davis.
ESPN New York reports
the
New York Jets
and Joey Clinkscales, their top college talent evaluator, will likely part ways after the draft. The report cites that the Raiders are interested in Clinkscales.
This makes sense because since the Raiders are planning to make major changes in scouting after the draft. New Oakland general manager Reggie McKenzie and Clinkscales were college teammates at Tennessee and remain friends.
His move to Oakland would be a lateral move. Clinkscales has been in his current role since 2008 and the Jets have had mixed drafting success since then.
In Clinkscales' first year in his current role, the Jets selected
Vernon Gholston
with the No. 6 pick and he is considered one of the great all-time draft busts. He made $20 million without registering a sack for the Jets in three seasons. Still, Clinkscales is considered a solid football man, who has twice interviewed for general manager jobs.
Davis, who died last October at the age of 82, made essentially every personnel move for Oakland for nearly 50 years. This potential hiring is another example that Oakland is moving toward a more traditional organizational structure.