October, 8, 2012
10/08/12
8:00
AM ET
On Oct. 8, 2011, I woke up at about 7 a.m. PT to prepare for an early flight to Denver to cover a Broncos-Chargers game.

Then my phone rang.

It was ESPN's John Clayton. He told me word was spreading that Oakland Raiders owner Al Davis had died at the age of 82. We needed to get it confirmed.

A few minutes later, it was. Then-Oakland executive John Herrera returned a message, telling me that, indeed, Al Davis was gone. Herrera sounded tired and sad. We chatted for a few minutes. I expressed my condolences to him and the franchise.

Then it was time to reflect on one of the most historic figures in sports history. The Denver trip was shelved. My editors wanted me to fully concentrate on this massive story. It was an incredible day as reaction came fast and furious and people around the league reflected on Davis' life. I'll always remember that day.

On the one-year anniversary of Davis' death, all NFL fans -- regardless of their fan allegiances -- should take a moment to remember the unforgettable Al Davis.
February, 16, 2012
2/16/12
9:25
PM ET
Reggie McKenzie's first signing of a former Green Bay Packer as the general manager of the
Oakland Raiders
shows he is willing to give a player with a checkered past a second chance.
Underwood
The Raiders announced the signing of cornerback
Brandon Underwood
on Thursday. Underwood did not play in 2011 after he was cut by Green Bay – where McKenzie was an executive – last September after he was arrested for the second time in his professional career.
He pleaded no contest to a misdemeanor count of soliciting a prostitute
in a June 2010 incident at a resort cabin in Lake Delton, Wis., after two women alleged that he sexually assaulted them.
He was arrested after a June 2011 incident
in which his wife accused him of domestic violence; he later pleaded no contest to a reduced charge.
Underwood was a sixth-round pick of the Packers in 2009. He played mostly on special teams in Green Bay. He will likely have a difficult time making the Raiders' 53-man roster. However, the Raiders are very thin at cornerback, so Underwood may get his chance. He is probably the first of several cornerbacks Oakland signs before training camp.
In other AFC West news:
The Raiders have reportedly parted ways
with longtime team spokesman John Herrera. It is another indication of the changes following the death last October of team owner Al Davis, of whom Herrera was a close ally.

In an Insider piece,
Todd McShay explains why Georgia Tech receiver
Stephen Hill
may be a good fit for Denver.
January, 12, 2011
1/12/11
5:30
PM ET
The
Oakland Raiders
have
denied a report
that said defensive coordinator John Marshall has been let go.
"That is untrue," Oakland senior executive John Herrera said Wednesday.
Herrera reiterated that the Raiders have begun the search for a head coach. He would not reveal who was interviewed or how many candidates have been interviewed. Herrera has also said the team has been reviewing the status of the assistant coaching staff, including Marshall, for a week and that it will continue. Herrera didn't give a timetable for the hiring of a new coach for the evaluation of the coaching staff.
Oakland offensive coordinator Hue Jackson is considered a top candidate to be named the head coach and to replace Tom Cable. Former Oakland assistants Marc Trestman and Rob Ryan have been mentioned.
May, 6, 2010
5/06/10
4:16
PM ET
JaMarcus Russell
is a former Raider.
Raiders senior executive John Herrera
just confirmed
the team has released Russell. He was the No. 1 overall pick in 2007. I will have much more on this throughout Thursday afternoon.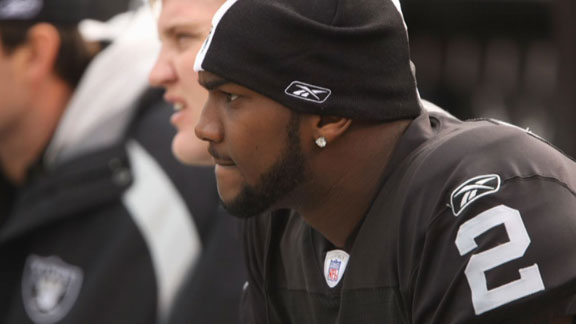 August, 17, 2009
8/17/09
5:15
PM ET
Posted by ESPN.com's Bill Williamson

The Oakland Raiders described a reported assault of an assistant coach by another member of the staff as "an internal matter."
The National Football Post reported that Oakland defensive assistant Randy Hanson suffered a jaw injury after an altercation with a fellow coaching staff member Aug. 5 at the Raiders' training camp facility.
The report said, according to a police report, that Hanson declined to name the suspect. The police were called when Hanson went to a local hospital for treatment of his injuries. The report said if Hanson's jaw is broken, it could become a felony assault charge. Police, according to the report, have not followed up with the Raiders on the incident.
When contacted by ESPN.com Monday, Raiders senior executive John Herrera said, "This is an internal matter and we will handle it as such."
Oakland coach Tom Cable will address the media after Monday afternoon's practice. An NFL spokesman told the Web site that the league will look into the matter.
Hanson was suspended last year by former coach Lane Kiffin after reportedly making disparaging comments after the Raiders were routed by Denver in the season opener.
Oakland has enjoyed a relatively calm offseason and training camp. This, however, could become a distraction for the team.
UPDATE: It is being reported that Oakland coach Tom Cable was the staff member who punched Hanson. Cable will address the media after Oakland's practice Monday at approximately 8:30 p.m. We should know a lot more about the percolating situation then.
February, 18, 2009
2/18/09
9:08
PM ET
Posted by ESPN.com's Bill Williamson
If the Oakland Raiders are going to turn around their fortunes, Wednesday night's move to re-sign Shane Lechler may be the start of it.
| | |
| --- | --- |
| | |
| | Kirby Lee/US Presswire |
| | Shane Lechler has a new four-year contract with the Raiders. |
Team executive and spokesman John Herrera confirmed the deal and said Lechler's deal is the best given to a punter in the history of the NFL. Lechler has agreed to a four-year contract that is expected to pay him $4 million a year, which is a monster deal for a punter. It re-affirms the value Raiders owner Al Davis puts on specialists. The Raiders have long had some of the best kickers in the NFL and Lechler's return guarantees more special teams success in Oakland.
It was widely considered that the Raiders were about to lose the perennial Pro Bowl punter to free agency. Lechler and Oakland superstar cornerback Nnamdi Asomugha are free agents. It was widely speculated that Oakland would put the franchise tag on Asomugha, thus allowing Lechler to test the waters. Teams like New England and Denver were expected to make a move on Lechler, who is one of the better punters in the NFL the last 20 years.
There are indications that the Raiders are also trying to lock in Asomugha for a long-term deal. The two sides are working on keeping the cornerback in Oakland, and if a deal isn't finalized, he'll likely be franchised by Thursday's deadline.
If the Raiders can keep both Lechler and Asomugha, it would be a landmark moment for the Raiders, who have won a league-low 24 games in the past six seasons. Both of these are key players, and if Oakland is going to get better, it will be much easier with Lechler and Asomugha in the fold.
Earlier this month, Davis acknowledged that it would be difficult to keep both players, but it wouldn't be impossible.
If Oakland does keep both players, it could limit further movement this offseason, especially after the entire wild spending spree last year. The team will likely release several players, including receiver Ronald Curry and left tackle Kwame Harris. Receiver Javon Walker is also a candidate to be cut.
Keeping its best players is smart business for Oakland compared to last year's disaster in which several big-name players were brought and produced very little. If the Raiders keep Lechler and Asomugha, they are certain to get good value for their money.
Lechler's decision to stay is also good for morale in Oakland. With a player like Lechler deciding to sign on for four more years, it gives the team hope. There was speculation that Lechler, who was reportedly punched by teammate Terdell Sands on a flight home after a win in Denver in November, grew tired of the losing environment in Oakland and was looking to leave.
But he must see something positive there because he would have gotten big money anywhere he went. This was a huge first step for the Raiders as they try to end six seasons of failure.