November, 5, 2013
11/05/13
5:10
PM ET
ENGLEWOOD, Colo. – The
Denver Broncos
liked guard
John Moffitt
enough as a player to make a trade for him in August. But frustrated with his lack of playing time, Moffitt
announced via Twitter
Tuesday that he's calling it a career.
Football was fun but my head hurts-haha kidding roger goodell. I'm on to new things, thanks to everyone along the way!!!

— John Moffitt (@Moffitt74) November 5, 2013
Moffitt has also informed the Broncos of his decision.
The Broncos formally moved Moffitt to the reserve/left squad early list on Tuesday. Moffitt did not report back to the team following the bye weekend; the Broncos had meetings and a practice Monday. The Broncos have filled Moffitt's roster spot, activating center
J.D. Walton
to the 53-man roster Tuesday. Walton had spent the first half of the season on the physically unable to perform list.
The Broncos traded defensive tackle
Sealver Siliga
to Seattle on Aug. 20 to acquire Moffitt, who had been a third-round pick by Seattle in the 2011 draft. Moffitt had lost a battle in training camp to start at one of the guard spots for Seattle, and the Seahawks began shopping him for a trade shortly thereafter.
In Denver the 27-year-old played in just two games, with seven snaps on special teams against Oakland and nine snaps on offense against Philadelphia, when the Broncos removed most of their starters for the fourth quarter. By rule, the Broncos have five days to formally release Moffitt from reserve/left squad or make some other kind of move with the veteran.
August, 21, 2013
8/21/13
6:30
PM ET
ENGLEWOOD, Colo. -- The Broncos fumbled four times in the first half of Saturday's preseason loss to the Seahawks. They lost three of those, including
Ronnie Hillman
's into the end zone on what should have been a 1-yard scoring run to cap a quality drive. Seahawks cornerback
Brandon Browner
returned that fumble 106 yards for a Seattle touchdown.
And it's fairly clear where first-year offensive coordinator Adam Gase comes down on the issue.
"What happened the other day? Unacceptable,'' Gase said. " ... We're not going to put the ball on the ground or else they're not going to carry it.''
It has also been on the Broncos front burner all through the preseason, especially in drills with the running backs given it was such a glaring a problem when they opened 3-3 in 2012. Over those first six games the Broncos lost nine of the 14 fumbles they lost all season, including three lost fumbles in a loss to New England and two lost fumbles in a win over San Diego, a game the Broncos trailed 24-0 at halftime.
[+] Enlarge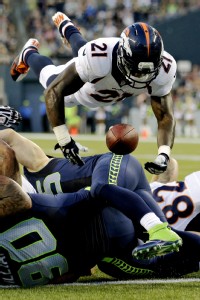 AP Photo/Elaine ThompsonRonnie Hillman's fumble into the end zone was returned 106 yards for a touchdown by Seattle's Brandon Browner.
Over the year running backs lost seven fumbles overall, including four by
Willis McGahee
, which tied the Broncos with the
Buffalo Bills
for most in the league from that position group.
"(Fumbles) have been a huge point of emphasis for us this offseason,'' Gase said. "Because the fumbles we had early in the season last year -- that was one of the main factors why we started off as slowly as we did.''
The turnovers clouded the fact the Broncos put up 209 yards worth of offense on the Seahawks defensive starters in the first half Saturday and they ran 40 plays from scrimmage in the half to do it, yet by halftime the game had fully blossomed into a blowout with Seattle holding a 33-7 lead at the end of the second quarter.
"But the statistics always show, with every turnover your chances of winning go down big," Broncos coach John Fox said. "And three turnovers? That's about a 10 percent chance of winning."
Left tackle Ryan Clady continues to increase his practice workload and is still on track to start the regular-season opener. Clady, who had offseason shoulder surgery to repair a torn labrum, worked some with the starting offense in Wednesday's practice. Clady went in for a selection of plays in team drills before giving way to Chris Clark for the remainder of those practice periods. Clark has filled in at left tackle all through the offseason workouts, training camp and in the first two preseason games. "(Clady) was doing as couple reps a period here and there,'' Gase said. "But just to know that he's out there ... it's really good to see him out there.''
With Elvis Dumervil having left in free agency and Von Miller suspended for the first six games of the season for violating the league's substance-abuse policy, Shaun Phillips will be the team's most accomplished pass-rusher in uniform against the Ravens. Phillips, who had 9.5 sacks for the 7-9 Chargers last season and has 69.5 career sacks, will have to find the groove quickly if the Broncos are going to generate a consistent pass rush. Phillips will line up at defensive end plenty in rush situation much like Miller does for the team. "We've got guys who can get after it a little bit,'' Phillips said. "Unfortunately we lose our best pass-rusher for a couple of games, but it is what it is. You have hiccups in life ... we'll be OK.'' Malik Jackson, a Broncos fifth-round pick in the 2012 draft, will also have plenty of opportunities in pass rush situations in the season's early going. Jackson, who plays inside at defensive tackle in some of the specialty packages, took some snaps Wednesday at right defensive end because Robert Ayers was held out with a foot injury.
Guard/center John Moffitt, who was acquired by the Broncos Tuesday in a trade with Seattle, was on the practice field Wednesday. But after the Broncos went through some early individual work, Moffitt went inside the team's complex to go through the playbook with center J.D. Walton. Walton is currently on the team's physically unable to perform (PUP) list as he recovers from offseason ankle surgery.
With Ryan Lilja still out with a knee issue (he offseason knee and toe surgeries) Steve Vallos has steadily moved up the depth chart center. Vallos was signed by the Broncos just after Dan Koppen suffered a season-ending knee injury and before Lilja was then signed as well. Wednesday Vallos, a sixth-year veteran, was snapping with the second-team offense.
There was a moment in Wednesday's practice that showed why Wesley Woodyard has risen so far with the Broncos since making the roster as an undrafted rookie in 2008. Woodyard, a special teams captain for most of his career and now a starting linebacker, was playing on field-goal defense, when just before the snap he noticed the kicking team had switched holders from the No. 1 holder -- punter Britton Colquitt -- to the backup holder tight end Jacob Tamme. Before the ball was snapped, Woodyard shouted "new holder,'' which brought some kudos from Fox following the kick.
Cornerback Champ Bailey is still wearing a walking boot on his injured left foot and using crutches to get around. The Broncos remain hopeful he can play at least some to open regular season, but it is still a question mark at this point.
Linebacker Stewart Bradley has had the surgery on his left wrist and the Broncos will now monitor his recovery as they make their roster decisions over the next two weeks. Bradley's injury and Miller's suspension will certainly affect how the initial roster looks at the position and could give undrafted rookie Lerentee McCray. Miller will start the regular season on reserve/suspended and the Broncos would have to make a roster move when he returns in Week 7.
Gase on the Broncos' running backs responsibilities in pass protection: "Their job is to make sure 18 doesn't get touched."
August, 21, 2013
8/21/13
6:00
AM ET
ENGLEWOOD, Colo. -- In an offseason/preseason when Broncos center
Manny Ramirez
has seen the Broncos sign
Dan Koppen
, sign
Ryan Lilja
, sign
Steve Vallos
, centers all, and even talk to
Eugene Amano
, Ramirez has simply held down the job, day after day, practice after practice. And Tuesday Ramirez received a vote of confidence.
Namely the guy he snaps the ball to every day in practice.
Ramirez
"Manny has done a great job,'' quarterback
Peyton Manning
said. "He's worked hard. He's in a new position. The best teacher is experience and there's not a walk-through or taking snaps before practice or a single play in practice that's not valuable that he's not learning something, that I'm not learning something from him. He and I are constantly communicating and he's done everything that the coaches have asked of him. I think he'll just continue to get better each day.''
Good thing Manning feels that way because since Koppen is already on injured reserve and Lilja is now dealing with a knee issue -- he had knee and toe surgery early in the offseason -- Ramirez has continued to be option No. 1 at the position. He has never started a regular-season game at center since being moved into the middle of the offensive line from guard during the Broncos' offseason program, but he's fairly locked in at this point, having started the first two preseason games.
Ramirez figures to play into the third quarter Saturday night against the Rams. Broncos coach John Fox said Tuesday he plans to take all of the regulars, on both sides of the ball, into the third quarter.
"We like getting them used to coming out after halftime,'' Fox said. "Halftime is an event in itself. So this will be the first time they have to come out and play after the halftime routine.''
The Broncos did add another potential center Tuesday when they traded defensive tackle
Sealver Siliga
to the Seahawks in exchange for guard/center
John Moffitt
. Moffitt, a third-round pick by the Seahawks in 2011, has started games at both guard spots in Seattle.
He also started 15 games at center in his career at Wisconsin, 13 of those as a sophomore. Moffitt did miss time as a rookie in Seattle with a knee injury, but entered training camp in a battle to be the starter at one of the guard spots.
But like Lilja and Vallos, Moffitt now moves into the depth chart behind Ramirez in the middle of the offensive line. And Ramirez is still the guy snapping to Manning.
August, 20, 2013
8/20/13
8:40
PM ET
ENGLEWOOD, Colo. -- An obviously uber-fit 35-year-old
Paris Lenon
looked slightly shocked at the question Tuesday when, fresh off a newly-minted contract with the Broncos, he was asked how he's kept himself in shape in recent weeks and months.
"Well, I work out a lot," Lenon said. "I train a lot ... I feel good."
The Broncos obviously agreed. They worked out Lenon in the morning to potentially help their depth chart at linebacker, then signed him just before practice and he was back on the field as soon as they could fit him for shoulder pads.
[+] Enlarge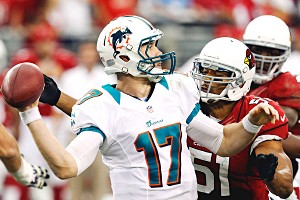 AP Photo/Ross D. FranklinParis Lenon (51) had 103 tackles, 2 sacks and an interception with the Cardinals last season.
With
Von Miller
now suspended six games for violating the league's substance-abuse policy and
Stewart Bradley
set for wrist surgery, the Broncos tabbed Lenon as a potential reinforcement. Entering his 12th year, the veteran has been both productive and durable in his career, having played in 16 games in 10 seasons and 15 games in the other. He has started 16 games in six of the past seven seasons as well. He topped 100 tackles in four of the past seven years, including 2012 in Arizona.
At 240 pounds the Broncos will give Lenon a look at the middle linebacker position in their 4-3 -- he has played on the inside of a 3-4 defense -- but he could also get a look at one of the outside spots. With Miller now out until Week 7 and if Bradley takes several weeks to recover from his surgery the Broncos are down two starters at the position.
At the moment the Broncos have moved
Wesley Woodyard
into the middle with
Danny Trevathan
on the weak side and
Nate Irving
expected to fill in at Miller's strong side spot in the base defense.
"What's important for me right now is getting the playbook and really learning it,'' Lenon said. "That's No. 1. It's hard to go out there and do anything when you don't know what you're doing. The No. 1 objective is to learn what they do.''
Center/guard Ryan Lilja, who had knee and toe surgeries earlier in the offseason, has been held out of practice the last two days with a knee issue and Chris Kuper is still working his way back from offseason ankle surgery as well as treatment for an infection in the joint. And the Broncos felt enough uncertainty there to make a trade Tuesday. Even as Von Miller's suspension was being handed down, the Broncos sent defensive tackle Sealver Siliga to the Seahawks in exchange for guard/center John Moffitt. Both teams got an up-close look at the respective players this past Saturday when Moffitt played 21 snaps on offense for Seattle in the Seahawks' 40-10 preseason win over Denver. Siliga played 30 snaps on defense for the Broncos in the game. It is an indication the Broncos have enough concerns about Lilja and Kuper over the long haul to have traded a player they've invested the ast two years developing. Siliga was going to have a difficult time making the Broncos' final 53, but he did spent the 2011 season on the Broncos' practice squad and spent last season on the team's roster -- he was a game day inactive in 15 regular-season games and the playoff loss to Baltimore. Moffitt was a third-round pick in the 2011 draft by the Seahawks. Seattle had tried to trade Moffitt to the Browns earlier Tuesday, but the deal was voided when the Browns had concerns about a knee injury Moffitt had suffered as a rookie in '11. "We had an opportunity to get a good football player, a guy that was a third-round pick,'' Broncos coach John Fox said. "A guy that we are familiar with. (He) played in a good college offense. He's got some versatility. He's played primarily guard but he has had some center versatility in his past. He's a guy our scouting people liked -- both pro and college and we think it helps our football team.''
With Champ Bailey expected to miss the remainder of the preseason with a left foot injury, the Broncos continued to work through the combinations in the secondary in Tuesday's practice. Dominique Rodgers-Cromartie, who worked some at Bailey's left cornerback spot Monday, was back at his right cornerback spot Tuesday. Chris Harris worked at the left corner with the starters in the base defense.
Guard Louis Vasquez, who was treated for a knee injury after the preseason loss in Seattle, was back in the lineup Tuesday after being held out of Monday's workout.
Fox said Tuesday the Broncos were considering moving Woodyard into the middle linebacker spot even before Bradley's injury. When asked after practice if Woodyard had been moved because Bradley injured his left wrist, Fox said; "That was going to be a move we made regardless.''