April, 1, 2013
4/01/13
7:30
PM ET
Judging from the context of Dennis Allen's
conference call with media members,
it appears new quarterback
Matt Flynn
will, as expected, likely get first crack at the starting quarterback job rather than
Terrelle Pryor
.

Allen said nothing changes and there will be competition. Well, that was the plan had
Carson Palmer
stayed, as the Raiders hoped. Allen said earlier this offseason that Palmer would head into camp as the starter. He had talked about specific packages for Pryor. On Monday, Allen continued to say that was the plan for Pryor.
"I don't think it's going to change a whole lot. Obviously, we feel confident about Matt Flynn as a quarterback and giving him the opportunity to potentially win the starting job," Allen said. "I think we still feel positive about giving Terrelle Pryor an opportunity to compete and specifically having a package of things that he can do really well and giving him an opportunity. So I don't know that there's a whole lot that's changed as far as the mindset of what we feel like we can do offensively."
Allen also talked about Flynn -- who has started two games in five NFL seasons -- in the same category as
Matt Schaub
and
Aaron Rodgers
as players who had to wait before getting their turn. It is clear the Raiders are expecting Flynn to be the starter. Sure, Pryor can always beat him out (Flynn lost his job in Seattle last summer to
Russell Wilson
), but it seems the Raiders still think Pryor has to prove he can handle the job before getting it.
Meanwhile,
Tracy Porter
may decide where he is going to play in the next couple of days. He has visited Oakland and New Orleans. There is little chance Porter will return to Denver. The Raiders are also interested in Dallas cornerback
Mike Jenkins
.
The Cardinals cut quarterback
John Skelton
. It is another sign that the Palmer trade will go through with Arizona.
December, 19, 2010
12/19/10
10:20
PM ET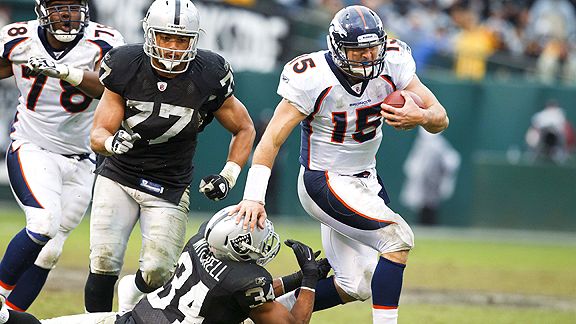 Jason O. Watson/US PresswireDenver rookie quarterback Tim Tebow played well in his debut as a starter.
Tim Tebow
has already made NFL history with his arms and legs.
In his first NFL start, Tebow became the third player in NFL history to throw a touchdown pass of 30 or more yards and run for a touchdown of 40 or more yards. The other quarterbacks were
Kordell Stewart
in 2000 and
Michael Vick
in 2002.
The accomplishment isn't to suggest that Tebow is going to have a brilliant NFL career or be a consistent run-pass threat. But it's an indication that Tebow can make a mark in the NFL.
Tebow started because starter
Kyle Orton
had a rib injury and the Broncos were 3-10 entering the game. There was no downside to playing Tebow. After his performance Sunday, there probably will be no downside in letting him play in the final two games of the season.
For the most part, you have to consider Tebow's starting debut a success. It is irrelevant that Denver lost in Tebow's debut as a starter 39-23. Denver was expected to be blown out in this game. He kept the undermanned Broncos in the game until the second half on the road. The game didn't seem too big to Tebow. He wasn't a wide-eyed rookie; he looked like he belonged.
Tebow certainly wasn't polished or refined, but we knew he wouldn't be. But he moved Denver's offense. He made plays with his arms and his feet. Tebow completed 8 of 16 passes for 138 yards and a touchdown. His passer rating of 100.5 was the highest ever by a Denver quarterback in his starting debut. Yes, even higher than John Elway's.
Tebow ran for 78 yards, including an impressive 40-yard touchdown run, on eight carries. Tebow's first extensive NFL action showed that he has potential and that he can have an impact. And he will only get better. I'm not saying Tebow is going to be a superstar soon. But there weren't any immediate reasons to think he's going to be a bust.
He showed he has a chance to be a solid NFL player.
I expect him to get more chances in the Broncos' final two games in Denver. Why would Denver go back to Orton for the final two games? Denver fans will need a reason to brave the cold in the next two weeks. Watching Tebow is a perfect excuse. If Tebow makes strides in the next two games, it's not out of the question to think the new Denver coach will seriously consider making him the starter next season.
The Tebow Era started Sunday and there were enough good things shown to think it should continue indefinitely.
December, 17, 2010
12/17/10
6:10
PM ET
With Denver starting quarterback
Kyle Orton
listed as questionable to play Sunday at Oakland, rookie
Tim Tebow
has a chance to start against the Raiders. It will likely be a game-time decision.
If Tebow starts he will be the seventh rookie quarterback to start a game this season. Minnesota sixth-round pick
Joe Webb
may be in line to start Monday night.
Tebow was the No. 25 overall pick in the draft. He has only played in special package. Here is a look at the other rookie quarterbacks who have started this season:
December, 13, 2010
12/13/10
11:00
AM ET
Here are some areas the
Denver Broncos
need to focus on after a 43-13 loss to the
Arizona Cardinals
:
Recap:
Denver's miserable season continued with a convincing loss to the Cardinals, who entered the game 3-9. Denver is now 3-10. It was not a good start to the post-Josh McDaniels era. Interim coach Eric Studesville was unable to give Denver any spark. This lost season just got a tad worse. According to ESPN Stats & Information, Denver is now on pace to receive the No. 3 overall pick.
Biggest area to fix:
points allowed: The Broncos' defense was a sieve again. Prior to giving up 10 points to Kansas City last week, the Broncos allowed 100 points in its three previous games. Allowing a weak offense like Arizona -- which started rookie
John Skelton
at quarterback -- 43 points is inexcusable. Denver has allowed 376 points this season -- the most in the NFL.
Biggest area to build on:
run offense. Denver, which was at the bottom of the NFL in rushing for much of the season, is performing better. Denver had 132 yards on the ground. Starter
Knowshon Moreno
had 81 yards rushing.
What to watch for:
Denver visits Oakland on Sunday. The Raiders hammered the Broncos, 59-14, in Denver in October. The Raiders still have slim playoff hopes and their offense is playing well. I could see another blowout in the works.
December, 12, 2010
12/12/10
8:00
PM ET
The humiliation continues for the Denver Broncos after
this loss
against the Arizona Cardinals.


What it means:
The Broncos are now 3-10 after another discouraging defeat in which the 4-9 Cardinals used rookie
John Skelton
at quarterback.
Tomorrow's talker:
The Broncos are no better – at least for now – without Josh McDaniels than they were with him. In its first game since McDaniels was fired Monday after 23 months on the job, Denver was listless in a lopsided defeat under interim coach Eric Studesville, who was promoted from running backs coach hours after McDaniels was fired. It's clear the only real change will happen after the season when Denver brings in a new regime.
Trending:
The Cardinals entered the game on pace for the No. 5 pick and Denver was on pace for the No. 6 pick. It looks clear now the Broncos are in fine shape for a top-five pick. That might be the most attractive part of the job for prospective coaches.
What's next:
Denver has to go to Oakland to face the Raiders, who clubbed them, 59-14, in Denver in October. With Skelton winning Sunday, it has to make you wonder if the Broncos will use rookie quarterback
Tim Tebow
at any time this season. I doubt he'd make his starting debut at the Black Hole, though. Maybe he'll play in Denver's two final games, both at home, against Houston and Tennessee.
December, 10, 2010
12/10/10
8:45
PM ET
While the
Kansas City Chiefs
will likely be without
Matt Cassel
in the Sunday's pivotal game in San Diego, there is a chance the Chargers will have the services of top receiving options
Antonio Gates
and
Vincent Jackson
.
Both Pro Bowl players are questionable to play against the Chiefs. Gates did not practice all week because of a nagging injury, but the team is hopeful he can play. Jackson practiced fully. He is listed as questionable with a calf injury. He missed last week's game against Oakland and he was hurt on the second play against the Colts, which was his first game of the season after a long holdout.
Receiver
Legedu Naanee
is doubtful with a nagging hamstring injury. San Diego running back
Darren Sproles
is questionable after being limited all week with a concussion. It wouldn't be surprised if he doesn't play.
Like in Denver, Houston is preparing for a potential John Elway-Gary Kubiak reunion with the Broncos. Lots would have to happen, folks, but this could potentially be feasible. Elway and the Broncos have been talking about him joining the franchise. These talks have been ongoing. I have chimed on this possibility often. I think it is a matter of time before Elway joins the front office. But as long as Elway, who does not have NFL experience in the area, doesn't make the final personnel decisions, I think it would be a good move. Elway has value, but it should be as the primary decision maker. That's just not his area of expertise.
It doesn't appear that it will be a happy reunion for Oakland defensive tackle John Henderson when he returns to Jacksonville on Sunday. Expect Sunday's game, which the Raiders desperately need to win, to be settled on the ground.
December, 9, 2010
12/09/10
8:45
PM ET
San Diego star tight end
Antonio Gates
didn't practice for the second straight day with a nagging foot injury. However, he is expected to play in the Chargers' crucial game against the Chiefs on Sunday. Receiver
Legedu Naanee
hasn't practice the past two days with a nagging hamstring injury.
Linebacker
Stephen Cooper
(knee), receiver
Vincent Jackson
(calf) and running back
Darren Sproles
(concussion) all practiced on a limited basis Thursday after not working Wednesday. Their availability for Sunday's game will be based on whether or not they can make continued progress. Jackson missed the Oakland game after being hurt on the second play of the Colts' game. It was his season debut after a long holdout.
Denver cornerback Champ Bailey told reporters Thursday that if the new Broncos' brass wants him back next season, he'll be back. Still, it's not a slam dunk Denver will give Bailey a competitive offer to keep him from testing the free-agent market. The Broncos took an offer for Bailey off the table at the last minute earlier this season.
As expected, the blackout for Sunday's crucial game against the Chiefs has been lifted in San Diego. The game will be shown on local television. Three thousand tickets remain for the Chargers' home finale next Thursday against the 49ers.
Denver safety Brian Dawkins (knee) and receiver Demaryius Thomas (ankle) continued to be held out of practice with injuries. Neither player played last week. Denver kicker Matt Prater was added to the injury list. He was limited Thursday with a groin injury.
Denver interim coach Eric Studesville said one of the many calls of congratulations he received this week was from former Giants head coach Jim Fassel. Studesville was on Fassel's staff. Fassel's name has come up as a potential replacement for Josh McDaniels, who Denver fired this week.