AFC West:

Johnnie Troutman
May, 27, 2014
5/27/14
6:00
PM ET
SAN DIEGO -- Sunny skies greeted the
San Diego Chargers
as the entire team took the field for the first time in preparation for the 2014 season.
Coach Mike McCoy also had to deal with a couple veteran no-shows in the first organized team activity. The practices are voluntary, so McCoy said he had no problem with running back
Ryan Mathews
, offensive guard
Jeromey Clary
, outside linebacker
Dwight Freeney
, inside linebacker
Jonas Mouton
and tight end
Antonio Gates
being no-shows on the first day of practice.
Rookie running back
Marion Grice
and cornerback
Greg Ducre
also were not in attendance.
McCoy said the absences were expected, and he had no issues with any of the players not being there.
Mathews
"Not at all," McCoy said. "We know why they are not here. And we're going to get better with the guys we have here right now. It's voluntary, and we know why people are not here."
Mathews, 26, is in the final year of his rookie contract. The Chargers signed running back
Donald Brown
to a three-year, $10.4 million contract this offseason, and the University of Connecticut product will actually make more in total compensation in 2014 ($4 million) than Mathews ($2 million) for the upcoming season.
But Chargers general manager Tom Telesco said before the draft that Mathews had no concerns with the signing.
"Ryan is a starting back, so his role will essentially be the same," Telesco said. "Ryan's a smart guy. He knows why guys are here, and he knows what his role is. It wasn't an issue at all."
Clary is due to make $4.55 million in total compensation for the upcoming season. And with San Diego drafting Notre Dame product
Chris Watt
in the third round, there's some thought Clary could be asked to take a pay cut.
Clary
But as of right now, Clary is set to make his current salary. San Diego's first-unit offensive line included
King Dunlap
at left tackle,
Chad Rinehart
at left guard,
Nick Hardwick
at center,
Johnnie Troutman
at right guard and
D.J. Fluker
at right tackle.
Floyd's back:
Malcom Floyd
, 32, said he's been cleared for full contact after suffering a serious neck injury in Week 2 of the 2013 regular season against Philadelphia. The veteran receiver worked with the first unit opposite
Keenan Allen
, and even took a good blow when middle linebacker
Donald Butler
got caught in the air while going after the ball. Butler braced his impact by grabbing Floyd, and both players fell to the ground.
"I think I'm ready for regular contact now after today," Floyd said, smiling. "But it felt good. This is something I've been looking forward to. There's no more looking back."
Hardwick was not pleased with the play, giving Butler an earful afterwards. Butler apologized to Floyd after the play.
Te'o out:
Second-year pro
Manti Te'o
was one of a couple players who did not practice due to injury. Te'o still is rehabbing from foot surgery during the offseason. Tight end
John Phillips
(knee) and offensive lineman
Michael Harris
(ankle) also did not practice.
McCoy did not seem too concerned with Te'o being limited on Tuesday.
"We're just taking it one day at a time with him, like everybody else who has some kind of injury," McCoy said.
Some tidbits:
Players who stood out during team drills includes tight end
Ryan Otten
, running back
Branden Oliver
and cornerback
Brandon Ghee
. …
Shareece Wright
and
Richard Marshall
were the starting corners with the first unit. …
Javontee Herndon
did a nice job catching punts on the side field during practice.
March, 24, 2014
3/24/14
5:30
PM ET
Drafted as a developmental prospect last season, receiver
Keenan Allen
topped the
San Diego Chargers
' list for performance-based pay in 2013.
Allen added $218,153 to his a little over $1 million in total compensation in 2013. Following Allen on the list for the Chargers were safety
Jahleel Addae
($196,582), an undrafted rookie free agent considered a long shot to make the final roster last season; offensive lineman
Johnnie Troutman
($187,085); cornerback
Richard Marshall
($181,694); and receiver
Vincent Brown
($160,243).
Check out the full list for every NFL team here.
Established in 2002 as part of the collective bargaining agreement, the NFL's performance-based pay program is a fund created and used as a supplemental form of player compensation based on a comparison of playing time to salary.
Players become eligible to receive a bonus distribution in any regular season in which they play at least one official down.
Each NFL team received $3.46 million to pay out to their players for the 2013 season. Generally, players who benefit the most from the pool of money are those that played extensively but had low salaries relative to their teammates.
Allen played in 898 offensive snaps in 2013.
December, 5, 2013
12/05/13
9:15
PM ET
SAN DIEGO -- Playing extensively for the first time in his NFL career,
San Diego Chargers
offensive lineman
Johnnie Troutman
expectedly has had his share of bumps in the road.
Troutman
A fifth-round pick out of Penn State by San Diego in 2012, Troutman did not play his rookie season because of a torn pectoral injury he suffered before the draft. Thrust into a starting role at left guard after Chard Rinehart suffered a serious toe injury against Philadelphia, Troutman's played through injuries in starting nine games for the Chargers.
But Troutman could be headed back to the bench. With left tackle
King Dunlap
(neck) a full participant for a second straight day, head coach
Mike McCoy
could go back to the team's projected starting offensive line that has not been used since Week 3 of the regular season against the Eagles -- Dunlap at left tackle, Rinehart at left guard,
Nick Hardwick
at center,
Jeromey Clary
at right guard and
D.J. Fluker
at right tackle.
"I prepare myself every week like I'm going to go out there and play," Troutman said. "Even though I might not be getting the first-team reps, you've got to go out there with the mindset that you're going to get out there and play. If you don't, then you won't be prepared."
Chargers offensive coordinator Ken Whisenhunt likes the progress Troutman has made this season.
"I think Johnnie's done a good job," Whisenhunt said. "He's grown into the position, which is important. We didn't know a lot about Johnnie coming in here. We knew essentially, this was like his rookie year and he got thrust in to playing probably a lot quicker than we anticipated. You've got to give him credit. He's handled it well."
McCoy directed some pointed comments toward Troutman for a personal foul penalty he was baited into by Cincinnati linebacker
Vontaze Burfict
after a 48-yard field goal by
Nick Novak
late in the game against the Bengals. San Diego had to take the 15-yard penalty on the ensuing kickoff, which allowed Cincinnati to get better field position on the return.
"It's something that whether you get baited to or not it's unacceptable," McCoy said. "That's what I told him instantly after the play happened. I'm sure you all saw that. After the game, talking to the team it's something that we can't accept. You don't want any unsportsmanlike conducts. That's going to happen from time to time. In a critical time, it was the worst time possible to have that happen."
Troutman leads the team with eight accepted penalties for 55 yards, including six false starts.
"I don't feel like my penalties have been an issue," Troutman said. "Early on I got a couple false starts, but there's just a lot of stuff going on out there early when you first get out there, and with the speed of the game you get a little anxious. Last week I got that little cheap thing. But for the most part I think I've played inside the guidelines of the game."
With the Chargers at 5-7 and still in the playoff hunt, McCoy is tasked with putting the best team out on the field that can win right now. But he also has to make sure younger players like Troutman continue to develop within the organization.
Eight of San Diego's 22 starters are doing so for the first time in their pro careers this season. The NFL is a bottom-line business, so wins matter. But in the first year of general manager Tom Telesco and McCoy's rebuilding effort, the duo also has to determine which players will be part of the team's ability to create sustainable success long term.
For now, McCoy says he's focused on beating his team's next opponent, the Giants
"It's all about winning," McCoy said. "Through experience and repetition you'll get better at anything. But we haven't done that all year long [focused on developing players]. We're not going to start that now.
"It's a matter of doing whatever you can to win. And I think the more people play, the better they're going to be over time. But you don't go into a game saying we're going to develop this player."
Which means the development of young players like Troutman could be put on hold.
"Every week we're going to try to play the best five, whoever we think those best five guys are," McCoy said. "Sometimes it takes a week of practice to determine who those guys are and how the health of your football team is. We'll make that decision this week also."
September, 23, 2013
9/23/13
10:34
PM ET
By
Eric Williams
| ESPN.com
One of the bright spots from Sunday's loss to the
Tennessee Titans
, according to
San Diego Chargers
coach Mike McCoy, was the play of the offensive line.
Starting right tackle
D.J. Fluker
did not start due lingering concussion symptoms.
Michael Harris
started in his place.
During the game, left tackle
King Dunlap
suffered a concussion, and left guard
Chad Rinehart
sustained a toe injury.
Down three starters, the Chargers did some major reshuffling to make it through the game. Only center
Nick Hardwick
stayed in his position.
[+] Enlarge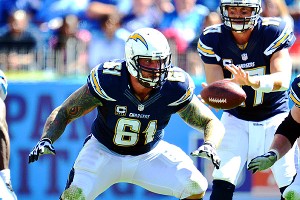 Don McPeak/USA TODAY SportsThe Chargers' uniform approach "provides for effectiveness when these things happen," center Nick Hardwick said of early-season injuries.
Harris moved to left tackle.
Rich Ohrnberger
, who came in for Rinehart at left guard, moved to right guard.
Jeromey Clary
moved from right guard to right tackle. And
Johnnie Troutman
made his first NFL appearance at left guard.
"A number of our guys had to step up," McCoy said. "We had to shuffle the deck a couple times there. At the end of the game, it didn't look anything like the five guys we had there to start the season out. There were four guys in there that were different, but to their credit, they did a nice job of stepping up."
Hardwick said offensive line coach Joe D'Alessandris prepared his unit to deal with injuries by having linemen work at multiple positions during training camp.
"They did a really good job during training camp of moving guys in and out, up and down the roster, and letting different guys work together," Hardwick said. "And we're all taught exactly the same. In our system, there's no leeway for letting a guy do things his own way. You have to do it the way the system is designed, and that provides for effectiveness when these things happen."
McCoy praised the performance of the offensive line and pointed specifically to Harris and Hardwick having strong games.
"I just trained myself during the offseason to be versatile," said Harris, who started nine games at left tackle last season. "It's a long season. Guys go down. It's part of the game, so I'm happy my coaches gave me the opportunity to go out there. And I've just got to keep proving myself each week. The team's counting on me."
San Diego's offense line has helped pave the way for the Chargers to average 26 points a contest, ninth in the NFL. The Chargers also have done a better job of protecting
Philip Rivers
up front, giving up just five sacks through three games.
Last season, Rivers was sacked 49 times, second-most in the league behind
Aaron Rodgers
.
With Fluker, Rinehart and Dunlap's availability for this weekend's game against Dallas uncertain, the Chargers face the very real possibility of rolling out the team's third different starting offensive line combination in four games.
San Diego played five different starting offensive line combinations in 2012.
"Some guys are getting some tests run today, and doing some things," McCoy said about the injured offensive linemen. "I'll meet with the medical staff, because we've just got done with the coaching staff. And we'll meet with the doctors later today."
July, 25, 2013
7/25/13
9:35
PM ET
A look at some highlights of our
AFC West chat
, which was held earlier Thursday:
Denver
Ben from Boston:
I've heard a lot of positive buzz about
Julius Thomas
and
David Bruton
. What do you think the odds are that those guys see serious playing time this year?
Bill Williamson
: They both have a shot. They will be given the chance to show what they can do. I think Bruton will play a lot. Health is the key for Thomas.
Kansas City
Bob A from Denver:
Do you think teams will be overlooking KC early in the season due to last year's record? I think that would be a big mistake
BW:
I think Denver respects that coaching staff and the roster. The league knows the Chiefs have ability.
Oakland
Steve from NY:
Any reason to expect Raiders defensive linemen
Christo Bilukidi
or
Jack Crawford
to stand out in Year 2?
BW:
These are exactly the type of players Oakland wants to see develop in a building year like this. They both have some promise. I kind of like Bilukidi. Don't be surprised if he develops quickly.
San Diego
Rick from San Diego:
Will
Johnnie Troutman
be able to help SD out on o-line this year? Any great UFA's we should know about on the Chargers that could make the team too?
BW:
If he can stay healthy, he has a chance to get into the rotation. He has a chance to be a good player.
May, 29, 2013
5/29/13
8:00
AM ET
Now that the
San Diego Chargers
seem to have their five starting offensive linemen figured out, ESPN's Matt Williamson thinks they should get creative.

The Chargers solved an offseason-long need at left tackle by signing former Pittsburgh starter
Max Starks
. While Starks is not a long-term answer (the Chargers will likely try to address the position more permanently next year via free agency or the draft), he does complete the starting offensive line. The unit has been subpar for the past two years because of major injuries.
The Chargers used their first-round pick, No. 11 overall, on
D.J. Fluker
. He is expected to play right tackle. They signed
Chad Rinehart
in free agency; he is expected to start at left guard. Former right tackle
Jeromey Clary
has the early edge over 2012 draft pick
Johnnie Troutman
, who was injured all of last season, at right guard. Longtime anchor
Nick Hardwick
remains the constant at center.
Williamson has other ideas San Diego might want to try.
He would move Starks to right tackle, use free-agent addition
King Dunlap
at left tackle and move Fluker to right guard.
"That way you would have one great player this year on that line in Fluker," Williamson said. "I think he can be a Pro Bowler at right guard. I think he will struggle some at right tackle. He will have trouble sliding and dealing with speed rushers. At right guard, he can move ahead and smash people, which are his strengths."
Williamson thinks Starks, who has played right tackle, can be successful on the right side, and that Dunlap can be a suitable short-term answer at left tackle. Dunlap can also play right tackle.
It's an interesting concept. I get the idea of putting a player like Fluker where he can best help.
Even if the Chargers keep the current plan, I do think the unit is improved. That's not to say that, as a whole, it is above average -- there will still be work to do next year. But San Diego can get by with this group.
What is important is the Chargers' offensive line is much deeper than it was in the past. In addition to Troutman, the team has youngsters in Troutman,
David Molk
and
Mike Harris
and free-agent pickup
Rich Ohrnberger
. If the line suffers massive injuries for a third consecutive year, it will be in better shape than in the past.
May, 8, 2013
5/08/13
8:00
AM ET
Mid-week mailbag:
Jerred G. from PA. wants to know
where
Omar Bolden
fits in with the
Denver Broncos
.
Bill Williamson
: Good question. The Denver cornerback room is getting filled with the addition of
Dominique Rodgers-Cromartie
in free agency and the drafting of
Kayvon Webster
in the third round. They also have
Champ Bailey
and promising youngsters
Chris Harris
and
Tony Carter
. Bolden was a fourth-round pick last year. He played mostly special teams. I think he has a chance to be good, but he certainly is the Broncos' sixth cornerback this year and he hopes the team keeps that many. My guess would be that he will be safe.
---
Tom from Temecula, Calif., wants to know
what the Chargers' plans will be for young guard
Johnnie Troutman
.
BW:
Troutman is an intriguing player. He was a fifth-round pick last year. He missed all of last season with a torn pectoral muscle. But Troutman is healthy and he is expected to be given a chance to start. I think Troutman has a chance to be a fine player.
---
Matt Craig from Silverton, Ore., wants to know
if I think rookie running back
Latavius Murray
can make an impact in Oakland this season.
BW
: We will see. He has tools. He's solid in all areas and he is big at 6-foot-2, 225 pounds. We've seen late-round rookie running backs play well in the past. Oakland will not hesitate to make Murray part of the offense if he earns it. I think he is definitely a player to keep an eye on in the preseason.
April, 4, 2013
4/04/13
9:00
PM ET
Here are some highlights from our AFC West chat, which was held earlier Thursday
.
Denver
Luke from Denver
: If the Broncos do select a running back early, who will be the odd man out? Moreno or McGahee?
BW:
I'm not sure if either one would have to go right away. But with that being said, this may be the final season in Denver for both players.
Kansas City
Jake from Lawrence:
Why are the Chiefs looking so hard at Dion Jordan potentially being the number 1 overall pick?
BW:
I think they are looking at a lot of guys and he has big talent. I know, they already have Hali and Houston. But if they think he can be a three-down guy, why not? But because he weighs just 250, Jordan may be a better fit as a 3-4 outside linebacker and the Chiefs are in pretty good shape there. So, is an interesting fit.
Oakland
PT from Franklin, NC:
Do you think Pryor will get a legit chance to start or does Flynn's contract make him the default starter in Oakland?
BW:
Did you see Flynn's deal? $6.5 million. You don't pay a backup $6.5. Only way Pryor starts this year if Flynn is a bust in the preseason. Perhaps he will be beaten out for the second straight camp (it was
Russell Wilson
last year), but I think Oakland expects Flynn to keep the job.
San Diego
Karl from AZ:
If Fredrickson from WI is there in the 3rd round do you think SD would grab him as an eventual successor to Hardwick?
BW:
They also like the kid they drafted out of Michigan last year. That's the thing about the Chargers' O-line. They need help but in Molk, Harris and Troutman, there are some potential starters in the next year or so.
July, 23, 2012
7/23/12
8:30
PM ET
ESPN's Adam Schefter is reporting
the Carolina Panthers will send the Oakland Raiders a conditional seventh-round pick for receiver Louis Murphy. The deal will be contingent on Murphy making the 53-man roster, which he should.
I'm not surprised the compensation is low. The price tag for average players is just not high. This trade is a little risky for Oakland. If rookies Juron Criner and Rod Streater aren't ready to contribute, the team could miss Murphy. He was a solid possession receiver when healthy.
In other AFC West news:
Oakland receiver Darrius Heyward-Bey
pleaded no contest
to drunk driving charges Monday stemming from an April arrest. He will now enter the NFL's substance abuse program if he isn't already in the confidential program. He could potentially face a short NFL suspension.
Oft-injured San Diego linebacker Larry English was among the handful of veterans who practiced with the Chargers' rookies Monday. English, the No. 16 overall pick in 2009, is facing a make-or-break season in San Diego.
As expected, San Diego first-round pick Melvin Ingram is working on defensive line spots as well as linebacker. He is a versatile player who the team will often move around. But linebacker will likely be his primary spot.
The Chargers are putting rookie guard Johnnie Troutman on the
physically unable to perform
list as expected. He suffered an arm injury prior to the draft. The team thinks he should be ready to play later this season.
The 49ers signed former Denver safety Darcel McBath.
July, 11, 2012
7/11/12
12:15
PM ET
By
ESPN.com staff
| ESPN.com
May, 10, 2012
5/10/12
9:42
PM ET
New Denver cornerback
Drayton Florence
said reuniting with former Jacksonville head coach Jack Del Rio was one of the reasons why he signed with the Broncos on Thursday.
Del Rio is Denver's new defensive coordinator. Florence played for Del Rio in Jacksonville in 2008.
"Yes, the familiarity always is good when you've played for somebody and you know how they work," Florence said in a conference call with reporters. "The system, the language is going to be familiar. So it was a good fit."
In other AFC West news:
The San Diego Union-Tribune reports that
the Chargers have signed two of their draft picks
: tight end
Ladarius Green
, taken in the fourth round, and guard
Johnnie Troutman
, taken in the fifth. Troutman is expected to miss the entire season due to a pectoral injury he suffered prior to the draft. The Chargers have signed most of their draft class.
The Raiders will try out a few players
this weekend at their minicamp. So far, no names of note are on the tryout docket.
The Chiefs announced additions to their personnel department. Jim Nagy was promoted from regional scout to national scout. Kansas City hired former Patriots national scout Kyle O'Brien as a regional scouts and scouting assistant Ryne Nutt was promoted to an area scout.
The Chiefs will announce plans for their 50th anniversary season in 2012 at a press conference next Tuesday.
April, 30, 2012
4/30/12
9:55
PM ET
The
San Diego Chargers
added depth to their offensive line with the experienced
Rex Hadnot
.
Hadnot is an eight-year veteran and started all 16 games for the
Arizona Cardinals
last season. He is insurance if the Chargers are not comfortable with
Tyronne Green
at left guard who is replacing the retired
Kris Dielman
.
The Chargers were ravaged by injuries on the offensive line last season, so having a player like Hadnot is important.
The Chargers also announced their undrafted rookie class. Here is the list:
Hubert Anyiam, WR Oklahoma State
Jason Barnes, WR South Carolina
Cordell Bell, OT Minnesota State-Mankato
Eddie Brown, NT Texas A&M
Charles Burton, OT Montana
Sean Cattouse, FS Cal
Paul Cox, WR Mississippi Valley State
Taylor Embree, WR UCLA
Gregory Gatson, CB Arkansas
Nick Guess, LS Tennessee
Logan Harrell, DE Fresno State
Michael Harris, OT UCLA
Michael Hayes, RB Houston
Jarrett Lee, QB LSU
Josh Linam, ILB Central Florida
Mohamed Marah, FB San Jose State
Kyle Martens, P Rice
Phillip Payne, WR UNLV
De'Andre Presley, CB Appalachian State
Christian Tupou, DE USC
Michael Willie, WR Arizona State
UPDATE:
The Chargers expect fifth-round draft pick Johnnie Troutman to miss the entire season because of a torn pectoral muscle he injured
two weeks ago.
The Chargers knew of Troutman's injury when they drafted him. But the team loves his long-term potential.