October, 14, 2011
10/14/11
12:00
PM ET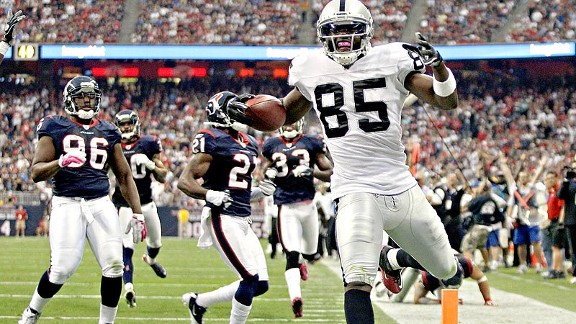 Thomas B. Shea/Getty ImagesDarrius Heyward-Bey's touchdown reception helped lead the Raiders to a win over Houston.
Whether
Darrius Heyward-Bey
will ever live up to his lofty draft status or whether he even becomes a consistently reliable player is still to be determined.
At least, the man who took an overwhelmingly amount of heat (including from this writer) for taking Heyward-Bey with the No. 7 overall pick of the 2009 draft lived to see the
Oakland Raiders
receiver make some strides.
In the final game he witnessed the Raiders play, Al Davis watched Heyward-Bey be a bright spot for the Raiders in a Week 4 loss to New England. While perhaps honoring the man who drafted him, Heyward-Bey enjoyed his career highlight in Week 5, the day after Davis died at the age of 82.
Heyward-Bey had a team-high seven catches for 99 yards in the Raiders'
25-20 win at Houston
, which goes down as one of the greatest regular-season moments in team history. Heyward-Bey put Oakland back in the game late in the second quarter when he scored on a 34-yard touchdown after showing strong tackle-breaking ability.
It was fitting that Heyward-Bey player such a major role in the Raiders' first win without Davis. Heyward-Bey was emotional after the game in interviews and talked about the importance of wearing the Silver and Black. The day Davis died, Heyward-Bey
tweeted a thank you
to Davis for changing his life.
However, the pairing wasn't initially easy for either man.
The Maryland product was considered a late first-round or second-round prospect prior to the draft. He had good size and stunning speed. Yet, he wasn't overly productive in college and there were questions about his hands. Still, Davis was -- as he often was -- enamored with Heyward-Bey's speed. Davis shocked the NFL by taking Heyward-Bey with the No. 7 pick. Most scouts thought Texas Tech's
Michael Crabtree
was the best all-around receiving prospect. He went three selections later to San Francisco.
Heyward-Bey didn't do himself any favors when he dropped several passes in his first NFL minicamp. The drops continued in training camp and then in the season. Heyward-Bey had some positive moments in his first two NFL seasons, but the drops and inconsistency overpowered the bright spots.
Heyward-Bey had only 35 catches in his first 26 games.
After
JaMarcus Russell
-- the No. 1 pick of the 2007 draft -- busted, Davis (
who scored with several late draft picks in recent years
) received criticism for blowing another top pick in the form of Heyward-Bey.
Yet, Davis never wavered on Heyward-Bey. Despite several other promising young receivers on the roster, Heyward-Bey continued to get plenty of chances in his third year. It is paying off. He has 16 catches this season. But the key is his 11 catches in the past two games.
He looks much more confident and he plays very physically. The drops are decreasing.
"I keep telling you guys, Darrius is rising," Raiders coach Hue Jackson told reporters after the Houston game. "I'm very happy for Darrius."
Heyward-Bey will have to complete this season with several more quality games before he is considered a player who has a clear future. But he's showing that it's worth the Raiders' time to continue to develop him. The Raiders are
loaded with intriguing talent at receiver,
so Heyward-Bey's development will only make this offense more difficult to defend.
He also is helping his legacy in the 2009 draft class. Overall, that year's draft is considered to be poor. Several second- and third-round picks already have been cut by their drafting team, and several first-round picks (including every other AFC West top-round pick: Kansas City's
Tyson Jackson
, Denver's
Knowshon Moreno
and
Robert Ayers
and San Diego's
Larry English
) have yet to develop. The No. 11 overall pick,
Aaron Maybin
of Buffalo, already has been cut. Just this week, the Raiders acquired linebacker Aaron Curry -- the No. 4 pick in that draft -- from Seattle for a seventh-round pick in 2012 and a conditional 2013 pick.
Yet, some good receivers were taken in that draft. Taken after Heyward-Bey and Crabtree (he has had a slow start to this season, but he does have 114 catches in 31 games compared with Heyward-Bey's 51 catches in 30 games) in the first round were Philadelphia's
Jeremy Maclin
, Minnesota's
Percy Harvin
, the Giants'
Hakeem Nicks
and Tennessee's
Kenny Britt
. Other notable receivers taken in that draft were Pittsburgh's
Mike Wallace
(third), the Jaguars'
Mike Thomas
(fourth), Oakland's
Louis Murphy
(fourth), the Colts'
Austin Collie
(fourth) and the Bears'
Johnny Knox
(fifth).
Matt Williamson of Scouts Inc. is not sure if Heyward-Bey is in the league of most of those players. Yet, Williamson sees improvements being made.
"He is certainly getting better," Williamson said. "His routes are crisper and more reliable and his hands are also more reliable. The speed is obvious -- and it is still his greatest asset."
The Raiders hope to see Heyward-Bey continue to work and become an overall asset -- and become a positive part of Davis' drafting legacy.
January, 19, 2011
1/19/11
12:23
PM ET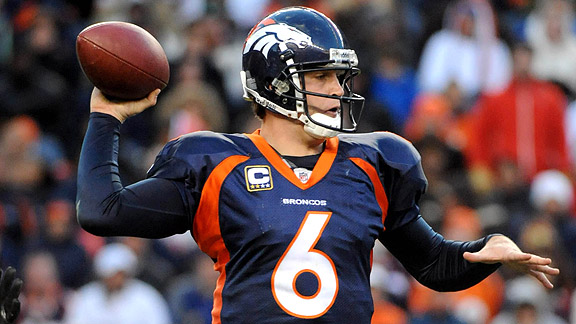 Kirby Lee/Image of Sport/US PresswireDenver has won just 12 games since trading quarterback Jay Cutler to Chicago in 2009.
Jay Cutler
became a Denver Bronco months after the team advanced to the AFC Championship Game.
When the Broncos traded up to take Cutler with the No. 11 pick of the 2006 draft, they probably would have been thrilled to know the quarterback would lead his team to a home championship game appearance in his fifth NFL season.
Unfortunately for Denver, Cutler is now a member of the
Chicago Bears
. The Broncos
traded Cutler in April 2009
, and they are still looking for their first playoff berth since they drafted him.
"This is the type of move that can adversely affect a franchise for five years," Scouts Inc.'s Gary Horton said. "There is no question. The Broncos are in much worse shape today than they were the day before they made this trade."
This week gives Denver a painful reminder of how far the organization has fallen in the two years since Josh McDaniels replaced Mike Shanahan as head coach. Shanahan left a good offense, but Denver's defense needed to be retooled. The job appeared to be an attractive one. The 8-8 Broncos were headlined by a 25-year-old quarterback who was coming off a Pro Bowl berth is in his second full season as a starter.
One of the primary reasons McDaniels was hired at age 32 to replace Shanahan was his ability to work with Cutler. Instead, the entire franchise was changed after McDaniels tried to acquire former Patriots quarterback
Matt Cassel
, who was instead traded to Kansas City. McDaniels and Cutler then feuded. Cutler was shipped out.
While Cutler is preparing to face Green Bay in the NFC Championship Game on Sunday, McDaniels is
beginning a stint as the offensive coordinator in St. Louis
. He is trying to rehabilitate his once seemingly boundless coaching career after a disastrous 28-game run in Denver. Among McDaniels' biggest missteps in Denver were poor personnel decisions, beginning with the Cutler trade.
[+] Enlarge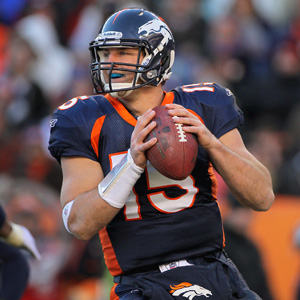 Doug Pensinger/Getty ImagesThe Broncos hope Tim Tebow develops into their quarterback of the future.
While the Bears are exactly where they hoped they'd be after the trade, Denver is trying to erase the McDaniels mistake. The team is now beginning the John Fox era with another young quarterback,
Tim Tebow
.
"Chicago got the big prize here," Matt Williamson of Scouts Inc. said. "The way this trade worked out for both Chicago and Denver is proof why teams don't trade young, franchise quarterbacks. It's just not something you do."
What bothers Williamson and Horton most about the trade is what Denver did with the picks it got in the Cutler deal.
"The Broncos got value," Williamson said, "but they squandered the picks."
Because Denver made so many draft picks, it's difficult to break down exactly what it received for Cutler. Denver originally sent Cutler and a fifth-round pick in 2009 (which turned out to be productive Bears receiver
Johnny Knox
) for quarterback
Kyle Orton
, first-round picks in 2009 and 2010 and a third-round pick in 2009.
Denver took defensive end/linebacker
Robert Ayers
with the 2009 first-round pick (No. 18). Ayers has shown some ability, but not as much as Denver hoped. It packaged the Bears' 2009 third-round pick and its own third-round pick in a deal with Pittsburgh for the final pick of the second round and a fourth-round pick. Denver took tight end
Richard Quinn
in the second round and guard
Seth Olsen
with the fourth-round pick. Neither has made an impact. Pittsburgh took standout receiver
Mike Wallace
with the pick from Chicago.
Denver had the No. 11 pick in 2010 from the Bears. The pick was flipped several times and Denver packaged the compensation with other picks that resulted in the selections of receiver
Demaryius Thomas
, Tebow and receiver
Eric Decker
. All could have promising futures. The players selected by other teams as part of the 2010 trade were San Francisco first-round pick
Anthony Davis
, Philadelphia first-round pick
Brandon Graham
and New England fourth-round pick
Aaron Hernandez
.
Tangibly, it is safe to say Denver received Orton, Ayers, Quinn, Olsen and some of the trading power to help fuel the early 2010 selections.
Orton played well for Denver, but he could be traded if Denver gives Tebow the opportunity to start in 2011, which is expected. Ayers will have a chance to play defensive end with Fox's defense likely going to a 4-3 scheme, but he still doesn't look like a foundation player. It has to eat at Denver fans that the Broncos passed on linebacker
Clay Matthews
in favor of Ayers. Matthews is a star for Green Bay.
"Denver could have gotten so much more," Horton said. "You saw Chicago get Knox and Pittsburgh get Wallace in this deal, and you just have to think the Broncos wasted a great opportunity here.
"The Broncos have to hope Tebow is a hit or this franchise will [be] set back for years. You look at Cutler,
Brandon Marshall
[traded to Miami],
Peyton Hillis
[traded to Cleveland], Mike Wallace and look at all the missed chances. This could be a very good team. But it's starting over all because of this [Cutler] trade."
Chicago is one game away from the Super Bowl.
"It's not difficult to argue who won this trade," Williamson said. "It wasn't the Broncos."
November, 24, 2009
11/24/09
2:30
PM ET
We will not know for some time who won or who lost the blockbuster trade between the Broncos and the Bears in April that sent
Jay Cutler
to the Windy City.
But 10 games into the trade, it seems the Broncos may have the edge. Denver gets the early nod for three reasons:
1. Cutler is struggling in Chicago.
2.
Kyle Orton
looks like he's Denver's leader.
3. The Broncos received several players in the deal and have a top pick still to come.
Cutler was the centerpiece of the deal, of course. Denver decided to deal Cutler, who made the Pro Bowl in his third season at 25, because he couldn't get on the same page with new coach Josh McDaniels. In Chicago, especially in recent games, the bad Cutler has taken over. Cutler was mostly good in Denver, but he did have occasional mental lapses. The mental lapses have taken over his game recently.
There is plenty of time to salvage his Chicago days, but, at this moment, Cutler doesn't look to be worth the bounty Chicago surrendered.
The Bears threw Orton into the deal because they didn't need him anymore. He's become a key cog in Denver. The Broncos probably will try to re-sign him in the offseason.
Orton has been mostly good for Denver. He led the team to its 6-0 start. Orton was not good in the next two games, two Denver losses. But he was rebounded well. Sunday, he cemented himself as Denver's leader when he entered the game in the second quarter in a crucial game against San Diego despite a badly sprained ankle. He played the rest of the game and played pretty well. It is clear Orton's teammates believe in him, something that wasn't always the case with the Cutler, who has a reputation for being somewhat aloof.
While Cutler is more talented than Orton, some Broncos feel they now have better leadership at the position.
In addition to Orton, Denver received first- and third-round picks in 2009 and a first-rounder in 2010. Chicago is 4-6, so the 2010 choice could be fairly decent.
The Broncos chose linebacker
Robert Ayers
with the No. 18 pick they acquired in the deal. Ayers has shown flashes, although he was not active against San Diego. Still, the Broncos like him as a future player.
Denver packaged the third-rounder from the Bears with their third-round pick in a draft-day trade with Pittsburgh that netted tight end
Richard Quinn
and guard
Seth Olsen
. Both players could help down the road. It does need to be noted that Pittsburgh used the third-round pick Denver got from Chicago to select receiver
Mike Wallace
. He has been a rookie star.
Chicago did get a fifth-rounder from Denver in the Cutler deal and used it on receiver
Johnny Knox
, who looks promising.
After 10 games, this deal does not heavily favor either side. But Denver received some decent pieces and Cutler has not lived up to early expectations. The edge goes to Denver at this point.