October, 8, 2012
10/08/12
1:25
AM ET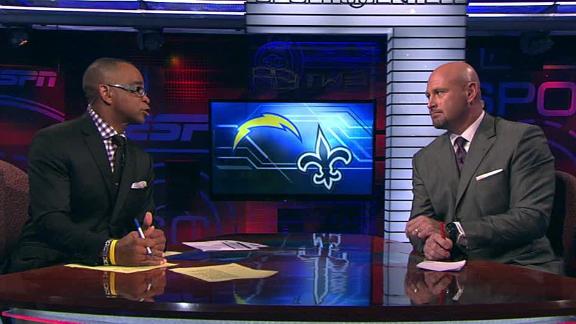 A look at the
San Diego Chargers
' heart-breaking
31-24 loss
to the
New Orleans Saints
:


What it means:
The Chargers blew a golden opportunity to take control of the AFC West. The Chargers fell to 3-2 on a day the other two teams in the AFC West that played (Oakland had a bye) lost.
Momentum swinger:
The Chargers were dominating this game and it looked like it was taking a 31-14 lead in the third quarter on an interception return for a score. However, rookie
Melvin Ingram
was called for roughing the passer on what was a questionable call. The Saints took off after that penalty and ended up scoring 17 unanswered points.
Two tough turnovers:
San Diego quarterback
Philip Rivers
played well, but an interception on a tipped pass and a fumble as the Chargers desperately tried to score on the final drive of the game sullied an otherwise good night for him. This game will be remembered for Ingram's game-changing penalty.
Mathews' game:
San Diego running back
Ryan Mathews
had 80 yards on 12 carries, including a spectacular 13-yard touchdown run as he continued to show he is on his way to becoming a productive player.
Meachem breaks out:
Former Saints receiver
Robert Meachem
had his breakout game as a Charger. He had two touchdowns after being nearly invisible in the first quarter of the season.
Big night for former Charger:
New Orleans quarterback
Drew Brees
, who spent his first five NFL season with the Chargers, broke the NFL record for consecutive games with a touchdown pass with 48. He had shared the mark with Johnny Unitas.
What's next:
The Chargers have a pivotal AFC West game against visiting Denver, 2-3, on ESPN's "Monday Night Football."
October, 5, 2012
10/05/12
1:30
PM ET
»
NFC Final Word
:
East
|
West
|
North
|
South
»
AFC
:
East
|
West
|
North
|
South
Five nuggets of knowledge about Week 5:
Special day for Brees:
Former San Diego quarterback
Drew Brees
can set a major NFL record when his former team travels to New Orleans to play his current team. Brees has thrown a touchdown passes in 47 straight games. He is tied for the NFL record with the legendary Johnny Unitas. It would be obviously special for him to set the record against the team that drafted him in 2001. Brees left for New Orleans in 2006. What was Brees' longest TD streak as a Charger? Eight games in 2005.
[+] Enlarge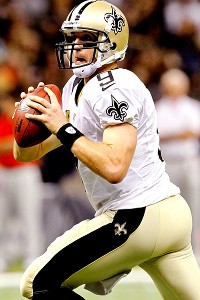 Derick E. Hingle/US PRESSWIREDrew Brees can break a record held by Johnny Unitas when he plays his old team, the San Diego Chargers, on Sunday.
Will Manning keep it simple again?
Denver quarterback
Peyton Manning
is coming off his best game as a Bronco. Will he take a similar approach to New England's defense as he did against Oakland in Week 4? According to ESPN Stats & Information, Manning threw 33 of his 38 attempts less than 10 yards downfield. Manning completed 27 of those 33 throws for 274 yards and a pair of touchdowns against Oakland. Manning's average pass traveled 4.6 yards downfield.
A bad matchup in Kansas City?
The Chiefs are 1-3, making Sunday's home game against Baltimore a must-win. The numbers suggest Kansas City will be in for quite a challenge. According to ESPN Stat & Information, the Ravens have outscored their opponents by 28 points in the first three quarters of games, which is the fourth best in the NFL. The Chiefs have been outscored by 74 points in the first three quarters of games, which is, by far, the worst mark in the NFL. If the numbers play out similarly Sunday, this could be a blowout. Here's more statistical bad news for the Chiefs: The Ravens are 6-0 under John Harbaugh in games following either a Thursday game or a bye week. The Ravens beat Cleveland on Thursday night in Week 4.
Will San Diego continue to start fast?
While the other three AFC West teams have had their challenges in the first quarter, San Diego has flourished. It hopes to do the same Sunday night at 0-4 New Orleans. According to ESPN Stats & Information, the Chargers have outscored their opponents by 25 points in the first quarter this season. That is the best in the NFL.
Blitzing in New England: What will give?
The Denver defense is excelling while rushing five or more pass-rushers. However, New England quarterback
Tom Brady
is excelling when being blitzed. According to ESPN Stats & Information, the Broncos have sent five or more pass-rushers 42 percent of the time (third most in the NFL), and they have held opponents to the second-lowest completion percentage on those plays (47.5). However, facing Brady will be a different animal. Brady is completing 66.7 percent of his throws against five or more rushers. His plus-4 touchdown-to-interception differential is tied for best in the NFL when blitzed.
October, 3, 2012
10/03/12
10:00
AM ET
Philip Rivers
knows he and his San Diego Chargers' teammates will get the best of the 0-4
New Orleans Saints
on Sunday night.
Rivers said the Saints will not be uptight nor will they pack it in after a disastrous start of the season. How does Rivers know New Orleans will be ready to face the Chargers?
Drew Brees
.
Rivers was Brees' understudy in 2004-05 before he took over for Brees in 2006. Rivers is still impressed by Brees' handle on situations, whether times were good or bad.
"It's been many years since I've been around Drew (Brees) but he's treating today like they're 4-0," Rivers told reporters in San Diego this week. "He's very steady. And that's how you bounce back from a situation like they're in. In a Drew Brees' team with what they've been though, you can't ever count them out of anything. We'll get their best and we've got to prepare to make sure that we give them our best … We could have won on a Monday night or been beat and he was going to do the same thing. His demeanor never changed. He could have thrown three interceptions and it was like he had thrown three touchdowns or vice versa. And I think that's something that filters down through the locker room. I'm a little more emotional and it's harder for me to keep as steady but that's one thing that I did learn from him."
Brees will have a chance to break an important NFL record against his original team. He is tied with Johnny Unitas for throwing a touchdown pass in 47 straight games. Rivers knows what a difficult feat that is.
"It's impressive when you think about how many games that is in a row throwing a touchdown," Rivers said. "He's broken a lot of records in the past few years and he's a heck of a player. I was with him in the early part of his ascent to the level he's at. So it's been fun to see where his and what a great player he is."
March, 19, 2012
3/19/12
4:15
PM ET
After spending 14 years in Indianapolis as the face of the Colts,
Peyton Manning
is poised to join the
Denver Broncos
.
Manning will turn 36 on Saturday. Thanks to ESPN Stats & Information, here is a list of other notable quarterbacks who changed teams late in their careers:
Norm Van Brocklin
Traded to the Eagles after playing nine seasons for the Rams. Won the NFL title in 1951 with L.A., then finished his career in 1960 leading the Eagles to the NFL championship.
Fran Tarkenton
Traded from Vikings to Giants in 1967 and back to Vikings in 1972. Multiple draft picks were involved each time.
Johnny Unitas
Purchased by the Chargers prior to the 1973 season after 17 illustrious seasons in Baltimore. Lasted only five games with the Chargers before retiring.
Joe Namath
Signed with the Rams after being waived by the Jets in 1977. Played only four games in L.A.
Twelve seasons with Jets
Record of 2-2 in one season as the Rams' starter in 1977
Joe Montana
Traded from 49ers to Chiefs in 1993 for a first-round draft choice. Played two seasons with Chiefs, taking them to 1993 AFC Championship Game.
Thirteen seasons with 49ers
Record of 17-8 in 2 seasons as Chiefs starter in 1993-94 (lost conference championship game in 1993)
Drew Bledsoe
Traded from Patriots to Bills in 2002 for a first-round draft choice. With
Tom Brady
taking over in New England, Bledsoe was dealt to a division rival where he started every game in three seasons with the Bills.
Brett Favre
Traded to Jets after 16 seasons in Green Bay. Spent one year with the Jets before joining Minnesota for two seasons.
9-7 with Jets in 2008 (led NFL with 22 interceptions)
17-12 in 2 seasons as Vikings starter in 2009-10 (lost Conference Championship game in 2009)
Donovan McNabb
Traded to Redskins after 11 seasons with Philadelphia. Spent one season in Washington before going to Minnesota.