January, 22, 2013
1/22/13
1:15
PM ET
The reaction is pouring is after Tim Brown made
powerful accusations
against his former Oakland head coach, Bill Callahan.
The often outspoken Brown told SiriusXM NFL Radio that Callahan "sabotaged" the team before its 48-21 thrashing against the Tampa Bay Buccaneers in the Super Bowl 10 year ago. Brown said Callahan changed the team's offensive game plan late in the week and the team couldn't adjust. Brown suggested Callahan did it because he wanted his friend and former Oakland coach Jon Gruden to win the game instead himself and his team.
So far, most of the reaction from people close to the situation does not back up Brown's claims.
Former Oakland linebacker Bill Romanowski said Brown was "delusional"
to think Callahan would sabotage
his own team.
Former Oakland running back Zack Crockett said the
game plan
was "tweaked" from a run-first to a pass-heavy attack as a result of center Barrett Robbins disappearing from the team. Brown, however, suggested that Robbins went missing after the game plan was changed.
Former Oakland running back
Jon Ritchie seemed to be on Brown's side
, according to a text to ESPN's Chris Mortensen.
"I've said it for years. What we practiced heavily during the week is not what we ran in that game. Could have been due to Barrett's absence. It was never explained to me. I believe I said it on the record every year we talked about the Super Bowl [when he was with ESPN for four years]. I always thought it would get sensational like this," Ritchie wrote in the text.
However, another former Raiders offensive player who didn't want to be named, told ESPN that he did not agree with Brown.
"No, he [Tim] isn't right. While there was always dysfunction, that didn't happen. If anything Bill wanted to kick Jon's a--. Nobody would do that. Brutal. We got out-played and out-coached. Period," the former player wrote in the text to ESPN.
I tend to believe what Crockett said, that Callahan changed the plan because of Robbins leaving. That is believable. The idea of a head coach tanking an entire year's work and jeopardizing his own future to help a friend win the Super Bowl is simply not believable.
Callahan lasted another year in Oakland after the Super Bowl flop. If the late Al Davis had any suspicion that his own coach threw a Super Bowl, there would be no chance Callahan would have kept his job.
UPDATE:
On his
SiriusXM show
, the quarterback of that Oakland team, Rich Gannon, said he doesn't believe Callahan would have done what Brown accused him of doing.
November, 30, 2012
11/30/12
12:00
PM ET
We are exactly a month from the end of the NFL regular season. Thus we are a month and one day from the start of the first process of the 2013 season: the firing of head coaches.
With five games remaining, both the
Kansas City Chiefs
and
San Diego Chargers
have to be considered prime candidates to make a coaching change. The Chiefs are 1-10, and Romeo Crennel has to be in danger even though he is in his first full season as coach. In San Diego, Norv Turner's team is 4-7. It was a major surprise that the team kept Turner after last season. I don't see any way he makes it to another season, barring an unlikely playoff berth.
The coach firings might not be the end in both cities. If Crennel is fired, general manager Scott Pioli will likely suffer the same fate. I get the feeling Kansas City owner Clark Hunt wants to keep both Pioli and Crennel, but the fan fury is so great, I doubt he'll be able to. San Diego general manager A.J. Smith may also be on the firing line, but I can see a situation where he is kept and Turner is not.
There is always a chance Oakland owner Mark Davis can lose patience and end the Reggie McKenzie-Dennis Allen tandem after one season (or just get rid of coach Allen). But I believe Davis will stick with the current situation despite a disappointing first year.
With potential change in the air, let's look at some of the coaching candidates, in alphabetical order, who could be available: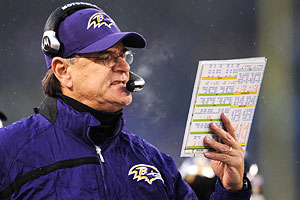 AP Photo/Gail BurtonBrian Billick went into broadcasting after he was fired by the Ravens in 2008.
Bruce Arians, interim Indianapolis head coach:
I'm intrigued by Arians. The longtime offensive coordinator is doing a fantastic job with Colts coach Chuck Pagano out because of his fight with cancer. This is a unique situation. Teams could hire a coach who may lead a team to the playoffs without any restrictions -- and what an audition Arians is having. He has worked with
Ben Roethlisberger
in Pittsburgh and
Andrew Luck
in Indianapolis. I could see the Chargers being interested in pairing him with
Philip Rivers
. The Chiefs could also be a fit for Arians.
Brian Billick, former Baltimore head coach:
Billick is interesting because he is a Super Bowl-winning coach who might be reasonably priced. He has a reputation for being a strong offensive mind and a strong leader. He could fit in both San Diego and Kansas City, and I think he could work with an established general manager.
Bill Cowher, former Pittsburgh head coach:
When Cowher decides he wants to come back, he will likely have his pick of jobs. I'm not sure if any of the AFC West jobs would be more attractive to him than others. Still, Cowher has a history in Kansas City and is the dream coach for many Chiefs fans. But he may be way too pricey for the team.
Jack Del Rio, Denver defensive coordinator:
Del Rio has done a terrific job in Denver and had lots of head coaching experience in Jacksonville. I have a feeling he may remain Denver's defensive coordinator, but he could be a reasonably priced option for the Chiefs or Chargers.
Jon Gruden, former Oakland and Tampa Bay head coach:
The most frequent question I get from readers is this: Is there a chance Gruden could come back to coach the Raiders? I've heard that countless times since Gruden was fired by Tampa Bay after the 2008 season. My answer now is the same as always: Probably not. There have been plenty of opportunities for Gruden to come back to Oakland and it has not happened. Never say never, but I'd be surprised. If there is a fit this offseason in the division, I'd say it would be San Diego. I think Gruden -- some reports say the University of Tennesee wants to hire Gruden -- would love to live in San Diego, and he'd love to work with Rivers. I'm not saying Gruden is a favorite to end up in San Diego, but it wouldn't shock me.
Chip Kelly, University of Oregon head coach:
See Cowher. Kelly will get his pick of jobs and he will cost a ton. I'm not sure he'd fit in the AFC West, although working with Rivers could be intriguing to him.
Mike McCoy, Denver offensive coordinator:
He is going to be a hot candidate. I think the preferred destination for McCoy, a former Panthers assistant, is to go to Carolina if the Panthers fire Ron Rivera; he is highly regarded there. I could see him receiving interest from the Chiefs as well. He is young, bright and won't break the bank.
[+] Enlarge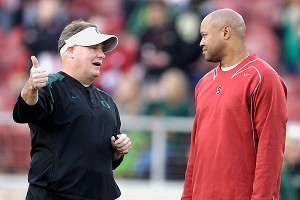 AP Photo/Paul SakumaOregon's Chip Kelly, left, may be too pricey for the AFC West; Stanford's David Shaw could fit better.
Wade Phillips, Houston defensive coordinator:
The only reason I put Phillips on this list is if Smith remains in San Diego. Smith admires Phillips from Phillips' days as the Chargers' defensive coordinator. I think he'd be a candidate if Smith is making the choice.
Andy Reid, Philadelphia head coach:
Reid is very likely entering his last month in Philadelphia after a tenure that started in 1999. The word around the league is that he will get instant interest. If Reid doesn't opt to take time off, I could see San Diego being a fit. He has a home in the area and he'd work well with Rivers. But would the Chargers want to replace Turner with a veteran coach who just flamed out after a long stay with a team?
Rex Ryan, New York Jets head coach:
It is no sure thing he will be fired, but there's a chance. I think he could get some interest in the AFC West. He was a finalist in San Diego when Turner got the job. I think the Chiefs could also be interested. They have the makings of a good 3-4 defense -- Ryan's specialty. Putting him in a small media market could also save Ryan from himself occasionally.
David Shaw, Stanford University head coach:
This is one of my favorites. I can really see Shaw ending up in San Diego. He was born there and may be one of the hot young coaches available. I think he'd be perfect for San Diego whether Smith is there or not. His father, Willie Shaw, was a longtime NFL assistant. David Shaw played for Bill Walsh. He worked for Al Davis. He was an assistant to Jim Harbaugh and he has coached Luck. And he has won as a head coach. If I was hiring a coach next month, I'd seriously investigate this 40-year-old.
April, 19, 2011
4/19/11
6:35
PM ET
ESPN analyst Jon Gruden conducted a lively conference call with media members Tuesday to address the upcoming draft.
Several of the topics Gruden broached involve the AFC West and this draft. Among the topics he addressed were the quarterbacks in the draft (each team in the division could take a quarterback), the top pass-rushers available and the defensive tackles Denver may choose from at No. 2.
Let's take a look:
Was there one guy you sat down going into the QB camp that you came away really impressed by or you may not have thought as much of until you sat down with him and broke down the film with him?
GRUDEN:
You know these five guys that we had in, three of them are juniors: (Cam) Newton, (Blaine) Gabbert and (Ryan) Mallett. They're all underclassmen.
Cam Newton
with 14 career starts, the thing that impressed me, not only his physical attributes and his size, but his charisma. I think his eagerness to learn and prove that he can adapt to a pro style on offense. He showed very good retention to me in the meetings and the material that we covered. I just like the look in his eyes, the eagerness and feeling that he has a lot to prove to everybody including himself. I think Newton impressed me the most in that regard.
When you look at Andy Dalton, you see him evolving into what long term? Is he best for a West Coast offense, or could you see him becoming a starter in any style of offense?

GRUDEN:
I think Andy Dalton can play in any offense. I think when you become a pro quarterback and play in the National Football League, as the hash marks change, the field becomes more available. When you're on a college hash mark and you're throwing the ball to the wide side of the field, that's almost an impossible task for anyone. So I think putting the ball in the middle of the field favors Andy Dalton. I've seen him be an accurate passer down the field. I've seen him manage a high volume offense with great success at TCU. He's got four years of production. And if you look at Texas Christian football, who would have thought they'd be 13-0 and Rose Bowl champions? I really think Andy Dalton can fit any offense. But the more you put on him above the neck mentally to make decisions and play the game with his heady nature, I think the better Andy Dalton's going to be. He's an outstanding, well versed quarterback that I think will fit a lot of schemes.
Wanted your take on Colin Kaepernick of Nevada, and whether it's harder to project him because he's playing in the pistol and against WAC competition?
GRUDEN:
Well, the pistol does make it tough, but you can't deny production. No one's thrown for 10,000 yards and rushed for over 4,000. I wanted to see
Randall Cunningham
when I picked up the film. This guy's got a fastball and he can really throw it. He's a Chicago Cub draft selection. I mean, he threw the football 60 miles an hour in Indianapolis. But the pistol offense is hard to really define what kind of pure passer he is. I watched him in the Senior Bowl, the workouts. I think he showed some improvement going underneath the center. But I do think you're getting a double threat. You're getting a guy that has a contagious, charismatic personality -- a guy that really wants to compete. You're getting an exciting prospect. Might take him some time, but you're getting a guy that can run and pass, just needs some development and needs to make the transition to the next level.
[+] Enlarge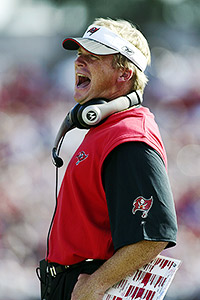 Andy Lyons/Getty ImagesESPN analyst and former Bucs coach Jon Gruden was impressed with Cam Newton's retention skills.
Talk a little bit about premium placed on pass-rushers and cornerbacks. Every year it seems more and more, and how does that match up with the strength of this particular draft?
GRUDEN:
There is a premium on pass rush. You don't want to have to blitz five, six, seven guys to get there. You want to be able to get there with four, if you can for sure, and use seven men in coverage. Play two deep, five under, three deep, four under. Mix your coverages up. Don't telegraph to these quarterbacks what you're playing, but you have to put pressure on these quarterbacks. Defensive ends are a premium in this draft. I think this is an outstanding class of defensive end. There are some good defensive tackles. But Bowers, providing his knee is healthy, and
Robert Quinn
at North Carolina,
Aldon Smith
is special at Missouri. I think
J.J. Watt
is a physical guy coming off the edge, like
Ryan Kerrigan
at Purdue.
Adrian Clayborn
has some excellent tape. There are a number of good pass rushers in this draft. I think if you look at
Nick Fairley
, you're seeing one of the best inside pass rushers from a tackle position. So this is the strength of the draft. You throw in guys like
Von Miller
, who is a
Derrick Thomas
size speed guy coming off the corner. There are some guys that can provide pressure quickly, and I think that is the strength of this draft.
Cam Newton is visiting the Broncos today, and of course they have Tim Tebow. You had them both in your camp in the last two years. Is it true that Cam is superior with the throwing mechanics and a better athlete because he's faster, but Tebow is far better in the intangibles? That's what I'm getting as everyone talks about these guys.
GRUDEN:
Well, Tebow's body of work was much more extensive than Cam's. Cam Newton has come from nowhere. I was watching film with Cam Newton. I showed Cam Newton throwing a pass for the Florida Gators against the Hawaii Rainbows two years ago. Cam Newton has exploded on to the scene out of nowhere and threw in 14 games. Whereas, Tebow was a Heisman Trophy winner [as a sophomore], came back for his senior year, and part of two national championship teams. They're different guys. One's a left handed guy with different mechanics. And Newton is a work in progress in his own right. But they are similar from the standpoint that they both physically dominated college football. I think there are some interesting intangibles with Newton also. You're getting a guy that you can build a very unique offense around. I hear the elevator music. I don't know what is reality. I just got to spend a day and a half with Cam. I was impressed with him. I know people that have had him in for individual meetings. They like his retention. They like his attention to detail. There are some similarities in that they're physical status type guys. I'd like to have either one of them.
On D tackle, Marcell Dareus seems to be rated higher than Nick Fairley coming into this draft, and Fairley's getting this criticism on work ethic and technique. But production wise, Fairley about doubled Dareus this past year. Your thoughts on those two guys?
GRUDEN:
Well, Dareus, if you watch Darius play two years ago, his film is even better than it was this year. He got hurt in the Arkansas game. That ankle lingered throughout the season. He missed the opening game because of a rules violation. But I think Dareus is a different player than Fairley. Dareus is a three position player in a 3-4 front. He can play nose, either defensive end. He is legitimate, sheer power. This is a power player. He is rare. You've seen the physical nature this guy's put together with a rare combination of explosive physical play, and a guy that's well versed under Nick Saban. Fairley is an under tackle. He's the guy that reminds me of
Kevin Williams
of the
Minnesota Vikings
. He's a one gap penetrator and a premier pass rusher in his draft, if you ask me. A lot of the sacks and hits he put on quarterback were not by accident. He, again, has one year of production, really. I think he's on the rise. I think he's getting better. I think Coach Rocker at Auburn did an excellent job with Fairley developing him.
Christian Ponder at Florida State, have you gotten to spend much time with him? Have you broken down his film? What do you think of him as a quarterback and as a person?
GRUDEN:
I have not had a chance to individually work Christian Ponder out. I have had a chance to study his tape. Here's a guy that is a three-year starter. He's won 22 games at Florida State, Senior Bowl MVP. He's already graduated. There are a lot of upsides here. He's had some injuries, which are the big concern. He's a great leader. Two-time team captain of the Seminoles. Two years ago he threw for almost 70 percent. I think the injuries got to him a little bit this year. But you see a couple tremendous throws in the Florida game. One, a red zone post where you see the anticipation, the accuracy, the toughness in the pocket. There are a lot of guys I know that that like this guy because he's got the aptitude to learn. He's got the leadership traits that you want, and he's got a lot of playing experience. And Jimbo Fisher does some good things on offense. But I think he's an accurate, intermediate passer. People want to see him push the ball maybe a little more down the field. Like to see a little more arm strength. But I think those things will develop and come to Ponder when he gets healthy and continues to physically get stronger. He's a very good collegian. He's got good enough size, good enough mobility, and he's won a lot of games and shown tremendous toughness for the Seminoles.
December, 28, 2008
12/28/08
4:27
PM ET
Posted by ESPN.com's Bill Williamson
Tom Cable and Michael Bush just increased their chances of staying in Oakland in 2009.


Playing hard for the second straight week, the Raiders ended a disappointing 2008 season on a high note with a win over Tampa Bay, a team that was struggling but was playing for a playoff berth.
A win over former Oakland coach Jon Gruden will not hurt Cable's chances of staying in Oakland. Cable finished his interim stint in Oakland with a 4-8 record. He replaced Lane Kiffin after four games. Oakland finished the season 5-11.
Oakland did win its final two games, though, and it broke a streak of five straight losses in the season finale. The Raiders, who were often blown out under Cable, will now begin the search for a new coach. Cable has expressed his desire to stay in Oakland and he will likely get a look.
Bush also helped his cause by rushing for 177 yards on 27 carries. He had a 67-yard touchdown run in the fourth quarter, in which Oakland scored 17 points. Bush was close to being traded earlier in the season and he was used sparingly this season. Now, Oakland knows it has a capable player in its tailback stable.
This is, indeed, a nice end to the season for Oakland. But it can't be romanced by the two-game win streak over two mediocre teams. The Raiders are not close to being a playoff team in 2009. If the right things happen, and quarterback JaMarcus Russell develops, they could contend. But this team still has a lot of work to do.
But the back-to-back wins take some of the sting out of what was supposed to be a season of significant progress in Oakland.