May, 20, 2011
5/20/11
12:00
PM ET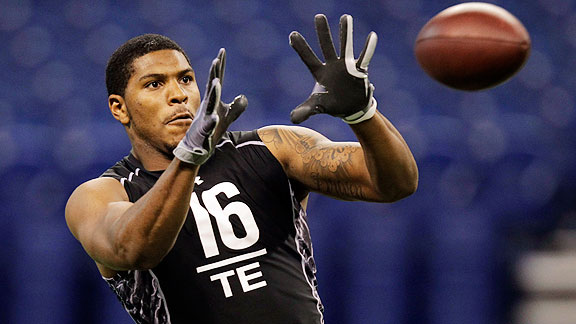 AP Photo/Michael ConroyThe Broncos are hoping former basketball player Julius Thomas can be the next Antonio Gates.
Just because
Antonio Gates
made the transition from basketball to the NFL, it doesn't mean everyone can do it.
Yet, in the past several years, Clancy Barone has seen a trend at the college basketball level.
"Antonio Gates made it look easy, but it's not," said Barone, who coached Gates earlier in his career and is now Denver's tight ends coach.
"It seemed like every college basketball player who wasn't going to the NBA, that they would be the next Antonio Gates. It's not the case … It's not for everybody. There's just a select few that can make it work."
Last season, New Orleans rookie
Jimmy Graham
excelled after playing one season of college football at Miami following a four-year basketball career at the school. Barone and the
Denver Broncos
hope
Julius Thomas
is the next player to make it work.
Denver took Thomas in the fourth round of last month's draft despite the fact he played just one year of college football at Portland State. Thomas was a star on the team's basketball team and walked on to the football team after his hoops eligibility ran out. Prior to that he played just one year of high school football in Stockton, Calif.
Denver sees something in Thomas, though, and the Broncos think he can join Gates and Graham as the rare players who can transition from being a college basketball player to being an NFL tight end. I don't count Atlanta's
Tony Gonzalez
–- the greatest tight end of all time –- among that group because he was a college football star who also played basketball at California. Make no mistake, Gonzalez, a first-round pick, was a football player first.
[+] Enlarge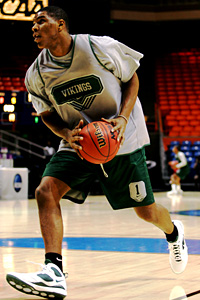 Brian Losness/US PresswireJulius Thomas averaged 10.8 points and 5.9 rebounds per game during his final season of basketball at Portland State in 2009-10.
Thus, it was Gates who started this trend. A high school football star in Detroit, he was a standout on the Kent State basketball team that made an Elite Eight run in 2002. The Chargers signed him as an undrafted free agent project in 2003 and he quickly developed into a prime offensive weapon.
Barone soon heard of other college basketball players who wanted to try out the NFL tight end gig. Denver gave a cup of coffee to former Mercer hoopster
Wesley Duke
. Former George Mason star Jai Lewis had an unsuccessful whirl at the NFL. Cleveland drafted former BYU basketball player
Jordan Cameron
, who eventually transferred to USC to play football, in the fourth round last month.
"It's not for everybody," Barone said. "Gates is a future Hall of Famer and now, all of sudden, everybody wants to do it. You look at guys because of the athleticism and the body build. But they must have toughness to be a football player and the willingness to learn football. Antonio Gates is a student of the game. That's part of the reason why it worked for him."
Still, Barone admits the success of Gates made him more willing to take a look at Thomas, who wowed NFL scouts with his athleticism at the NFL combine. Thomas, who played well for Portland State last season, is 6-5, 245 pounds and has 4.6 speed in the 40-yard dash.
Barone said one of the first things he told Thomas when he worked him out -- Thomas said he had his best pre-draft experience with Barone -- was that he would be inundated with Gates comparisons because of their similar journey. He told him not to buy in to that talk, that Thomas will have to pave his own way to NFL success.
With that said, Barone admits there are some comparisons beyond the college basketball connection.
"When I sat down with Julius, I saw some things that were very similar to Antonio," Barone said. "He gets the game. He understands it very well and he had great body control like Antonio."
Thomas said he will study Gates' game not only because he, too, was a college basketball player making the transition to tight end, but also simply because Gates sets the gold standard for tight end play.
"He is a guy that you can study and really start to model some of the things you do after," Thomas said. "I take it as an honor to be included in the same sentence as a lot of guys who have played basketball and transitioned to football and done well. That's a standard that I want to hold for myself, being successful in making that transition. Being compared to Antonio Gates is a great start for me. I'm going to go ahead and work as hard as I can to make that comparison as similar as possible."
Matt Williamson of Scouts Inc. thinks Denver made a worthwhile risk in taking Thomas. Williamson realizes the Gates' comparison is lofty, but the fact that Thomas played basketball is not exactly a negative.
"It's a worthwhile risk for sure," Williamson said. "When I was in recruiting at Pitt, we very much liked seeing high school kids with a basketball background. It was different at that level of course. They had size, were in shape, had good hand/eye coordination and knew how to use their body to shield defenders from the ball. Of course, that transition is much harder going from college to the NFL … I do think it is very worth the risk and I am quite curious to see how (Thomas) does in the NFL."
Not as curious as Barone.
"We've seen it work before," Barone said. "We'd like to see it work again."
April, 28, 2011
4/28/11
2:30
PM ET
Scouts Inc. has released its complete seven-round mock draft in
an Insider piece.
Let's check it out:
Denver

Round pick Player Pos. School
1 2
Von Miller
LB Texas A&M
2 36
Justin Houston
DE Georgia
2 46
Kyle Rudolph
TE Notre Dame
3 67
Jaiquawn Jarrett
S Temple
6 186
Derrick Locke
RB Kentucky
6 189
Cortez Allen
CB Citadel
7 247
Pat Devlin
QB Delaware
My take:
It's a strong class of players in the first four picks. Devlin is an interesting project.
San Diego

Round pick Player Pos. School
1 18
Muhammad Wilkerson
DL Temple
2 50
Martez Wilson
LB Illinois
2 61
Kelvin Sheppard
LB LSU
3 82 Greg Salas WR Hawaii
3 89 Kendrick Ellis DT Hampton
6 183
Pierre Allen
DE Nebraska
6 201
Anthony Gaitor
CB Florida Int.
7 234
Joe Torchia
WR Virginia
My take:
The first five picks are very strong. The Chargers would instantly get better on defense and Salas is an intriguing receiver.
Kansas City

Round pick Player Pos. School
1 21
Nate Solder
OT Colorado
2 55
Titus Young
WR Boise State
3 86
Akeem Dent
LB Georgia
4 118 Chris Carter LB Fresno State
5 135
Andrew Jackson
OG Fresno State
5 140
Ian Williams
DT Notre Dame
6 199
Julius Thomas
TE Portland State
7 223
Shaun Chapas
FB Georgia
My take:
Young, Dent and Cart are all interesting value picks at their respective spots.
Oakland

Round pick Player Pos. School
2 48
Johnny Patrick
CB Louisville
3 81
Joseph Lefeged
S Rutgers
4 113
David Arkin
OG Missouri State
5 148
Jordan Cameron
LB USC
6 181
Aldrick Robinson
WR SMU
7 219
Nathan Enderle
QB Idaho
7 241
Michael Smith
OT Nebraska
My take:
The focus on DBs and the offensive line early is smart. Enderle would be a terrific choice in the last round.