December, 9, 2012
12/09/12
1:38
PM ET
Saturday,
Jamaal Charles
was in Austin, Texas for the funeral of a family member, ending an incredibly sad and confusing week.
Sunday, in Cleveland, Charles did what he does best. He ran 80 yards for a touchdown on the first play from scrimmage to give the Chiefs a 7-0 lead over the Browns.
Charles and several other members of the Chiefs' team flew to Cleveland on Saturday after attending the funeral of Kansandra M. Perkins. Perkins, 22, was murdered by her boyfriend
Jovan Belcher
, a starting linebacker on the Chiefs, last Saturday. Belcher then went to the team's facility and killed himself. The team went to a memorial service for Belcher on Wednesday.
The tragedy was especially difficult for Charles. Perkins was the cousin of Charles' wife, Whitney. Charles and his wife introduced Belcher and Perkins.
For Charles to be able to even suit up in the past two games is an accomplishment. For him to excel, is special.
In other AFC West news:
CBS Sports reports
the Raiders won't suffer financial issues if they cut linebacker
Rolando McClain
, He is eligible to return to the team Monday. If he is not cut, the belief is McClain may be inactive for the final three games of the season and then cut in the offseason.
The Chiefs released offensive lineman Hayworth Hicks and promoted wide receiver
Josh Bellamy
from the practice squad to the 53-man roster.
September, 1, 2012
9/01/12
2:20
PM ET
The
Kansas City Chiefs
just announced their eight-man practice squad.
There are no surprises. Draft picks
Jerome Long
and
Junior Hemingway
, who were cut Friday, highlight the list. Here is the team's practice squad:
No. Name Pos. Ht. Wt. Age Exp. College
8
Josh Bellamy
WR 6-0 206 23 R Louisville
49
Patrick DiMarco
FB 6-1 234 23 1 South Carolina
88 Junior Hemingway WR 6-1 225 23 R Michigan
60 Jerome Long DL 6-5 285 22 R San Diego State
70
David Mims
OL 6-8 335 24 1 Virginia Union
84
Jamar Newsome
WR 6-1 201 24 1 Central Florida
77
Lucas Patterson
OL 6-4 295 24 1 Texas A&M
38
Neiko Thorpe
DB 6-2 185 22 R Auburn
August, 31, 2012
8/31/12
10:38
PM ET
Click
here
for the complete list of
Kansas City Chiefs
' roster moves.

Most significant move:
I found it interesting that defensive tackle
Amon Gordon
was cut. Gordon is solid, but far from special. But it could open a spot for
Shaun Smith
. Smith, who was recently cut by the Titans, tried out for the Chiefs on Tuesday. He played for Romeo Crennel in both Cleveland and in Kansas City. Smith could be added to a defensive-tackle group that includes first-round pick
Dontari Poe
,
Anthony Toribio
and
Jerrell Powe
. It was also significant that rookie defensive back
DeQuan Menzie
was put on injured reserve. The Chiefs have a lot of injuries in the secondary (they also cut veteran
Donald Washington
) and will need to do something. Young running backs
Cyrus Gray
,
Nate Eachus
and
Shaun Draughn
all made the team, giving Kansas City some intriguing youth in the backfield. Interestingly, the Chiefs kept five tailbacks, but no fullbacks. What does it mean? The will be doing a lot of multiple-tight-end and -receiver sets. It'd also be nice to see
Jamaal Charles
and
Peyton Hillis
share a backfield on occasion.
Onward and upward:
The Chiefs cut rookie receivers
Junior Hemingway
and
Josh Bellamy
. The Chiefs like both of those players, but they are deep at the position. Both should be headed to the practice squad. As expected, second-year quarterback
Ricky Stanzi
made the team. He will be the No. 3 quarterback and given another chance to develop. Defensive lineman
Jerome Long
, a draft pick, could also be headed to the practice squad.
What's next:
Whether or not the Chiefs sign Smith (doing so after Week 1 would avoid guaranteeing his 2012 contract), I think they could add to the defensive line. I think they certainly will look at help for the secondary because of injuries, and if the right linebacker becomes available, the Chiefs could add some depth. I also think the offensive line might be an area in which Kansas City looks for depth -- it has been trying to add a veteran all summer. One name to keep an eye on is former New England offensive lineman
Dan Koppen
. He has a history with Chiefs general manager Scott Pioli.
August, 20, 2012
8/20/12
8:00
AM ET
With
Dwayne Bowe
starting to practice this week after ending his holdout, the
Kansas City Chiefs
have a deep receiving group. Let's take a look at how it could shake out.

1. Dwayne Bowe
Best-case scenario:
Bowe quickly catches up with his teammates and learns offensive coordinator Brian Daboll's system and continues to be the No. 1 receiver he has been.
Worst-case scenario:
Bowe suffers a muscle-related injury, fails to grasp Daboll's system and does not make an immediate impact.
2. Jon Baldwin
Best-case scenario:
Baldwin continues to develop at a rapid pace and becomes a reliable NFL starter.
Worst-case scenario:
Baldwin takes a step back and shows he's not ready to start.
3. Steve Breaston
Best-case scenario:
Breaston continues to be an underrated receiver and, playing behind Bowe and Baldwin, makes a huge impact as a slot receiver.
Worst-case scenario:
Bowe or Baldwin suffers an injury and Breaston fails to make a big impact as a starter.
4. Dexter McCluster
Best-case scenario:
McCluster settles into the receiver position in his third NFL season and utilizes his natural skills.
Worst-case scenario:
McCluster still doesn't show he is ready to be an impact rotational player.
5. Devon Wylie
Best-case scenario:
The fourth-round pick shines as a returner and occasional receiver.
Worst-case scenario:
The game proves to be too big for him as a rookie and he doesn't play much.
6. Terrance Copper
Best-case scenario:
A favorite of the team, Copper continues to be a special-teams ace and occasional receiving target.
Worst-case scenario:
Copper gets hurt and falls out of the rotation.
Others to watch:
Junior Hemingway
,
Josh Bellamy
.
Why:
The team likes the rookies, but there likely won't be any room for them. Both could be bound for the practice squad.
August, 18, 2012
8/18/12
12:00
PM ET
ST. JOSEPH, Mo. -- This isn't a training camp for the leisurely.

Armed with the best roster the franchise has seen in years, the
Kansas City Chiefs
are moving quickly under new coach Romeo Crennel. For those who visited the Chiefs camp last year, this pace is foreign.
"There are no wasted moments," said quarterback
Matt Cassel
.
The final training camp under former coach Todd Haley will live in infamy in the Heartland. Last season's camp was essentially a three-week walk-through exercise. Haley chose to go that route because he wanted to ease the players back into the program after a lost offseason due the lockout. The plan didn't work, because the Chiefs were physically and mentally behind the rest of the league. They suffered several major injuries early in the season, were drubbed in early games, and it set the tone for a disappointing season.
However, speed is back in vogue as Crennel tries for success in his second go-round as a head coach. The tempo change has paid off so far. The Chiefs have looked crisp in practices and they were dominant on both sides of the ball against Arizona in the preseason opener last week.
The idea is to keep the forward tempo moving into the season as Kansas City tries to win the AFC West for the second time in three seasons.
"It's exciting to see what is happening here," Cassel said. "We have a lot of work to do, but we are all on the same page and all want to have success together."
THREE HOT ISSUES
1. The ACL Club:
In addition to bringing in several free agents, the Chiefs are getting back three standouts. Safety
Eric Berry
, running back
Jamaal Charles
and tight end
Tony Moeaki
all suffered torn ACLs last September, but all are on pace to be major contributors this season.
"All of those guys look great," Cassel said. "They're going to help us a lot."
2. Dwayne Bowe's absence:
It is over now. Bowe signed his franchise tender Friday, a day after camp ended. The Pro Bowl receiver did not participate in the offseason workouts, either. Bowe likely reported in time to learn the system of new offensive coordinator Brian Daboll and get into football shape. With him being out, the Chiefs' offense clicked and it gained a lot of confidence. Having Bowe back heading out of camp should only make this unit stronger
[+] Enlarge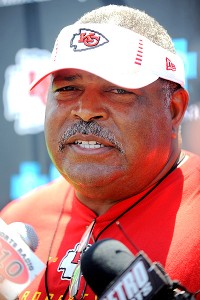 Denny Medley/US PRESSWIREChiefs coach Romeo Crennel has the respect of his players.
3. Good vibrations:
This team is in a good place. The players love playing for Crennel. One of the reasons Crennel was promoted from interim coach was the players' respect for him. It has continued now that he is the permanent coach. He is the polar opposite of Haley, who was known as somewhat of a loose cannon. Crennel offers a calm, steady hand. Players love that he's organized and up front. There is a lot of trust.
"They've worked hard and they know the possibilities this team has," Crennel said. "Every team feels good about itself this time of year, but this team's attitude is in the right place."
REASON FOR OPTIMISM
This is the best overall roster in the AFC West. It is one of the deepest rosters in the AFC. There is proven talent throughout the roster and the team has the right mix of veteran and young players. Still, the Chiefs are the youngest team in the NFL. They are the only team in the league not to have a player over the age of 30.
"When I was on my visit, I just looked up and down this roster and saw so much talent," free-agent pickup, tight end
Kevin Boss
said. "It is just loaded with talent."
When you look at this roster, there isn't much not to like.
REASON FOR PESSIMISM
The Chiefs will be dismissed as playoff contenders until Cassel proves otherwise. Many don't believe in them because they don't believe in Cassel, even though he has already delivered a division title in Kansas City. Many scouts don't think he can be a difference-maker, and that because he is the least talented of the four quarterbacks in the AFC West, he will not be able to overcome the other teams in the division. I believe there is enough talent on the roster to help Cassel lead the Chiefs deep into the playoffs, but he must prove his mettle.
OBSERVATION DECK
The rap on No. 11 overall pick Dontari Poe is that the defensive tackle wasn't productive at Memphis. The Chiefs didn't feel that way. They reviewed every college snap he ever played and were impressed that he played 60 percent of the snaps at 346 pounds. For what it's worth, Poe's college statistics and combine measurables compare favorably to Green Bay's B.J. Raji, who has become a star after being the No. 9 overall pick in 2009. Poe is two inches taller and nine pounds heavier than Raji, yet he ran a 4.9 40-yard dash at the combine compared to Raji's 5.23. Poe had nine more tackles and four more quarterback hurries than Raji in college despite the fact Raji played 16 more college games. This is not to suggest Poe is going to be a better NFL player than Raji, but it does take some steam out of the argument that Poe wasn't a productive college player.

[+] Enlarge

John Rieger/US PRESSWIREThe Chiefs like what they've seen from first-round pick Dontari Poe so far.

When Bowe held out, Jon Baldwin thrived under the professional guidance of veteran receivers Steve Breaston and Terrance Copper. Some folks in camp think Baldwin is making strides because he is taking cues from Copper and Breaston.

Defensive ends Tyson Jackson and Glenn Dorsey are plus players for the Chiefs. Neither is spectacular and they will always get grief for not living up to their draft billing. Dorsey was the No. 5 overall pick in 2008 and Jackson went No. 3 a year later. But both players are excellent run-stuffers and are among the best in the league in that area.

While the focus is on Poe at nose tackle, Anthony Toribio and 2011 draft choice Jerrell Powe are also in the mix.

Inside linebacker Brandon Siler looks good after missing all of last season with an Achilles injury. He could push Jovan Belcher for playing time.

While Haley was known for his ranting and raving on the field, Daboll is also fiery. He scoots around the field, barking instruction.

His new teammates love running back Peyton Hillis. His toughness and competitiveness have created buzz during camp.

Left tackle Branden Albert is quietly becoming the player the former Kansas City regime thought it was getting when it took him No. 15 overall in 2008. I expect the Chiefs to try to extend the pending free agent at some point. He's been stellar.

I wouldn't be surprised if the Brady Quinn-Ricky Stanzi battle to be Cassel's backup continues all season, but with Quinn winning the job initially. The Chiefs like where they stand with both players.

The Chiefs are excited about the potential of tight ends Moeaki and Boss. Expect both to have high-profile roles in the offense.

Second-year pass-rusher Justin Houston has been terrific, and the Chiefs are bubbling over at what kind of pass-rush combination Tamba Hali and Houston can become.

The team appreciates the flexibility of third-year player Dexter McCluster, who has bounced from receiver to running back to receiver again. McCluster may never have a classically defined role, but he will have a role in this offense.

Undrafted rookie receiver Josh Bellamy still has a chance to make the 53-man roster, but in a numbers game, he could wind up on the practice squad.

So far, so good for new center Rodney Hudson. The second-year player looks comfortable playing with Cassel and vice versa.

Camp observers believe kicker Ryan Succop has gotten bigger and stronger, which will help with his field goal range.

The team's fourth-round pick, receiver/returner Devon Wylie, is explosive. He will be given a chance to contribute.

Keep an eye on defensive end Ropati Pitoitua. He has outplayed 2011 third-round pick Allen Bailey and he may be a keeper.

Brandon Flowers' foot injury has allowed second-year cornerback Jalil Brown to blossom. I expect Brown to be on the field often in the regular season.

Fourth-string quarterback Alex Tanney is a curiosity because of his YouTube trick throwing video. But Tanney isn't making much real football tread in this camp. The best he could hope for in 2012 is the practice squad.
June, 27, 2012
6/27/12
8:00
AM ET
Two players to keep an eye on in training camp and in the preseason are undrafted receivers
Josh Bellamy
and
Rod Streater
.
Bellamy, from Louisville, signed with the
Kansas City Chiefs
, while Streater, a Temple product, is with Oakland. Both players stood out during organized team activities.
Still, each has an uphill battle to make his respective 53-man roster, and might need a dominant camp and preseason to avoid the practice squad.
Still, these youngsters have shown they deserve a look after not being drafted. In his pre-draft rankings, Mel Kiper Jr. had Bellamy as the 122nd-best receiver available, Streater the 162nd. Bellamy is 6-foot, 205 pounds and runs a 4.57 40-yard dash. Streater is 6-foot-3, 193 pounds and runs a 4.58.
I asked Steve Muench of Scouts Inc. what he thought of both players. He is cautious because he knows OTAs are designed to make receivers shine. Still, he said both deserve a look.
"Streater and Bellamy, they are both junior-college transfers that didn't put up big numbers in college but had strong pro days and show the requisite natural ability to make it in the NFL on film," Muench said. "On the other hand, they need to earn the trust of their respective quarterbacks by grasping the offense and showing they can make sound adjustments based on the coverage. They also have to take advantage of their chances to make plays and show they can handle the pressure of playing for a job when the preseason opens."
Muench likes both players. He thinks Streater has enough speed and length to stretch the field. However, he gives Bellamy the edge as the better overall prospect. Muench thinks Bellamy separates from defenders better and he has more savvy as a route runner.
Either way, it will be fun to watch these two young spring heroes develop once training camp begins.
UPDATE:
Bellamy's agent said he ran a 4.42 40 at his pro day.
June, 25, 2012
6/25/12
2:40
PM ET
In an Insider piece,

Matt Williamson expects
Von Miller
to be one of the best pass-rushers in the NFL in the 2015 season.
Williamson projects Miller as the third best, behind
Aldon Smith
and
Jason Pierre-Paul
. Miller was the NFL defensive rookie of the year last season. Miller, the No. 2 overall pick in the 2011 draft, finished with 11.5 sacks.
I can't disagree with Williamson on this call. Well, perhaps I can. I wouldn't be surprised if Miller is the best overall pass-rusher in the NFL in three seasons, I think the sky is the limit for this explosive player.
Williamson believes Kansas City's
Tamba Hali
will be the 14th best pass-rusher in 2015 and gives honorable mention nods to Kansas City's
Justin Houston
, Oakland's
Lamarr Houston
and San Diego rookie
Melvin Ingram
.
There is no doubt this is an exciting time in the AFC West for young pass-rushers.
In other AFC West news:
—
The Denver Post reports
the Broncos never offered
LaDainian Tomlinson
a contract, but his agent did call the team. Tomlinson mentioned he considered signing with the Broncos before retiring as a Charger.
— Undrafted rookie receiver
Josh Bellamy
was a standout
at the Chiefs' offseason program.