AFC West:

josh mcdaniels fired
December, 7, 2010
12/07/10
1:00
AM ET
Random thoughts on Josh McDaniels' firing in Denver on Monday:
Expect to hear a lot of rumors in the next several weeks about replacements. Remember, nothing will likely happen until January.
The Broncos are already denying a local radio report that they are negotiating with Air Force coach Troy Calhoun. He may be a candidate down the road, but the Broncos haven't started the process yet. Like they did during the search two years ago, the Broncos have promised to be up front with the media during their search and won't hide interviews. Kudos for that.
Expect the
John Elway
talk to heat up. Elway has said he'd like to become a part owner and he would be open to a front-office job. Perhaps Denver will consider the legendary quarterback down the road.
The Broncos need help in the personnel department. It might not be a bad idea if they hire a general manager and give him power of all personnel decisions, including the hiring of the next coach. The Chiefs went that route when they hired Scott Pioli two years ago and it's worked out pretty well thus far. Denver is a team that needs a complete overhaul, starting with the direction of the front office.
Denver CEO Joe Ellis and interim coach Eric Studesville will meet with media on Tuesday. It'll be interesting to hear what direction the Broncos will go in. Before he was fired Monday, McDaniels indicated he wasn't interested in making rookie
Tim Tebow
the starting quarterback now that the Broncos are out of the playoff mix at 3-9. I'm sure Studesville will be asked about his thoughts on the subject.
December, 7, 2010
12/07/10
12:30
AM ET
There is no doubting that Josh McDaniels was a hot prospect when Denver chose the then 32-year-old to replace Mike Shanahan in January 2009. He was sought after and if Denver didn't hire him, another NFL team would have snagged New England's offensive coordinator.

But some questioned the hire, because the Broncos really needed help on defense. Shanahan left Denver in fine shape on offense. Originally, the plan was to keep offensive coordinator Jeremy Bates, who had a good relationship with 25-year-old Pro Bowl quarterback Jay Cutler, and pursue a defensive coach.

Three of the seven people interviewed for the opportunity to replace Shanahan were defensive coordinators who are now NFL head coaches. Among the runners up were Steve Spagnuolo (now St. Louis' coach), Raheem Morris (Tampa Bay's head coach) and Leslie Frazier (Minnesota's interim coach). All three have done well in their head-coaching roles.

The other coaches who interviewed for the job were Dallas interim coach Jason Garrett, former Denver assistant and current Houston offensive coordinator Rick Dennison and Miami assistant head coach Todd Bowles.

In the end, Denver went with McDaniels and will have to live with the idea that it let successful coaches like Spagnuolo, Morris and Frazier get away. If Minnesota doesn't promote Frazier to the permanent job, it would not be a surprise if Denver takes a serious look at Frazier if he'd be interested in the job.
December, 6, 2010
12/06/10
11:45
PM ET
Fired Denver Broncos coach Josh McDaniels released a statement through the team on Monday night.
Here it is:
I am very grateful to Pat Bowlen and the Broncos' organization for giving me the opportunity to be the Head Coach of such a proud franchise. I would like to thank all of the people who helped us over the last two years. I am especially appreciative of the efforts of every player, coach and member of the personnel department who worked so hard every day. I wish Pat Bowlen and the Broncos' organization nothing but the best in the future.
December, 6, 2010
12/06/10
10:55
PM ET
Remember when the AFC West was going to become New England West?
It was all the rage when on back-to-back days in January 2009, the
Denver Broncos
and the
Kansas City Chiefs
entrusted their future to the Patriots' Way. First, Denver hired New England offensive coordinator Josh McDaniels as head coach. The next day, the Chiefs hired New England executive Scott Pioli to become general manager.
Both McDaniels and Pioli embraced their New England roots and didn't hide their intentions: They were going to build their organizations using the Patriots' model.
Well, it worked in one place.
A day after Pioli's young, tough Chiefs took a two-game lead in the AFC West race, McDaniels was fired after leading Denver to a 3-9 record this season.
McDaniels' firing is further evidence that the Belichick head-coaching tree is far from being a sure thing. McDaniels is the fourth Belichick assistant to be fired from his first job after leaving Belichick's comfort zone. He joins Eric Mangini, Charlie Weis and Romeo Crennel who failed in their first job away from New England.
Weis and Crennel, ironically, are part of the Chiefs' resurgence. They are assisting in the same role as they did in New England. Weis is the Chiefs' offensive coordinator and Crennel is their defensive coordinator.
A big difference why I think Pioli is having success and McDaniels did not is that Pioli has molded his team on the field like New England better than McDaniels did. Pioli fit players where they could be part of a greater plan.
McDaniels' approach to the Patriots' Way was to wear a hoodie and wield power. It was his way and his way only. That was the beginning of the end of his plan. It caught up to him quickly, once again showing that the New England Way isn't for everybody.
December, 6, 2010
12/06/10
10:30
PM ET
Here are five questions and answers in the aftermath of Josh McDaniels' firing in Denver on Monday:
[+] Enlarge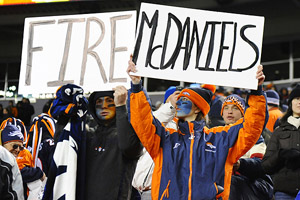 Ron Chenoy/US PresswireDenver fans started calling for Josh McDaniels' firing after a crushing loss to Oakland.
What does Denver do with Tim Tebow?
This isn't a great night for Tebow. McDaniels traded three draft picks to take Tebow at No. 25 in the April draft. McDaniels said one of the main reasons he targeted the former Florida star was because of an impressive pre-draft chalkboard session. But Tebow's future as an NFL player is far from secure. The Broncos are heavily invested in the young quarterback and should look to him as their future starter once
Kyle Orton
's contract runs out in 2012. Denver will have to find a coach who believes he can make Tebow into a legitimate NFL starter. That's why we'll hear Jon Gruden's name often in the next several weeks. Gruden has said he likes Tebow.
Will Denver spend big money on the next coach?
Only if it can get out of paying McDaniels for the final two years of his contract. The Broncos could say the recent videotape scandal gave them cause to fire McDaniels. If that is the case, the Broncos may have some money to play with and perhaps pursue a big-name coach. Denver still has to pay former coach Mike Shanahan for the final year of his contract in 2011. If the Broncos have to pay Shanahan, McDaniels and a new coach next season, don't expect it to be a big-money hire.
Who's the sleeper choice?
This process will be long and I expect Denver to look at several candidates. But keep a close eye on Air Force coach Troy Calhoun. He is a former Denver assistant and was an NFL offensive coordinator in Houston. He is highly regarded in both the NFL and the college coaching ranks. He is a leader who is known for his offensive knowledge, people skills and integrity. McDaniels had a habit of ruffling feathers. The quiet and polite Calhoun wouldn't recognize a ruffled feather.
What's next for McDaniels?
McDaniels made no secret he wanted to be like his New England mentor, Bill Belichick. Well, he's off to a fine start. Like Belichick in Cleveland, McDaniels was run out of his first NFL gig. The problem for McDaniels is that there's no guarantee he'll get another chance to be a head coach anytime soon. He may have to re-establish himself as an assistant coach elsewhere. Because of the videotape scandal, his 11-17 record and his history of clashing with others, McDaniels isn't exactly an A-list candidate these days. But he's a smart guy who is clearly a strong offensive mind. There is still room in the NFL for this intense 34-year-old.
What happens to McDaniels' assistants?
The group, which includes quarterbacks coach Ben McDaniels (McDaniels' younger brother) remains intact for now. But the coaches know they are now playing for their next job. Sure, a couple of McDaniels' staff members could be kept by the new coach, but that would be unusual. There will be wholesale changes in Denver.
December, 6, 2010
12/06/10
8:35
PM ET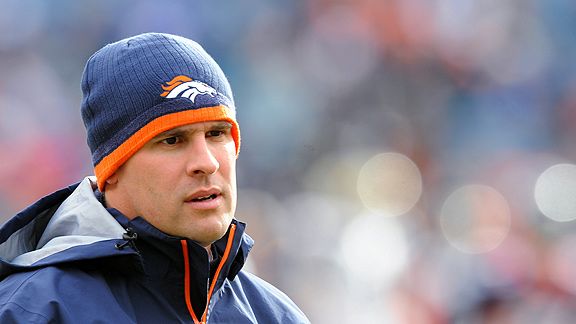 Ron Chenoy/US PresswireJosh McDaniels finished his two-year tenure in Denver with an 11-17 record.
Can you blame the
Denver Broncos
for firing Josh McDaniels?
Perhaps no NFL coach in recent memory has torn down a team as quickly as McDaniels, who was hired as a 32-year-old hotshot in January 2009 and fired less than 23 months later. He will forever be known as someone who clearly got too much too soon and was unwilling to do it any way but his own.
When McDaniels took over, the Broncos were on the doorstep of the playoffs and were a team that just needed some tinkering and refreshing after the 14-year Mike Shanahan era grew stale. McDaniels leaves Denver after 28 games with the franchise
in terrible shape
and without a true identity.
Broncos owner Pat Bowlen waffled on the coaching decision last week, but emphatically changed his mind 24 hours after his team was officially eliminated from playoff contention with a 3-9 record and a quarter of the season remaining. His decision answered the pleas from legions of Denver fans who have been calling for McDaniels' head since Oct. 17 -- when the Broncos lost by 45 points at home to Oakland.
The Broncos fired McDaniels before even deciding who would be the interim coach. This is not a similar situation to the recent head-coaching changes in Minnesota and Dallas. There is no legitimate spark to be made, no season to salvage. The Broncos are in the look-ahead mode and they are doing so without McDaniels.
There are, of course, two smoking guns in this situation: the recent videotape scandal and McDaniels' 5-17 record after starting his NFL head-coaching tenure with a 6-0 record.
The word around the franchise is that Bowlen and CEO Joe Ellis were very upset about the scandal. By not waiting until after the season to fire McDaniels, perhaps the Broncos can get out of paying McDaniels his salary for the final two years of his contract. That would certainly give Denver, which also has to pay Shanahan next year, a boost in hiring a replacement in January.
The NFL concluded that video director Steve Scarnecchia acted alone when he videotaped a San Francisco walk-through the day before the 49ers beat the Broncos in London on Oct. 31. The league had no proof McDaniels knew that Scarnecchia -- whom McDaniels knew when the two were in New England -- was planning to tape the practice. But McDaniels was still fined by the league for not disclosing the incident once he found out. That may be good enough reason for the team to prove it had cause to fire McDaniels.
The videotape incident was far from McDaniels' only issue. He made several questionable calls in his short Denver tenure that all played a role in the Broncos' demise.
McDaniels showed his feisty side less than two months into the job when he tried to get his backup quarterback in New England,
Matt Cassel
, in a trade that would have involved 25-year-old Pro Bowl quarterback
Jay Cutler
. McDaniels couldn't score Cassel, who ended up in Kansas City, and then feuded with Cutler before shipping the quarterback to Chicago. Cutler is probably heading to the playoffs with the Bears this season while McDaniels is heading to the unemployment line.
Other famous McDaniels gaffes include trading running back
Peyton Hillis
to Cleveland for No. 3 quarterback
Brady Quinn
and trading Denver's No. 1 pick in 2010 to take cornerback
Alphonso Smith
in the second round in 2009 -- only to give up on Smith this year.
McDaniels also parted ways with successful defensive coordinator Mike Nolan after one season and changed Shanahan's patented zone-blocking running scheme to a more traditional power scheme. Denver's run game has been at the bottom of the NFL nearly all season.
The Broncos went from one of the more attractive organizations in the NFL to one in total disarray. McDaniels will go down as one of the most reviled figures in Denver sports history.
The timing of his firing may have been a surprise, but in the end it was deserved.
December, 6, 2010
12/06/10
8:34
PM ET
When it comes to football,
Denver Broncos
owner Pat Bowlen never spares expenses. He has always paid top dollar for coaches or players.
But in finding a replacement for Josh McDaniels,
who was fired Monday after a 3-9 start
, Bowlen might have to be prudent. The Broncos are paying an offset portion of Mike Shanahan's contract with the
Washington Redskins
. Bowlen will also be paying McDaniels $3 million to not coach the Broncos.
With a significant amount of money tied up on two former coaches, Bowlen may not splurge on his next coach. That could mean high-priced options such as former head coaches Bill Cowher, Jon Gruden and current
Carolina Panthers
head coach John Fox may not be in the mix. (Fox is in the final year of his contract and is widely expected to not return to Carolina next season.)
That's why it won't be out of the question for Bowlen to dip into the college ranks for a head coach. Stanford coach
Jim Harbaugh
might be too pricey, particularly
if his athletic director is correct
in saying Harbaugh is getting closer to accepting a contract extension.
One name to watch is Air Force coach Troy Calhoun, a former assistant with the Broncos.
Mike Leach
, the former Texas Tech coach, could also be an option. Bowlen has a history of hiring offensive head coaches, knowing the importance of offense in today's game.
For NFL possibilities, Bowlen could look at Brian Billick, former coach of the
Baltimore Ravens
. He might look at Darrell Bevell, the Vikings' offensive coordinator. Chargers defensive coordinator Ron Rivera is among the hot defensive assistants. If Cowboys owner Jerry Jones doesn't keep Jason Garrett, Bowlen could consider him too.
Normally, owners don't repeat their approaches when they replace a coach. McDaniels was the hot assistant when he was hired off the
New England Patriots
' staff. Giving a top assistant the job and letting him learn on the job might not be the direction Bowlen will head.
That's why you have to look at college coaches and former NFL head coaches as long as the price is right.
Because of Bowlen, a head-coaching job in Denver has always been considered one of the plum opportunities. McDaniels, however, probably spoiled that. He took an offense that had
Jay Cutler
,
Brandon Marshall
and
Tony Scheffler
and traded them away. He switched to a 3-4 defense that has faded in the final months of the season. He drafted
Tim Tebow
, who at the moment is only good enough to help out on Wildcat and goal-line plays.
That's why a Cowher, Gruden or Fox might prefer other jobs than the Broncos' position.
This job search might have to be Bowlen's most creative.
December, 6, 2010
12/06/10
7:52
PM ET
By
ESPN.com staff
| ESPN.com
The
Denver Broncos
have named Eric Studesville as the interim head coach for the remainder of the season. Studesville was hired in January as the team's running backs coach and is a 14-year veteran of the league.
Earlier Monday, the team fired second-year coach Josh McDaniels. McDaniels had a 5-17 record after starting last season with six wins.
Team president Pat Bowlen said in a statement:
"My decision to relieve Josh McDaniels as head coach was not taken lightly. I will always be appreciative of his passion, enthusiasm and hard work, and I thank him for his efforts.

"In the end, I was not satisfied with the results and the direction this team was headed. The decision to make a change was extremely difficult but one that needed to be made for this organization and our fans.

"Everyone, myself included, is accountable for our disappointing season and is now responsible for restoring the culture of winning that has been established by this franchise. Our entire organization is completely focused on returning to the level of prosperity that our fans expect and deserve from the Denver Broncos."
Studesville spent the past 10 years as a running backs coach in the NFL. He spent six seasons with the
Buffalo Bills
and another three seasons with the
New York Giants
. Studesville said in a statement:
"I am very appreciative of the trust that Mr. Bowlen and the entire Denver Broncos organization have shown in me. Although the circumstances that this opportunity resulted from are unfortunate, I am excited to lead this football team. We have a great group of players and coaches who are committed to finishing the season on a promising note and making our fans proud of this team."
December, 6, 2010
12/06/10
6:31
PM ET
The
Denver Broncos
have
just fired coach Josh McDaniels
.
The team was 3-9 this season under McDaniels and 8-8 last season. Please check back for more analysis on this breaking news story.