March, 7, 2014
3/07/14
7:00
AM ET
With the countdown to free agency in its final stages, it's time to take a look at the
Denver Broncos
' top needs in the open market.
The Broncos are expected to aggressive and active once the signings formally begin on March 11. Their executive vice president of football operations/general manager John Elway has repeatedly made clear he believes teams should shop for need in free agency and take the best player available in the draft.
Plenty of folks in the league say they expect the Broncos to buzz in early for some specific targets and then back off to finish out with shorter-term deals after the initial waves of signings have passed. It was a profile they used last season when they moved quickly to sign
Louis Vasquez
,
Wes Welker
,
Terrance Knighton
and
Dominique Rodgers-Cromartie
and then waited to add players such as
Shaun Phillips
,
Stewart Bradley
,
Quentin Jammer
and
Steve Vallos
.
[+] Enlarge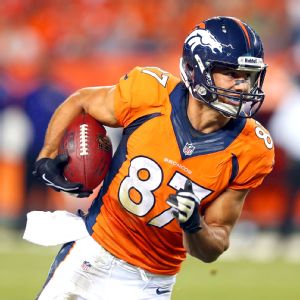 AP Photo/Paul SpinelliEric Decker could be on his way out of Denver as a free agent.
Today: Wide receiver
Saturday: Defensive backs
Why it's an issue:
The Broncos are a half-and-half affair at the position at the moment. As in two of the top four wide receivers the team had on its 53-man roster this past season will be unrestricted free agents in the coming days.
Eric Decker
and
Andre Caldwell
are each headed to the open market, leaving
Demaryius Thomas
and Welker as the only two players at the position on the current roster who caught passes in games in 2013. Kick returner
Trindon Holliday
does practice with the receivers during the week, but had just one catch for seven yards this past season.
Decker has had back-to-back 1,000-yard seasons with
Peyton Manning
at quarterback and has 24 touchdowns receptions in the past two seasons combined. Decker, Demaryius Thomas,
Dez Bryant
,
Brandon Marshall
and
A.J. Green
are the only wide receivers in the league to have had at least 10 touchdown catches in both 2012 and 2013.
But the Broncos see Decker as a No. 2 receiver who likely sees himself as a No. 1 with the desire for the paycheck to go with it. And the Broncos believe they need to plan for next year's free-agency season when Demaryius Thomas and Broncos tight end
Julius Thomas
are both slated to be unrestricted free agents. Caldwell was a rotational player -- 16 catches this past season to go with three touchdowns -- but with Welker having suffered two more concussions this past season it is a spot on the depth chart that needs some attention.
The biggest hurdle, however, in the Broncos' search for replacements, whether it be in the draft or in free agency, is the fact they need players who think quickly and can work through a complicated playbook without mistakes in game-day situations. Manning calls plenty of the game at the line of scrimmage and the receivers have to make the changes with him. The offense is built on timing and moving quickly and not everybody is a fit in that situation.
The best out there:
Seattle's
Golden Tate
is not quite as big as Decker physically, but he's a productive player who would flourish with a quarterback like Manning if he could get up to speed quickly in the call-it-on-the-fly work the Broncos do at the line of scrimmage. Tate could also play on the outside and offer something in the return game.
The Patriots'
Julian Edelman
does a job similar to Welker's in the slot, but he's a proven player who could move to other spots in the formation and help in the return game. However, his injury history is cause for at least some pause. The Broncos know Baltimore's
Jacoby Jones
all too well and Jones would offer some potential special-teams pop as well.
Carolina's
Brandon LaFell
is seen as a rotational player with some upside still remaining, but he's had just 13 touchdown catches in his career.
Bottom line:
The talent pool in free agency is fairly shallow, which only enhances Decker's ability to get a bigger deal elsewhere. The Broncos will take a look with checkbook in hand, but with a deep class waiting in the draft, there is no reason for them to overreach on a player at this point in the offseason -- especially considering Julius Thomas will be ready for more next fall.
January, 18, 2014
1/18/14
7:00
AM ET
ENGLEWOOD, Colo. -- Even as two teams that won 12 and 13 games in the regular season fell all over themselves to try to be the underdog this week -- even
John Elway
offered that "no one thought" the Broncos would "get by" San Diego to even get this far -- the topic of the
Denver Broncos
' Nov. 24 trip to Foxborough, Mass., has come up more than once in recent days.
Come up in the framework of whether the
New England Patriots
' 34-31 overtime victory in a game the Broncos led 24-0 at halftime has any bearing on Sunday's AFC Championship Game.
The Broncos rushed for 280 yards in the game and Patriots quarterback
Tom Brady
threw for 344 as both teams played half a game that was decided when a punt hit
Tony Carter
's leg and put the Patriots in position for the game-winning field goal.
[+] Enlarge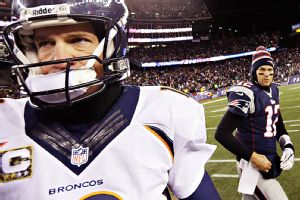 AP Photo/Steven SennePeyton Manning, front, and the Broncos would just as soon forget their overtime loss against Tom Brady's New England Patriots on Nov. 24.
"Again, just like I'm sure they're doing, you look at things, you look at matchups, you look at schemes," Broncos coach John Fox said. "But that game will have little to nothing to do with this game. Typically, they're always different."
Well, yes and no.
Certainly, Patriots coach Bill Belichick is known for rarely attacking a problem the same way twice. Or at least twice the same way in such a short period of time. And some of the names have already changed in the weeks since.
Whether it was the frigid conditions -- 22 degrees at kickoff with wind gusts of up to 40 miles an hour -- or Belichick's usual crafty ways, the Patriots held
Peyton Manning
to 150 passing yards.
That was by far a season low in a game in which the Broncos spent virtually the entire game in their three-wide-receiver look -- every snap but two. The Broncos did not have tight end
Julius Thomas
in the lineup that night -- it was one of two games Thomas missed this season with a knee injury -- and the Patriots did well in doubling
Wes Welker
and forcing Manning away from his usual favorites.
Eric Decker
finished that game with just one reception, and
Demaryius Thomas
and Welker, who had three drops in the game, had four receptions each. Overall, it was the worst outing of the season for the Broncos' pass-catchers as they finished with a season-high seven drops.
"And you have to clean those things up," Decker said. "If you have opportunities to make plays, you have to make them."
Defensively, the Broncos will not face do-it-all tight end
Rob Gronkowski
this time around -- he's now on injured reserve -- so the Patriots' offense will look vastly different, at least as far as intent. The Patriots have been far more run-first in their approach in recent weeks as Brady has completed 14, 14 and 13 passes in the past three games, respectively.
In the last meeting, Brady used Gronkowski to get back in the game -- Gronkowski had seven receptions for 90 yards and a touchdown -- and
Julian Edelman
finished with 110 yards on his nine receptions, including two touchdowns. The Broncos figure to use veteran cornerback
Champ Bailey
, who did not play in the Nov. 24 game, at least some against Edelman.
"They came out and played a great second half of football, there is no doubt about that," said Broncos linebacker
Danny Trevathan
. "There is nothing else to say. They just came out and played -- they fixed what they needed to fix, and we didn't adjust well to what they fixed. We have to be able to, when we're up, stay up, and, if we're down, get up on them and keep them down."
The Broncos also fumbled five times in November, losing three on a night when the teams lost a combined six fumbles.
But, in the end, the Broncos closed out the week wanting neither to remember that sliver of history all that much nor be doomed to repeat it. They have chosen to look at Sunday's game as its own set of circumstances with a chance at the Super Bowl at stake.
"Every game is a learning experience, but that one really taught us something," Trevathan said. "It is a different day, a different attitude and a different mindset. We're going to go out here and do what we have to do to get a win."
"You look at it, but they've been through a lot to get this far, we've been through a lot to get this far," Bailey said. "And a month is forever, and that was a month ago, almost two months. We're on to this one, and you don't need any more than that."
November, 21, 2011
11/21/11
11:54
PM ET
A look at a game in which the visiting
Kansas City Chiefs
were eventually worn down by the
New England Patriots
:
What it means:
The Chiefs are now 4-6 after their
34-3 loss
. They trail the
Oakland Raiders
by two games in the AFC West. Kansas City is tied with the
San Diego Chargers
for last place in the division. The
Denver Broncos
are 5-5.


Team of streaks:
The Chiefs are on their second three-game losing streak of the season. They sandwiched it with a four-game winning streak.
Getting tricky:
The Chiefs used a lot of fast snaps, they used the Wildcat and they tried an onside kick. In the end, it didn't matter. But an undermanned team on the road needs to try anything, and Chiefs coach Todd Haley was up for anything.
Second-half blues:
The Chiefs actually led this game in the first quarter, 3-0. The Patriots scored all but seven of their points in the final 31 minutes of the game. The Chiefs hung in this game for a while, but the Patriots eventually overtook them in every phase of the game.
Tough start to a tough stretch:
It doesn't get any easier for Kansas City. It entered the week with the toughest remaining schedule in the NFL. It plays Pittsburgh, Chicago, the Jets, Green Bay, Oakland and Denver in the final six games.
Palko wasn't horrible:
Tyler Palko
had his issues and he threw three interceptions. But in his first start, Palko had his moments, especially early in the game. He didn't look like a player who was lost. After entering the game with just 13 total NFL passes under his belt, he completed 25 of 38 passes for 236 yards. The left-hander looks like a coachable player who can improve. He'll get his chance. The Chiefs put starter
Matt Cassel
on injured reserve with a broken thumb on Monday. He was injured in a loss to Denver last week. I'm interested to see how Palko responds after getting more practice time. He had a nice chemistry with receivers
Dwayne Bowe
and
Steve Breaston
. They had a combined 13 catches for 160 yards.
Jones plays well
: Veteran running back
Thomas Jones
had 48 yards rushing on eight carries. The Chiefs ran for 119 yards on 26 carries.
Getting pressure:
The Chiefs sacked
Tom Brady
three times, all in the first half. Like every other aspect of the Chiefs on Monday night, the pass rush dwindled in the second half.
Got Gronked:
New England tight end
Rob Gronkowski
lit up the Chiefs. He had touchdown catches of 52 and 19 yards. Kansas City simply didn't have an answer for him.
Not so special:
New England broke the game open with just less than 10 minutes remaining on a 72-yard punt return for a score by
Julian Edelman
.
What's next:
The Chiefs are on prime time again in Week 12. They host Pittsburgh Sunday evening.