December, 6, 2013
12/06/13
10:00
AM ET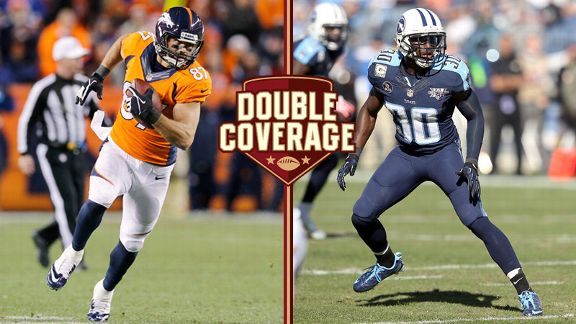 AP Photo Jason McCourty, right, and the Titans' secondary face a formidable challenge in defending Eric Decker and the Broncos' passing attack.
It seemed a little out of place, but as the
Denver Broncos
were about to get to work on the
Tennessee Titans
this week, quarterback
Peyton Manning
said he was going to prepare for an "unfamiliar opponent."
Granted, Manning hasn't faced a Titans team with Mike Munchak as its head coach, but he has faced Tennessee 19 times previously in his career (including a playoff game in the 1999 season), all with the
Indianapolis Colts
. So, while this is the Titans' first look at Manning in a Broncos uniform, the quarterback is a familiar face as Denver tries to keep its grip on home-field advantage in the postseason.
Here, ESPN.com Titans reporter Paul Kuharsky and Broncos reporter Jeff Legwold discuss Sunday's game.
Legwold:
Paul, you've been around the team since it arrived in Tennessee and, before we get to the on-field matchup, how would you say the team has dealt with franchise founder Bud Adams' death earlier this season? Who is making the decisions now and who will make them in the coming offseason, both on and off the field?
Kuharsky:
It was a big loss, of course, for Munchak and general manager Ruston Webster and team employees who worked for Adams for a long time. Most of the players hardly knew him, as he was not around much in his final couple of years, when his health began to fail. So there is a lot of uncertainty now. Three branches of Adams' family share control of the franchise, and Bud's son-in-law, Tommy Smith, is the team president and CEO. He's apparently been paying close attention to things in anticipation of taking over. But we know very little about how he will operate going forward. That means there is some tension, because not every team employee knows if he's secure. That starts with the struggling head coach, Munchak.
Leadership in Denver appeared to remain strong as Jack Del Rio stepped in for John Fox. How much of a boost will Fox's return give the team?
Legwold:
Del Rio, the team's defensive coordinator, earned praise from everyone in the organization, including Fox and the players, for how things were handled in the head coach's absence following open-heart surgery. His return has given the team an emotional boost, because after a month away, Fox came back feeling better than he had in some time and enthusiastic to see where this season can go. It should help the Broncos avoid a late-season stumble as they try to get home-field advantage for the playoffs again. Tactically speaking, not much will change. Coordinator Adam Gase is still calling the plays on offense -- Del Rio has said that, other than being a sounding board from time to time, he left the offense solely in Gase's hands during Fox's absence. Del Rio will continue to call the defense on game day as he has all season. Overall, though, it's likely Fox's return will keep the Broncos from hitting an emotional lull over the final month of the regular season.
On the field, the Titans have seen Manning plenty over the years. How do you think Tennessee will approach things on defense and does it see some differences in the Broncos' offense compared to what it saw from the Manning-led Colts?
Kuharsky:
Well, it's a relief the Titans don't see Edgerrin James, I am sure. And while Denver's pass-catchers are a remarkable bunch, I'm not sure there is a
Marvin Harrison
in it yet. They know blitzing Manning can be fruitless no matter what matchups they like against offensive linemen. They'll try to be unpredictable and force him to throw to a certain spot a few times. But plenty of teams have that idea and fail with it. Under Gregg Williams' influence, the Titans have used an ever-shifting front, and we know that's a popular way to play against Manning in an attempt to minimize his ability to make pre-snap reads. The front is pretty good, especially
Jurrell Casey
, though there is no dominant edge rusher. The secondary has been quite good. It's the linebackers, particularly in pass coverage, who seem vulnerable to me, and I don't know what the Titans will do there to prevent abuse.
Bernard Pollard
's been a leader whose play has matched his talk, but the Titans have kept him out of tough coverage situations and I wonder whether Manning will find ways to try to go at him.
The Titans are rooting for freezing temperatures even though they've been awful themselves in their past two frigid games. I know some all-time great quarterbacks have excelled in the cold even if they haven't loved it. How much of an issue is it for Manning at this stage of his career?
Legwold:
That is the elephant in the room with the Broncos given their playoff loss to the
Baltimore Ravens
last January. Manning threw for 290 yards and three touchdowns in that game, even though the temperature at kickoff was 13 degrees. But folks seem to remember a wobbly incompletion here and there to go with an interception to close out the Broncos' final possession. Until Manning simply cranks it up on a cold day and the Broncos get a key victory, people are going to ask him about it. He had spots in the overtime loss to New England two weeks ago -- in frigid, windy conditions -- in which he threw as well as he ever has, particularly on a sideline pass to
Demaryius Thomas
and a touchdown throw to tight end
Jacob Tamme
. It's not so much his arm that has been an issue post-surgery, it's his grip when he throws. Overall, though, the Broncos push the pace more on offense at home. Manning has terrorized defenses that have played a lot of man coverages against the Broncos' offense, including his five-touchdown game last weekend in Kansas City. The Broncos like that matchup in any weather.
Denver has some injuries on defense that have affected how it plays, especially with the run defense. Where does
Chris Johnson
fit in the Titans' offense these days?
Kuharsky:
He's really had one big game all season. Even when he seems to get going, the Titans can't find a rhythm or a way to stick with him. This was supposed to be a run-reliant, run-dominant team. It isn't. With
Ryan Fitzpatrick
now the quarterback, the Titans like to put him in an empty set and let him do his thing. It's been good at times, but it doesn't do much to enhance the chances of the running game. Johnson doesn't get yards after contact. So if he doesn't find a big hole, he's not going to do a lot of damage. Watch out on a screen or little flip pass -- that's where Johnson has been more threatening.
Denver's defense has dealt with quite a few injuries and
Von Miller
's suspension. How's his health and how is that group playing together?
Legwold:
The Broncos have yet to play the 11 starters on defense in any game this season they expected to have coming out of training camp. They never will now that defensive tackle
Kevin Vickerson
has been moved to injured reserve. Vickerson was a big part of the plan on early downs -- and the Chiefs tested the middle of the defense plenty this past Sunday, so the Broncos are working through some adjustments there.
Champ Bailey
(left foot) has played in just three games this season -- just one from start to finish -- and safety
Rahim Moore
is on injured reserve/designated to return. (The Broncos hope Moore will be back for the postseason.) Toss in
Derek Wolfe
and
Dominique Rodgers-Cromartie
not being in the lineup against the Chiefs and the Broncos are not nearly as consistent as they were last season, when they were a top-five defense. Miller has had moments of top-shelf play since his return, but hasn't been a consistent force like he was last season.
September, 19, 2013
9/19/13
12:00
PM ET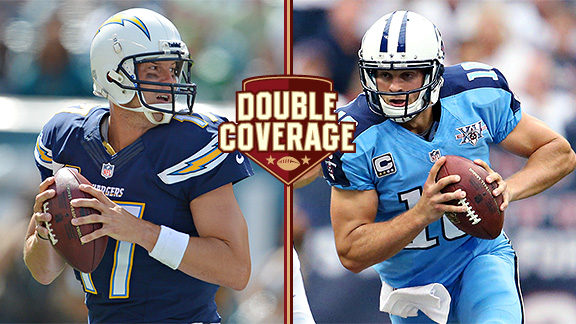 USA TODAY SportsJake Locker, right, will try to keep up with Philip Rivers and the Chargers, who have scored 61 points through two games.
The
San Diego Chargers
are the Tennessee Titans' white whale.
The teams don't play that frequently -- just nine times since 1993, including a wild-card playoff matchup in January 2008. The franchises have undergone all sorts of changes during that span, but one thing has remained consistent when they meet: The Chargers always win.
Bill Williamson, why do you think that is, and what are the odds it continues?
Bill Williamson:
I don't see the Chargers' history with the Titans being a factor. I know in Nashville the word "Chargers" makes fans cringe because of the history. Both teams are rebuilding and trending upward. These are two similar teams, and they will both be in the AFC conversation in the coming years.
The Titans made a lot of changes. This isn't the team the Chargers beat 38-10 last September. What's the biggest difference?
Paul Kuharsky:
The central part of the offseason revamp was the offensive line. The Titans have three new starters on the interior with left guard
Andy Levitre
, center
Rob Turner
and right guard
Chance Warmack
. Turner has been shaky, however, and Warmack is a rookie who is going to take some lumps when he's across from someone like
J.J. Watt
. The group hasn't jelled yet, but the run-blocking has been pretty good.
We've seen the good
Philip Rivers
and the bad Philip Rivers over the years. With the new regime in place, what is your feeling on who he will be now?
Williamson:
I might be the wrong person to ask, Paul. I've always been high on Rivers. Yes, his play sank the past two seasons and he committed 47 turnovers during that span. But it wasn't all on him. The previous regime in San Diego let go of a lot of skill-position talent, and the offensive line was decimated by injuries. Rivers didn't have much help. He was pressing as a result. So far under head coach Mike McCoy, offensive coordinator Ken Whisenhunt and quarterback coach Frank Reich, Rivers has looked re-energized. He has looked relaxed and confident over the first two weeks. He has shown that he is still a high-level player. Stopping him is the main challenge for the Titans.
How's
Jake Locker
coming along?
Kuharsky:
He made a bad throw on a crucial third-and-1 late in regulation in the loss to the Texans. The Titans have hardly turned him loose so far. But since the start of camp, he's shown steady progress. I'm not a complete believer by any means, but I think he has a chance and I didn't always feel that way. We still haven't seen some aspects of the offense that should be featured for him. Maybe this week he'll run around more and we'll see more boots and rollouts.
I'm curious about one of the guys who will be chasing Locker. The Titans have seen a great deal of
Dwight Freeney
over the years. How has he fit in the defensive scheme there?
Williamson:
An old foe, indeed. Freeney is in a tough spot. He was signed (and paid well) to be the Chargers' primary edge pass-rusher after 2012 first-round pick
Melvin Ingram
blew out his knee in May. But at 33, Freeney is best suited as a rotational player. He has half a sack this season. He has been active and will give his best effort, but he needs help. It would be a stretch to think he can still be a premier player. But he knows the Titans, and I'm sure he will be motivated to perform well Sunday.
What can Rivers and the Chargers' offensive line expect from the Titans' pass rush?
Kuharsky:
The best guys so far haven't been the ends.
Derrick Morgan
,
Akeem Ayers
and
Kamerion Wimbley
should key the rush. Ayers moves from stongside linebacker to end on rush downs but has been limited by a bad ankle. Tackle
Jurrell Casey
and weakside linebacker
Zach Brown
have been the best rushers so far. The fronts are less predictable and the blitzes more frequent. That's the influence of defensive assistant Gregg Williams. This defense is far better than I expected.
March, 16, 2011
3/16/11
3:15
PM ET
Todd McShay has presented
his latest mock NFL draft.

Let's take a look at his AFC West choices:
No. 2, Denver
Von Miller, LB, Texas A&M
My thoughts:
Miller has been doing all the right things in his workouts to move up the draft board. I think Denver has a greater needs on the defensive line, but Miller would make this defense better. I could see it happening. On McShay's board, Alabama defensive tackle
Marcell Dareus
goes to Carolina with the No. 1 pick. He will be a serious option for Denver at No. 2 if he's available. Mel Kiper just released his newest
big board in an Insider piece
. He has Auburn defensive tackle
Nick Fairley
as the No. 2 player on his board behind LSU cornerback
Patrick Peterson
. Dareus is No. 3 and Miller is No. 4. All of these players would make sense for Denver. I think Denver would also be interested in trading down a few spots and hope to get one of these players or Clemson defensive end Da'Quan Bowers. He is now No. 6 on Kiper's list.
No. 18, San Diego
Muhammad Wilkerson, DE, Temple
My thoughts:
This is interesting. McShay was raving about Wilkerson when I talked to him at the combine last month. He thinks Wilkerson is a big-time player. He would fill a need for San Diego. But I'd be tempted to take a more established player like Cal pass-rusher
Cameron Jordan
if he is on the board. Two years ago, San Diego took
Larry English
from a small school and is still waiting for him to develop. That may be a bit unfair to Wilkerson, but it is something to consider.
No. 21, Kansas City
Gabe Carimi, OT, Wisconsin
My thoughts:
I think Kansas City will first look at pass-rushers. Guys like UCLA's
Akeem Ayers
and Georgia's
Justin Houston
will be of interest. But Carimi is also a pick that makes sense. He'd be an upgrade over
Barry Richardson
at right tackle and give the offensive line an infusion of youth. It's not a terrible idea.
UPDATE:
McShay also mocked the second round. Here are his AFC West choices:
36. Denver Broncos:
DT Jurrell Casey, USC
46. Denver Broncos:
DS Rahim Moore, UCLA
48. Oakland Raiders:
CB Curtis Brown, Texas
50. San Diego Chargers:
OLB Martez Wilson, Illinois
55. Kansas City Chiefs:
WR Tandon Doss, Indiana
61. San Diego Chargers:
ILB Quan Sturdivant, North Carolina
Weigh in on McShay's AFC West choices in the comments section below.