August, 31, 2012
8/31/12
9:00
AM ET
Exhale, the preseason is over.
For what it's worth, it really wasn't a very good preseason for the AFC West. Lots of sloppiness and way too many injuries. The story of the next week (particularly in San Diego and Kansas City) will be monitoring injuries to starters.
In the meantime, we will focus on cuts and corresponding moves. I could see all four AFC West teams making a roster addition or three after teams cut down to 53 players Friday. The deadline is 9 p.m. ET, and I expect most of the teams to make their announcements around that time. We will analyze each team's roster moves when we get them.
In other AFC West news:
After Thursday night's game at Green Bay, Kansas City coach Romeo Crennel said that injuries to linebacker
Derrick Johnson
(ankle) and quarterback
Brady Quinn
(neck) didn't appear to be overly serious. That is great news for a team dealing with a lot of injury issues.
Here are ESPN.com's predictions
for the 2012 season. There are some interesting AFC West thoughts included.
Titans receiver
Kenny Britt
will be with the team
when it plays at San Diego in Week 2
.
June, 29, 2012
6/29/12
4:00
PM ET
One of the big controversies of the 2009 draft was when then-Oakland Raiders owner Al Davis took Maryland receiver
Darrius Heyward-Bey
with the No. 7 overall pick. Heyward-Bey wasn't overly productive in college and he had suspect hands. Still, he was considered a late first-round pick because of his speed and potential.
Three picks after the Heyward-Bey stunner, the Raiders' cross-bay rival
San Francisco 49ers
took
Michael Crabtree
of Texas Tech. Crabtree was the top-ranked receiver in the draft.
When they made it, the Raiders were criticized for the pick, including by me. Heyward-Bey didn't do himself any favors by catching just 35 passes in his first 25 NFL games. However, Heyward-Bey showed signs of life last season when he caught 64 passes for 975 yards. He still needs to work on his consistency and his hands some, but Heyward-Bey showed in 2011 he can be a productive player.
Crabtree, meanwhile, has been average and has not lived up to his expectations, causing the 49ers to reload at receiver this offseason. Crabtree had 72 catches for 874 yards last season.
In his career, Crabtree has 175 catches for 2,240 yards (a 12.8 per catch average) and 12 touchdowns. Heyward-Bey has 99 catches for 1,465 yards (a 14.8 per catch average) with six touchdowns.
Those statistics indicate Crabtree is the better player. But not so fast.
In a tweet this week, Matt Williamson of Scouts Inc. wrote he believes Heyward-Bey is becoming a better player. I asked him to expand on that thought for this blog post.
This is what Williamson had to say: "They couldn't be any more different in terms of styles, but I do think DHB is more dangerous and worries the opponent more right now. He has improved dramatically since entering the NFL and did come to the league at a very young age. His routes and especially his hands are way better than his rookie season. And, of course, he can fly. He doesn't operate out of the slot and probably won't be a high volume guy in terms of catches, but he is getting better for sure."
In the end, the best first-round receivers picked that year could end up being the final four taken as
Jeremy Maclin
(No. 19),
Percy Harvin
(No. 22),
Hakeem Nicks
(No. 29) and
Kenny Britt
(No. 30) have all produced early in their careers. But if Heyward-Bey can continue to make progress, as Williamson thinks he can, Oakland will be able to justify the pick more than first anticipated.
October, 14, 2011
10/14/11
12:00
PM ET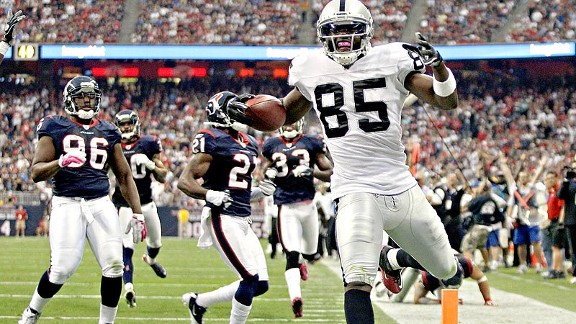 Thomas B. Shea/Getty ImagesDarrius Heyward-Bey's touchdown reception helped lead the Raiders to a win over Houston.
Whether
Darrius Heyward-Bey
will ever live up to his lofty draft status or whether he even becomes a consistently reliable player is still to be determined.
At least, the man who took an overwhelmingly amount of heat (including from this writer) for taking Heyward-Bey with the No. 7 overall pick of the 2009 draft lived to see the
Oakland Raiders
receiver make some strides.
In the final game he witnessed the Raiders play, Al Davis watched Heyward-Bey be a bright spot for the Raiders in a Week 4 loss to New England. While perhaps honoring the man who drafted him, Heyward-Bey enjoyed his career highlight in Week 5, the day after Davis died at the age of 82.
Heyward-Bey had a team-high seven catches for 99 yards in the Raiders'
25-20 win at Houston
, which goes down as one of the greatest regular-season moments in team history. Heyward-Bey put Oakland back in the game late in the second quarter when he scored on a 34-yard touchdown after showing strong tackle-breaking ability.
It was fitting that Heyward-Bey player such a major role in the Raiders' first win without Davis. Heyward-Bey was emotional after the game in interviews and talked about the importance of wearing the Silver and Black. The day Davis died, Heyward-Bey
tweeted a thank you
to Davis for changing his life.
However, the pairing wasn't initially easy for either man.
The Maryland product was considered a late first-round or second-round prospect prior to the draft. He had good size and stunning speed. Yet, he wasn't overly productive in college and there were questions about his hands. Still, Davis was -- as he often was -- enamored with Heyward-Bey's speed. Davis shocked the NFL by taking Heyward-Bey with the No. 7 pick. Most scouts thought Texas Tech's
Michael Crabtree
was the best all-around receiving prospect. He went three selections later to San Francisco.
Heyward-Bey didn't do himself any favors when he dropped several passes in his first NFL minicamp. The drops continued in training camp and then in the season. Heyward-Bey had some positive moments in his first two NFL seasons, but the drops and inconsistency overpowered the bright spots.
Heyward-Bey had only 35 catches in his first 26 games.
After
JaMarcus Russell
-- the No. 1 pick of the 2007 draft -- busted, Davis (
who scored with several late draft picks in recent years
) received criticism for blowing another top pick in the form of Heyward-Bey.
Yet, Davis never wavered on Heyward-Bey. Despite several other promising young receivers on the roster, Heyward-Bey continued to get plenty of chances in his third year. It is paying off. He has 16 catches this season. But the key is his 11 catches in the past two games.
He looks much more confident and he plays very physically. The drops are decreasing.
"I keep telling you guys, Darrius is rising," Raiders coach Hue Jackson told reporters after the Houston game. "I'm very happy for Darrius."
Heyward-Bey will have to complete this season with several more quality games before he is considered a player who has a clear future. But he's showing that it's worth the Raiders' time to continue to develop him. The Raiders are
loaded with intriguing talent at receiver,
so Heyward-Bey's development will only make this offense more difficult to defend.
He also is helping his legacy in the 2009 draft class. Overall, that year's draft is considered to be poor. Several second- and third-round picks already have been cut by their drafting team, and several first-round picks (including every other AFC West top-round pick: Kansas City's
Tyson Jackson
, Denver's
Knowshon Moreno
and
Robert Ayers
and San Diego's
Larry English
) have yet to develop. The No. 11 overall pick,
Aaron Maybin
of Buffalo, already has been cut. Just this week, the Raiders acquired linebacker Aaron Curry -- the No. 4 pick in that draft -- from Seattle for a seventh-round pick in 2012 and a conditional 2013 pick.
Yet, some good receivers were taken in that draft. Taken after Heyward-Bey and Crabtree (he has had a slow start to this season, but he does have 114 catches in 31 games compared with Heyward-Bey's 51 catches in 30 games) in the first round were Philadelphia's
Jeremy Maclin
, Minnesota's
Percy Harvin
, the Giants'
Hakeem Nicks
and Tennessee's
Kenny Britt
. Other notable receivers taken in that draft were Pittsburgh's
Mike Wallace
(third), the Jaguars'
Mike Thomas
(fourth), Oakland's
Louis Murphy
(fourth), the Colts'
Austin Collie
(fourth) and the Bears'
Johnny Knox
(fifth).
Matt Williamson of Scouts Inc. is not sure if Heyward-Bey is in the league of most of those players. Yet, Williamson sees improvements being made.
"He is certainly getting better," Williamson said. "His routes are crisper and more reliable and his hands are also more reliable. The speed is obvious -- and it is still his greatest asset."
The Raiders hope to see Heyward-Bey continue to work and become an overall asset -- and become a positive part of Davis' drafting legacy.
April, 12, 2009
4/12/09
12:00
PM ET
Posted by ESPN.com's Bill Williamson
Weekend mail call:
Ryan from Lincoln, NE: BW, What is your take on the Chiefs' defensive philosophy this season? I'm personally not a fan of the 3-4 but as your article about the Patriot Way moving to the West said this is the defensive scheme New England loves. If the Chiefs do take Aaron Curry where we he fit in a 3-4 scheme?
BW: It's what the brass is comfortable with. But it could take a while to establish the 3-4 defense. Some scouts don't think Curry, the best defensive player on the board, is a good fit for the 3-4. But, then, there are scouts who think he is a good enough athlete and is bright enough to adjust well to the move should Kansas City take him at No. 3.
Gabe from Las Vegas, NV: Hey Bill, I appreciate what you do for us fans in the information department. Let's say that Crabtree is available at the 7th pick. Would you be surprised to see the Raiders trade that pick for both their first round picks and attempt to pick up Darrius Heyward-Bey with one of them.
BW: Thanks, Gabe. No, I could see Oakland trading down for a couple of first rounders. But if Crabtree is there at No. 7, the Raiders will be very tempted to take him.

Nick from Denver: Hey, Do you think the broncos could draft Nate Davis in the later rounds. McDaniels likes to develope late rounders like Tom Brady and Matt Cassel. Do you think they would do that?
BW: I expect new Denver coach Josh McDaniels to indentify a quarterback in the late rounds to draft. That is the way Patriots do things and McDaniels (New England's former offensive coordinator) does things the way the Patriots do them. Perhaps Davis or Texas Tech's Graham Harrell could be a fit.

San Diego: BW I have read most of your blogs, as a charger fan I know they have some serious needs but who do you think they will really pick at #16, if all there options are there (Jenkins/Jackson/Rey M./ OHER)?
BW: If all four of those guys where there? I still say Rey Maualuga of USC, but the Chargers might be tempted to go after Ohio State cornerback Malcolm Jenkins if he was on the board.

Hass from Piscatway NJ: The more I think about the Jeff Garcia signing the more I wonder. It seems to be that the most logical explanation is to give Russel some incentive to practice harder. With Kerry Collins and Kurt Warner replacing two franchise quarterbacks last year Russell has to be aware that the same could happen to him. Maybe this is what will push him to finally develop into the quarterback the Raiders expected him to be when they drafter him. If this is holds to be true, taking this and the rest of the off season into account it seems like the Al Davis that built championship teams is back. P.S-being a Rutgers student I have to wonder, could you see the Raiders drafting either WR Kenny Britt or WR Tiquan Underwood or Saftey Courtney Greene?
BW: I think you are on the right track on Garcia. He is an insurance policy for JaMarcus Russell if he gets hurt or if he regresses. I think it was a smart move for Oakland. If Russell does well, Garcia will sit the on the bench with no issues. As for the Rutgers guys, I'd say Oakland could show interest in Britt in the second round if it doesn't draft a receiver in the first round.