April, 1, 2013
4/01/13
5:30
PM ET
Left tackle Branden Albert's absence from the Kansas City Chiefs' voluntary offseason program may be another sign the team is moving to trade him.
New coach Andy Reid and his staff were at the program Monday. Albert was not, even though he signed his franchise tag tender last month. These programs are voluntary, but players are encouraged to participate.
The Chiefs are shopping Albert and they have had some talks with the Miami Dolphins, according to ESPN's Adam Schefter. Schefter has reported the Chiefs want a second-round pick this year and a conditional pick next year in return. The Dolphins have two second-round picks in this month's draft and they have a need for a left tackle.
The Chiefs could use the No.1 overall pick in the draft on Texas A&M's Luke Joeckel whether Albert is kept or not.
With most key players there, Albert could be staying away because he thinks he is going to be traded. Either way, it won't make the team happy that Albert is not participating.
In other AFC West notes:
Kevin Weidl looks at the first-round needs

of each AFC West team.
Matt Williamson grades the free agency of every AFC team
.

The Broncos and Chiefs did very well, but not so much for the Raiders and Chargers, according to Williamson.
In a video
, ESPN's Adam Schefter discusses West Virginia quarterback Geno Smith's visit to Kansas City Monday. I agree with Schefter in that I think the Chiefs are trying to drum up interest to deal their pick.
Giants receiver Domenik Hixon visited Carolina. He has visited the Raiders.
The Chiefs have cut backup linebacker Andy Studebaker.
San Diego quarterback Philip Rivers talks about the team's offseason
in a radio interview.
September, 2, 2011
9/02/11
11:55
AM ET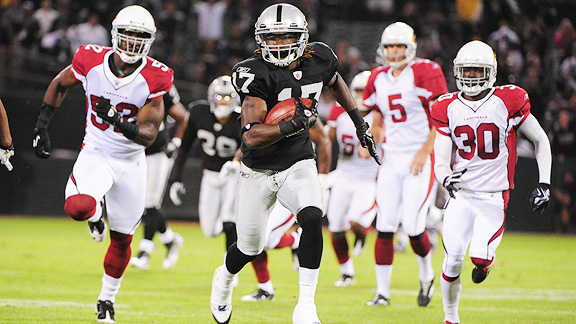 Kyle Terada/US PresswireWill Denarius Moore's training camp success carry over into the regular season?
OAKLAND, Calif. --
Jason Campbell
knew the
Oakland Raiders
had a draft steal before the team's coaching staff did.
A month after the Raiders took the intriguing, but perhaps inconsistent,
Denarius Moore
in the fifth round of the draft, he quickly drew attention from his new quarterback at a player-organized camp in Georgia during the lockout. As soon as he started throwing passes to his assembled receivers, Campbell wanted to know more about Moore, a 5-foot-11, 194-pound Tennessee product.
"He immediately caught my eye," Campbell said this week. "I said 'we need to get some plays for this kid.' From the first day, it was effortless for him."
Moore has been the story of Oakland's camp. He went from being a late-round project with long-term possibilities to a player who looks ready to help the team right away. There is a chance he will start for Oakland in the regular-season opener Sept. 12 at Denver in the second half of ESPN's "Monday Night Football" doubleheader. If Moore is not starting for the Silver and Black early in the season, he will certainly be in the top of part of the Raiders' receiving rotation.
[+] Enlarge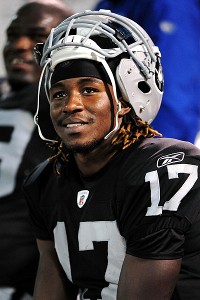 Kyle Terada/US PresswireThe Raiders have been impressed with Denarius Moore's ability to adapt to the NFL.
The Raiders are going to ride Moore until he proves him he was a training-camp fluke. There's a growing sense that will never happen.
"He's been tremendous," Oakland coach Hue Jackson said. "He belongs."
Moore has impressed the Raiders with his top-notch hands and his crisp route-running ability. He opened eyes early in camp by making every possible catch. Then, it happened on a daily basis. Local reporters have written that Moore is often the best player on the practice field, regardless of position. Now it is a major happening in practice if Moore actually drops a pass.
More importantly, the preseason has not proven to be too much for Moore. Performing well in camp is one thing. Doing it against other first-string defenses is another. Moore has made an impact in all three of Oakland's preseason games.
"The game isn't too big for him," Campbell said. "He's been just as good in games as he has in practice. Again, the word that comes up most to me is 'effortless.' He's just so smooth for a rookie."
I watched Moore closely last week against New Orleans. He looks like a complete player. He ran perfect routes and was active in the run game, delivering some nice blocks, which is not always a given for a young receiver. He looked like a complete, confident player.
Oakland's potential for fast success is ironic. The team gave
Darrius Heyward-Bey
$23 million guaranteed when it drafted him with the No. 7 overall pick in 2009. Heyward-Bey has yet to develop and is in danger of falling behind this potential draft mega-steal.
So how does a talent like Moore slip all the way to the fifth round?
Moore was inconsistent at Tennessee. He had two 200-yard-plus games, but there were games in which he didn't make an impact. Still, he averaged 20.9 yards per catch on 47 catches last season and finished strong.
Scouts Inc. gave him a sixth-round grade. In Mel Kiper's draft book, he rated Moore as the 20th best prospect at receiver. NFL teams clearly agreed with those assessments, and he lasted all the way until the No. 148 overall pick.
"A lot of times success depends on the fit and I like this fit," Kevin Weidl of Scouts Inc, said. "He is a Raider-like receiver. He fits the system. It doesn't surprise me that he is having success. He has great hands and he runs good routes. There have been questions about consistency and the tightness with the way he runs and questions about his toughness, but we looked at him as a guy with big potential. Sometimes, it just happens quickly."
Added Steve Muench of Scouts Inc.: "There were things that he did very well, so I can see why the team is excited about him. The question has and will be can he do it on a regular basis."
Of course, we won't know that answer until Moore plays in the regular season, but, so far, he is on our radar and that's not always the case for a fifth-round pick. Moore, a soft-spoken player who had a reputation at Tennessee as being coachable and a good teammate, deserves credit for not allowing his preseason success to get to his head. He is simply going out to practice each day with improvement on his mind.
"Coaches say I'm doing a good job, players say I'm doing a good job," Moore said. "So, I guess I'm fitting in pretty well with the team right now."
Actually, Denarius, you've fit in since May.
August, 22, 2011
8/22/11
6:20
PM ET
There is a lot of reaction to Oakland's decision to take former Ohio Sate quarterback Terrelle Pryor in the
third round of the supplemental draft
on Monday. It was the first time Oakland has taken a player in the supplemental draft since it began in 1977.
Pryor is a project who has blazing speed at 6-foot-6 and 240 pounds, and could eventually play receiver. He has said he is open to playing other positions, but he would like to remain a quarterback. I wrote earlier Monday that Pryor fits Oakland's profile, so his selection is not a surprise, yet I think taking him in the third round
was too high.
[+] Enlarge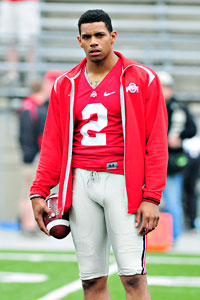 David Dermer/Getty ImagesTerrelle Pryor's speed would have made him among the fastest receivers at April's combine.
Let's take a look at some other the reactions on Oakland's selection of Pryor:
This is some of what Steve Muench of Scouts Inc. wrote in an Insider piece: Indications are Oakland is looking at Pryor more as a wide receiver than a quarterback in the NFL, and while that's an encouraging sign, given his deficiencies as a passer, the third round is still very early for a player who is a developmental project at wideout. Pryor lined up at receiver a few times at Ohio State, but there's a huge difference between getting by on athletic ability and knowing the position well enough to succeed against NFL defenders.
Mel Kiper, however, is more inspired by the pick and he thinks Pryor could successfully make a position switch. Here are some of his thoughts in an Insider piece: I have said for literally months that Pryor would be smart to consider a position switch to either wide receiver or tight end, and that if he was willing to make that move, his value could be far greater, even as a developmental prospect. Well, based on what John Clayton is reporting, that the Raiders are likely to have Pryor switch positions after taking him in Round 3 of the supplemental draft, there are reasons to believe Pryor can make the switch and become an impact player. All the jokes about Al Davis and 40 times aside, consider some factors. First, let's remember that this wasn't just a really good 40 time. At the NFL combine before the draft, Edmond Gates was the fastest wide receiver, and he checked in with a 4.37 40, a fantastic time. But Gates is also about 6-feet tall and a little more than 190 pounds. Pryor ran a 4.38 to a 4.41 based on which stopwatch you believe, but think about that: at six inches taller and almost 40 pounds heavier, he is showing the same speed as the fastest receiver at the combine. In fact, this kind of performance may well have been the story of Indy. Even the greatest of skeptics can't scoff at that kind of showing. Guys have jumped up draft boards for years based on this. If Pryor was in the conversation all along as a catcher of passes, and not a thrower, it's not inconceivable to think he could have been taken even higher.
I talked to Kevin Weidl of Scouts Inc. on Monday to get his thoughts. He said he could see Pryor develop into a Brad Smith-type player who can help in Wildcat situations. Weidl said he doesn't think Pryor is necessarily a sure thing as a quarterback or as a receiver prospect. He said Pryor is inaccurate and unpolished as a passer and he looks tight as a route runner. But he understands the Raiders taking a chance on him because he fits what they want. "He was the Raiders' guy and they jumped on him," Weidl said. "It's a little high, but they see something in him … Still, he has a long way to go."