AFC West:

Knowshown Moreno
August, 24, 2013
8/24/13
11:18
PM ET
DENVER -- While
Peyton Manning
's night was done at halftime, the
Denver Broncos
took most of their starters into the third quarter of Saturday night's preseason meeting with the
St. Louis Rams
and came away with the same questions they carried into the contest -- turnovers on offense and special-teams play that is changing games in the wrong direction. The Broncos did, however, come away with a
27-26 victory
.

Some things to consider:
The Broncos kick-started the offense by going big. They opened the night in a three-wide-receiver set, their preferred look, but after Rams rookie linebacker Alec Ogletree broke free in the middle of the formation on a third-and-4 on Denver's first possession, the Broncos beefed things up a bit. They lined up in a two-tight-end look on 29 of the next 35 plays, including all 12 in a drive that ended with a blocked field goal. It is a versatile formation for the Broncos, one that forces defenses to decide whether to put a linebacker or safety on Jacob Tamme. In all, the Broncos put up 174 of their 290 yards in the first half out of the two-tight-end look. But for a team that signed Wes Welker in the offseason, it shows there is some work to be done. Welker was not in uniform Saturday because of an ankle injury and Andre Caldwell played as the third receiver with the starters.
Special teams have gone from a hey-there-is-time dilemma to a full-blown, what's-the-deal affair. The Broncos surrendered a 107-yard kickoff return for a score to go with a 33-yard punt return against the Seahawks a week ago. Saturday night, Tavon Austin took the Broncos' first punt 81 yards and added a 23-yarder in the second quarter; the Rams also blocked a field goal. Jeff Rodgers' units were consistently a strength in the 13-3 campaign of 2012, and more of the same was expected this season. Yet the Broncos are giving up lanes in the return game when they don't show the discipline they had last season and they aren't getting off enough blocks.
[+] Enlarge

AP Photo/Jack DempseyRonnie Hillman saw this second-quarter carry end with Alec Ogletree ripping the ball away and returning it for a touchdown.

For the second consecutive game, Broncos running back Ronnie Hillman saw one of his fumbles returned for a touchdown. Last week, it was Seattle's Brandon Browner who went 106 yards when Hillman fumbled into the end zone in Seattle. Against the Rams, Hillman committed a cardinal sin for a running back -- turning his back to the defender when his forward progress had been stopped. Ogletree ripped the ball out as Hillman was falling, back to the ground and ball exposed; Ogletree scooped up the loose ball and returned it 13 yards for the score. The Broncos have lost four fumbles in three preseason games, including Hillman's two. Hillman went back into the game to start Denver's next possession, so it hasn't affected his playing time … yet.
Knowshon Moreno, whose roster spot looked shaky early on in camp, has carved out some playing time in passing situations because of his reliability in protection. He got some snaps with the starters in the first half and more on the Broncos' first possession of the second half when all of the offensive starters, except for Manning, were in the game.
The Broncos figured out a way to get Von Miller into the game and still work in the linebackers who will have to replace him during his six-game suspension to open the regular season. Broncos coach John Fox said this past week he would play Miller in the final two preseason games, including the finale Thursday against Arizona -- a game most, or all, of the Broncos regulars are expected to sit out. With Robert Ayers (ankle/Achilles) and Derek Wolfe (neck) out of the lineup, the Broncos played Miller at defensive end, with Shaun Phillips in the base defense. That put Nate Irving in Miller's usual strongside spot in the base look, with Wesley Woodyard in the middle and Danny Trevathan on the weak side. Miller also stayed at end in the nickel and dime looks, which is where he normally plays in those packages.
Denver offensive coordinator Adam Gase has promised to push the pace at times, especially in the elevation of the team's home stadium, to see if defenses can keep up. The mistake-filled first half against the Seahawks camouflaged the fact that the Broncos ran 40 plays on offense for 209 yards. Saturday night, they made that look positively tortoise-like. Against the Rams, the Broncos ran an astounding 30 plays in the opening quarter and 49 for 290 yards in the first half. Hillman's fumble and an interception from Manning in the two-minute drill tempered the output, however. But it shows opposing defenses that they will have to be ready for that kind of pace.
Manning showed he has regular-season awareness when he caught the Rams with 12 men on the field with a quick snap, which drew a penalty flag.
Wide receiver Eric Decker had one catch for 10 yards in the first two preseason games combined. He was targeted eight times in the first half and finished with six catches for 66 yards. With Welker out, Decker worked out of the slot plenty.
Cornerback Dominique Rodgers-Cromartie, who left Thursday's practice after taking a knee to his lower back, started the game and played with the first-team defense through the first half.
And in the what-a-difference-starters-can-make department: With the majority of the first-team offense still in the game, Brock Osweiler opened the second half under center for the Broncos. On the second possession, the second-year player led the Broncos on an 11-play, 79-yard touchdown drive. With time to look things over, he showed a power arm, going 5-for-6 for 58 yards on the march. Playing behind backup linemen, Osweiler had been sacked seven times in the first two preseason games. Saturday, he was sacked on his first drop-back after the starting offensive line left the game, and he tossed an interception in the fourth quarter.
Left tackle Ryan Clady made his first preseason start and played into the second quarter. Clady, who had offseason shoulder surgery, had practiced more with the starting offense this past week. Chris Clark, Clady's replacement, was flagged for holding on his first play after entering the game for Clady. But Clady's return should settle things down up front, and the Broncos will be able to push the help in pass protection to the middle of the field.
August, 6, 2013
8/06/13
12:00
PM ET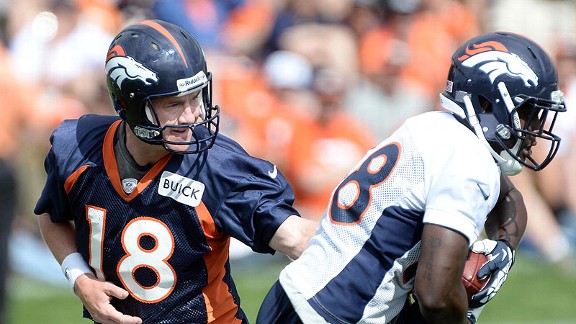 Ron Chenoy/USA TODAY SportsFor Denver rookie Montee Ball, protecting Peyton Manning is a higher priority than taking handoffs from him.
Since
Terrell Davis
powered his way to the 1998 NFL MVP award to go with 2,008 rushing yards in the Broncos' second of back-to-back Super Bowl seasons, since he was the unquestioned stopping point for a handoff in the offense, Denver has, by both necessity and choice, led the mix-and-match movement in the league's backfields.
Since the start of 1999, nine different running backs have led the Broncos in carries for at least one season. Over that 14-year span Denver has not had a running back lead the team in carries in three consecutive seasons.
And a team that once churned out 1,000-yard rushers like Apple products coming off the assembly line has now had just one back --
Willis McGahee
in the read-option season of 2011 -- in the past six years finish with 1,000 yards.
What gives?
"It's probably a combination of things," said Broncos coach John Fox. "There are injuries, changes in the offense, changes in your personnel and just the nature of the job. That's a high-impact job in a bigger, faster, stronger league. I'm not sure anybody really sits there these days -- unless you have one of the top, top guys -- and thinks one guy is going to get you through."
And fantasy football owners be damned, the Broncos stand poised to break out the committee to run the ball once again in 2013. But how those carries will be divvied up might surprise some who watch a group that includes
Ronnie Hillman
,
Montee Ball
,
Knowshon Moreno
and
Jacob Hester
.
Because while running the ball is great -- it's in the position's name after all -- for the Broncos' backs to get the ball, they're going to have to be good when they don't have it.
"I've said, whenever a young guys asks me, everybody who gets to the league can run, everybody can catch, but here, the way the game is played right now, you have to block," said Davis, a Broncos Ring of Fame member. "So, learn how to block, do the work and block. That's what I tell them, even if they haven't done it before because they were the main option, because that's what will get you on the field in this league and here, with this team."
Or as Broncos running backs coach Eric Studesville said, "Bottom line: The better you do in pass protection, the more run opportunities you're going to have. That's it. You aren't going to get the ball if we don't take care of the quarterback. They all know that, they are all aware of that. They don't get to run until we see the rest of it."
The Broncos certainly fit the league's profile for a passing team in a pass-first league. They have
Peyton Manning
at quarterback, they signed
Wes Welker
in free agency and their favorite formation on offense as the games grew in importance in 2012 was a three-wide receiver look.
They know defenses want to rush Manning in the middle of the formation, a formation they have to open up when they go to three wide receivers. That often puts the running back in the role of last man standing in pass protection, the guy who has to pick the most dangerous rusher who has broken free from the guys up front.
Make the right choice and there's a big play waiting in the offense. Make the wrong one and the quarterback will take a hit that almost always joins the list of biggest hits of the year and always carries the potential to crater a season.
[+] Enlarge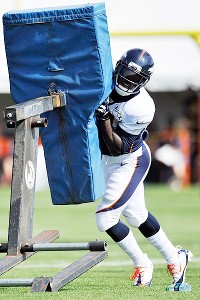 AP Photo/Jack DempseyRonnie Hillman is Denver's most explosive runner, but his ability to block will determine how much he'll get on the field.
So, open-field speed is great, vision in traffic a must, but the Broncos' runners know their to-do list has another rather large item on it that has nothing to do with any runs to glory. It's also why the committee appears to have formed again.
"We all know we have to keep Peyton from getting hit," Hillman said. "If you can't make the right choices in there blocking, you're probably not going to get the ball."
To that end, Hillman has put on about 15 pounds from last season and hovers closer to the 195-pound range, far better than the 178 pounds or so he came in at when the Broncos faced the Ravens in the playoffs in January. Hillman, entering his second season, is the most explosive runner the Broncos have, the big-play threat in an offense that wants more big-play runs this time around.
Ball, a rookie, spent plenty of extra time with Manning during offseason workouts in post-practice discussions about the nuances of protection schemes and the fine line between knowing when to stay in and block and when to leave the backfield to be the hot-read option.
Moreno, because of his knee troubles of recent seasons, and Hester have not shown the run skills in workouts the two youngsters have, but they are more proficient in those long-yardage responsibilities. Hester has appeared at both running back and fullback in practices, while Moreno, now up to 220 pounds, has also shown a proficiency in pass protection.
There is also the matter of audibles. Perhaps the biggest of Manning's many gifts at quarterback is his ability to change the play just before the snap to get his guys in the look that is the biggest problem for a defense.
Rams head coach Jeff Fisher, who faced Manning twice annually in Fisher's long tenure with the Titans, said, "He knows your intentions and he knows what to do, all before he snaps the ball. ... So even when you're right, there's a good chance you're wrong."
But for Manning's audibles to work, everybody else on offense has to be ready to make the changes as well. It's another hurdle for Hillman and Ball in their effort to be at the top of the rotation (when the Broncos released their first "official" depth chart of the preseason Sunday, Hillman was the No. 1 back).
"So, I always keep in my mind that they're two young guys, but we have to age them, in terms of their knowledge of the offense, rapidly," Studesville said. "The reality of our offense is we do what the quarterback can do, so they have to catch up, they've got to get it. We're not going to put people out there who slow the quarterback down. If they don't understand that and don't get it, they won't play."
It's all important because the Broncos know people defend them with Manning as a passer at the top of the list. So, against a vast array of nickel, dime and other specialty defenses designed to stop problems in the air, the Broncos have to find a way to wind the clock, convert first downs, pound it in the end zone from in close and create explosive runs.
And while one back used to be enough for the job, Denver is more than comfortable using several once again in 2013.
"When we get those friendly boxes because of the way people defend Peyton, we have to feel comfortable with whoever we put back there to run it," Studesville said. "And when we get to the season, I think we will. We like this group."
And that's group, as in more than one.
October, 1, 2010
10/01/10
5:20
PM ET
Denver fullback
Spencer Larsen
(ankle) will join running back
Knowshon Moreno
(hamstring) on the sideline Sunday at Tennessee. Cornerback Andre Goodman (thigh) and right tackle
Ryan Harris
(ankle) are questionable after being limited all week. Goodman didn't play last week and Harris missed last week.
In Oakland,
Raiders' starting receivers
Louis Murphy
and
Darrius Heyward-Bey
, are listed as questionable to play against the Texans on Sunday. Heyward-Bey was added to the injury report with a groin injury. Oakland coach Tom Cable is hopeful both receivers will play Sunday. Guard
Robert Gallery
will miss his third straight game with a hamstring injury.
In San Diego, the Chargers will likely play without linebacker
Shawne Merriman
. He is listed as doubtful with a calf injury that he suffered early against the Seahawks in a loss on Sunday. The Chargers are strapped at linebacker and have very little depth there. The player who replaced Merriman, second-year player
Larry English
, is out for four weeks after having foot surgery this week.
Antwan Applewhite
will likely start for Merriman.
Guard
Kris Dielman
practiced Friday and he is listed as probable to play. He was out with an illness the first two practice days of the week.
August, 1, 2010
8/01/10
5:05
PM ET
The Denver Post is reporting
that second-year running back
Knowshon Moreno
might have torn his hamstring during the team's first full day of training camp.
The Broncos have given any definitive updates on Moreno's status. He was taken off the field on a cart.
Moreno, the No. 12 overall pick last season, is Denver's starting running back. We will give updates as we get them.
Also, Denver running back
Correll Buckhalter
suffered an upper back injury. Denver is very thin at running back with the two injuries and Friday's trade of
J.J. Arrington
to Philadelphia.
The Broncos visited with free agent
Brian Westbrook
in May. They could explore that option again, although he is simply a complementary player at this point.
UPDATE:
I just spoke to ESPN's medical analyst Stephania Bell. She said hamstring tears vary in severity and the recovery time can be from a few weeks to several months. So, if Moreno has a tear, it could be serious.
September, 27, 2009
9/27/09
3:55
PM ET

Posted by ESPN.com's Bill Williamson
OAKLAND -- It's getting chippy already on a hot day by the bay:
About 45 minutes prior to the game, there was verbal sparring between several Denver and Oakland players. The Denver players seemed to be the aggressors. A few officials separated the large group of players (about 25 players per team) and then two teams went to separate sides of the field to stretch.
Denver rookie running back
Knowshon Moreno
is playing. He was questionable with a groin injury.
Denver receiver
Brandon Stokley
is playing. He was questionable with a thigh injury.
Oakland safety
Michael Huff
is starting for the injured
Hiram Eugene
.
Oakland receiver
Javon Walker
is inactive after being active last week. You have to wonder if he'll ever make an impact in Oakland.
Denver linebacker/fullback
Spencer Larsen
is missing his third straight game with a shoulder injury.
Denver 2007 first-round pick
Jarvis Moss
, a linebacker, is a healthy scratch.
It is nearing 90 degrees in Oakland. It will likely be several degrees warmer on the field. It could be an advantage for Denver, which is wearing white shirts and pants, while Oakland is wearing its black jerseys.
September, 13, 2009
9/13/09
8:05
PM ET

Posted by ESPN.com's Bill Williamson
Lost in the miracle play by Denver's
Brandon Stokley
to win the game was the awareness of the receiver at its conclusion.
Stokley ran near the goal line before crossing it to kill time. It was just another heads-up play by one of the smartest players in the league. Most players wouldn't have been to keep the perspective of the game in mind during that situation. They would have just crossed the goal line as quickly as possible.
Just a nuance of a play that forever will be part of Broncos' lore.
If the Broncos' defense can continue to play as well as it did Sunday, the Broncos could be in great shape. Denver couldn't keep up with teams the last two years. But the Bengals, who don't have a horrible offense, didn't score until the final minute of the game.
Denver receiver
Brandon Marshall
had four catches for 27 yards. It was a quiet 2009 debut for Marshall, who had 18 catches in his first game of 2008. But at least Marshall is on the field and participating in Denver. Two weeks ago, that seemed highly unlikely.
The Broncos are a changed outfit. They used to have to outscore teams. If the first game is any indication, Denver is going to be involved in some low-scoring affairs.
Kyle Orton
wasn't spectacular in his Denver debut, but his statistical line is basically what Denver coach Josh McDaniels is looking for from him. Orton completed 17 of 28 passes for 243 yards. He had the touchdown pass to Stokley and no interceptions. Orton won't do anything fancy, but if he manages the game, Denver will be happy with him.
Knowshon Moreno
is expected to be fine after he departed the game in the third quarter with a lower leg injury. He came back into the game. Moreno had a slow start to his NFL career, with 19 yards on eight carries.
Denver kicker
Matt Prater
seems like he has fixed his problems. He had field goals of 48 and 50 yards.
Safety
Brian Dawkins
had a nice debut for Denver as he had seven tackles.