August, 14, 2014
Aug 14
3:15
PM ET
NAPA, Calif. -- Late last season,
Pat Sims
sat at his stall in the
Oakland Raiders
' locker room and seemed resigned that his time with the team was coming to an end.
He was about to play the final game under his one-year deal and while the defensive tackle would play in a career-high 16 games, starting all of them, the workload wore on him, as did a slow start due to injury.
Still, there was that electric game at San Diego on Dec. 22 in which he had 13 tackles, eight solo, with a sack.
[+] Enlarge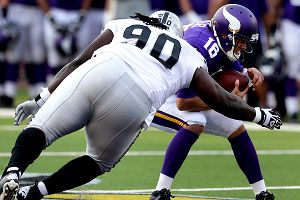 AP Photo/Jim MonePat Sims is excited about the outlook for the upcoming season.
"Hey, man, you can't predict the future," Sims said with a laugh recently. "We started something last year. I just wanted to finish it. We brought some new people in here and they wanted me to be a part of it so I said, 'Why not come back and finish it?'"
The 6-foot-2, 310-pound Sims signed a one-year, $1.45 million contract to return. And he has been a steady presence on the interior, whether at a tackle or on the nose.
"I think it was important to be able to get Pat Sims back," Raiders coach Dennis Allen said. "I thought at times he played really well last year and there were some games that he was dominant in the games.
"I've seen a different demeanor out of Pat Sims this year, maybe a little bit different focus. He's come in and really competed hard and he's playing well for us right now, so we're excited about Pat Sims."
Part of that may be because while Sims enjoyed playing in a career-high number of snaps and games, it was also uncharted territory for him. Yes, he would get gassed. The 693 plays were nearly 150 more than in any of Sims' previous five seasons.
Now? The Raiders have fortified the defense with the likes of
Justin Tuck
,
LaMarr Woodley
and
Antonio Smith
up front while drafting Justin "Jelly" Ellis to play down low -- "Jelly's big, quick, strong, kind of like me, know what I'm saying?" Sims said. "Man, he's going to be a great player ... he ain't quicker than me, though." -- and linebacker
Khalil Mack
-- "Best rookie in the draft," Sims said. "Period." -- to help clean things up.
"It was good, but now I don't have to take all those snaps," Sims said. "We've got depth this year, something we didn't have last year. Some packages last year, we only had a first team and we didn't have anybody to come in after us. It's great to have somebody to come in and give you a breather here and there."
In Tuck and Woodley, the Raiders imported two guys with Super Bowl rings.
"It's a hell of a lot of fun," Sims said, "just the opportunity to play with these guys, knowing what they've accomplished and are trying to accomplish again. It's great."
Plus, there's versatility with the likes of
C.J. Wilson
and
Stacy McGee
, both of whom can also play tackle or end.
And as any defensive player worth his salt would tell you, Sims is of the mind that the play of the defense will tell the team's tale.
"I don't give a care how good the offense is or how bad the offense is, defense is always going to be the identity," he said. "That's our goal. ... If we've got the best defense, it really doesn't matter what kind of offense you have.
"Well, it does but, hey, Baltimore did it."
August, 6, 2014
Aug 6
4:15
PM ET
NAPA, Calif. --
Marcel Reece
was about to be presented with the
Oakland Raiders
"Commitment to Excellence Award" in March and NFL free agency was about to begin.
The two-time Pro Bowl fullback wanted general manager Reggie McKenzie to make "Raider-ass moves" with his signings, fearless moves, though Reece, who has been in Oakland since 2008, was also leery
"I'm not expecting them to come in and set the tone on how to be a Raider; they don't know how to be a Raider," Reece said that evening. "I'm looking forward to setting that tone and whoever comes in that locker room is going to work like us."
[+] Enlarge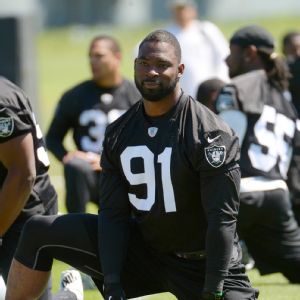 Kirby Lee/USA TODAY SportsJustin Tuck is one of a handful of new Raiders who has been to and won a Super Bowl.
Paging the likes of
Justin Tuck
,
LaMarr Woodley
,
Antonio Smith
,
James Jones
, Maurice Jones-Drew,
Kevin Boothe
and
Donald Penn
, while summoning the acquired-in-a-trade
Matt Schaub
.
Together, the eight tote a combined six Super Bowl rings and 10 Pro Bowl appearances. Yeah, they know how to win.
The likes of Reece,
Darren McFadden
,
Tyvon Branch
and
Jon Condo
, meanwhile, know what it means to represent the Raiders, but they have never experienced a winning season in Oakland.
"In years past, the leadership was not the best," Condo said. "Guys that are coming in…the young guys are looking at them and the vets are showing them, this is how you practice. This is how you study. This is how you prepare your bodies for the 16-game season. The way people go about their business, you see true professionalism on and off the field, doing the right things.
"Not to rag on what's been here in the past, but it just seems like there was just a cycle with how veterans would act and young guys would look at that and think, 'That's what it takes to be a pro.' And it wasn't really the right way to be a pro.
"Now, you bring in the right guys and they are teaching the young guys how to be a pro and they're going to carry it on three, four, five, six seven, eight, 10 years … to the draft classes."
According to Tuck, there has been no push back from the older Raiders players.
"It's not like we're coming in here acting like we know everything; we don't," Tuck said. "We're still learning ourselves. It's never going to be a situation where, 'Oh, y'all doing this wrong.' We're trying to work together
"At the end of the day, it has to be the Raider way … all the guys that they brought in know the history of the Raiders. … You found yourself fascinated by the silver and black and all the great players that played here and Al Davis and all the characters in Raider history.
"Now, it's just a work in progress."
Jones-Drew grew up in the East Bay a Raiders fan. So his coming home carried extra meaning, even if it meant playing for a team that has not been to the playoffs or won more than eight games in a season since 2002.
"The Raider way has always been winning," he said. "But I think every franchise goes through some tough times. The guys they brought in had that Raider mentality already … doing whatever it takes to win. It was a great mix of guys, the correct mix of guys."
And it's not just the longer-tenured Raiders or youngsters who are paying attention to the new silver and black Jedi in town.
"We won one year in Jacksonville, so if Tuck comes in and says something, I'm going to listen … regardless if it's against what I want to do or not," Jones-Drew said. "They know what it takes to get to that next level, so you've got to be selfess and listen. And I think we've got a lot of guys that are doing that and it's awesome."
But will it translate into more than moral victories?
July, 31, 2014
Jul 31
11:00
PM ET
NAPA, Calif. -- A daily review of the hot topics coming of of
Oakland Raiders
training camp:
Charles Woodson has always been a fan favorite of Raider Nation and he endeared himself further on Thursday. First, he celebrated mightily an interception of Matt Schaub along the left sideline by running into the stands to revel in the pick with the fans. It was a high-arcing floater that was easily Schaub's worst throw of camp, granted, in real time he would have been sacked by Khalil Mack so he threw up a duck instead. One play later, Woodson picked off Schaub again, stepping in front of a bullet to the left flat, and, yes, taking it to the house for a , wait for it, pick-six. "I know how this whole thing is going to work," bristled Raiders coach Dennis Allen. "Anytime Schaub throws an interception, everybody's going to want to try to hit the panic button and act like the sky is falling ... I'll let you guys push the panic button. I'm not going to. He's still doing a great job." So there.
It was the third straight practice in pads -- the Raiders were off Tuesday -- and it was also the chippiest and hardest-hitting practice of camp thus far. No, there have not been any fights ... yet, but we finally got a glimpse of rookie linebacker Khalil Mack's power. Tight end Mychal Rivera had the task of blocking Mack on a handoff to Darren McFadden, but Mack popped Rivera so hard he ran into McFadden in the backfield.
Austin Howard returned to practice a day after leaving early with a tight back and showed no ill effects. In fact, the 6-foot-7, 330-pounder looked the part of an absolute beast as a pulling right guard. In one drill, he swallowed up Mack and cleared space for Maurice Jones-Drew to pick up a sizeable gain.
A day after LaMarr Woodley gave right tackle Menelik Watson the business, fellow defensive end Justin Tuck was putting on an exhibition against left tackle Donald Penn. Yes, you could say the defense won the day, because besides Woodson's two picks of Schaub, safety Brandian Ross also had an interception of rookie Derek Carr. And rookie Jonathan Dowling had an interception in individual drills. Defensive coordinator Jason Tarver was more than pleased following practice.
Linebacker Kaelin Burnett called his hard hit on running back George Atkinson III a "get-back shot" for a blow the rookie delivered to Burnett a few days earlier on what was supposed to be a slower walkthrough kickoff return drill. "I said, 'I'm going to get him back,'" Burnett said with a smile. "Nah, we're all just out here competing to make us all better."
Receiver Juron Criner (hamstring), linebackers Kaluka Maiava (hamstring) and Marshall McFadden (hip) and safety Usama Young (quad) worked on the side with a trainer before practice. Receiver Greg Little (hamstring) did not participate, nor did defensive lineman Antonio Smith, who underwent sports hernia surgery this offseason and tweaked his groin on Wednesday. Defensive lineman C.J. Wilson (hamstring) came off the non-football injury list and practiced for the first time.
The Raiders practice again Friday at 3 p.m. PT
June, 20, 2014
Jun 20
8:00
AM ET
ALAMEDA, Calif. -- The
Oakland Raiders
' offseason workouts began on April 22. They concluded Thursday with the end of a mandatory three-day minicamp.
So what did Dennis Allen, entering his third season as the Raiders' head coach, glean from nearly two months of being around his team as it begins its reconstruction in earnest, especially with training camp about five weeks away?
Consider: Every Raiders draft pick is signed and every Raiders player under contract was in attendance for the minicamp. No contract haggling, squabbling or unnecessary drama.
"I like the direction we're headed as a football team," Allen said. "I think we've got a group of guys that are committed to winning. I think they're committed to this organization, and I think we have a lot of guys who have a lot to prove. That's an exciting thing for a football coach. That's an exciting thing for these football players.
"So I like our direction, I like our commitment and we've just got to keep working."
An infusion of veteran talent with past success, especially on the defensive side of the ball, such as
Justin Tuck
,
LaMarr Woodley
and
Antonio Smith
-- as well as Oakland taking linebacker
Khalil Mack
with the No. 5 overall draft pick -- has given the team a new identity.
And on offense, the Raiders have a seasoned, new quarterback in
Matt Schaub
and a hot prospect in second-round draft pick
Derek Carr
, who has overtaken
Matt McGloin
as Oakland's second-string signal-caller.
Injury-wise, guard
Lucas Nix
(knee) is the only player Allen sees as potentially missing the start of training camp, even though cornerback
D.J. Hayden
(foot) participated in just one organized team activities (OTAs) session and linebacker
Kevin Burnett
(ankle) and Smith (undisclosed) missed them all while recovering from injuries.
Allen was asked if there was a palpable feel on the practice field that this was, indeed, a better team than he had the previous two years.
"I don't think there's any question you can feel that," Allen said. "You guys have been around here too, so I think you've seen these practices around here for a while.
"I think we've had an outstanding offseason and I think our team from the day that we started the offseason program to where we're at now, we've improved tremendously. But we've still got to go out there and do it when we get to training camp and do it when we get to the regular season."
May, 30, 2014
May 30
8:00
AM ET
ALAMEDA, Calif. -- For
LaMarr Woodley
, part of the allure of signing with the
Oakland Raiders
after seven seasons with the
Pittsburgh Steelers
was the chance to be on the ground floor of building something special.
But surely, it's a thin line between being something special and being a rebuilding project. After all, the Raiders are coming off consecutive 4-12 seasons and will also face the toughest schedule in the NFL in 2014.

Woodley
And yet, there was still a special appeal for Woodley.
"After going back and looking at the film of the Raiders last year," Woodley said this week, "they were in ... a lot of games; they just didn't finish."
Indeed, the Raiders had second-half leads against Indianapolis, Washington, the
New York Giants
, Tennessee, Dallas and were also tied at halftime against Kansas City and San Diego ... and lost all seven of those games.
"I felt like during this offseason, they went and brought guys that ... knew how to finish games," Woodley added. "You bring that in here with the attitude that a lot of these players have and this team has and, I think, you go to the next level."
Which is why the Raiders made a concerted effort to sign veterans with championship pedigrees like Woodley, who played in a pair of Super Bowls with the Steelers and won a ring in his second season.
So Woodley is making no apologies for his take that the Raiders, these rebuilding Raiders who have not tasted the postseason since the 2002 season, are a playoff team.
"Anybody that plays this sport, that should be their main objective," Woodley said. "If you come in here and just say, 'I just want to be 8-8,' I wouldn't want you part of my team. Anybody on this team, the objective ... should always be the top and and say, 'Man, I want to win the Super Bowl.' Anything less, I wouldn't want you on my team.
"That's the winning attitude. That's the attitude you need to have ... if not, I wouldn't want to play with you."
The Raiders are also getting a former Pro Bowl veteran who will be re-inventing himself in his eighth season.
Woodley, who played left outside linebacker in the Steelers' 3-4 defense, is going back to his college position as a defensive end in the Raiders' scheme.
"The biggest difference for him is that he'll have his hand in the ground on the majority of the downs as opposed to standing up," said coach Dennis Allen. "But, all the things we're going to ask him to do, he's done at some point in his career. It's a great opportunity for him. He's excited about it, and we're certainly excited about it.
"We're looking forward to seeing what he can do as a 4-3 defensive end."
It is likely the 6-foot-2, 266-pound Woodley stays on the left side with
Justin Tuck
moving to the right defensive end spot.
Woodley's production the past few years has gone down, his sack totals going from 10 to nine to four to five, and he blamed it on an assortment of injuries -- calf, high ankle sprain, hamstring. Now?
"I'm ready to go right now," he said, "and haven't been having those issues."
May, 23, 2014
May 23
10:00
AM ET
»
NFC Wrap:
East
|
West
|
North
|
South
»
AFC:
East
|
West
|
North
|
South
»
Grades

With free agency and the draft in the rearview mirror and training camp just a couple of months away, we assess the
Oakland Raiders
' offseason moves.
[+] Enlarge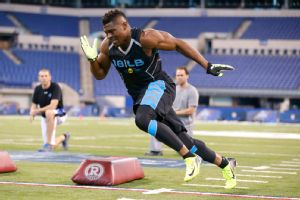 AP Photo/Michael ConroThe Raiders were happy to land versatile linebacker Khalil Mack in the first round.
Best move:
Letting the NFL draft come to them. By sitting tight in the first round, the Raiders saw playmaking linebacker
Khalil Mack
fall into their laps at No. 5 overall. By sitting tight in the second round, the Raiders saw their quarterback of the future fall into their laps at No. 36 overall. General manager Reggie McKenzie gets high marks for not overthinking things and staying true to his gut and drafting for need as well as snagging the best player available a year after trading down and taking injured cornerback
D.J. Hayden
.
Riskiest move:
Call it semantics or claim that someone -- either McKenzie or the player's mom -- was not telling the whole truth as to whether the Raiders presented a respectable offer, but the Raiders allowing left tackle
Jared Veldheer
to leave and reunite with quarterback
Carson Palmer
in Arizona was not a good way to begin free agency. In Veldheer, the Raiders had a known commodity. In his wake Oakland had to rebuild the offensive line. Replacing Veldheer was seemingly an unnecessary distraction, and though
Donald Penn
seems a suitable replacement, left tackle will be a need again soon enough.
Most surprising move:
Getting an established, respected and accomplished veteran like two-time Super Bowl-winning defensive end
Justin Tuck
to buy in early and sign with a rebuilding team in the Raiders. The signing of Tuck, who put pen to paper a day after
Austin Howard
was signed, gave legitimacy to Oakland's efforts in free agency and opened the doors for the likes of other vets
LaMarr Woodley
,
Antonio Smith
,
James Jones
and
Maurice Jones-Drew
to also choose Oakland as their destination ... without Oakland overpaying. They are all on the back ends of their careers, but they should have enough left in the tank.
About face?
Early in his tenure, McKenzie spoke of signing "high character" players with little to no baggage. So it was a surprise when he spent the third day of the draft taking players with questionable pasts, be it legal spats or getting kicked out of school or off a team. It reached a crescendo with this week's signing of oft-troubled receiver
Greg Little
. But McKenzie believes he has built a strong enough locker room to withstand a wild card or two. Besides, if a guy can contribute and has convinced McKenzie he has changed, he deserves another shot, right?
April, 23, 2014
Apr 23
8:00
AM ET
The most poignant
Oakland Raiders
plea leading up to the new league year last month?
No doubt it was Pro Bowl fullback
Marcel Reece
saying the weekend before free agency began that he wanted general manager Reggie McKenzie to make "Raider-ass moves" in signing players. As in, bold moves.
Reece
So, after signing 12 free agents, acquiring a new quarterback in
Matt Schaub
and jettisoning QB
Terrelle Pryor
, does Reece, the new voice of the Raiders, think McKenzie has followed through on his, ahem, advice?
"I do feel he did that," Reece said Tuesday, the first day of voluntary offseason workouts for the Raiders.
"We weren't looking for any saviors to come here and get in this locker room. We were looking for help. We were looking for help to bring this tradition, the winning attitude and a championship pedigree back to this organization and to the locker room and I think we did that."
Consider: Defensive end
Justin Tuck
, offensive lineman
Kevin Boothe
, linebacker
LaMarr Woodley
, defensive lineman
C.J. Wilson
and receiver
James Jones
are toting a combined seven Super Bowl rings to Oakland from their time with the
New York Giants
,
Pittsburgh Steelers
and
Green Bay Packers
.
Surely that has to rub off on the Raiders, no? That's the plan.
"Like I said, it's a certain stature and pedigree that you have, only by winning a championship," Reece said. "Things that even leaders like myself don't have yet. I haven't been able to experience the playoffs or a championship, and when guys like Justin Tuck and LaMarr Woodley, when you bring guys like that in here, especially on the defensive side of the ball, it really helps. It brings a different aspect of leadership into a locker room and into a team."
Reece served as a recruiter for the Raiders and said left tackle
Donald Penn
told him Tuesday he was "tired of me texting him two or three times a day" before he eventually signed.
"Obviously, we lost out on a few guys that we wanted to keep," Reece said, likely referring to left tackle
Jared Veldheer
, defensive end
Lamarr Houston
and running back
Rashad Jennings
. "But I think other than that, we were fairly successful."
As was the turnout for the first day of workouts, even if there was no official tally.
"Very close to 100 percent," Reece said. "A couple of guys that aren't here, I know why they're not here and when they're going to show up. There's always things that come up, it's life. It is 100 percent in my eyes. It means a lot to me, especially the veteran guys."
And Reece's thoughts on Pryor being traded a day earlier to the
Seattle Seahawks
?
"Nothing surprises me at this point in time in my career," Reece said. "I've seen a lot happen in my seven years here in the organization. Nothing surprises me. As a team, we just wish him the best and thank him for what he did here and wish him the best."
March, 27, 2014
Mar 27
8:00
AM ET
Fans and media types alike wondered why
Oakland Raiders
general manager Reggie McKenzie was suffering from what seemed like paralysis by analysis at the onset of free agency.
Why was McKenzie, with close to $65 million in salary-cap room, seemingly sitting out the first day or so of the frenzy, allowing the likes of division rival Denver to swoop in and sign players with aplomb, while his two best young players -- left tackle
Jared Veldheer
and defensive end
Lamarr Houston
-- walked?
[+] Enlarge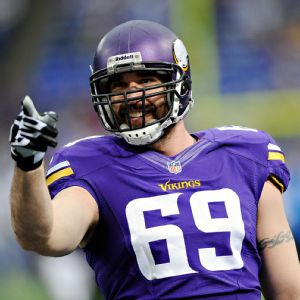 Hannah Foslien/Getty ImagesJared Allen signed a deal with Chicago that could be worth up to $32 million.
It was, the harsher critics suggested, as if McKenzie was fiddling while Silver and Blackdom burned.
But all the while there was a thought that no one wearing silver-and-black-colored glasses wanted to face: What if, no matter how financially enticing an offer, a prime free agent simply did not want to come to Oakland?
Heresy or reality?
The Raiders got a dose of that Wednesday when NFL Network reported that veteran defensive end
Jared Allen
passed on the largest offer he received -- a $9 million per year bid from the Raiders -- and chose instead to go to the
Chicago Bears
, which, ironically enough, is where Houston went.
Early in the offseason, I suggested the Raiders re-sign Houston and make a run at Allen to play on the right side, while flipping Houston back to the left, his more natural position. Seems like the two will team up after all ... just in the NFC North.
Allen chose the four-year, $32 million deal offered by the Bears, in part because he was reportedly turned off by the Raiders not having a quarterback in place at the time, though
Matt Schaub
was acquired shortly thereafter.
Also, McKenzie has been saying this week that Veldheer and Houston simply did not want to return to Oakland. McKenzie told the San Francisco Chronicle that he struggled with the notion.
Of course, many will say that McKenzie could have simply slapped a franchise tag on either player if he wanted them back that badly or, on the other end of the spectrum, that he low-balled the two.
None of that really matters now, though. Not when McKenzie accomplished what he set out to do by getting high-character, veteran locker room leaders who are still productive such as defensive ends
Justin Tuck
and
Antonio Smith
, linebacker
LaMarr Woodley
, receiver
James Jones
and left tackle
Donald Penn
.
Besides, they all
did
want to be in Oakland.
March, 24, 2014
Mar 24
4:00
PM ET
Richie Incognito
as a member of the
Oakland Raiders
is so, well,
last
regime. Or have you not noticed the trend and type of player general manager Reggie McKenzie has been signing thus far this offseason?
Incognito
They are guys not only with championship pedigrees but also locker room leaders. Guys like
Justin Tuck
and
LaMarr Woodley
and
James Jones
, and yes, the re-signed
Charles Woodson
.
Incognito exhibits none of those traits.
Sure, the left guard is a mauler on the offensive line who would have fit in nicely on the old-school Raiders' island of misfit toys (imagine him and Lyle Alzado going at it in practice), but McKenzie is veering away from those types of players.
Asked at the NFL owners meetings in Orlando on Monday if he had seen the NFL.com report in which Incognito said he was "100 percent into" the prospect of playing for the Raiders, McKenzie smiled.
"I've heard about it," McKenzie said, per the Bay Area News Group.
Asked what he thought about it, McKenzie smiled and said nothing.
Asked if he was interested in Incognito, McKenzie again smiled and was mute.
From a pure playing standpoint, Incognito does have relationships with Raiders offensive coordinator Greg Olson and assistant head coach/offensive line coach Tony Sparano.
"I'm a loyal guy," Incognito told NFL.com, "and I'd love to play for them again. And, of course, the Raiders have that aura."
But again, that aura is from a different generation. I'm not saying it's right or wrong, it just is.
Because the notion of Incognito -- who may still face league discipline for his role in the bullying episode in Miami involving
Jonathan Martin
-- joining the Raiders gave pause to even the progeny of Al Davis.
"I'd have to think about that," Mark Davis told reporters.
He'd probably be wise to check in with recently signed defensive end
Antonio Smith
, who has a longstanding feud with Incognito going back to their college days in the Big 12, a bad blood grudge that's included kicks to the head, helmets being ripped off and more-than-salty threats.
Yeah, Incognito would be a great fit for the old Raiders ... just not McKenzie's Raiders, who have already added offensive linemen
Donald Penn
,
Kevin Boothe
and
Austin Howard
, to go along with center
Stefen Wisniewski
, the re-signed
Khalif Barnes
, second-year tackle
Menelik Watson
, veteran right guard
Mike Brisiel
,
Matt McCants
,
Lamar Mady
and McKenzie's first-ever draft pick,
Tony Bergstrom
.
As one anonymous Raiders player told me last season when I asked which player, Incognito or Martin, he would rather have as a teammate, "Neither," was the reply.
March, 24, 2014
Mar 24
10:00
AM ET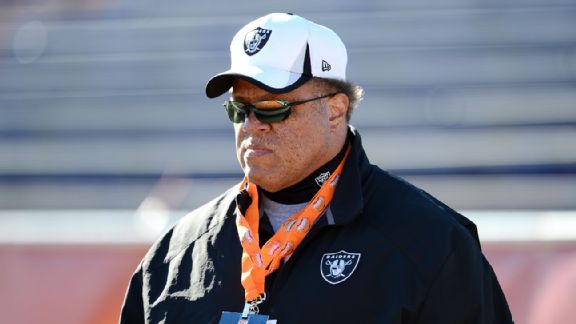 AP Photo/Johnny VyOakland Raiders general manager Reggie McKenzie is doing what he can to bring in veteran leaders.
What started out as nothing short of embarrassing -- the
Rodger Saffold
debacle -- has leveled out quite nicely for the
Oakland Raiders
and third-year general manager Reggie McKenzie, thank you very much.
No, McKenzie has not made what Pro Bowl fullback
Marcel Reece
called for the weekend before free agency began, when he told me he wanted McKenzie to eschew "safe" signings in favor of "smart, calculated, fearless, Raider-ass moves."
As in bold, outside-the-box transactions that would make opponents once again quake in their cleats at the thought of the Silver and Black. But anyone who thought McKenzie was going to make a splash, like some reckless spendthrift at worst or high-stakes poker player at best, with the near $65 million in salary-cap space was simply not paying attention.
Besides his words -- he said last year he was not necessarily going shopping at Macy's -- his actions have had a decided "Moneyball" feel to them, almost as if the bargain-hunting ways for undervalued vets of the Raiders' Coliseum co-tenants, Major League Baseball's Athletics, have been transferred to McKenzie from Billy Beane by some sort of East Bay osmosis.
For the Oakland faithful, then, the Raiders losing free agents
Jared Veldheer
,
Lamarr Houston
and
Rashad Jennings
was akin to the A's saying adios to the likes of Jason Giambi, Miguel Tejada and Barry Zito. Kind of.
And with that as your backdrop, and in not only signing eight veteran free agents, plus re-signing three of their own in safeties
Charles Woodson
and
Usama Young
and running back
Darren McFadden
, and acquiring quarterback
Matt Schaub
in a trade for a sixth-round draft pick before he restructured his contract to make it more cap-friendly this season, McKenzie is following his blueprint to a T.
Now, whether that translates to something better than a third straight 4-12 record remains to be seen. But McKenzie is doing what he set out to do, Saffold be damned.
"What we're trying to do is add some veteran leadership, guys who have some production, and just make sure we upgrade this team," McKenzie told the Bay Area News Group last week. "And that's the bottom line, trying to upgrade the team through production and the leadership."
Defensive end
Justin Tuck
comes with two Super Bowl rings and turns 31 on March 29. Linebacker
LaMarr Woodley
has a ring in two trips to the Super Bowl and turns 30 in November. Receiver
James Jones
beat Woodley in the Super Bowl and he turns 30 on March 31.
Offensive linemen
Kevin Boothe
, originally a Raiders draft pick who won two rings with the
New York Giants
, and
Donald Penn
, a Pro Bowl left tackle, both turn 31 before the season opens.
[+] Enlarge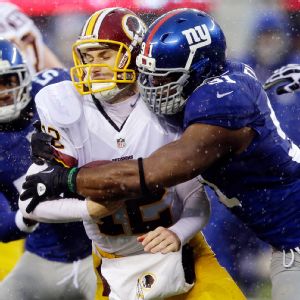 AP Photo/Julio CortezThe Raiders hope Justin Tuck still has something left in the tank.
Defensive end
Antonio Smith
, who has 27 sacks the past five seasons and has gone to a Pro Bowl, turns 33 in October, while cornerback
Tarell Brown
, who has started 42 of his past 45 games, is 29 and right tackle
Austin Howard
, seen as a rising star on the line with only two sacks allowed last season, is the relative babe at 27.
Even Schaub -- a two-time Pro Bowler who was due to make $11 million this season before the restructure lowered his base salary for 2014 but still enables him to make between $15 and $20 million the next two years, per ESPN NFL Insider Adam Schefter -- turns 33 in June.
"I definitely can see Matt Schaub being the quarterback of the Oakland Raiders for more than just a year or two," coach Dennis Allen said. "You look at
Tom Brady
,
Drew Brees
,
Peyton Manning
,
Ben Roethlisberger
, all these guys are beginning to get up there in age, so I think that [Schaub] can play for a while."
Yes, things have quieted down a bit around the Raiders' compound since that initial Saffold fiasco angered more than a few at 1220 Harbor Bay Parkway and had more wondering what, exactly, McKenzie was doing in the initial hours of free agency. He had lost the Raiders' two best free agents in Veldheer and Houston and agreed to a massive five-year, $42.5 million deal, with $21 million guaranteed, with an injury-prone right guard in Saffold before the Raiders medical staff flunked him with a bad shoulder and the deal was off.
With McKenzie already having a bad run with injured players in drafting
D.J. Hayden
last year as well as acquiring a sore-armed quarterback in
Matt Flynn
, throwing so much cash at an offensive lineman who may have required surgery and missed the offseason programs was too much to stomach.
And while one report had owner Mark Davis vetoing the Saffold deal amid rumors of "buyer's remorse," a Raiders source told ESPN.com that Davis merely let his feelings be known that he was not entirely on board with signing another injured player, but the personnel staff could do whatever it, ahem, liked.
Semantics? No doubt. But this much is true: McKenzie has rebounded after a rough start to free agency two weeks ago and stayed his course as he and Allen prepare for what could be a make-or-break season for both.
"The good news is that we've had some experience in that area," Allen said of roster turnover. "When you look at the guys that we're bringing in here, they're guys that have been a part of championship teams and they understand what it takes to win and win at a high level in this league. They're guys that can help us bring along some of these young players that we feel like have a chance to develop into good football players for us.
"It's a challenge, but that's the fun part."
It was 1960s activist Jack Weinberg who made popular the slogan, "Don't trust anyone over 30." McKenzie, though, is seemingly putting
all
of the Raiders' trust there ... and in guys about to turn 30. It's part of his plan, for better or worse.
March, 17, 2014
Mar 17
11:00
AM ET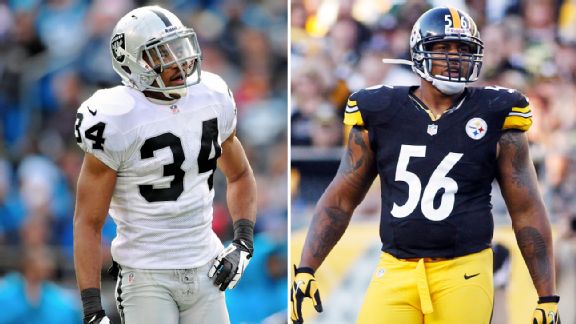 Getty ImagesIn safety Mike Mitchell and linebacker LaMarr Woodley the Steelers and Raiders hope to find free-agent steals.
LaMarr Woodley
is now a Raider as he signed with Oakland last week following his release from the Steelers. The Steelers, meanwhile, made an uncharacteristic signing on the first day of free agency, bringing in
Mike Mitchell
to take over for
Ryan Clark
at free safety. Mitchell played for the Panthers in 2013 but spent his first four seasons with the Raiders.
ESPN.com Steelers writer Scott Brown and ESPN.com Raiders writer Paul Gutierrez take a closer look at Woodley and Mitchell and what their signings mean for their respective teams.
Paul Gutierrez:
The Raiders had many needs entering the offseason, perhaps none greater than pass rush. They seemed to address that by signing
Justin Tuck
and LaMarr Woodley, but I'm sure Raiders fans are wondering just how much Woodley, who turns 30 in November, has left in the tank?
Scott Brown:
The Raiders should be getting a player who will be extremely motivated following his release by the Steelers -- and by how his career played out after they had made Woodley the highest-paid defensive player in franchise history. It proved to be a rather stunning fall from grace for Woodley, and ultimately the Steelers picked
Jason Worilds
, whom they had been widely criticized for drafting in the second round in 2010, over Woodley.
Woodley's inability to stay on the field led to the Steelers making that choice, and if he can stay healthy he could turn out to be a real bargain for the Raiders. Woodley played well until a calf injury sidelined him in the second half of the last season and ultimately shut him down. What has the reaction been to the Woodley signing, and do you think the Raiders view it as a low-risk, high-reward proposition?
Gutierrez:
The reaction has been one of relief from Raiders fans, especially since Tuck had signed earlier in the wake of the
Rodger Saffold
debacle. Now, I'm not saying it "saved" the Raiders' free agent-signing season, but it did wash away some of the bad taste because the Raiders had a huge need at pass rush. In Woodley (57 career sacks) and Tuck (60.5 career sacks) they addressed it even if both guys will be on the wrong side of 30 come midseason. Still, Woodley and Tuck, bring a championship mentality (two Super Bowl appearances) to a franchise that has not had a winning record since 2002. And yeah, the money is right ("only" up to $12 million) as is the length of the deal (two years).
Still, there are questions about how his skill set plays into the Raiders' base 4-3 defense since Woodley was the left outside linebacker in the Steelers' 3-4 scheme. He says he'll play with his hand in the dirt as a defensive end in a 4-3. Do you see that as a realistic possibility, or is that too much to ask of him at this stage of his career?
Brown:
Woodley should be fine moving to defensive end as that is what he played in college when he tormented quarterbacks for Michigan. The move might help him regain some of his pass-rushing mojo as Woodley won't drop into coverage nearly as often as he did with the Steelers. I like the signing for the Raiders, especially if Woodley prepares and plays as if a fire has been lit under him. Did complacency set in after he signed the six-year, $61.5 million in 2011? It sure seems that way and maybe getting released is what Woodley needed to get his career back on track.
The Steelers normally stay on the sidelines during the first wave of free agency but they made a significant signing when they lured Mike Mitchell away from Carolina with a five-year, $25 million contract. Mitchell spent his first four seasons in Oakland and I'm curious about your impressions of him. Did he simply need a change of scenery or did things click for him last season because he played on a better team?
Gutierrez:
Yeah, it's been a couple of years since I covered Mitchell on a day-to-day basis but he definitely left an impression as one of the best interviews in the Raiders locker room, win, lose or draw. The spotlight was on him from the day Al Davis used a second-round pick on a little-known player from Ohio University. Davis had visions of another undersized, hard-hitting safety from the Buckeye State in Jack Tatum but that was a tough bar to reach. Still, he had some flashes… especially in covering San Diego tight end
Antonio Gates
a few years back. A change of scenery, and being with a team that had a better pass rush, definitely helped him out in Carolina. Plus, he was able to freelance more with the Panthers as a free safety, rather than on the strong side. And with his outspoken manner, gritty disposition and, yes, rep as a hard hitter, he seems to fit the mold of Raiders and Steelers' DBs of yore, even if he's not Tatum or even Donnie Shell.
Speaking of old school, Raiders fans still refer to "IT" as the Immaculate DE-ception… so when, if ever, is Frenchy Fuqua going to tell the entire story?
Brown:
I just read a tremendous book on the 1970s Steelers, "Their Life's Work," and it sounds like he is taking that story to his grave. I'm sure Steelers' fans would counter that the Immaculate RE-ception is history and in the books no matter how it went down. It certainly is one of the more intriguing chapters of that storied rivalry and remains so after all of these years. What are the chances that the Raiders and Steelers turn back the clock at some point and resume meeting regularly in the playoffs as they did in the 1970s?
Gutierrez:
Well, that would mean the Raiders have to get BACK to the playoffs, a place they have not visited since 2002. Realistically, I can't see it happening in the next year or two, but in the NFL, things do change quickly. Not sure the rivalry can ever get back to the days of the '70s, though, when the Steelers and Raiders met in
three straight AFC title games
, which I wrote about in January.
March, 14, 2014
Mar 14
10:34
PM ET
After getting egg on his face Wednesday,
Oakland Raiders
general manager Reggie McKenzie went back to work on Friday, signing former
Houston Texans
defensive end
Antonio Smith
, along with cornerback
Tarell Brown
, a day after inking linebacker
LaMarr Woodley
and
Justin Tuck
. Raiders reporter Paul Gutierrez and Houston Texans reporter Tania Ganguli broke down Smith leaving Houston for Oakland to the tune of a reported two-year, $9 million contract.
Paul Gutierrez
: What I'm wondering, Tania, is what kind of defensive end is Smith, the prototypical edge-rusher the Raiders so desperately need, or more of a run-stuffer on the edge?
Tania Ganguli
: He's better at pass rushing than run stuffing. The Texans' scheme under Wade Phillips, one he liked to call the Phillips 3-4, featured an attacking front. Most of their pass-rushing pressure came from their defensive ends, Smith and
J.J. Watt
, rather than their outside linebackers. That's not exactly by design – they would've loved more pressure from those edge guys – but it spoke to the skill they had at their defensive end positions. Smith is strong and can overpower opposing linemen.
[+] Enlarge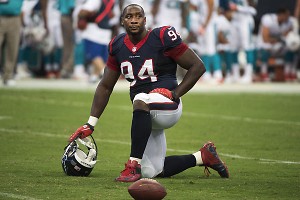 George Bridges/Getty imagesAntonio Smith recorded five sacks for the Texans this past season.
How do you see the Raiders using him?
Gutierrez
: As a pass-rusher/run-stuffer. Cop out, I know. But last season's sack leader, defensive end
Lamarr Houston
, had six sacks and was better at stopping the run, though he left for the
Chicago Bears
, and the Raiders have not had anyone with double-digit sacks since 2006. Still, it is interesting that Smith, Tuck and Woodley ALL play on the left side. They still have to figure out what they're going to do with the right side, unless they switch from a 4-3 to a 3-4 base defense. Then, all bets are off.
Many Raiders fans have been screaming for
Richie Incognito
to join the Raiders and shore up the offensive line. But with Smith here now, kind of hard to see it happening with the bad blood, no? Could you explain it?
Ganguli:
Oh, that would be interesting. Those two have a history going all the way back to college, when both of them played in the Big 12, Incognito at Nebraska and Smith at Oklahoma State. Then they played in the same division in the pros with Smith at Arizona and Incognito at St. Louis. They know each other well and Incognito knows how to goad him. In the 2012 season opener, Incognito engaged in some shenanigans with Smith's ankle, in Smith's view trying to twist and/or break it. He kicked Incognito in the head as he disengaged himself and landed a $21,000 fine. The fine was reduced to $11,000 after an appeal, but still went on Smith's permanent record with the league. When they suspended him for what they viewed as him ripping off Incognito's helmet and using it as a weapon during the 2013 preseason, they sent him a note detailing his history of discipline. Smith was again reacting to Incognito's shenanigans, this time with his face mask and so his face, head and neck. Again, it cost him. It wasn't the smartest move, taking off Incognito's helmet, but I thought the talk that he "could have killed" Incognito was a little overwrought. One thing to know about Smith: He's not the type of guy who gets into scuffles like this with everyone he faces. This is a specific deal between those two guys.
Another thing to know about Smith: He created an alter-ego called the Ninja Assassin while in Houston. Wore a ninja mask during pregame introductions. His sack celebration was him pulling out an imaginary sword from an imaginary sheath and brandishing it. Other times he'd say he was Tonestradamus, and make predictions about whatever came into his head. He's silly, and even in the bad times I didn't sense Texans fans tiring of it. How do you think Raider fans will respond to that?
Gutierrez
: Put it this way: Raider Nation is going to love it. Or have you not seen how every home game is Halloween on Hegenberger, what with so many costumes and characters filling the Black Hole. He will be a fan favorite, so long as he produces. That being said, how much of his success was his being on the other side of Watt, and, with Smith, a 10-year vet turning 33 in November, how much tread does the Ninja Assassin have left on his tires?
Ganguli
: I should note, unless he's changed his mind, the Ninja Assassin is dead. Smith said that if he didn't return to Houston he was going to leave it behind and find another character. I'm sure he'd love suggestions. I think a two-year deal was smart on the part of the Raiders. He's got plenty left right now, but beyond 2015, that'd be tough to say. I think his fit, rather than his age, is why the Texans let him go. Watt and Smith had a symbiotic relationship. Two of Smith's most productive seasons, sack wise, came after the Texans drafted Watt, but one of those was 2011, a season during which Watt hadn't yet turned into what he is today.
Wrapping up, Smith was always happy to help younger teammates in Houston, taking an active mentoring role with some. Can you see that developing with anyone on the Raiders' roster?
Gutierrez
: Poor Ninja Assassin. My dad actually toured the Far East on a martial arts expedition with Sho Kosugi, who starred in all of those ninja movies of the early 1980s. But I digress ... to answer your question, most definitely. Sure, the Raiders went the vet route with Smith, Tuck and Woodley, but they do have high hopes for defensive end
Jack Crawford
, who will be entering his third season and was initially drafted in the fifth round as a project, of sorts, out of Penn State. Plus, they kept undrafted rookie
Ryan Robinson
a year ago over seventh-round draft pick
David Bass
. So if Smith is up for some mentoring, the Raiders have some young bucks who would be wise to sit and learn at his knee. So long as they don't ask any ninja-related questions, I surmise.
March, 13, 2014
Mar 13
8:00
AM ET
The
Oakland Raiders
entertained unrestricted free agents
Justin Tuck
and
LaMarr Woodley
late into the night Wednesday. And if general manager Reggie McKenzie and coach Dennis Allen were able to convince the two to sign with the Raiders, wouldn't that take the sting out of the
Rodger Saffold
fiasco?
A little bit. Sure, the Raiders would still have to address their offensive line after allowing left tackle
Jared Veldheer
to walk and then losing Saffold to a failed physical.
But Tuck and Woodley would address an immediate need on the defensive side of the ball -- pass rush. Sure, the departed-for-the-Chicago Bears
Lamarr Houston
led the team with six sacks last season, but he was more of a run-stopping defensive end playing on the right side.
Tuck, meanwhile, is coming off an 11-sack season after only getting nine total the previous two years while dealing with injuries. His 60.5 career sacks ranks sixth in
New York Giants
history.
He does turn 31 on March 29, so he'd add a veteran presence and two Super Bowl rings. Plus, he is more than a pass-rusher, as ESPN.com Giants reporter Dan Graziano noted: "Tuck also has a reputation as a strong run defender, and has often moved inside to play defensive tackle in the famed 'NASCAR' package the Giants use when they want to load up on pass-rushers on obvious passing downs."
Woodley, meanwhile, has 57 career sacks but is coming off a five-sack season in which a calf injury limited him to 11 games. He played left outside linebacker for the
Pittsburgh Steelers
in their 3-4 alignment, so if the Raiders stick with a base 4-3, they'd have to figure out how to best utilize his talents as Woodley has 57 career sacks in seven seasons. He turns 30 in November.
AFC WEST SCOREBOARD
Saturday, 12/20
Sunday, 12/21
Monday, 12/22