April, 25, 2013
4/25/13
4:00
PM ET
A look at the
San Diego Chargers
' full mock draft:
Summary:
This is a team with a lot of needs, especially on offense. They could go in any direction, but they need to start restocking this roster. Trading for more picks wouldn't be a terrible idea.
January, 28, 2013
1/28/13
8:00
AM ET
A major step in the NFL draft-evaluation process is complete. Still, there doesn't appear to be a quarterback who is currently worthy of being a high draft pick.
That, of course, is being noted by the new brass of the
Kansas City Chiefs
. The Chiefs have the No. 1 overall pick in the NFL draft and their biggest need this offseason is a quarterback.
Unless something drastically changes, it doesn't appear the Chiefs will find their next quarterback with that pick.
This has long been considered a weak quarterback draft class -- after two strong classes, including the great class of 2012.
That perception has not changed after the Senior Bowl
. No quarterback dramatically helped his cause during the week.
Senior Bowl week is a prime time for players to take the next step in the draft process. Arkansas'
Tyler Wilson
was solid during the week, but others such as North Carolina State's
Mike Glennon
and Oklahoma's
Landry Jones
didn't help their stock. Wilson, however, will still need to make strides at the combine and at his pro day workout to rise into being a top pick.
West Virginia's
Geno Smith
(widely considered the best quarterback prospect) and USC's
Matt Barkley
did not play in the Senior Bowl. We will see more of them down the road.
Unless someone does emerge I expect the Chiefs to address other needs with their top pick and take a flyer on a quarterback in the second round. The Chiefs will likely add a veteran quarterback like San Francisco's
Alex Smith
or Seattle's
Matt Flynn
.
January, 5, 2013
1/05/13
8:30
PM ET
This is
If
season.
It's all about
if
this step happens, perhaps that step will be made. So, let's play that game with the
Kansas City Chiefs
.
Flynn
Green Bay executive John Dorsey is considered a heavy favorite to land in Kansas City as the general manager. New head coach Andy Reid has control of the franchise, but he needs a right-hand man. Dorsey is respected, and Reid and Dorsey are very close from their days in Green Bay together.
The first task of the Chiefs' brass will be to figure what to do at quarterback. There will be several options. One could be former Green Bay backup
Matt Flynn
. He is now in Seattle. The Seahawks paid handsomely to make Flynn their potential starter last year. But they struck draft gold in the form of
Russell Wilson
.
Flynn could be available. Flynn was well respected and well thought of in Green Bay. If Dorsey is among his fan club, there could be a nice connection. Reid's roots are in Green Bay, and he'd likely have little trouble taking on a quarterback from the Packers' tree.
The key would be to not pay too much for Flynn in the form of a draft pick. I think he'd be worth a conditional mid-round pick, because there are no guarantees he will be the starter. Also, his contract might have be adjusted to some conditions.
But if those two areas were worked out, I think Flynn could be an interesting fit for the new Chiefs. I could see maybe combining Flynn and taking a quarterback such as Landry Jones or Matt Barkley or a Mike Glennon or Geno Smith (if they were available) early in the second round.
The Chiefs could let the two players compete. If one is great, then they have their answer for years to come. If not, Flynn would at least be serviceable for the short term. Then, the Chiefs can continue their search later.
There are no other clear answers this year. The Chief are going to have to take a chance and hope for the best.
If Reid and Dorsey think Flynn is the answer, he might be as good as any avenue to pursue.
May, 30, 2012
5/30/12
4:00
PM ET
Mid-week mail call:
Bo Richmond from Broomfield, Co., wants to know
if I think the Broncos' receiving crew is set for 2012.
Bill Williamson:
I think Denver could add to a piece or two, but the primary receiving group is set. I think the keys are backups
Andre Caldwell
and
Brandon Stokley
. Both were signed as free agents and I think the Broncos are excited about adding Caldwell as one of Peyton Manning's weapons. If Stokley can stay healthy, he could be a good bottom-of-the-rotation asset because of his history with Manning.
---
Chris from York, Pa., wants to know
if I think the Raiders could draft a franchise-type quarterback next year.
BW:
I think they really could.
Carson Palmer
will be 33 in December. Regardless if Palmer has a strong season, Oakland could consider it. Right now, the big names to watch are Matt Barkley of USC and Landry Jones of Oklahoma and I'm sure other top prospects will emerge. It will be interesting to see this situation develop. But, as of now, I could see why Oakland would be on the list of teams considering adding a top-flight rookie quarterback in 2013. Of course, if 2011 supplemental draft pick
Terrelle Pryor
develops at a rapid pace, all bets would be off.
---
Eric from Santa Monica, Ca., wants to know
if I think San Diego linebacker
Larry English
can have a big season.
BW:
The word out of San Diego is that English -- the No. 16 overall pick in the 2009 draft --has looked good this spring. But he is now dealing with a minor groin injury. He has had trouble staying healthy in his short NFL career. This year is probably his last chance in San Diego. If he suffers a major injury this season, he is probably going to be shown the door in 2013. The Chargers drafted
Melvin Ingram
in the first round and they are moving away from English. But if he can add pressure as a rotational player, the Chargers will take it.
May, 2, 2012
5/02/12
8:20
PM ET
Apparently, it's never too early for a mock draft.
Four days after the end of the 2012 NFL draft, Todd McShay of Scouts Inc. has come up with his
initial mock draft for 2013
.

Of course, many things will happen, so give credit to McShay for taking a shot at this. The draft order was compiled by the current power rankings of Matt Williamson of Scouts Inc.
Let's take a look at McShay's mock.
No. 6, Oakland Raiders
USC quarterback Matt Barkley
My take:
Another USC quarterback to Oakland. I could see it. But I have a feeling Barkley is going to be drafted first or second. I don't see Oakland getting close to being able to draft him.
No. 16, San Diego Chargers
North Carolina guard Jonathan Cooper
My take:
If the Chargers don't make the playoffs for a third straight year, they'll need to get more than guard.
No 18, Denver Broncos
Notre Dame inside linebacker Manti Te'o
My take:
Denver's needs continue to evolve, but Te'o is a good player and a good fit.
No. 19, Kansas City Chiefs
Oklahoma quarterback Landry Jones
My take:
The Chiefs will likely get a quarterback next year if
Matt Cassel
doesn't have a great season. Will Jones be available at No. 19?
November, 21, 2011
11/21/11
4:35
PM ET
For those wondering if the
Denver Broncos
are close to committing to quarterback
Tim Tebow
for the long term, John Elway has your answer.
It's no.
According to the Denver Post
, Elway was asked on a Denver radio show if the team was "any closer to feeling if you have your quarterback on this team." Elway paused, and answered, "No."
Elway added this: "I think obviously he's making progress week in and week out. When you look at our third-down numbers, those have to improve. I mean, that's the bottom line. We can't go 3-for-13 and win a world championship. Those are the type of things we have to keep improving."
Elway and his staff have been scouting college quarterbacks this fall. Elway and Denver general manager Brian Xanders were reportedly at the Oklahoma-Baylor game on Saturday night. The game featured quarterbacks Landry Jones and Robert Griffin III. Both players are expected to be first-round draft picks next April.
It's clear Elway wants to see Tebow improve. Elway is open to Tebow, but he isn't sold on him, despite the fact Tebow is 4-1 as the Broncos' starter this year.
Denver likely won't make its final decision on Tebow until after this season.
Tebow has support in the form of star Denver left cornerback
Champ Bailey
. He told a
Denver radio station
that Tebow will be "unstoppable" when Tebow improves his throwing.
In other Tebow-related tidbits:
The "
Tebow Offense
" will not be the way the Bears go as they adjust to
Caleb Hanie
after starting quarterback
Jay Cutler
broke his thumb Sunday against San Diego. He will miss the next several weeks.
The Bears play at Oakland, host Kansas City and play at Denver in the next three weeks. Thus, the former Broncos' much anticipated return to play in Denver won't happen.
Former Denver quarterback
Jake Plummer
had some interesting things to say about new Denver quarterback Tim Tebow and his former coach in Denver, Mike Shanahan,
in a radio interview
.
October, 30, 2011
10/30/11
11:02
PM ET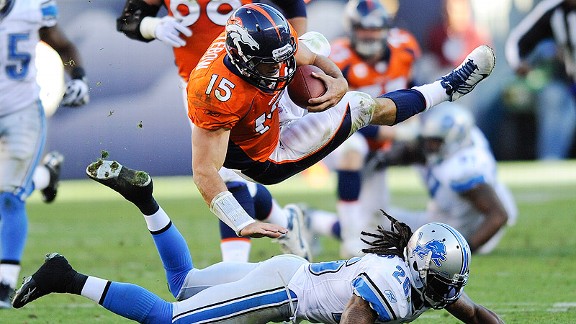 AP Photo/Jack DempseyDespite Tim Tebow's popularity with fans, Denver must start considering alternatives at quarterback.
DENVER -- It is not John Elway's fault the
Tim Tebow
experiment is failing, but it will be on his hands if he doesn't find a solution.
It is clear the
Denver Broncos
' quarterback of the future is not on the current roster. It must be Elway's primary job to start making plans to fix the problem in Denver. The first step is to realize Tebow probably is not going to be the answer.
Whether it's figuring out a way to land Stanford star quarterback
Andrew Luck
via a trade (Denver looks like it is on its way to a top-five pick, but it might have difficultly stinking enough to get the No. 1 pick), zoning in on USC's
Matt Barkley
or Oklahoma's
Landry Jones
, or even considering pursuing injured Raiders veteran
Jason Campbell
as a short-term answer in free agency, Elway must start his post-Tebow game plan.
I hate to jump to early conclusions, but it is safe to say Tebow currently is far from being a competent NFL quarterback and that the Broncos have arguably the worst quarterback situation in the NFL.
It was all there to see in blue and orange for the home folks Sunday during the Broncos'
45-10
loss to the
Detroit Lions
. Tebow was terribly ineffective all game, and the Broncos were overmatched. The patented Tim Tebow spark? Nowhere to be found. Denver was lethargic on both sides of the ball all game.
There was no wild comeback for Tebow after a mostly bad performance like last week's against the inept Dolphins. Instead of playing poorly for 55 minutes before turning on the jets, Tebow was consistently bad for an entire game Sunday.
There was no playmaking. All we saw were badly overthrown passes, late decision-making and wild scrambles that netted little. Need statistical proof? Tebow was 18-of-39 passing for 172 yards. The Broncos had seven straight three-and-out drives, and Tebow had an interception and a fumble that were brought back for Detroit touchdowns.
"We are embarrassed," Denver tight end
Daniel Fells
said.
Added the always-earnest Tebow: "I'm just going to get up early [Monday] and go to work and try to get better tomorrow and consistently improve and be the best person and quarterback for this organization and continue to improve."
Broncos coach John Fox was asked after the game who his quarterback will be next week in Oakland. He said he needs to look at the film. Clearly, some of the shine on Tebow has been lost.
I don't necessarily think Tebow should be pulled now. Is
Brady Quinn
really the answer? We know
Kyle Orton
isn't. Tebow deserves more time, but there is no way the 2-5 Broncos can sit through nine more of these types of games with no offensive rhythm. Fox will lose his veteran players if he continues to start Tebow and if Tebow can't quickly become a capable player.
"It's only been two games," Broncos cornerback
Champ Bailey
said. "But we only got 16 games."
The problem with Tebow is he isn't showing any signs of improvement as a traditional quarterback, and that's what the Denver brass wants to see. There is something technically wrong with every snap he takes. The Broncos want Tebow to show them he can be an effective pocket passer in the NFL. Rookie quarterbacks such as
Cam Newton
,
Andy Dalton
and
Christian Ponder
already have shown they have the makings of being quality NFL passers. Tebow, the No. 25 pick of the 2010 draft (a pick made by the previous Denver regime), is light years behind those players.
I know the Broncos aren't interested in just rolling out the ball every week, and letting Tebow wing it and try to make something happen.
They worked during the week on his delivery; they altered their game plan to spread out the offense and speed up the tempo to help Tebow. But strides were not made. In Tebow's past three starts (including Week 17 last season), the Broncos are 0-14 on third-down conversions in the first half of games.
Tebow looks a lot more like a quarterback who is close to losing his job than a quarterback who is ascending.
In the end, I believe, working for Elway will shorten Tebow's window of opportunity. Elway -- in his first year as the Broncos' top football decision-maker -- was a Hall of Fame player. Watching that amateurish display on his home field had to worry him. He won't let this go on forever.
One veteran Broncos player I spoke with Sunday said he understands why Denver's brass turned to Tebow and why he must be given a chance. But he also wondered when Elway and Fox will lose patience. And there is a feeling in Denver that once fans -- who clamored for Tebow to be made the starter -- see that he is so far from being an NFL-ready quarterback, perhaps the Broncos will be able to move on.
Remember, the Broncos didn't turn to Tebow because they suddenly felt he was ready to be a star. They turned to him because they were ready to give him a chance. Performances such as Sunday's must show Elway & Co. that now is the time to start thinking about the future at quarterback in Denver -- and it's difficult to believe Tebow will be part of it in 2012.
October, 22, 2011
10/22/11
12:00
PM ET
Weekend mail call:
Cedric from Memphis, Tenn., wants to know
if Josh McDaniels could be a fit for the Chiefs as head coach if Todd Haley is fired.
Bill Williamson:
I think general manager Scott Pioli would consider hiring McDaniels — with whom he worked in New England — if Haley ends up being fired; he could even be a favorite. Had McDaniels not been hired in Denver before Pioli landed in Kansas City in 2009, the Chiefs would likely have gone with McDaniels. I think he'd have to be considered a candidate if there is an opening in Kansas City.
Isaac from Twin Falls, Idaho, wants to know
if the Broncos could show interest in Boise State quarterback
Kellen Moore
in the draft next year.
BW:
I think Moore is a second-round-type talent — though if he has a good offseason leading up to the draft, he could move into the first. But I think the Broncos might have a chance for Oklahoma's
Landry Jones
or USC's
Matt Barkley
if they don't win the
Andrew Luck
sweepstakes and if they don't want to move forward with
Tim Tebow
. I don't know if Moore is a fit at this point.
Henry from Fairbanks, Alaska, wants to know
if I think there is added pressure on Raiders quarterback
Terrelle Pryor
since he was Al Davis' final draft pick.
BW:
I don't think so. It's interesting that he was Davis' last pick, but I don't think that will be Pryor's legacy. He was indeed a Davis-like pick — Davis loved athletic players with fantastic measurables and that's Pryor. Davis stuck to his scouting persona to the end.
October, 21, 2011
10/21/11
12:00
PM ET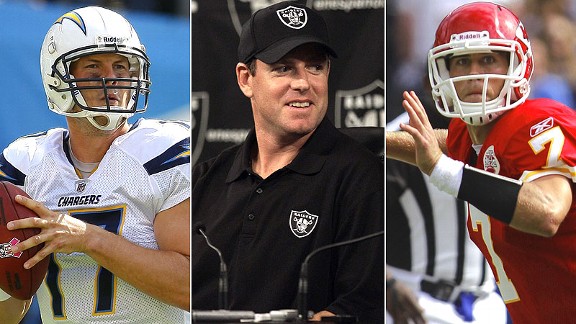 US Presswire/AP PhotoPhilip Rivers, Carson Palmer and Matt Cassel are QBs on solid footing with their respective teams.
There have been major changes at the most important position on the field in the AFC West this week. In Oakland, the Raiders turned the NFL world upside down by spending wildly to get
Carson Palmer
to replace the injured
Jason Campbell
. In Denver, the much-awaited
Tim Tebow
era is about to begin.
Because of the major happenings in the division at quarterback, let's rank the quarterback situations in the division. Please note we are ranking the overall situations (not just the current standing of each team's starter), putting both this season and beyond into consideration.
1. San Diego:
This one is easy. Chargers quarterback
Philip Rivers
is the best player in the AFC West. In my opinion, he is the best player in the NFL who doesn't own a Super Bowl ring. He will turn 30 in December and is under contract in San Diego through 2015. He is in the second year of a six-year, $90-plus million deal.
The Chargers won't have to make a decision on Rivers until he is 34.
Billy Volek
is considered a quality backup if Rivers misses some time. The Chargers may soon need to develop a youngster, but overall this is an extremely solid situation.
2. Oakland:
It's gets very tough here. I could see an argument for any combination of the Raiders, Chiefs and Broncos in the final three spots. All three quarterback situations have major questions moving forward.
But I'm going with the Raiders at No. 2 for now. With the high price Oakland sent to Cincinnati for Palmer (a 2012 first-round pick and a conditional 2013 pick that could be a first-rounder), the Raiders are clearly committed to Palmer for the foreseeable future.
The only question is if Palmer can still be productive. His numbers have slipped in the past three seasons and he will soon be 32. He has suffered major knee and elbow injuries in the past. So, he has a lot of miles on him. But Palmer is an accurate, experienced quarterback who can help the Raiders.
Palmer is under contract through 2014. Tuesday's trade means Campbell, who made good strides this season before he got hurt, will likely look to become a starter elsewhere next season as a free agent. This is shocking because just prior to his injury Sunday, it seemed plausible that Oakland would consider giving Campbell a contract extension.
The Raiders also have rookie
Terrelle Pryor
to develop. He has a long way to go before playing, but the Raiders seem to have a quarterback structure in place. They just need to see it work.
3. Kansas City:
This is an interesting situation. The Chiefs triggered the option on his six-year, $40 million deal this year, so they are committed to him. Cassel made great strides in 2010 (his second season in Kansas City), but he struggled in the final two games of last season (including a playoff loss) and the first several games of this season. Yet, Cassel has been terrific in the past 10 quarters.
But there are long-term questions about whether Cassel can be a well-above-average player.
"Cassel is just a stop-gap player," Matt Williamson of Scouts Inc. said. "Last year might have been his ceiling. I would suggest drafting someone high to groom."
I think if Cassel, 29, continues to play well this season, the Chiefs will feel good about sticking with him. However, if he stumbles and the injury-ravaged Chiefs end up with a top-10 pick, they could consider taking someone such as Oklahoma's Landry Jones in the first round. Still, I doubt the Chiefs will make a play for a new starting quarterback in the offseason.
The Chiefs drafted developmental quarterback
Ricky Stanzi
in the fifth round this season. He will continue to be developed and could be a player the Chiefs turn to in the future. There are questions about the Chiefs at the position, but the cupboard is far from bare.
[+] Enlarge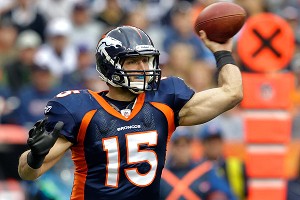 AP Photo/Joe MahoneyTim Tebow threw for one touchdown and ran for another in limited action against the Chargers.
4. Denver:
In a division with many questions at the position, the biggest questions are in Denver. There is a chance Denver could move above Oakland by next summer or it could stay on the bottom of the division.
If Tebow plays well in the final 11 games of the season and convinces the Broncos' brass he is their quarterback of the future, the Broncos will be set. If Tebow is awful and Denver gets a chance to draft Stanford's Andrew Luck (that would require having the No. 1 pick or trading a load to get him), Jones or USC's Matt Barkley, the Broncos could be set for the future.
Denver has to see how Tebow does before figuring out which way it is going at quarterback. It is the team's biggest issue heading into the 2012 offseason, especially considering the other two quarterbacks on the roster -- former starter
Kyle Orton
and
Brady Quinn
-- are free agents.
October, 11, 2011
10/11/11
2:40
PM ET
What is going to be
Tim Tebow
's magic number?
How many victories will Tebow need this season to prove to the
Denver Broncos
' brass that he should be given the chance to remain their quarterback in 2012?
Just because the Broncos brass -- which wasn't responsible for drafting Tebow at the No. 25 in the first round in 2010 – -- made Tebow the starting quarterback, it doesn't mean it is sold on Tebow. The Broncos are 1-4 and the team knows Tebow gives the Broncos energy.
But leadership wants to see Tebow show he can truly help this team win. If not, the Broncos will look for their quarterback of the future next offseason, likely in the first round of next year's draft.
If Tebow leads Denver to a 6-5 record down the stretch (three of Denver's next four games are on the road beginning Oct. 23 at Miami), he will likely get a chance to start next year.
But what if Tebow goes 4-7 the rest of the season? Will that be enough?
I think anything less that four wins, will be an indication to Denver that it has to move on unless Tebow makes dramatic strides as a pocket passer despite the defeats.
If Denver finishes 4-12, it will likely have a prime draft pick and a shot at Oklahoma quarterback
Landry Jones
. He is considered a prototypical NFL quarterback and the best quarterback prospect behind Stanford's
Andrew Luck
, who is a lock to be the No. 1 pick.
It's up to Tebow to compile the wins and convince the Broncos he is the man for the future.
October, 7, 2011
10/07/11
12:00
PM ET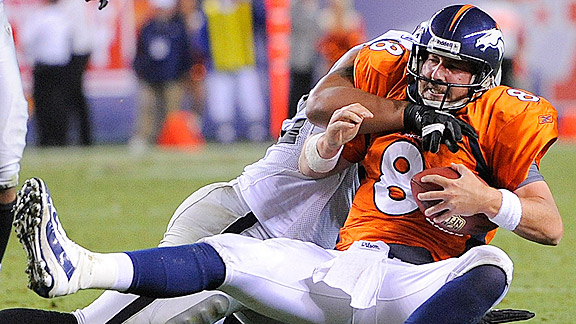 AP Photo/Jack DempseyKyle Orton is just 6-21 as Denver's starting quarterback since the team began the 2009 season 6-0.
Late last season, the
Denver Broncos
fired coach Josh McDaniels with three games remaining in the season shortly after team owner Pat Bowlen said he'd bring McDaniels back in 2011. Ultimately, the Broncos knew their rabid fan base was so against McDaniels, the team concluded a change had to be made sooner than later.
Could the same element be in play with the Broncos' quarterback situation?
Fans have been clamoring for
Tim Tebow
to start since well before the season. Yet, first-year Denver head coach John Fox has not wavered. Incumbent
Kyle Orton
has been the starter since the beginning of training camp (as soon as the Broncos decided not to trade him to Miami). Orton remains the starting quarterback heading into Sunday's home game against San Diego despite being 1-3 this season and 4-13 in his past 17 starts. Denver is 6-21 with Orton as their quarterback since starting the 2009 season 6-0.
No team can allow the public to set its agenda. However, times are dire in Denver.
Fans chant for Tebow to play, home and on the road. Billboards have been raised in Denver asking for the Fox to bench Orton. Fox is asked by Denver media members about how long he'll stick with Orton almost on a daily basis. Broncos tickets, forever the hottest get in the Rockies, are now being offered on websites that are dedicated to discount prices. Longtime Denver radio announce Dave Logan, a former Broncos player and a Colorado native, said the Orton-Tebow saga is
almost "surreal" and he's never seen anything like it in his life.
If the Broncos get trounced by the Chargers and fall to 1-4 at the bye, the quarterback quandary will hit an all-time high. Something will have to give.
[+] Enlarge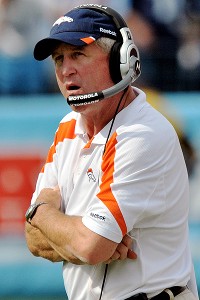 Jim Brown/US PRESSWIRECoach John Fox is asked by Denver media members about how long he'll stick with Kyle Orton almost on a daily basis.
Fox always says he is sticking with Orton because he thinks Orton gives the Broncos the best chance to win, compared to Tebow and fellow backup
Brady Quinn
. But how long will that fly? How long will Fox be able to push a guy who has won four games since the start of last season as his best option? The McDaniels' factor may finally take over and the Broncos may have to look at other options.
It goes beyond satisfying the fan base. The Broncos will soon have to decide their future at quarterback for the betterment of the franchise.
Orton is a free agent after the season. If he is not winning and this team is still a long way from being a contender, isn't the prudent move to pursue other options with the future in mind?
The Broncos clearly don't think Tebow is ready to help them. Denver was trailing by 32 points in the fourth quarter in Green Bay last Sunday. It would have been a perfect time to give Tebow, who started the final three games of last season, some seasoning. Tebow didn't come in.
Matt Williamson of Scouts Inc. admits he is far from a Tebow supporter. He thought McDaniels made a crucial mistake when he took Tebow with the No. 25 overall pick of the 2010 draft. Williamson maintains that he doesn't think Tebow's awkward style of play will work in the NFL. Still, Williamson thinks Denver needs to see what it has in Tebow.
"I did find it rather telling that he didn't see any action in a blowout loss. I would have thought that was a perfect opportunity to get some tape on him in live action this year," Williamson said. "And I do feel like that is something that needs to happen. To me, it would be a crime if on draft day [2012], they didn't know what they had in Tebow. That is something that they absolutely need to know. I tend to think their quarterback of the future is not on the roster, though. But they need to find out."
Whether Tebow plays or not in 2011, Denver cannot have the same flux at the most important position on the field in 2012. Even if Tebow is not the answer, someone else will have to be. Will Quinn -- a former first-round pick by Cleveland who has more of the prototype skills than Tebow that Fox and Denver football leader
John Elway
covet -- get a chance? Even if he does, can he really be considered a long-term solution?
I wouldn't be shocked if Elway -- who studied every top quarterback prospect in person prior to the April draft -- is already set on taking a quarterback with his first pick next April. With a difficult remaining schedule, it is not out of the question to think Denver will be in the Andrew Luck sweepstakes, regardless of who quarterbacks the final games of this season. Of course, all of Denver's worries will end if it gets its hands on Luck.
Uniting Elway and Luck -- Stanford quarterbacks of past and present -- in Denver will be a storybook tale. Mel Kiper has said Luck is the best prospect to enter the draft since Elway did in 1983.
Terrific story aside, Denver will also likely look for a quarterback early in the draft if it doesn't have the top pick. Steve Muench of Scouts Inc. said this week he thinks the only other quarterback who would fit Denver -- if it has a top-10 pick -- is Oklahoma's Landry Jones. Muench thinks Jones, too, could be the answer to Denver's quarterback issues.
"Jones isn't as mobile or as consistent a decision-maker as Luck," Muench said. "On the other hand, his mobility isn't a liability, either, and he can continue to make strides as a decision-maker. He has the arm strength, frame and accuracy that teams covet at quarterback. He also has the football I.Q to handle more complex game plans and defenses and he's shown good poise in high-pressure situations."
The Broncos' brass is in currently in a high-pressure situation. Fans in Denver will demand answers sooner than later.
October, 6, 2011
10/06/11
7:05
PM ET
The following is some highlights from our AFC West chat, which was held earlier Thursday:
DENVER
S from Denver:
If the Broncos miss out on Luck, who do you think they would take?
BW:
I could see them looking at Oklahoma's Landry Jones or USC's Matt Barkley, probably in that order. I think quarterback is the first place Denver looks in the draft next year.
KANSAS CITY
Jonathan, Chicago, Il.:
Do you think (Jonathan) Baldwin will be incorporated more into the Chiefs' offense especially after the bye? Also, do you think it would be wise for the Chiefs to sign T.O. to take some pressure off (Dwayne) Bowe?
BW:
Yeah, probably after the bye. They want to get him in this week. But he is behind so it will take some time. But the bye week will be great for him to catch up.
OAKLAND
AJ from Oakland:
Hi Bill, Don't you think the Raider's reason for leading the league in penalties every year starts at the top with Mr. Davis. On numerous occasions he has made it clear that he feels the NFL has it in for his team. Players then aren't careful in games because they figure as Raiders their going to get screwed over with penalties against them no matter what.
BW:
I'm not sure about that. But the truth is, the Raiders have been one of the most penalized teams for years. Hue Jackson is tired of it and he wants it to stop and it needs to stop now.
SAN DIEGO
Nathan from SD:
The Chargers game was blacked out last Sunday for the 1st time in a while. Do you see this trend continuing, and what does this mean for the future of the Chargers in SD?
BW:
They dealt with it last year once or twice. If they keep winning, it shouldn't be a problem. Their next two home games are against Green Bay and Oakland. Sellouts shouldn't be an issue.