January, 25, 2012
1/25/12
8:00
AM ET
There's no doubt the
Denver Broncos
should be disappointed that they are losing defensive coordinator Dennis Allen.
When the Broncos hired Allen last year, they knew he'd likely get some head-coaching opportunities, but they thought he'd stick around Denver for two or three years. Yet Allen was plucked by Oakland as its head coach after one season as head coach. The Broncos' defense improved immensely under Allen's guidance.
Now Denver's defense will have its seventh defensive coordinator in seven seasons. Think about that.
Champ Bailey
and
D.J. Williams
have both worn a Denver uniform since 2004. They will now have their seventh coach in seven years.
The transition this year will not nearly be as difficult because Denver head coach John Fox is defensive-minded. While Allen did a good job, Fox deserves a lot of credit for Denver's improvement and will ensure the Broncos don't take a step backward on defense.
I think the two names we have to look at as a candidate to replace Allen are former Jacksonville coach Jack Del Rio and Denver linebacker coach Richard Smith. Del Rio was a coordinator for Fox in Carolina and Smith is extremely experienced as well.
The Broncos will miss Allen, but I think they are in better shape on defense than it may appear.
Here is a look at the Broncos' defensive coordinators in the past six years: Larry Coyer (2006, fired), Jim Bates (2007, fired), Bob Slowik (2008, fired), Mike Nolan (2009, departed in mutual decision), Don Martindale (2010, fired), Allen (2011, hired by Oakland).
December, 7, 2010
12/07/10
3:50
PM ET
The
Denver Broncos
have to get out of the firing business.
This team hasn't been to the playoffs since the 2005 season and there has been an avalanche of change in Denver since. The team has been in a firing frenzy. That trend was started by former coach Mike Shanahan, who was famous for firing people if the Broncos ever slipped. But owner Pat Bowlen has continued that trend after he fired Shanahan.
Denver has to find the right people for the job and it extends past the head coach. The Broncos must find the right person to replace Josh McDaniels, who was fired 23 months after taking over for Shanahan, who lasted 14 years on the job.
[+] Enlarge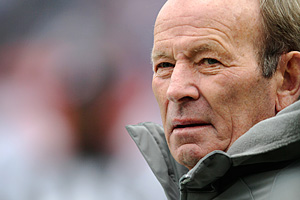 AP Photo/Joe MahoneyBroncos owner Pat Bowlen needs to establish some continuity within the organization.
The following is a look at some key firings in Denver and how they are still affecting this floundering franchise:
Head coach
Firing history:
McDaniels clearly wasn't the right man to replace Shanahan. Now, after going almost a decade and a half with the same coach, Bowlen has to start a coaching search for the second time in less than two years.
Current state:
The Broncos have quickly gone from one of the most stable NFL franchise to being one in disarray. Two years ago, this was perhaps the most attractive job in the league because Shanahan left it in pretty good shape. With a stripped talent base and lack of an identity, this has the look of a team whose reconstruction could take awhile.
Defensive coordinator

Firing history:
The defense has been a mess for several years in Denver. The beginning of the end of the Shanahan era was when Shanahan fired defensive coordinator Larry Coyer after the 2006 season. Shanahan was looking for a scapegoat after a late-season collapse. Coyer was the victim. What a mistake. Coyer, now the defensive coordinator in Indianapolis, is one of the best defensive coaches in the league. All stability on that side of the ball left with Coyer. It began a parade of one-year failures. Jim Bates, Bob Slowik and Mike Nolan all lasted one season in Denver. Nolan and McDaniels mutually decided to part ways after last season. Nolan did a fine job in Denver. McDaniels blew it by not making it work with Nolan, who is now in Miami.
Current state:
Don Martindale will, in all likelihood, be the latest one-year Denver defensive coordinator, meaning Denver will have six defensive coordinators in six seasons. There is little chance Martindale will be kept by the new head coach. Another coaching change could potentially mean the Broncos could move back to the 4-3 base defense that Shanahan used.
Front office
Firing history:
Another underrated loss was when Shanahan fired general manager Ted Sundquist. Shanahan had more power than Sundquist and he got rid of him. It was a mistake. Sundquist was a good personnel man who was detailed-oriented and who built the bottom of Denver's roster very well. The Broncos' roster was always deep when Sundquist was around. The team has gotten thin since he left. After Sundquist -- who is still without a job and who would likely jump at the chance to return to the Broncos -- was fired, Shanahan promoted the father-son team of Jim and Jeff Goodman. When Shanahan was gassed, the Goodmans stayed and were part of the group that hired McDaniels. They were abruptly fired less than two months after McDaniels was hired. This was a bad sign. McDaniels played a role in firing two people who were part of the decision-making team that just hired him. He had too much power for a 32-year-old first-time head coach.
Current state:
Brian Xanders is the general manager, but McDaniels had more control over the team than Xanders. His future with the team is unclear. The Broncos need experienced help in the personnel department and a strong general manager would help.
Whatever happens, Denver has to stop this string of mistakes and settle on the right people at several positions.
February, 1, 2010
2/01/10
12:00
PM ET
Not long ago, I was chatting with a member of the Mike Shanahan regime in Denver.
The former Denver employee and I were discussing what decision marked the beginning of the end for Shanahan's 14-season run in Denver.
After tossing around a few ideas, we came to a consensus: Larry Coyer.
Shanahan should never have fired Coyer, now the defensive coordinator with the Indianapolis Colts, as his defensive coordinator. Shanahan's Broncos never rebounded from his decision to jettison the innovative, successful and popular Coyer after a late-season collapse in 2006.
The Broncos' defense was in a shambles in 2007 and 2008. After Coyer was fired, Shanahan hired Jim Bates to run the defense. He was fired 12 months later. Then, Bob Slowik was promoted to defensive coordinator for the 2008 season. He was fired along with Shanahan. Thursday, second-year Denver coach Josh McDaniels promoted linebackers coach Don Martindale to be the defensive coordinator, replacing Mike Nolan.
Martindale is Denver's fifth defensive coordinator in five seasons.
I wonder if Shanahan would still be the coach in Denver if he hadn't fired Coyer?
Coyer's units were always strong. He was blitz master and he made terrific in-game adjustments.
Coyer,
of course
, has moved on nicely. He is six days away from leading the Colts' defense in the Super Bowl against New Orleans.
December, 11, 2009
12/11/09
12:12
PM ET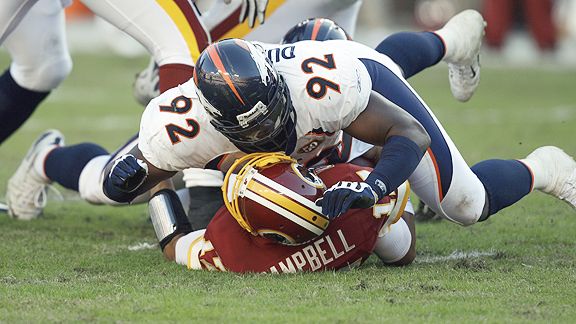 AP Photo/Rob CarrUndersized Denver linebacker Elvis Dumervil leads the league with 15 sacks this season.
After spending a week at the Pro Bowl in February 2006, the
Denver Broncos
' coaching staff returned to the Rocky Mountains with more than a late-winter Honolulu tan.
They came back with a plan to solve their pass-rush issues: Go small.
Mike Shanahan's staff was given a Hawaiian consolation prize for losing the
AFC Championship Game
to the
Pittsburgh Steelers
to end their 2005 season. The staff made the best out of the situation. Defensive coordinator Larry Coyer and Shanahan were smitten by Colts defensive end
Dwight Freeney
. The pair was amazed at how Freeney was such a dominant force as a pass-rusher despite being a smaller player. Freeney is listed as 6-foot-1, 268 pounds. He's probably smaller, though.
With Freeney serving an inspiration, the Broncos' staff became more open-minded about finding a pass-rusher. Then, studying prospects for the upcoming draft, the Broncos became smitten again.
Elvis entered the building.
The Broncos drafted
Elvis Dumervil
out of Louisville in the fourth round. A prolific sack master in high school and college, Dumervil was shunned by most teams because of his small stature. Dumervil is listed as 5-foot-11 and 248 pounds. However, that 5-11 claim should be investigated. He doesn't appear to be a shade over 5-10.
Still, the Broncos were not deterred.
"We think he could be another Freeney," Coyer said then. Ironically, Coyer is now Freeney's defensive coordinator in Indianapolis.
So, if Coyer's quarterback,
Peyton Manning
, becomes another name on Dumervil's long list of sack victims Sunday when the 8-4 Broncos visit the 12-0 Colts, it will be partly Coyer's fault.
Dumervil, drafted in the same round as Denver star receiver
Brandon Marshall
, has been a major reason for the Broncos' success in the first year of the coach Josh McDaniels era.
Dumervil leads the NFL with 15 sacks. He needs one more sack to tie
Simon Fletcher
for the Denver season record of 16 sacks, which Fletcher set in 1992. Dumervil is on pace for 20 sacks. Only seven players have registered at least 20 sacks in a season since the NFL began to recognize the sack as an official statistic in 1982. Dumervil is eight sacks from breaking Michael Strahan's season sack record of 22.5 set in the 2001 season.
" 'Doom' " is amazing," said Denver linebacker
Andra Davis
, calling his teammate by his nickname. "God has blessed him with an incredible ability to sack the quarterback."
While breaking the record this season might be a long shot, Dumervil has thrived against long odds.
"He's a guy you root for but then you ask yourself how he'd fit in the defense," Gary Horton of Scouts Inc. said. "But he is just a natural pass-rusher. He may be small, but he engages. He knows how to use his pads and get leverage. He plays much bigger than he actually is."
Dumervil showed sparks of becoming a high quality NFL pass-rusher in his first three NFL seasons. He had 26 sacks in three seasons entering this one, including 12.5 in 2007. However, Dumervil is having his best season, Horton believes, because he is playing the position that best suits him.
When McDaniels took over the Broncos in January, he hired former San Francisco head coach Mike Nolan to be the defensive coordinator and to run a 3-4 defense. Dumervil was a situational defensive end in the 4-3 for the past three seasons in Denver.
Now, though, he is an outside linebacker in the 3-4. Dumervil is an every-down player. When he isn't rushing, he darts back into coverage.
"He's a rugged player," Horton said. "He can play every down."
Dumervil, 25, said he feels at home in the new scheme. Despite his size, Dumervil said he knows he belongs on the field at all times. Speaking as if he were well aware of the pun, Dumervil said he prides himself on being on the field for "big-boy downs."
"I'm still learning this defense and I think I have a long way to go," Dumervil said. "But it fits me. I'm comfortable with this defense."
While he is on the cusp of becoming an NFL household name because of his huge sack numbers this season, Dumervil said he is not overly enamored with collecting sacks. He enjoys getting sacks, but he enjoys the process better.
Dumervil had 78 sacks in high school. He set the NCAA single-game sack record with six and broke former Syracuse star Freeney's Big East single-season sack total as a senior. Now that's he is on pace to become part of the elite 20-sack club, Dumervil isn't going to stray from the process.
"I just enjoy playing well and the fact that I'm getting the opportunity to get to the quarterback," Dumervil said. "Our defense is doing well (Denver's defense is ranked third in the NFL overall and second against the pass). That's what is satisfying. If I had all these sacks and we were ranked 30th, it wouldn't mean much. But I'm excited that my sacks are helping this team win. That's why I'm here."
It all began with a trip to the beach.