June, 28, 2012
6/28/12
8:50
PM ET
The
Kansas City Chiefs
will have some training camp visitors.


A much talked-about possibility became reality when the Chiefs announced Thursday that the
Arizona Cardinals
will host their camp in St. Joseph, Mo., on the week of Aug. 5. Exact details will be announced at a later date.
"Training camp is about us continuing our development and evaluating our players," Kansas City coach Romeo Crennel said in a statement released by the team. "We are very excited to be hosting another NFL team in St. Joseph. This will give us another opportunity to further evaluate our team under a different set of circumstances before we get into our preseason schedule."
The two teams will play in Kansas City on Aug. 10. Such arrangements are common place in the NFL as some teams think it is beneficial to break up training camp by competing with another team.
Meanwhile,
legendary Kansas City quarterback Len Dawson is headed to the Pro Football Hall of Fame for a second time. This time, it's as a broadcaster. What a contributor to the NFL he has been. Congrats.
March, 9, 2012
3/09/12
8:10
PM ET
The
Denver Broncos
have gotten a jump on the
Peyton Manning
chase.
Television news helicopters followed Manning's ride from a Denver-area airport to the Broncos facility, where Manning is meeting with team officials. It won't be his last visit. ESPN's Adam Schefter has reported that Manning will visit the Cardinals; Kansas City owner Clark Hunt has said the Chiefs have interest in Manning as well.
Expect Manning to make his decision within the next several days. The veteran quarterback will weigh several options before making his decision. Let's look at how the Broncos and the Chiefs stack up in several areas:
Finances
Denver:
It has already been reported the Broncos are willing to spend whatever it takes to get Manning. Denver owner Pat Bowlen has seen Manning beat his team's brains in for years. He'd happily pay to get Manning on his side.
Kansas City:
The Chiefs are in great salary-cap shape. They can easily hang with any other team's offer for Manning.
Supporting offensive cast
Denver:
The Broncos have strong offensive linemen, a good running game and some solid receivers. There is room to get better and I'm sure the Broncos would promise Manning improvements, even allow him to make suggestions.
Kansas City:
The Chiefs have a better supporting cast in the passing game than Denver. Manning would likely be thrilled to throw to receivers
Dwayne Bowe
,
Jon Baldwin
and
Steve Breaston
and tight end
Tony Moeaki
. The Chiefs can run the ball, too. And Manning would reunite with former Colts teammate guard
Ryan Lilja
.
[+] Enlarge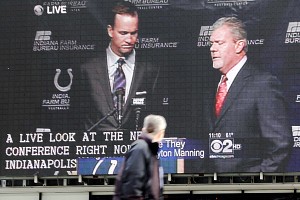 AP Photo/Kiichiro SatoThe Chiefs can offer Peyton Manning a solid receiving corps; the Broncos, meanwhile, have Hall of Fame quarterback John Elway running the show.
Defense
Denver:
The Broncos have an improved defense and are expected to try to get better. If the six-game suspension of linebacker
D.J. Williams
holds up, however, it will weaken the group.
Kansas City:
Romeo Crennel's defense was fabulous at the end of last season and it has a chance to be a stellar group with a few additions. Manning would have to be impressed by this group.
Coaching staff
Denver:
Denver head coach John Fox loves veteran quarterbacks and is a noted players' coach. He and Manning would be a natural fit. Offensively, the Broncos showed last season that they are more than willing to adjust their system to their quarterback. Manning would like this group.
Kansas City:
Crennel runs a New England-like ship. No opponent knows how important coaching was to New England's success better than Manning. I think Crennel and his staff would work well with Manning.
Intangibles
Denver:
The Broncos have something no other competitor for Manning has: a Hall of Fame quarterback running the show. John Elway would give Manning what he wanted, and he understands what it is like to be in Manning's shoes as few others do.
Kansas City
: The Chiefs don't have a Hall of Famer running the show, but Hall of Famer Len Dawson is never too far off.
Room for friends
Denver:
The Broncos could be open to signing several of Manning's former Colts teammates, including center
Jeff Saturday
, receiver
Reggie Wayne
and tight end
Dallas Clark
. That would appeal to Manning.
Kansas City:
The Chiefs are pretty set at receiver and tight end. I could see them making room for Saturday, however.
Ability to win now
Denver:
The Broncos went from being 4-12 in 2010 to going 8-8 and winning a playoff game in 2011. With Manning and a few more pieces, the Broncos would be a threat to make a deep playoff run.
Kansas City
: The Chiefs went 7-9 in 2011 despite several injuries. Adding Manning could make the Chiefs a dark-horse Super Bowl choice.
Conclusion:
Both teams have strong selling points to Manning and both have the means to get it done. It will come down to a comfort level for Manning, who will also consider other teams. But there's no doubt that both the Broncos and Chiefs will be in this chase for the long haul.
March, 8, 2012
3/08/12
4:50
PM ET
When he announced he was announcing the release of
Peyton Manning
on Wednesday, Colts owner Jim Irsay said no one else will wear No. 18 for the Colts.
Thus, the Colts are the third team in the NFL to retire that number. The other two you ask?
Denver and Kansas City. Yep, the two teams in the AFC West that are in the hunt for Manning do not have his number available.
In Denver, the number belongs to Frank Tripucka. He played quarterback for the team from 1960-63 and the team's ownership in that era honored him. In Kansas City, the number belongs to defensive back Emmitt Thomas. It was retired four years ago. Thomas is on the Chiefs' coaching staff.
There has been talk that Manning could wear No. 16 on his next NFL uniform. He wore that number in college. It would be available in Denver (no, the Broncos didn't retire Jake Plummer's digits). No. 16 wouldn't work in Kansas City. Hall of Fame quarterback Len Dawson wore the number and that number is retired, too.
Of course, that didn't get in Joe Montana's way in Kansas City. He wore No. 16 in San Francisco and he wore No. 19 in Kansas City. Like Manning, Montana's college number (3) was also retired in Kansas City. It belongs to kicker Jan Stenerud. However, Montana's No. 19 is still up for grabs in Kansas City, so perhaps Manning would follow in Montana's footsteps.
July, 15, 2011
7/15/11
9:17
AM ET
By
ESPN.com staff
| ESPN.com
Denver Broncos
John Elway and Tim Tebow are
on the same golf course this week
, yet unable to "talk shop" because of the NFL lockout.
Based on John Fox's history, NFL.com's Bucky Brooks concludes
Tebow will be the starting quarterback
when the season starts.
Kansas City Chiefs
A lack of depth behind Dwayne Bowe may be a reason rookie
Jonathan Baldwin could have big numbers
this season.
Hall of Fame quarterback Len Dawson
discusses the challenges
facing the Chiefs' quarterbacks when the lockout finally ends.
Oakland Raiders
Would
Terrelle Pryor be a good fit as a developmental quarterback in Oakland
? NFL Network's Jason La Canfora thinks so. La Canfora: "The Oakland Raiders have no commitment to Jason Campbell beyond this season and have hardly sent signals that he is definitely the guy there long-term. And we know how Al Davis can fall for athletes and there is enough talent to intrigue. Pryor is going to go late in the supplemental draft and will come cheap. The Raiders are in need of a developmental quarterback."
San Diego Chargers
Signing rookie Corey Liuget will be
one of the first orders of business
for the Chargers when the lockout concludes.
Rookie running back Jordan Todman on
his preparations this offseason
: "I guess the only thing I can do is run around outside to get in game shape, get ready for that weather and try to get in football shape but there's nothing like football shape until you get to camp so I guess come camp, we'll see how far I am."
December, 12, 2010
12/12/10
11:00
PM ET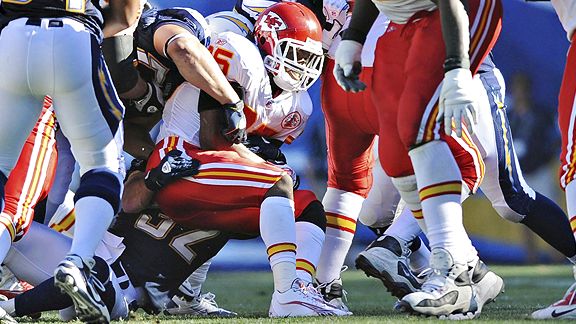 Christopher Hanewinckel/US PresswireKansas City, the league leader in rushing, was held to just 48 yards on the ground.
SAN DIEGO –- One of the most followed and intriguing storylines of the days leading up to Sunday's NFL play involved the
San Diego Chargers
.
They just chose to ignore it.
While
Matt Cassel
's appendectomy Wednesday made national headlines and doused the city of Kansas City in worry in advance of the Chiefs' biggest game in four years, the Chargers weren't exactly hitting the refresh buttons on their computers looking for Cassel updates.
All the Chargers were doing -- especially the defense -- was rehashing the events of last Sunday, when the Raiders thrashed them 28-13. The Raiders ran for 251 yards on the No. 1 defense in the NFL, giving the Chargers acute stomach pain of their own. That was all San Diego focused on. It needed to find a way to not get gutted by the run, no matter whether Cassel would make a fast recovery, the winless
Brodie Croyle
would hit the field for the first time in more than a year or if the legendary Len Dawson would come down from the radio booth.
"To be honest, we really never talked about the Cassel thing -- we thought it was going to be him," Chargers safety
Eric Weddle
said. "Guys weren't looking at the Internet [Saturday night]. We thought it was Cassel until we heard he didn't make the trip. But the truth was, it was about us and getting back to what we do and that's stopping the run. That was the focus."
Added San Diego cornerback
Quentin Jammer
: "It didn't matter if it was Cassel or Brodie Croyle. We just couldn't let what happened against Oakland happen again. It was all about stopping that great running game."
I guess we all wasted our time following the Cassel saga.
Still, a healthy Cassel could have given the Chiefs a better chance than Croyle -- now 0-10 as an NFL starter -- did in a dominating 31-0 San Diego win on Sunday. But the way San Diego was playing, it's doubtful Cassel, who could return next week, would have been the difference between victory and defeat.
San Diego held Kansas City to 67 yards of total offense, while its own offense had great balance, compiling 426 total yards. Because of the great defensive effort and balanced offensive attack, San Diego held the ball for 40 minutes, 10 seconds.
The result of the utter San Diego domination
is a tight AFC West race. Kansas City is now 8-5 and leads the Chargers (7-6) by one game with three games to go.
Oakland fell to 6-7 and remains two games behind Kansas City after a 38-31 loss at Jacksonville.
The Chiefs are still in control of the division and can secure their first playoff berth since 2006 by winning at St. Louis next week and then beating Tennessee and Oakland at home to end the season. Kansas City is 6-0 at home. With the benefit of an easy final three games, the Chargers are still in win-out mode with a home game against San Francisco looming on Thursday and back-to-back road games in Cincinnati and Denver.
A win at San Diego would have put the Chiefs one win from the division crown. But the Chargers were clearly not ready to give up their four-year hold on the division, even though that appeared to be the case in a lackluster loss to the Raiders, which ended a four-game San Diego winning streak and was the team's first December loss since 2005.
"We were bad against Oakland," Jammer said. "Getting better started Monday morning. We had to go out and make sure we were better than what we showed last week. We were not good last week."
The task was tall. Kansas City entered the game with the NFL's best running attack. But with Croyle playing very conservatively, the Chargers teed off on Kansas City's running game. San Diego held
Jamaal Charles
to 40 yards on 10 carries and
Thomas Jones
to one yard on three carries. It was a season low for both players.
Croyle didn't help. The Chargers never had reason to respect the pass Sunday. Croyle finished 7-for- 17 passing for 40 yards. According to ESPN Stats & Information, Croyle was 0-for-8 on passes that traveled 10 yards or more. Croyle hadn't played since Week 13 of last season and it showed.
With Croyle not a factor and the Chiefs running most of the time on first and second down, the Chargers simply hunkered down and were much more aggressive and physical against the run Sunday than they were against the Raiders. Kansas City was 0-for-11 on third down. It had a total of five first downs.
"I was just a matter of focus," Weddle said.
Kansas City coach Todd Haley was disappointed his entire team was listless in a game of this magnitude without Cassel, who missed the entire week of practice.
"We needed the whole team to step up and play our best game," Haley said. "We didn't come close to doing it."
A week ago, the now refocused Chargers knew exactly how Haley felt.
June, 25, 2010
6/25/10
11:30
AM ET
Notable players:
QB Len Dawson, RB Mike Garrett, WR Otis Taylor, G Ed Budde, DT Buck Buchanan, DT Curley Culp, LB Bobby Bell, LB Willie Lanier, CB Emmitt Thomas, K Jan Stenerud.
[+] Enlarge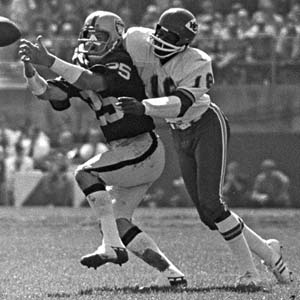 Rod Hanna/US PresswireCornerback Emmitt Thomas was a reason why Kansas City's defense was so dominant.
Analysis:
The 1969 Kansas City Chiefs were a veteran outfit that played together for quite while. Three years earlier, the same group lost to the Green Bay Packers in Super Bowl I.
But it all came together in 1969. The Chiefs were stacked with future Pro Football Hall of Fame players Dawson, Bell, Buchanan, Lanier, Thomas and Stenerud, and led by legendary coach Hank Stram. Stram was known for his innovative coaching, big personality, snappy clothes and an absolute love for his players.
The team's road to the Super Bowl was not easy. They ended the season with an 11-3 record and finished a game behind the Oakland Raiders in the AFL's Western Division. Kansas City had to beat the Jets and Raiders on the road in the playoffs before they had a chance to upset Minnesota in the Super Bowl.
But Kansas City's defense buried teams all season. Even though Dawson missed six games because of an injury, the defense kept the Chiefs on the Super Bowl highway. During the playoffs, they limited the Jets and Raiders to a combined 13 points. Minnesota's high-powered offense managed a meager seven points during Super Bowl IV.
"Our defense was special," Stenerud said. "I remember that playoff run and we just didn't give anything up. We held down some really good offenses. That defense was really the difference-maker for that team."
Most impressive win:
The 23-7 win over Minnesota in Super Bowl IV. The Chiefs dominated the Vikings, who were a 13-point favorite.
Send them home unpacking:
The Oakland Raiders' players were so sure they'd dispatch the Chiefs in the AFL Championship Game that they packed their bags to head to the Super Bowl after the game.
The Raiders had reason to be confident. They had won the West with a 12-2 record and beaten the Chiefs in two regular-season matchups. But Stram's team took the game that mattered. Kansas City went into Oakland and stunned the Raiders 17-7, sending the Chiefs (and not the bags-packed Raiders) to New Orleans.
"As the Chiefs were waiting for the team buses, they saw all the Oakland players leave the stadium with their bags in their hands, going home instead of the Super Bowl," Kansas City team historian Bob Moore said. "The Chiefs players were all laughing at Oakland's players."
Honorable mention:
1966:
The AFL's first Super Bowl team. This quality outfit finished 11-2-1 and beat the Bills for the AFC title.
1971:
Many of the old Chiefs believe this, and not the Super Bowl-winning team, is the best team in Chiefs history. But they just couldn't get it done like the 1969 team.
1995:
This was a solid team led by the NFL's top-ranked defense, but the Chiefs stumbled in the playoffs.
August, 2, 2009
8/02/09
3:30
PM ET
Posted by ESPN.com's Bill Williamson
Denver defensive tackle Marcus Thomas said that his friend, linebacker Jarvis Moss, will return to practice Monday. Moss left Denver's camp Saturday because he was considering retirement.
Moss is a long shot to make the team because he has been a major disappointment. But he was the No. 17 overall draft pick in 2007, so a sudden retirement would be shocking.
San Diego Pro Bowl tight end Antonio Gates has beefed up.
Kansas City legend Len Dawson had some fun with the team's new quarterback.
April, 1, 2009
4/01/09
8:15
AM ET
Posted by ESPN.com's Bill Williamson

Catching up on the AFC West after the Jay Cutler bombshell:
• The Lions had a great private workout with Georgia quarterback Matthew Stafford. Does that mean they will not be part of the Cutler sweepstakes? Denver would love that No. 1 pick if the Lions are willing to part with it in a Cutler deal.
• Add Connecticut running back Donald Brown to the running backs San Diego is studying prior to the draft.
• Larry Johnson has a good attitude about staying a Chief. That could go a long way in him staying in Kansas City.
• Quarterback Matt Cassel finally has a number in Kansas City. He will wear No. 7. He wore No. 16 in New England, but that number is retired in Kansas City. Legendary quarterback Len Dawson wore it.
• Among some of the more interesting names on Denver's pre-draft visit list? Boston College defensive tackle B.J. Raji, West Virginia quarterback Pat White and Pitt running back LeSean McCoy. Denver is also visiting with Ohio State running back Chris "Beanie" Wells.
• The Broncos cut running back Corey Boyd, who signed with the team last year when it suffered several in-season injuries at the position. Boyd almost started a game last season but ended up playing in just one game for Denver.
March, 21, 2009
3/21/09
1:00
PM ET
Posted by ESPN.com's Bill Williamson
James from Los Angeles: hey bill, i read your blogs everyday. Do you think the Raiders will pick up either Orlando Pace, Roy Williams, Torry Holt, or MArvin HArrison?
BW: Thanks, James. I'd be surprised if Pace would come to Oakland now that Khalif Barnes has been signed. Williams is from Oakland, but he has only visited Cincinnati and both Harrison and Holt would help the Raiders. But I think those two players may consider signing with a contender first.
---
unklbrad from Kansas City: Not sure if the first one sent. As posted on the blog: Matt Cassel still doesn't have a number assigned, but Vrabel does. Isn't that a sign that Cassel may never don a Chiefs uni?
BW: I think it's just a housekeeping issue right now. Cassel wore No. 16 with the Patriots. Of course, that was Len Dawson's number in Kansas City and it has been retired. I wouldn't read too much into the number situation at this point.
---
Danny: will the chargers lock up any of their big name vetrans to extentions? Rivers, Merriman, McNiel, V.Jackson, Gates?
BW: I think they would like to get Rivers and Gates locked up this offseason. Merriman and McNeill will have to show they can come back from injuries before a deal is signed.
---
JD from SAN JOSE: Bill, I gotta tell ya. While Crabtree looks good, he looks over hyped. In my opinion he doesn't have the same wow factor that Williams, Johnson & Fitzgerald had. I think Oak should do the Phi trade and grab a wr like Nicks or Bay. But we all know Al doesn't trade down ;) As always, thanks for the great coverage!
BW: Thanks, JD. You know, I really like Crabtree. I keep thinking back to that play against Texas where he won the game. I think he is a man. I really think he can be special.
---
Joe from Arlington Heights,Il: Do you think the Chicago Bears would trade for Jay Culter? Why or Why not?
BW: First, Denver has to decide to trade him. But if that happens, I can see Chicago becoming a player. The Bears have a need and I think it could be a good fit. If Denver does start taking phone calls on Cutler, it will be a seller's market so the Bears would have to offer quite a bit to get the deal done.
March, 6, 2009
3/06/09
1:20
PM ET
Posted by ESPN.com's Bill Williamson
Denver
My take: Marshall is set to be a free agent next year. Denver will likely either give him the franchise tag or let him go if his troubles persist. The team will not give him a long-term deal until he can prove for an extended period that he can stay out of trouble.
Kansas City
My take: The Cassel-Kansas City marriage will work. This was the right move for the Chiefs. Cassel may not become Len Dawson but he will be a successful quarterback as the Chiefs try to move forward.
Oakland
My take: If the Raiders are going to keep Fargas, Darren McFadden and Michael Bush, they must find a way to use them all. All three are quality players. Last season, Oakland couldn't figure out how to use the trio. These players are among the bright spots for Oakland. The team has to make it work.
San Diego
My take: Olshansky hasn't gotten much play on the open market. Dallas could be interesting. The Cowboys run a similar scheme to San Diego and Cowboys coach Wade Phillips is familiar with Olshansky from his San Diego days. This could work. What we do know is Olshansky will not return to the Chargers.

AFC WEST SCOREBOARD
Thursday, 12/12
Sunday, 12/15