December, 7, 2010
12/07/10
1:35
PM ET
We can take one candidate out of the mix for the Denver Broncos' head-coaching job.
Air Force coach Troy Calhoun said
Tuesday morning he would not be interested in the job
. Calhoun is a former Denver assistant who has strong ties to the organization and who is known as an up-and-comer. I think this is a matter of timing.
[+] Enlarge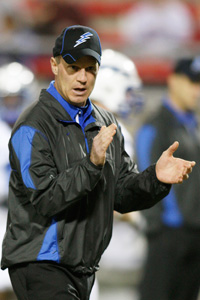 AP Photo/Isaac BrekkenCoach Troy Calhoun said he was committed to Air Force in "2011 and beyond."
Calhoun is in the middle of recruiting. He can't afford to wait until after the NFL season. If McDaniels had been fired after the season, then perhaps Calhoun would have been in the mix.
This isn't a devastating blow for Denver. Calhoun would have been a strong candidate, but there are plenty of other valuable candidates out there, including Minnesota interim coach Leslie Frazier, who was a runner-up to Josh McDaniels 23 months ago. I wouldn't be surprised, though, if the Vikings secured Frazier soon if they decide they want him long-term.
Meanwhile, McDaniels
told the Denver Post
he was not told by the team that he was being fired as a result of the recent videotape scandal. I'm sure more information on that will come out soon.
The Denver Post had a great tidbit
: Broncos owner Pat Bowlen dined Monday night with legendary quarterback John Elway. There has been rampant speculation that Elway will join Denver's front office. Even if he does, the Broncos had better bring an experienced personnel man in the mix. Elway was great on the field and he would be great for the organization as a leader, but an experienced football person would be needed as well.
The Football Outsiders' Bill Barnwell looks
at the Broncos defensive woes under McDaniels and points to them as a major reason why he lasted just 28 games in Denver.
ESPN.com's Page 2
talks to a very happy Denver fan.
December, 7, 2010
12/07/10
12:30
AM ET
There is no doubting that Josh McDaniels was a hot prospect when Denver chose the then 32-year-old to replace Mike Shanahan in January 2009. He was sought after and if Denver didn't hire him, another NFL team would have snagged New England's offensive coordinator.

But some questioned the hire, because the Broncos really needed help on defense. Shanahan left Denver in fine shape on offense. Originally, the plan was to keep offensive coordinator Jeremy Bates, who had a good relationship with 25-year-old Pro Bowl quarterback Jay Cutler, and pursue a defensive coach.

Three of the seven people interviewed for the opportunity to replace Shanahan were defensive coordinators who are now NFL head coaches. Among the runners up were Steve Spagnuolo (now St. Louis' coach), Raheem Morris (Tampa Bay's head coach) and Leslie Frazier (Minnesota's interim coach). All three have done well in their head-coaching roles.

The other coaches who interviewed for the job were Dallas interim coach Jason Garrett, former Denver assistant and current Houston offensive coordinator Rick Dennison and Miami assistant head coach Todd Bowles.

In the end, Denver went with McDaniels and will have to live with the idea that it let successful coaches like Spagnuolo, Morris and Frazier get away. If Minnesota doesn't promote Frazier to the permanent job, it would not be a surprise if Denver takes a serious look at Frazier if he'd be interested in the job.
November, 26, 2010
11/26/10
4:00
PM ET
»
NFC Final Word
:
East
|
West
|
North
|
South
»
AFC
:
East
|
West
|
North
|
South
Five nuggets of knowledge about Week 12:
[+] Enlarge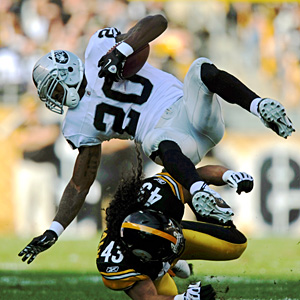 Jason Bridge/US PresswireThe Pittsburgh Steelers limited Darren McFadden to just 14 yards on 10 carries.
Raiders need to get running again:
It is clear the Raiders' best chance of winning is on the ground. Oakland, which is ranked second in the NFL in rushing yards per game behind Kansas City, was stuffed on the ground in a 32-point loss at Pittsburgh.
Darren McFadden
, who was leading the NFL in per game yardage average, had just 14 yards on 10 carries. Oakland and McFadden have to find a way to get the ground attack going against visiting Miami. According to ESPN Stats & Information, Oakland is second in the NFL with 14 runs of 20-plus yards. McFadden has eight runs of 20-plus yards himself. A key for the Raiders is re-establishing the inside running game. It led the NFL with a 5.5 per carry average on inside runs. However, in Pittsburgh, the Raiders averaged just 2.0 yards per carry on inside runs. It seemed to stifle the entire offense.
What could have been:
Steve Spagnuolo will see a very changed Denver Broncos team Sunday when he visits for the first time since he interviewed for the head-coaching job in January 2009 after Mike Shanahan was fired. Spagnuolo was a runner-up for the Denver job, along with Tampa Bay coach Raheem Morris and Minnesota interim coach Leslie Frazier. The job went to then-New England offensive coordinator Josh McDaniels. Spagnuolo, who was the Giants' defensive coordinator and was credited with stopping McDaniels' offense in the Giants' stunning Super Bowl win in 2008, soon became the head man in St. Louis. The attraction of a defensive coach like Spagnuolo in Denver was that he might improve the Broncos' weak spot and keep the same offense that was atop of the NFL under Shanahan. Instead, Denver went with a young offensive mind in McDaniels. In his second season, McDaniels has altered the team both offensively and defensively. McDaniels is 5-15 after starting 6-0 last season. There's no guarantee that Spagnuolo would have fared better in Denver than McDaniels has, but I'm sure the roster would be extremely different than it is now starting with quarterback
Jay Cutler
, who was shipped to Chicago after feuding with McDaniels.
The Brothers Turner:
I don't like our chances of seeing San Diego coach Nov Turner dressing up like his brother, Ron, and making fun of him in anticipation of the Turner family reunion Sunday in Indianapolis, as the Jets' Rex Ryan did before playing Cleveland and his brother, Rob, earlier this month. But I'm sure the game means as much to the Turner brothers as it did to the more high-profile Ryans. Ron Turner is in his first season as Indianapolis' receivers coach. He was previously the Bears' offensive coordinator.
Todd Haley is Mr. Challenge:
When Todd Haley throws the red flag, he must know something. Heading into Sunday's road game at Seattle, Haley is a perfect 3-for-3 on official challenges this season, according to ESPN Stats & Information. He is the only coach in the NFL who is perfect this season. So, if you see Haley yank out the challenge flag out Sunday, Chiefs fans, you'll have to like his chances.
AFC West reunion in Oakland:
When they host Miami on Sunday, the Raiders will see two familiar faces -- quarterback
Tyler Thigpen
and receiver
Brandon Marshall
. Thigpen will start if
Chad Henne
can't play. Marshall is dealing with a hamstring injury and
it now looks
like Marshall may not play. Still, Oakland will be ready for both players. Thigpen started two games against Oakland for the Chiefs in 2008., going 1-1. His win over Oakland was Thigpen's only win as an NFL starter. Thigpen was 29-for-55 for 313 yards against Oakland in the two games. He threw one touchdown, and he was intercepted twice. Marshall, who started playing extensively in his second season, played five games against Oakland from 2007-09 while he was with Denver. He had 27 catches for 373 yards and two touchdowns in the five games.
February, 3, 2009
2/03/09
2:43
PM ET
Posted by ESPN.com's Bill Williamson
Denver
Broncos' owner Pat Bowlen calls Shannon Sharpe's omission from the Hall of Fame a "slap in the face."
My take: I was surprised that Sharpe didn't get elected in his first try. He was a game changer amongst tight ends and he won three Super Bowls. Bowlen's reaction is no surprise. It has long bothered him that the Broncos are not well represented in the Hall of Fame. Only two Denver players, John Elway (2004) and Gary Zimmerman (2008), have been elected into the Hall of Fame.
Kansas City
Will Leslie Frazier decline a chance to interview for the Chiefs' head coaching job?
My take: There have been reports that some minority candidates have declined chances to interview for the job because it is expected that Arizona offensive coordinator Todd Haley is a slam dunk for the job. The problem for the Chiefs is they have to interview at least one minority candidate because of the Rooney Rule.
Oakland

Another Tom Cable to-be-hired soon story.
My take: By all accounts, Oakland will end the charade and officially name Cable the head coach this week. Interestingly, this story points out that Raiders' owner Al Davis wanted to wait to hire his coach in an attempt to improve the assistant coaching staff because he wasn't happy with the staffs of the last two Oakland coaches. Of course, Cable was part of Lane Kiffin's staff so I'm not sure what this all means.
January, 11, 2009
1/11/09
12:00
AM ET
Posted by ESPN.com's Bill Williamson
PITTSBURGH -- The flight here was full of both Chargers and Steelers fans.
And the plane erupted into cheers when it was announced from the cockpit that Baltimore Ravens knocked off the Tennessee Titans.

It was something San Diego and Pittsburgh fans could agree on this week. The Ravens winning the game was good for both the Chargers and the Steelers.
It means the winner of the AFC Divisional playoff game in Pittsburgh on Sunday will host the AFC title game next Sunday. The Ravens are the No. 6 seed in the playoffs. They beat the No. 3 seed Dolphins last week and then the No. 1 seed Titans on Saturday.
Yes, the Chargers can become the first 8-8 team to host a championship game. It will be an interesting day in Pittsburgh on Sunday where it is currently very cold but not snowing.
Meanwhile, ESPN's Chris Mortensen is reporting that New England offensive coordinator Josh McDaniels and Minnesota defensive coordinator Leslie Frazier may be the finalists for the Denver job. Both candidates were very impressive and team insiders believe both men would have success in Denver. The team is expected to make a hire within a week.
Meanwhile, it's being reported Denver defensive line coach Bill Johnson is moving to New Orleans.
January, 7, 2009
1/07/09
6:16
PM ET
Posted by ESPN.com's Bill Williamson
Since firing Mike Shanahan eight days ago, the Broncos have been busy interviewing potential replacements. Wednesday, they are interviewing their sixth candidate. A seventh candidate will be interviewed Thursday.
Here is an update with information on the newest candidates on top:
Leslie Frazier, Minnesota Vikings, defensive coordinator
Interview schedule: Wednesday.
The skinny: Frazier has been a hot candidate for the past couple of years. He is credited for turning around Minnesota's defense. Denver's defense is in a major need of an overhaul.
Todd Bowles, Miami Dolphins, secondary coach
Interview schedule: Thursday
The skinny: Bowles is young but many NFL insiders speak highly of him. He is considered a head coach in waiting. Detroit is also interested in him.
Steve Spagnuolo, New York Giants, defensive coordinator
When interviewed: Saturday.
The skinny: He is one of the most sought after current coordinators in the league. His unit has consistently been one of the best in the NFL. Denver is said to be very intrigued by Spagnuolo. Some consider him a favorite for the job. The Jets are also in hot pursuit.
Josh McDaniels, New England Patriots, offensive coordinator
When interviewed: Sunday.
The skinny: McDaniels, 32, is considered one of the better young offensive minds in the league. He did a brilliant job preparing Matt Cassel after Tom Brady was lost for the season in Week 1. The Broncos may be leaning toward a defensive coach, but considering Denver's strong offensive pieces, getting someone like McDaniels to take over for Shanahan could be tempting.McDaniels has interviewed with Cleveland, although former Jets coach Eric Mangini was announced as the Browns head coach Wednesday.
Raheem Morris, Tampa Bay Buccaneers, defensive coordinator
When interviewed: Monday.
The skinny: Morris is basically the defensive version of McDaniels. Morris, too, is 32. He was just promoted to defensive coordinator in Tampa Bay. He is inexperienced but considered a potential coaching star. He has a chance to win the job with a dynamite interview.
Jason Garrett, Dallas Cowboys, offensive coordinator
When interviewed: Tuesday.
The skinny: He was the hot coaching prospect last year and is the supposed coach-in-waiting in Dallas. His shine may have lost some luster after the drama on the offensive side of the ball in Dallas this season. Still, Denver has long been intrigued by Garrett. He'll get a long look.
Rick Dennison, Denver Broncos, run game coordinator
When interviewed: Tuesday
The skinny: A former Denver player and a longtime Denver assistant, Dennison knows the Broncos' way very well. Still, he has to be considered a major long shot.
January, 6, 2009
1/06/09
8:50
PM ET
Posted by ESPN.com's Bill Williamson
Dallas offensive coordinator Jason Garrett praised Broncos quarterback Jay Cutler on his way to interviewing for the Denver head coaching job. The Broncos are working on finalizing an interview for a seventh coaching candidate Thursday. Minnesota defensive coordinator Leslie Frazier will be the sixth candidate to interview Wednesday.
The expected retirement of center Tom Nalen is not catching the Broncos off guard. Nalen missed the past 27 games due to injury and the team wasn't counting on their longtime great in 2009.
The word around the league is that the Chiefs and New England executive are continuing talks about him taking over as general manager.
Chargers quarterback Philip Rivers finished fourth in the NFL offensive player of the year voting.
January, 5, 2009
1/05/09
10:26
PM ET
Posted by ESPN.com's Bill Williamson
There is interview news in the AFC West on Monday night:
The Chiefs are meeting with New England general manager Scott Pioli. This is significant movement for the Chiefs.
Pioli is widely considered the top executive available and his hiring would give instant credibility to the Chiefs. It would also likely mean the end of the Herman Edwards era in Kansas City. Pioli will almost certainly want to bring his own coach in anywhere he goes.
Pioli had been talking to Cleveland. The fact that he has gotten to the stage where he is talking to the Chiefs may mean he is focusing on Kansas City. The Chiefs are certainly focusing on Pioli. He has been the focus of a slow process.
Meanwhile, Denver added Minnesota defensive coordinator Leslie Frazier to its list of head coaching candidates. Frazier will interview Wednesday. He will be the sixth candidate to interview to replace Mike Shanahan. Three are offensive coaches and three are defensive coaches.
Here's what, courtesy of the Chargers' PR staff, San Diego quarterback Philip Rivers had to say when asked if he expected a similar game Sunday in the team's divisional playoff game at Pittsburgh Sunday as the Chargers had in Pittsburgh seven weeks ago. The Steelers won, 11-10. It was the first 11-10 game in the history of the NFL. It is somewhat to be cold, possibly snowy conditions Sunday just as it was Nov. 16 when the two teams met:

"Yeah, as far as a physical standpoint, a weather standpoint," Rivers said. "Obviously it's a heck of a defense and a heck of a team. Same kind of game in that sense. Will it be as low scoring or 11-10 game? Who knows how it will end up, but certainly field position will be key as it always is this time of year and especially in cold weather. It'll be just what you expect this time of year."
Weird fact: The Chargers are 0-13 in Pittsburgh in the regular season and 2-0 there in the postseason.
The talk around the league that Oakland assistants Tom Rathman and Greg Knapp could end up in San Francisco as assistants. Knapp has also been connected to a job in Seattle.
Give Chargers defensive coordinator Ron Rivera credit for saying he will wait to talk about head coaching jobs until after the San Diego season is over. Rivera's focus and integrity is one of the reasons why he will make a good head coach. Detroit had inquired about him but will have to wait until after the season to talk to him.
If Chargers running back LaDainian Tomlinson doesn't play Sunday because of a groin injury, it will be the first time in his eight seasons in the league he has missed a game due to injury.