March, 28, 2012
3/28/12
12:40
PM ET
An NFL.com columnist
reports some scouts believe Peyton Manning began to slide some before his neck injury last season. My thoughts? He's 36. We are not going to see the 2004 Manning, but would you bet against that guy having solid season in the next couple of years? Nah, me neither. Meanwhile,
a Sports Illustrated piece
follows Manning's process as he chose to play with the Broncos.
As expected
, Manny Lawson is not going to be a Raider. The defensive end/linebacker is headed back to the Bengals.
ESPN's Adam Schefter is reporting former Giants' running back Brandon Jacobs is heading to the Bay Area. But he's going to the San Francisco 49ers, not the Oakland Raiders. Jacobs was considered a potential replacement for Michael Bush, who signed with Chicago, but the Raiders have too many other needs and too much salary-cap limitations to sign a player like Jacobs. Oakland will likely look for a bigger back later, perhaps in the draft.
The Denver Post looks at the Broncos' remaining needs.
March, 27, 2012
3/27/12
8:19
PM ET
Gary Kubiak has backed up and coached John Elway. He has been a long-time competitor of
Peyton Manning
.
Kubiak is worried about Elway and Manning combining forces in Denver, where the veteran quarterback signed last week. Here is what Kubiak, head coach of the
Houston Texans
, thinks of the pairing:
"That's a hell of a combination there," Kubiak said the NFL owners meetings. "That's powerful. It's great for their organization. It's a big move by John and the organization on this guy, probably the greatest quarterback ever to play the game. He seems healthy, ready to go, so it's a big move by them. They've got a good football team already. They're sitting in the playoffs last year. Their defense played well over the course of the season.
"I think everybody had better worry about it. It's a very powerful combination."
Other AFC West news:
ESPN's John Clayton reports that the Chargers are continuing to talk to their free-agent defensive tackle
Antonio Garay
.
Chiefs coach Romeo Crennel told the
Kansas City Star
that his team has no glaring holes and will wait until after the draft to see where it stands at nose tackle.
San Diego coach Norv Turner likes being
under the radar in the AFC West chase
.
Unless there is a dramatic change, it appears Cincinnati defensive end/linebacker
Manny Lawson
will not be signing with the Raiders. Oakland is looking for a starting strongside linebacker, and may wait for the draft to get one. Another player in whom Oakland has reportedly shown interest, Giants defensive end
Dave Tollefson
, reportedly will visit the Packers.
Adam Caplan reports
that Cincinnati backup linebacker and special-teams player
Dan Skuta
visited the Chiefs. He is a restricted free agent, but Kansas City would not owe the Bengals any compensation if the Chiefs signed him to one because he was an undrafted free agent.
The Raiders
will reportedly have a pre-draft visit
with Alabama defensive tackle
Josh Chapman
, a good run-stuffer from a great defense. All teams typically conduct several pre-draft meetings, so a visit with a college player might not necessarily mean much.
March, 26, 2012
3/26/12
7:45
PM ET
Reggie McKenzie has more draft picks that he expected.
The NFL awarded
the
Oakland Raiders
three compensatory picks in next month's draft as a result of several free-agent losses in 2011.
A pleased McKenzie conducted a conference call with media members on Monday evening. He called his team's comp-pick cache "better than what was expected."
McKenzie said he thinks it is possible to get potential future starters through the fifth round and he is focused on making the most of this class even though the Raiders don't have any premium picks.
Meanwhile, McKenzie said he wished he had more "NFL money, more NFL cap." But the Raiders are pretty tight against the salary cap. McKenzie said the "bulk" of the team's contract restructuring for the year has been done. He did say he wanted to add more depth throughout the roster. Most of that will likely be done in the draft, college free agency and on the waiver wire once the preseason starts.
Oakland remains interested in
Cincinnati Bengals
defensive end/linebacker
Manny Lawson
. However, the Raiders' financial issues may make it difficult for it to sign Lawson, although they do remain in that hunt. McKenzie said the team still hopes to finalize a deal for Green Bay backup cornerback
Pat Lee
. He would play on special teams and be a depth player in Oakland.
Outside linebacker is the team's most glaring need at this point. McKenzie said there are some good outside linebackers available, but it is not a particularly deep draft at the position. Still, he did say he thinks, there are good players who will be available in the middle to late rounds.
That's why he was so pleased to get the extra draft ammunition Monday.
March, 24, 2012
3/24/12
12:20
PM ET
Silver and Black Editors reports
defensive tackle
John Henderson
has retired. He was recently cut by the Raiders after two seasons with the team. He has experienced several injuries recently.
Denver free-agent defensive lineman
Derrick Harvey
has signed with Cincinnati. He was a non-factor in Denver last season.
Oakland is still in on Cincinnati defensive end/linebacker
Manny Lawson
. But so is Green Bay and Indianapolis.
New York Giants
defensive lineman
Dave Tollefson
visited Seattle. Oakland has shown interest in Tollefson, but finances may be an issue. Tollefson is a Bay Area native and former Oakland practice squader.
Cincinnati re-signed defensive tackle
Pat Sims
, winding down the market at the position even more. Denver badly needs a defensive tackle. It will probably draft one at No. 25 in next month's draft.
UPDATE:
Not so fast.
The folks who reported
the Henderson story said they made a mistake and Henderson is not retired. Translation: If someone offers a Henderson a deal he likes he probably will consider playing. Two years ago, when he signed with the Raiders, Henderson did so in June and this year could be a similar situation.
UPDATE II
: I just talked to Henderson's agent, Joel Segal. Here is what he had to say: "John is absolutely not retired." So, there you go.
March, 22, 2012
3/22/12
8:02
PM ET
Oakland general manager Reggie McKenzie talked to reporters during Stanford's pro day on Thursday.

McKenzie dropped several nuggets
:
Oakland's plan is indeed to move
Stefen Wisniewski
from left guard to center. That became apparent when the Raiders re-signed guard
Cooper Carlisle
. He is expected to play left guard and newly signed
Mike Brisiel
will be the right guard. McKenzie left open the possibility that the team could yet bring in a center — but I'd expect Wisniewski to be the center and for him to do well there.
McKenzie said the Raiders have less than $4 million in salary-cap room. But because Oakland still needs another player or two — and must account for its rookie class — there always could be some more restructured deals.
McKenzie said the Raiders need an outside linebacker. Oakland hopes to get No. 97 as a compensatory draft pick for several free-agent losses in 2011 and that's where it could look.
Manny Lawson
, who can play defensive end and linebacker, has also caught the Raiders' eye.
It sounds like McKenzie is starting to focus on the draft and is looking at free agency to add depth in a few spots. It seems that other than outside linebacker, the Raiders feel pretty set with their starting lineup.
McKenzie indicated that the team will address the backup situations at quarterback and running back at a later date. I would like to see the Raiders upgrade at tight end.
Brandon Myers
or
David Ausberry
will likely vie to start at this point.
In other AFC West news:
Kansas City linebacker
Jovan Belcher
signed his restricted-free-agent tender.
San Diego free-agent linebacker
Everette Brown
signed with the Lions. He was used little last year and the Chargers had no plans to bring him back.
March, 21, 2012
3/21/12
8:40
PM ET
Cincinnati receiver
Andre Caldwell
tweeted that he has signed
with the Broncos.
Caldwell
Caldwell, 26, has been a backup, possession-type and would be a back-of-the-rotation player for Denver. He had 37 catches for the Bengals last season; in 2009, he had 51 catches for 432 yards.
The Broncos are reportedly interested in reuniting new quarterback
Peyton Manning
with former teammate
Brandon Stokley
. If signed, he too would be a rotational receiver.
In other AFC West news:
The Raiders are reportedly are
among the teams interested
in Giants defensive lineman
Dave Tollefson
. The Bay Area native was on the Raiders practice squad in 2007. There is no movement on the
Manny Lawson
front. The Raiders are among several teams interested in him.
March, 20, 2012
3/20/12
7:35
PM ET
The San Diego Chargers' interest in Jackie Battle has taken the next step.
UT San Diego is reporting
the Chargers are visiting with Battle on Tuesday. He would back up Ryan Mathews if signed.
The Chargers started focusing on Battle last week as a possible replacement for Mike Tolbert if he left in free agency. Tolbert signed a four-year deal with Carolina on Monday. Battle is a solid backup who likely fell out of the Chiefs' plans when they signed Peyton Hillis last week.
In other AFC West news:
Kansas City general manager Scott Pioli
was asked about the team's pursuit
of Manning. After losing out on Manning, Pioli deserves credit for giving his offense a big boost in the form of Hillis, tackle Eric Winston and tight end Kevin Boss. Matt Cassel remains the Chiefs' quarterback and he got a lot of help.
As expected, former Oakland pass-rusher Kamerion Wimbley has agreed to terms with Tennessee. Oakland cut Wimbley in a salary-cap dump last week.
As expected, receiver Jerricho Cotchery is visiting the Chiefs on Tuesday. He would be a rotational receiver in Kansas City. He had 16 catches last season for Pittsburgh.
Rick Reilly looks
at the Tim Tebow-John Elway relationship as it appears to be ending.
In a radio interview,
Denver receiver Demaryius Thomas discusses the major change on the team.
In a radio interview,
Broncos' hall of famer Shannon Sharpe discusses Manning's impact in Denver,
In a radio interview,
Winston discusses the possibilities with his new team.
San Diego free-agent linebacker Everette Brown is going to visit with the Lions. There is little chance he will return to the Chargers.
UPDATE
:
The Raiders are reportedly one of the teams interested
in Cincinnati defensive lineman Manny Lawson. I have talked to a source close to the situation and the Raiders are, indeed, one of several teams interested in Lawson. The process is expected to heat up in the next couple of days. There is no favorite team to land Lawson at this time.
He would be a rotational player in Oakland. One advantage Oakland could have is Lawson and new Oakland defensive coordinator Jason Tarver was in San Francisco together. Lawson has experience in both 4-3 and 3-4 schemes. The Raiders have not publicly said whether they will be a 4-3 or a 3-4 but new coach Dennis Allen has said the Raiders will use multiple fronts.
March, 9, 2012
3/09/12
12:00
PM ET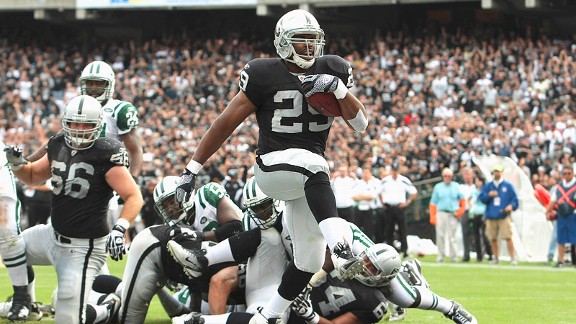 Kelley L Cox/US PresswireRaiders running back Michael Bush could be a good fit for the rival Broncos.
Offseason movement starts Tuesday, when the free-agent signing period begins. Let's take a look at the top needs of each team in the AFC West in free agency and in the draft:
Denver Broncos

1. Defensive line:
The Broncos could use a stout defensive tackle even if
Brodrick Bunkley
returns. They need a tone setter. Denver hasn't taken a defensive tackle in the first round since 1997 when it selected
Trevor Pryce
. Perhaps this is the time that streak ends.
Possible fits:
The Dolphins'
Paul Soliai
, Memphis'
Dontari Poe
, Mississippi State's
Fletcher Cox
, Michigan State's
Jerel Worthy
.
2. Secondary:
Denver is too old at cornerback and too young at safety, especially with
Brian Dawkins
likely not returning. I think the Broncos will look to add to their secondary.
Possible fits:
The Redskins'
LaRon Landry
, Boise State's
George Iloka
, Alabama's
Dre Kirkpatrick
.
3. Running back:
The Broncos want to add a running back to pair with
Willis McGahee
and will address this need either in free agency or early in the draft.
Possible fits:
The Raiders'
Michael Bush
, the Chargers'
Mike Tolbert
, University of Miami's
Lamar Miller
, Virginia Tech's
David Wilson
, Boise State's
Doug Martin
.
Scouts Inc. take:
"I also think that they need a lot of secondary help overall. I also think they really need a QB, but that is probably a discussion for a different day."
-- Matt Williamson of Scouts Inc.
Kansas City Chiefs

1. Offensive line:
The Chiefs need a tackle. If they go for a left tackle, they can move
Branden Albert
to right tackle or they can get one. They might also be interested in a guard.
Possible fits:
The Saints'
Carl Nicks
, the Dolphins'
Vernon Carey
, the Eagles'
King Dunlap
, Stanford's
Jonathan Martin
, Iowa's
Riley Reiff
.
2. Nose tackle:
The Chiefs have the makings of a strong defense, but they are missing a nasty nose tackle. They need to find one this offseason.
Possible fits:
The Dolphins'
Kendall Langford
, the Ravens'
Cory Redding
, Soliai, Cox or Poe
3. Inside linebacker
: The Chiefs could use one more standout linebacker to flourish in Romeo Crennel's 3-4 defense.
Possible fits:
Boston College's
Luke Kuechly
, Alabama's
Dont'a Hightower
Scouts Inc. take:
"Right tackle is far and away their biggest need. I would say nose tackle is second."
-- Matt Williamson
Oakland Raiders

1. Cornerback:
The Raiders currently don't have any starting-quality cornerbacks on the roster.
Possible fits:
The Saints'
Tracy Porter
, the 49ers'
Carlos Rogers
, the Cardinals'
Richard Marshall
, the Jaguars'
William Middleton
, Vanderbilt's
Casey Hayward
.
2. Linebacker:
I get the sense that the new Oakland regime would like to find at least one new starter. I think they can get a cornerstone linebacker who can set the tone for the defense.
Possible fits:
The Vikings'
Erin Henderson
, the Seahawks'
Leroy Hill
, the Bengals'
Manny Lawson
, West Virginia's
Bruce Irvin
.
3. Offensive line:
The Raiders' offensive line is a work in progress and they may be looking for at least one new
starter.
Possible fits:
Texans' center
Chris Myers
, Texans' guard
Mike Brisiel
, Miami of Ohio's
Brandon Brooks
.
Scouts Inc. take:
"Cornerback is far and away their biggest need. I would put right tackle and interior offensive line second."
-- Matt Williamson.
San Diego Chargers

1. Linebacker:
The Chargers desperately need a game-changing linebacker. It will be a top priority in the first round of the draft and in free agency.
Possible fits:
The Texans'
Mario Williams
, Alabama's
Courtney Upshaw
, USC's
Nick Perry
, Illinois'
Whitney Mercilus
.
2. Defensive line:
The Chargers like youngsters
Corey Liuget
,
Vaughn Martin
and
Cam Thomas
, but could use a stud veteran in the middle.
Possible fits:
The Seahawks'
Red Bryant
, Redding, Soliai, Washington's
Alameda Ta'amu
.
3. Offensive line:
The Chargers may have to make wholesale changes on the line because of
Kris Dielman
's retirement, and because center
Nick Hardwick
and left tackle
Jared Gaither
will be free agents.
Possible fits
: Nicks, Carey, Stanford's Martin, Stanford's David DeCastro, Wisconsin's
Peter Konz
.
Scouts Inc. take:
"To me, the Chargers need a lot. Offensive line is a massive need. Some receivers would be nice if
Vincent Jackson
leaves. On defense, I think they could use a little something at every level, but their biggest two spots would be at outside linebacker and strong safety."
-- Matt Williamson.
July, 31, 2011
7/31/11
8:50
PM ET
The San Diego Union-Tribune reports
that linebacker
Brandon Siler
has reached a deal with the
Kansas City Chiefs
.
A source close to the situation told me that Siler will take a physical with the Chiefs and is expected to sign if he passes. Siler will likely compete for a starting job at inside linebacker. If he doesn't unseat the solid
Jovan Belcher
, he will likely be a solid special-teams player.
This is an interesting move. The Chargers didn't put a premium on Siler, but he can help the Chiefs if he signs.
Meanwhile, the
Union-Tribune
reports there is a "slim chance" that the Chargers will bring back receiver
Malcom Floyd
. His market has been slow to develop.
The Broncos are visiting
with former No. 8 overall pick
Jamaal Anderson
. Denver general manager Brian Xanders was with the Falcons when they took the defensive lineman in 2007.
I still wouldn't be surprised if the Chargers make a run at San Francisco's
Manny Lawson
. They have added former 49ers
Takeo Spikes
and
Travis LaBoy
. New San Diego defensive coordinator Greg Manusky came over from San Francisco.
The Rams kept
defensive tackle Danny Muir. He was connected to the Broncos.
The Union-Tribune reports
former Charger linebacker
Antwan Applewhite
has agreed to terms with the 49ers. He was cut last week.
July, 26, 2011
7/26/11
11:25
PM ET
Credit the
San Diego Chargers
for striking first in the AFC West when it comes to adding a big name from outside their organization.
They also get a very big neck.
[+] Enlarge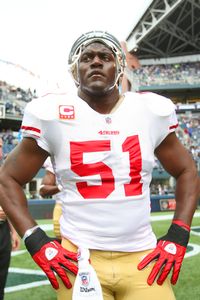 Michael Zagaris/Getty ImagesTakeo Spikes is heading to the San Diego Chargers.
San Diego agreed to terms with former San Francisco inside linebacker
Takeo Spikes
on Tuesday. He reunites with former San Francisco defensive coordinator Greg Manusky, who is now San Diego's defensive coordinator.
Spikes highlights a busy first day for the Chargers, who clearly are bent on returning to the playoffs after they saw their four-year AFC West championship run end in 2010. In addition to agreeing to terms with Spikes, San Diego agreed to bring back right tackle
Jeromey Clary
and tight end
Randy McMichael
. They also agreed to terms with free-agent safety
Bob Sanders
prior to the lockout.
Spikes and Sanders bring terrific leadership to a defense that was No. 1 in the NFL last season. San Diego usually stays away from big-name free agents but they jumped at the chance to add Spikes on Tuesday.
"I think defensively you want to be as strong as you can be down the middle, and with Spikes and then Sanders, you've got two strong personalities that bring a real aggressive presence to the defense," San Diego coach Norv Turner said in a statement released by the team.
The Chargers said the team called Spikes at 7 a.m. PT Tuesday. It was the first minute teams could reach out to players.
"He is an outstanding player. Takeo will bring his physical, aggressive style to our defense," general manager A.J. Smith said. "I love his competitiveness and instincts. I believe he will be an immediate contributor. To me, this is another
Randall Godfrey
-type move for the Chargers."
Spikes, 34, gives San Diego some clarity at inside linebacker.
Stephen Cooper
,
Brandon Siler
and
Kevin Burnett
are free agents. The team wants Burnett back. There was talk the Chargers would be interested in Green Bay's
Nick Barnett
, who is expected to be set free soon. But the Spikes' signing shows where the team's priority was.
"It's going to be great playing for Coach Manusky again," Spikes said in a statement. "One of the intangibles that I bring is my leadership. Even though everybody is from different places across America, to me I feel like the great ones bring everybody together and believe in the same common goal, and that's to win a championship. That's why I'm in San Diego."
The 14-year veteran had 109 tackles for the 49ers last season. Spikes, known for his strikingly large neck, will give San Diego a needed nasty demeanor. The Chargers were pushed around some on defense the past couple of seasons. Spikes and healthy Sanders should change that.
I could see the Chargers having some interest in another San Francisco defender,
Manny Lawson
, if the price is right. He is a solid outside linebacker.
Now, the Chargers need to lock up safety
Eric Weddle
and the free agency will be a strong one. Weddle will get interest elsewhere, though. Still, the Chargers view him as a priority.