December, 11, 2011
12/11/11
11:30
PM ET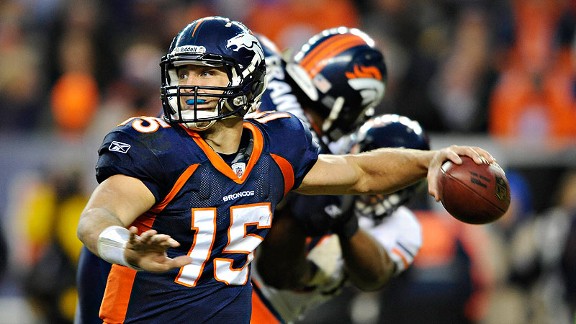 Ron Chenoy/US PRESSWIRETim Tebow guided the Denver Broncos to another dramatic victory.
DENVER -- Sorry Charles Barkley, but this
Tim Tebow
thing isn't going anywhere.
For those of you who are like Barkley and
are burned out by Tebowmania,
we send our deepest regrets. It has reached a new level. Yeah, we know Tebowmania trends upward weekly. That's why it's rivaling the 13-0
Green Bay Packers
as the story of the NFL season.
And I'm getting the feeling Tebowmania may stick around for the next, oh, 10 to 12 years. After watching Tebow and the
Denver Broncos
score 13 points after being shut out for the first 57 minutes, 45 seconds of the game Sunday to beat the
Chicago Bears
13-10 in overtime, how can anyone honestly say Tebow is nothing more than a temporary fix?
Hours after
ESPN's Chris Mortensen reported
that Denver will likely decide to move forward with Tebow as its quarterback in 2012 if he leads it into the playoffs, the Tebow train kept on moving. If we are ranking Tebow's victories, Sunday's may have been the most stunning. But that's like picking your favorite Rolling Stones song. There are so many classics to choose from.
The victory -- combined with a 46-16 Oakland loss at Green Bay -- gave Denver sole possession of first place in the AFC West at 8-5. The Broncos lead Oakland by one game with three games to go. Denver also owns the current tiebreaker over the Raiders. At this point, it looks like Denver may be headed to the postseason for the first time in six years either as a division winner or wild-card entry. If Denver beats Kansas City at home in Week 17, the Raiders will have to finish with a better record than the Broncos to win the division because of tiebreaker reasons.
Denver is 7-1 with Tebow as its starter and has won six straight games. It is 3-0 in overtime with Tebow as its quarterback and it has won five games late with Tebow playing. Denver has trailed in the fourth quarter in all of its past four games.
Sunday, though, was incredible.
The Bears led 10-0 until Denver scored 10 points in two frenzied drives in the final 2:15 of regulation and then won it with 8:40 remaining in overtime on a 51-yard field goal by
Matt Prater
.
Denver punted eight times before it scored. Tebow, who was the victim of six dropped passes in the first three quarters, completed three passes (all in the first quarter) before the fourth quarter. He had 18 of his 21 completions in the fourth quarter and overtime. He was 7-of-7 on pass attempts on the Broncos' touchdown drive in the fourth quarter. According to ESPN Stats & Information, Tebow was 4-for-4 with a touchdown pass when he threw outside of the pocket in the fourth quarter and overtime Sunday. He was 3-of-7 with an interception prior to the fourth quarter.
"His eyes light up when the pressure is on," Denver receiver
Eric Decker
said of Tebow.
Still, several members of the Chicago defense were not overly impressed by Tebow, who completed 21 of 40 passes for 236 yards. He had 49 yards rushing on 12 attempts.
"He's a good running back," said Chicago linebacker
Brian Urlacher
when asked his thoughts on Tebow after the game. Typically, Tebow was not bothered by the shot. "Coming from a really good player, that means a lot," the unflappable Tebow said.
Added Chicago defensive end
Julius Peppers
: "It wasn't anything special that he did."
Despite those less-than-stellar assessments of Tebow, there is no doubt Denver is buying into Tebow.
"He's huge," Broncos coach John Fox said of his young quarterback.
Mortensen's report makes complete sense. There is little chance Denver can dump what it has going with Tebow. First of all, if Denver makes the playoffs and tries to make a switch, fans will erupt.
As long as the Broncos continue to see Tebow making strides as a passer, they will be more than comfortable moving forward with him. The fact that he threw the ball 40 times Sunday is a sign the coaching staff is getting comfortable with him.
John Elway
recently told Fox Sports that he plans to work with Tebow in the offseason, particularly focusing on his footwork. Remember, Tebow missed an offseason because of the lockout. This is a player who is improving quickly. An offseason of working with his coaches and Elway will help immensely.
At the present, though, the focus is on the final three games, beginning next week when Bill Belichick gets his crack at putting Tebowmania in its place. Still, Tebow and his teammates -- Denver continued to play strong defense Sunday -- have a good thing going with no signs of it slowing down.
"I think we're rewriting the book on 'keep fighting,'" Fox said. "Our guys never blink."
Nor does Tebowmania.
December, 11, 2011
12/11/11
7:39
PM ET
DENVER -- Another game that ended with
Tim Tebow
doing the Tebow.


What it means:
One of the most amazing stories in the NFL just got more amazing. You think you've been overloaded on Tebow? This thing is just getting started. The Broncos just won their third overtime game and notched their fifth late win in Tebow's eight starts as they downed the
Chicago Bears
13-10
. The Broncos are 7-1 with Tebow as their starter, have won six straight, and with their record at 8-5, have sole possession of first place in the AFC West with three games remaining.
Tebow magic:
Tebow led Denver to 13 points after the Broncos went scoreless for the first 57 minutes and 45 seconds. Denver scored 10 points at the end of regulation and won the game in overtime.
Why too many drops:
Tebow was 21-of-40 passing for 236 yards. Yes, he threw 40 times. Tebow also ran 12 times. He is quickly becoming more comfortable as a passer. Still, he needs help. Denver receivers dropped six passes.
Demaryius Thomas
dropped a sure touchdown on a nice, long bomb from Tebow.
Defense shines:
The Bears had a nice stretch when they took a 10-0 lead, but Denver's defense stiffened when it needed to. The Broncos held the Bears late (with some help from
Marion Barber
going out of bounds on a run play) in regulation. They also stripped Barber for a critical fumble in overtime with the Bears in Denver territory.
Hats off to Matt Prater:
Denver's kicker downed a 59-yard field goal with eight seconds to go in regulation to tie the score and then nailed a 51-yarder in overtime to win it.
Miller gets another sack:
Denver rookie linebacker
Von Miller
now has 11.5 sacks on the season after taking down quarterback
Caleb Hanie
in the third quarter. Miller is three sacks away from Jevon Kearse's NFL rookie record of 14.5 set in 1998. Miller missed last week's game with a thumb injury.
What's next:
Denver plays host to New England in a game that the Broncos can make a playoff statement.
July, 27, 2011
7/27/11
1:35
PM ET
UPDATE:
In a testament on how quickly, things are flying this week, DeAngelo Williams is out of the mix for Denver.ESPN's Adam Schefter reports he's headed back to Carolina. Thus, Denver's upgrade for a new running back continues.

Michael Lombardi of the NFL Network is reporting
the
Denver Broncos
are one of three teams in the mix for Carolina running back
DeAngelo Williams
. Lombardi reports the Panthers and Giants are also interested.
The Broncos' interest has long been expected. Williams played for new Denver coach John Fox with the Panthers and the two have a good relationship. Fox is a believer in running the ball first and he recently said getting a running back would be the team's top priority in free agency.
There has been talk Denver could look to add
Marion Barber
or
Willis McGahee
. While Williams would be more expensive, I think he is the best option. The other two are just guys at this point. Denver's run game needs a spark and Williams could provide it.
Meanwhile,
Kyle Orton
has reported to Denver's camp and he will participate in all team activities unless he is traded. Arizona and Miami are hot for Orton, so he could soon be leaving Denver's building.
As expected,
the Chiefs have interest
in Arizona slot receiver
Steve Breaston
. He played for Kansas City coach Todd Haley with the Cardinals. This paring has long made sense.
ESPN's Adam Schefter is reporting that the Chargers signed Michigan linebacker
Jonas Mouton
. He is the first second-round pick to sign.
Here is the Broncos' complete list of undrafted free agents.
July, 26, 2011
7/26/11
3:55
PM ET
San Diego receiver
Vincent Jackson
has been in the news for a year since his 2010 holdout began. But it seems, for now, the Jackson headlines will slow down.
The San Diego Union-Tribune is reporting
Jackson is expected to sign his franchise tender almost as soon as he can on Friday. Jackson has been expected to sign, although he reportedly tried to wiggle out of it last week.
This is a big year for Jackson. He has to have a big year to finally get the big-money contract he has desired, whether it's from San Diego or another team. By signing his tender immediately, it shows Jackson is ready to begin the quest.
In other wild Tuesday updates:
None of the AFC West teams have announced their full undrafted free-agent classes.
But it appears
San Diego has added Wisconsin quarterback Scott Tolzien. He has a chance to stick as practice squad player. The Chargers want to re-sign free agent
Billy Volek
as their backup. If he signs elsewhere, San Diego will be in the market for a veteran backup for
Philip Rivers
.
ESPN's Adam Schefter is reporting Dallas is cutting
Marion Barber
. Denver could show interest.
Schefter reported
Oakland was interested in Delaware quarterback Pat Devlin before he signed with Miami as an undrafted free agent. He would have been a nice get for the Raiders, who want to develop a young quarterback.
April, 16, 2010
4/16/10
1:00
PM ET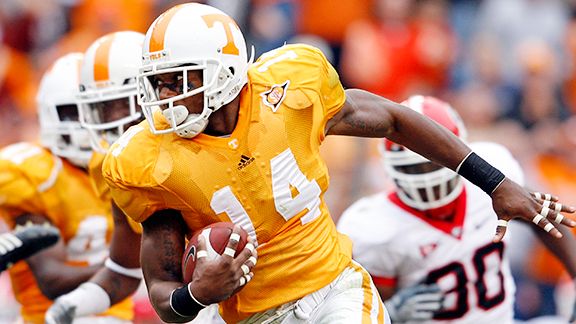 Andy Lyons/Getty ImagesThe draft could take a turn toward the unexpected at No. 5, where the Chiefs may take Eric Berry.
There are several juicy AFC West story lines to watch for as the draft unfolds April 22-24. Let's examine some of the more intriguing questions:
Will the draft change at No. 5?
There are expectations that the drama of the draft will begin when Kansas City picks at No. 5. With
Sam Bradford
,
Ndamukong Suh
,
Gerald McCoy
and
Russell Okung
expected to be the first four picks; the Chiefs represent the first question mark. Kansas City could take safety
Eric Berry
or a tackle such as
Bryan Bulaga
,
Trent Williams
or
Anthony Davis
. A trade down is also possible assuming Okung is off the board. No matter what the choice is, it will be fun when Kansas City is on the clock.
What will the Chargers do?
There will be almost as much drama when the Chargers' turn arrives. I expect them to be big draft-day players. They have the No. 28 and No. 40 picks. San Diego has big needs at nose tackle and running back. There are several solid running backs available and the Chargers will likely make one of them their new primary tailback. It will be interesting to see if the Chargers take a nose tackle or a running back first. They could also trade up (San Diego has two third-round picks in 2011 to use as bait) in the first round and get a premier player at either position. No matter what happens, expect San Diego general manager A.J. Smith to be in wheeling-and-dealing mode.
[+] Enlarge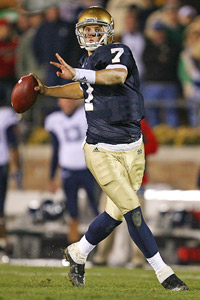 Jonathan Daniel/Getty ImagesCould new offensive coordinator Charlie Weis and quarterback Jimmy Clausen be reunited in Kansas City?
Will the Chiefs look at a Golden Domer?
Kansas City has hired former Notre Dame coach Charlie Weis to be the offensive coordinator. Could he talk the Chiefs into taking quarterback
Jimmy Clausen
at No. 5 or receiver
Golden Tate
with one of the team's second-round picks? The Clausen selection would be stunning, considering Kansas City paid
Matt Cassel
so much money last summer. However, if Tate is available at No. 36, Kansas City may jump on him. He would fill a big need and he would have advantage because he knows the offense so well.
Will Bryant replace Marshall in Denver?
The Broncos visited with Oklahoma State standout receiver
Dez Bryant
this week. Now that
Brandon Marshall
has been traded, Bryant could be the team's choice at No. 11. Bryant is very talented, but the Broncos would be adding a new set off off-field issues after trading Marshall. This would be a big story if he ends up in Denver. The Broncos could trade down from No. 11 and still get Bryant, who could tumble because of his issues.
Will Mt. Cody rise in the AFC West?
The Broncos, Chargers and the Chiefs have all shown interest in
Terrence Cody
, the huge nose tackle from Alabama. He is considered a prototype 3-4 nose tackle, and all three of those teams use that scheme. San Diego has the most pressing need for a nose tackle of the three. It wouldn't be a shock if the Chargers used the No. 28 pick on Cody. The Chiefs could potentially look at him in the second round, and -- if he lasts -- so could Denver. Fellow defensive tackles
Brian Price
and
Dan Williams
could attract interest from AFC West teams. However, Williams may be taken in the first 15 picks.
Will the Raiders address their quarterback needs?
The Raiders are clearly looking to upgrade their quarterback situation this offseason. It could happen in the draft. Clausen has been linked to Oakland with the No. 8 pick. But he does not have the huge arm coveted by Oakland owner Al Davis.
Tim Tebow
has talked to the Raiders. He'd likely require a second-round pick. Oakland has worked out Northwestern quarterback
Mike Kafka
, a likely mid-round pick. It would not be a surprise at all if Oakland drafts a quarterback to develop.
Will there be veteran trades?
The Marshall trade may not stop the veteran action in the division, Denver is also shopping tight end
Tony Scheffler
. He could be had for a mid-round pick. There is also the possibility Oakland could pursue Washington quarterback
Jason Campbell
on draft day. Campbell could likely be acquired for a mid-round pick and Oakland has reportedly shown interest. Baltimore tackle
Jared Gaither
is reportedly on the block. Both Oakland and Kansas City could add a tackle. Gaither would likely cost a second-round pick. There is also the possibility of San Diego acquiring a veteran running back such as
Marshawn Lynch
or
Marion Barber
if they become available. Still, the odds are San Diego looks to the rookie class for its new tailback.
[+] Enlarge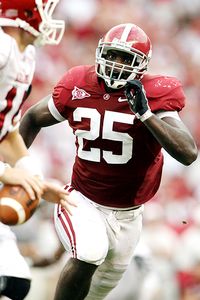 Marvin Gentry/US PresswireThe Raiders may have their eyes on Alabama's Rolando McClain.
Will the Raiders go defense first?
The Raiders' greatest need is at left tackle. But it wouldn't be a stunner if the Raiders used the No. 8 pick on a defensive player. The Raiders are said to have been snooping around Alabama middle linebacker
Rolando McClain
(who Denver could take at No. 11). Florida cornerback
Joe Haden
said he has received a lot of interest from Oakland. A Haden-
Nnamdi Asomugha
cornerback combination would be intriguing for the next few years.
Will the Tebow project continue in the AFC West?
Tebow visited with Denver this week. The Broncos have two picks in the second round and could pull the trigger on the project then. Tebow has met with Oakland officials. It would be wild to see the pristine Tebow in the Silver and Black. He wouldn't be ready to contribute right away, but he could be an interesting project. While I don't think the Chargers would address a quarterback before the third round, Tebow could be a possibility if he fell. The Chargers need to develop a young quarterback and Norv Turner can do wonders with quarterback prospects. It would be an interesting pairing.
Will the Raiders add a receiver?
The Raiders have studied the likes of Bryant, Tate and
Mardy Gilyard
. It's not out of the question that the Raiders will look at receivers early in the draft. It would be intriguing. The Raiders have a lot of young, promising players at the position. What they need is a veteran presence. If a top receiver is taken in Oakland, what does it mean for the development of existing youngsters
Chaz Schilens
,
Darrius Heyward-Bey
and
Louis Murphy
?
Will Toby Gerhart pound his way through the AFC West?
The rough-and-tumble Stanford tailback is on the radar in San Diego and in Denver. The Chargers make more sense because they have more of a pressing need. However, the Broncos also like the Heisman Trophy runner-up. The Broncos need a big back. I could see Gerhart, who is rising up draft boards, ending up in this division.
Will the Broncos find their new center?
If the season started today, the Broncos would not have a starting center. They are looking for one in the draft. The Broncos love Florida's
Maurkice Pouncey
. But taking him at No. 11 may be too high. The Broncos may have to move -- possibly up, perhaps down -- to get Pouncey. He is on their wish list, though. Boston College's Mark Tennant and Baylor's
J.D. Walton
are other possibilities.
March, 30, 2010
3/30/10
9:20
PM ET
The San Francisco Chronicle
is reporting that an unnamed team has offered Oakland a second-round pick this year and a first-round pick next year for the No. 8 overall choice next month.
Getting a first-round pick in 2011 would be intriguing to Oakland because it gave up its top pick to New England for defensive end
Richard Seymour
.
Still, this seems a little steep. Oakland really needs its top pick this year. The Raiders need too much to not have a pick until No. 39. There is bound to be plenty of moving and shaking in the next 23 days before the draft starts. It seems like the draft-pick jockeying has begun.
The
Kansas City Chiefs
hired Adam Zimmer as a defensive assistant/assistant linebacker coach. He was with New Orleans. He is the son of Cincinnati defensive coordinator Mike Zimmer.
Dallas sources are
shooting down talk
that running back
Marion Barber
could be on the trade block. If he were on the block, it wouldn't be a surprise if San Diego looked into it. The Chargers are expected to draft at least one running back.
Quarterback
Chris Simms
, who was recently cut by Denver,
visited Tennessee on Tuesday.
The Raiders and Chargers
were represented at the Pro Day
of Oklahoma State receiver Dez Bryant on Tuesday.
October, 4, 2009
10/04/09
3:48
PM ET

Posted by ESPN.com's Bill Williamson
DENVER -- We're approaching game time and I wanted to catch up on some notes as kickoff awaits:
Running back
Marion Barber
is active for Dallas and is expected to play. He was dealing with a quad injury.
Denver guard
Ben Hamilton
is inactive with a hamstring injury.
Russ Hochstein
will play for him.
Rookie Denver nickel cornerback
Alphonso Smith
is active with an ankle injury.
It is a cool 53 degrees in Denver.