August, 27, 2010
8/27/10
12:00
PM ET
Chaz Schilens
calls it his "secret relationship" with Marquis Cooper.
It began a decade ago in suburban Phoenix. It ended during a terrible weekend in March 2009 off the rough shores of Florida.
More than 17 months after the tragic death of Cooper, Schilens, the Raiders' talented No. 1 receiver, opened up about his friendship with the 26-year-old linebacker and special-teams ace who lost his life in a boating accident.
[+] Enlarge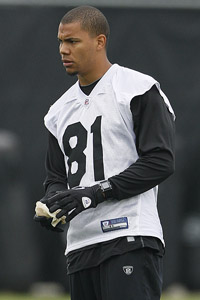 AP Photo/Eric RisbergChaz Schilens "still hurts" when remembering his friend and former teammate Marquis Cooper.
Cooper and two friends, including former Detroit defensive lineman Corey Smith, are presumed dead after Cooper's fishing boat capsized off the Gulf Coast near Clearwater, Fla. There was one survivor.
Cooper was an avid fisherman who often talked to his teammates about his love of deep-sea fishing. In the days before the accident, Cooper invited Schilens to Florida for a trip. Thrilled to join someone he long considered a mentor and idol, Schilens jumped at the idea.
"Nobody knows," said Schilens during training camp, still clearly shaken by the memory, "but I was supposed to go out there. I was going to make my [travel] plans to go there the weekend it happened … I remember my mom called me to tell me about it and it was just unbelievable. All I could think about was, 'This cannot be happening.' Each day got tougher and tougher and the search went on. It was a rough, rough time."
Schilens still caries memories of his older friend with him. He brightens up when talking about Nov. 8, 2008. It was midway through Schilens' rookie season as a promising seventh-round pick in Oakland. He was walking through the team's facility when he saw a familiar face down the hallway.
"I said to myself, 'Hey, that's Marquis Cooper,' " Schilens said. "I was so excited. It was just like high school. And then they put his locker right next to mine -- right next to it. In this entire, huge locker room, our lockers were right next to each other. And no one even knew our connection."
Cooper and Schilens both grew up in Gilbert, Ariz. Cooper was three years ahead of Schilens. Cooper didn't know much about Schilens. But the young football and baseball star (Schilens was drafted by the Detroit Tigers out of high school) knew plenty about Cooper.
Early in his career at the University of Washington, Cooper came to Arizona State to play in front of the home fans. Schilens went to the game just to watch Cooper play.
"He didn't know it was me but he threw me a glove after the game," Schilens remembered. "He had a great game and blocked a punt to help Washington win …. He was my boy. He was my idol. It was my secret relationship."
As Schilens made a name for himself in Gilbert, Cooper became aware of him and the two began a friendship. Schilens wanted to go to Washington just as Cooper did, but the Huskies never showed much interest. Still, Cooper followed Schilens as he developed at San Diego State.
When the two became teammates in Oakland, they often spent time together and Schilens would go to dinner with Cooper, his wife and young daughter. Schilens and several of his Oakland teammates still check in with the family.
In the meantime, Schilens, who is dealing with knee and foot injuries and will miss at least a few weeks after arthroscopic knee injury, wants to reach his potential on the field in part as a tribute to the player who inspired him.
"Marquis was special to me," Schilens said. "I just wish the best for his wife and child in this terrible tragedy. It still hurts."
May, 9, 2009
5/09/09
2:00
PM ET
Posted by ESPN.com's Bill Williamson
ALAMEDA, Calif. -- First round pick Darrius Heyward-Bey said he is wearing No. 12 to honor a father figure, who recently died. He said Richard Woodley, the father of his close friend, wore No. 12 in high school and in college. He said he hopes to wear the number during the season.
I was struck by the personalities of Oakland's draft picks during the minicamp. Teams are drafting for character more and more these days and the early returns in Denver and in Oakland are good.
The Raiders didn't throw the ball deep much last season. However, during Friday's morning practice, they aired it out often. Oakland quarterback JaMarcus Russell looks to be in good shape. Last year, he battled rumors about his weight.
Running back Darren McFadden looked great. He has a quick burst. If he can stay healthy, watch for a big year from the second-year player. McFadden split out as a receiver on some plays Friday.
Receiver Javon Walker is out until training camp after yet another knee surgery. I wouldn't be shocked if Walker ends up missing significant playing time because of injury for the fourth time in five seasons. Walker's health may be one of the reasons why Oakland signed receiver Sami Parker on Friday.
Rookie receivers Heyward-Bey and Louis Murphy, a fourth-round pick, met on a visit to Maryland. Heyward-Bey went to Maryland and Murphy went to Florida.
The Raiders still have Marquis Cooper's name on their roster. He was lost at sea in March after a fishing trip in Florida.
Russell said he is learning a lot from new backup quarterback Jeff Garcia.
Tight end Zach Miller is recovering from a sports hernia is expected to be ready for training camp.
If the Raiders pursue Bay Area native Travis LaBoy it may be down the road. The pass rusher, who was just cut from Arizona, is recovering from an injury and he likely won't sign anywhere for several weeks.
March, 30, 2009
3/30/09
9:44
PM ET
Posted by ESPN.com's Bill Williamson
The Jay Cutler saga has been fairly quiet in Denver the past few days. A source close to the situation said that there hasn't been much communication between the two sides in recent days. Broncos' sources have said they want to let the situation calm down to give Cutler a chance to change his mind and return to the team.
He has asked to be traded and he is staying away from the team's offseason conditioning program. Still, if Cutler and the team don't come to a resolution by the April 25-26 draft, Denver could be forced into dealing him.
Marquis Cooper earned $28,493 from the NFL's performance based program. The Oakland linebacker was lost at sea a month ago after a boating accident in Florida. His family will receive the bonus money that is given to players who outperform their contract. Cooper was a special teams ace for Oakland after he was signed during the season.
Former San Diego receiver Eric Parker is working with the team as a temporary coach. Parker was cut last July because of injuries.
The Raiders have yet to arrange any pre-draft visits with the top draft prospects.
March, 4, 2009
3/04/09
9:14
PM ET
Posted by ESPN.com's Bill Williamson
The San Diego Union-Tribune reports San Diego running back LaDainian Tomlinson said Wednesday night that he is optimistic that he and the Chargers will come to an agreement on a restructured contract.
Still, Tomlinson said he realizes the NFL is a business. It seems that Tomlinson is preparing himself for whatever happens. But he remains hopeful to stay in San Diego. The two sides have been trying to come to an agreement for several days.
Meanwhile, Oakland is still pursuing Buffalo center Duke Preston.

The Oakland Tribune has a transcript of Oakland coach Tom Cable's press briefing today regarding linebacker Marquis Cooper, who is missing at sea.
The Raiders are visiting with Khalif Barnes, an athletic tackle who the team has been considering signing for days. There could be movement on the Barnes front in Oakland on Thursday. The team is concentrating on Barnes and not Pittsburgh's Marvel Smith at this point.
The Raiders and Chargers are both vying for the services of Dallas linebacker Kevin Burnett, who could make a decision on where he'll play at any time.
Even though Seattle receiver Bobby Engram departed Kansas City without a contract, the two sides could still make a deal.
March, 3, 2009
3/03/09
9:21
PM ET
Posted ESPN.com's Bill Williamson

For the second time in 26 months, Troy Asmus is dealing with a tragedy involving one of his clients.
Asmus is one of the agents for Oakland linebacker Marquis Cooper, one of three men who are missing at sea in Florida. The Coast Guard called off the search Tuesday night because they don't believe the three missing men are alive after Saturday's accident.
Asmus was also one of the agents for Darrent Williams. The Denver Broncos cornerback was killed Jan. 1, 2007 in a drive-by-shooting after hosting a New Year's Eve party in downtown Denver.
"It's haunting," Asmus said Tuesday night. "This is so terrible and then it brings me back to D. Will and what we experience there. To deal with it again is tough."
Asmus reiterated the words of Cooper's father, Bruce and said the family is committed to continue the search and private search parties will continue looking for the missing party Wednesday morning.
"We understand and appreciate what the Coast Guard did," Asmus said. "But we're not ready to give up."
Because of their hope, Asmus said any funeral arrangements have been delayed.
March, 1, 2009
3/01/09
9:41
PM ET
Posted by ESPN.com's Bill Williamson

The Broncos agreed to terms with Miami cornerback Andre Goodman Sunday evening, their ninth free agent acquisition. Goodman agreed to a five-year deal worth $25 million and a little more than $10 million in guarantees.
Goodman is the third new starter in the secondary and will join Champ Bailey at cornerback. The Broncos signed safeties Brian Dawkins and Renaldo Hill.
Goodman replaces salary cap causality Dre' Bly. Goodman had a fine season with Miami but he is 30. He is known as a good locker room presence and should be able to play alongside Bailey for a couple of seasons, at least.
The team is still working on trying to save the contract of running back J.J. Arrington and it is still talking to free agent Derrick Ward.
Meanwhile, Oakland guard Cooper Carlisle visit to Tampa Bay is still on and has been pushed back a few days. Oakland is still trying to re-sign him.
Here is a chilling story on Oakland linebacker Marquis Cooper who is missing at sea in Florida.
October, 21, 2008
10/21/08
8:26
PM ET
Posted by ESPN.com's Bill Williamson
It was a busy day in the AFC West. Here are some more roster moves involving teams in the division:
In Oakland, the Raiders brought back linebacker Robert Thomas. He was cut in the summer. The Raiders also looked at linebacker Marquis Cooper and Brandon Moore.
To make room for Thomas, Oakland put tight end Ben Troupe on the injured reserve list. Troupe was signed by the Raiders last month.
In Denver, the Broncos signed running back P.J. Pope to the practice squad. He was previously with the team. Steven Harris was cut from the practice squad.
AFC WEST SCOREBOARD
Saturday, 12/20
Sunday, 12/21
Monday, 12/22