September, 23, 2011
9/23/11
12:00
PM ET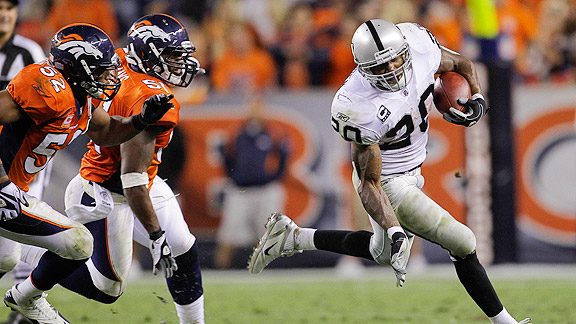 AP Photo/Joe MahoneyOakland's Darren McFadden is second in the NFL with 222 rushing yards through two games.
When the
Oakland Raiders
took
Darren McFadden
with the No. 4 overall draft pick in 2008, the general consensus was that they would be getting a
Reggie Bush
-type tailback.
A game-breaker at Arkansas, McFadden had the look of a player who would be a change-of-pace back who could help the Raiders in certain situations. Early in his fourth season, however, McFadden has blown past Bush on the running back pecking order. Truth be told, McFadden is closer to
Adrian Peterson
and
Chris Johnson
than he is to Bush.
McFadden has developed into Oakland's best offensive player and he is a primary reason why there is legitimate playoff hope for a team that hasn't been to the postseason since 2002. The New York Jets' vaunted defense hits Oakland on Sunday, and trying to stop McFadden will be Job 1.
Raiders offensive coordinator Al Saunders has been around Hall of Fame running backs such as
Marcus Allen
and
Marshall Faulk
in his 28-year career as an NFL coach. He thinks McFadden is one of the best tailbacks he has seen.
"I've been fortunate to be around some great running backs, but he's one of those guys you put in that class,"
Saunders said
. "He's a young kid that has just tremendous speed and tremendous potential, he catches the ball extremely well and I think he established what he is last year and he's continuing to follow in that way this year."
After his first two seasons were sullied by injuries, McFadden became a legitimate bell-cow back last year when he ran for 1,157 yards. He averaged a stout 5.2 yards per carry. McFadden is off to a fine start this season with 222 yards (7 yards behind Buffalo's
Fred Jackson
for the NFL lead) on 42 carries, an average of 5.3 yards a carry. McFadden led the NFL in runs of 20 yards or more last season. He has three 20-plus runs already this season.
[+] Enlarge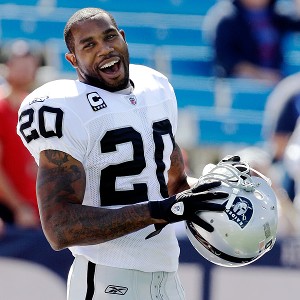 AP Photo/David Duprey"He is a nightmare to prepare for because, you don't know which way he is going to go," teammate Richard Seymour said of Darren McFadden.
"He's become a complete player," Matt Williamson of Scouts Inc. said of McFadden. "I've become a believer."
While McFadden will always be known for his speed, what is helping him become a special NFL player is his versatility and toughness. He's not just a fly-and-bye player. He has fine hands (he had seven catches for 71 yards in a loss at Buffalo last week) as a receiver and he has become a viable inside runner. Unlike Bush, McFadden (6-foot-2, 210 pounds) isn't afraid to go inside.
According to ESPN Stats & Information, McFadden averaged 5.4 yards up the middle against the Broncos in a Week 1 win.
"I think people really don't know that about me," said McFadden, who was a star high school safety in North Little Rock, Ark. "I'm very proud of my ability to go inside. I think that is important for a back to go inside as well as outside and I like being tough and going inside."
Raiders defensive lineman
Richard Seymour
said McFadden must rank among the NFL's best backs because of his toughness.
"Going against him in nine-on-seven drills in camp, you can see how special he is," Seymour said. "He goes strong inside unlike guys with his speed. But if you are waiting for him to come hard inside, he can always pop one and be gone. He is a nightmare to prepare for because you don't know which way he is going to go."
When he was traded to Oakland from Washington last year, quarterback
Jason Campbell
admitted he didn't know too much about McFadden, who had only 217 total carries in his first two NFL seasons. However, Campbell was pleasantly surprised to find out he has a versatile back to work with.
"Nationally, he doesn't get the credit he deserves," Campbell said. "This is a complete back. He does it all for our offense. People don't realize how tough this guy is."
Never one to shy away from contact, McFadden's preseason was snuffed out when he broke his orbital bone in an early-camp practice after making a big block on an linebacker. While McFadden is rough and tumble, there are durability concerns. He missed 10 games in his first three NFL seasons. But that's not going to keep him from playing running back the way he does.
"I'm a physical guy," McFadden said. "I'm going to put my shoulder down and get after it and try to make every play I can."
That doesn't sound like your ordinary change-of-pace back.
April, 1, 2011
4/01/11
12:00
PM ET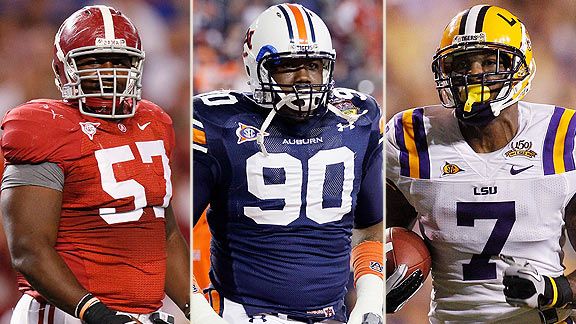 Getty ImagesMarcell Dareus, Nick Fairley and Patrick Peterson are all options for Denver at No. 2.
There wasn't a debate in the Carolina Panthers' draft room in 2002.
The Panthers' brain trust was certain it had identified the player who best fit their needs. All they had to do was wait to see what direction the one team in front of them would take.
"It was stressful because we knew what we wanted, but we still had to wait," former Panthers executive Tony Softli said. "At No. 2, you can almost control what you want to do, but not totally."
Softli and the rest of the Carolina brass were overjoyed when the
Houston Texans
used the No. 1 pick to take quarterback
David Carr
. That left the Panthers to take their top choice, and they grabbed defensive end
Julius Peppers
. They survived their short wait.
That was John Fox's first year as the Panthers' coach. That experience of having the No. 2 pick ended happily for Fox. Will it happen again? In his first season as the Denver Broncos' coach, Fox also has the No. 2 pick.
"Knowing John, he'll want defense," Softli said. "We'll see what happens with picking at No. 2 again."
The Broncos have been busy this offseason studying players at several positions in their attempt to get it right at No. 2. The only team in Denver's way is Carolina, which has the No. 1 pick. No matter what the Panthers do with the No. 1 pick, the Broncos know they must get this pick right. The Broncos were 4-12 in 2010 and haven't made the playoffs since 2005. They need an infusion of talent.
[+] Enlarge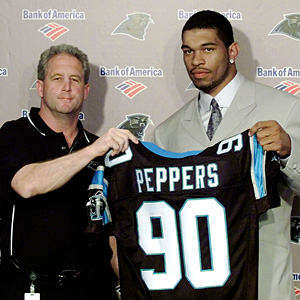 AP Photo/Rick HavnerJohn Fox found success the last time he had the No. 2 pick in the draft -- in 2002 when he and the Carolina Panthers took Julius Peppers.
"We know that the key thing is -- and we have talked about the fact that we have to be good in the draft -- we cannot miss in the draft, especially with where we are," said John Elway, the Broncos' new vice president of football operations. "We have to be dead on. … We cannot miss in the draft. We have to be good there."
Added Fox: "There'll be a player there who's worth that pick in this draft. Some years you don't want to be there, but there's a lot of players there in this draft."
Softli knows plenty about picking at No. 2. In addition to being in Carolina in 2002, Softli was an executive with the
St. Louis Rams
in 2008 and 2009 when they had the No. 2 pick.
"Picking No. 2 is a great place to be if there are multiple players to pick from at the spot," Softli said. "This is a good year to be at No. 2. There are a number of high-quality players. Denver can't go wrong."
Softli said it will help the Broncos that there is a chance the Panthers will take a quarterback at No. 1. The Panthers have been linked to Auburn's
Cam Newton
and Missouri's
Blaine Gabbert
.
The Broncos finished last in the NFL in total defense and points allowed. The draft is stacked with top defensive prospects. If the Panthers take a quarterback, Denver would have its pick of any defensive player on the board.
"I think a great spot to be in is No. 2 and not need a quarterback if there is a top quarterback available," said Matt Williamson of Scouts Inc. "The stud quarterback is going No. 1. If you pick No. 2 and you really need a quarterback, you probably aren't going to get him. But otherwise, it's a solid place to be."
There haven't been many quarterbacks taken at No. 2 in recent history. Since 1990, only three quarterbacks have been taken with the No. 2 pick. Each time, a quarterback was taken No. 1. The last time it has happened was 1999, when Philadelphia took
Donovan McNabb
at No. 2 after Cleveland took
Tim Couch
No. 1. In the same time span, a quarterback has been picked at No. 1 12 times.
"Usually, there aren't two quarterbacks worthy of the first two picks," Softli said. "So, the presence of a quarterback can really make a difference between one and two. If you pick No. 1 and you need a quarterback, you usually take one. That can help the team picking No. 2."
While the failures of the team picking No. 1 are most remembered, success at No. 2 has been far from guaranteed. There have been epic failures at No. 2 in the past 20 years.
Ryan Leaf
, taken by the Chargers in 1998, is considered one of the greatest draft busts in NFL history. The Colts took
Peyton Manning
at No. 1 that year. Other major busts since 1990 at No. 2 include Jets running back
Blair Thomas
(1990), Seattle quarterback
Rick Mirer
(1993, taken after New England drafted
Drew Bledsoe
) and Detroit receiver
Charles Rogers
(2003).
There have been plenty of draft hits at No. 2 in the time span. Some of the solid picks in that spot include running back
Marshall Faulk
(Colts, 1994), McNabb, Peppers, receiver
Calvin Johnson
(Lions, 2007) and defensive tackle
Ndamukong Suh
(Lions, 2010).
Softli was with the Rams last year when they picked No. 1. Softli said he feels there is nearly as much pressure drafting No. 2 as there is at No. 1.
"It's almost as hard," Softli said. "I know everyone concentrates on the No. 1 pick, but an owner will look at you funny if you mess up the No. 2 pick, too."
November, 3, 2010
11/03/10
4:00
PM ET
Eric from Dallas wants to know
if I think
Jamaal Charles
and
Thomas Jones
can keep up their strong rushing attack all season.
Bill Williamson:
Sure, why not? This is the NFL's best running attack for a reason. Charles and Jones are good players. That isn't going to change. The offensive line is working well and the Chiefs have a good scheme. The constant attack of Charles and Jones wears defenses down.
---
Parker Keegan from Spokane wants to know
what I think about Denver's rushing attack under Josh McDaniels.
BW:
Obviously, Denver isn't ready to run the ball the way McDaniels wishes. It has been the worst run offense in the NFL nearly all season. This year, McDaniels went away from the wildly productive zone-blocking scheme of the Mike Shanahan era and is using a more traditional power-blocking scheme. It's taking Denver time to adjust to the system partly because McDaniels is using rookies
J.D. Walton
and
Zane Beadles
in the system. The reason McDaniels moved away from Shanahan's system after using it last season was he thought the lighter offensive linemen faded at the end of last season. But the change clearly isn't working immediately.
---
Nathan from Florida wants to know
if I think Oakland running back
Darren McFadden
should start getting league MVP consideration.
BW:
McFadden is having a very nice season. But for a running back to win the NFL MVP award, he needs to be dominant. Since 2000, the only running backs to win the award have been Marshall Faulk, Shaun Alexander and
LaDainian Tomlinson
. They all put up ridiculous numbers. McFadden has 668 yards and four rushing touchdowns. Again, he is having a very nice season, but he'd have to really pick up the pace to win the MVP award.
December, 3, 2009
12/03/09
5:05
PM ET
It seems every week,
LaDainian Tomlinson
moves up the list of all-time leading rushers.
Tomlinson on Sunday has a chance to move into eighth place on the NFL's list, unseating Cleveland great Jim Brown.
The Chargers play at Cleveland on Sunday. Jim Brown works for the Browns and he will likely be in attendance. Brown, who retired as the NFL's all-time leader rusher in 1965, has 12,312 career rushing yards. Tomlinson, who moved from 12th to 10th place last week, has 12,257 career rushing yards and needs 56 yards to surpass Brown. Marshall Faulk is ninth with 12,279 yards.
Tomlinson was asked this week about the possibility of surpassing Brown with him in attendance.
"I think it will be special if we're able to do that, but I haven't really thought about it too much," Tomlinson said. "Hopefully, it happens. That would be a special place to do it."
Tomlinson is averaging 55.2 yards a game this season and has run for 56 or more yards in five of his nine games this season.
November, 21, 2008
11/21/08
3:50
PM ET
Posted by ESPN.com's Bill Williamson
The San Diego Chargers have more to worry about than individual milestones. The 4-6 Chargers are entering a must-win situation Sunday night against Indianapolis.
But amid the urgency, LaDainian Tomlinson is inching toward a significant personal accomplishment. He is now six catches away from becoming the fifth running back ever to amass 10,000 career rushing yards and catch 500 balls. This is another reason Tomlinson will be a Hall of Fame inductee. Tomlinson may not be having a great season but he is still effective. And if he gets those six catches on Sunday, it will go a long way in helping the Chargers beat the Colts.
Dual Threat
Rush yds.
Receptions
Marcus Allen
12,243
587
Tiki Barber
10,449
586
Marshall Faulk
12,279
767
Emmitt Smith
18,355
515
LaDainian Tomlinson
11,336
494
Warrick Dunn
10,657
89