January, 3, 2014
Jan 3
11:25
AM ET
The last time the
San Diego Chargers
and
Cincinnati Bengals
met, both teams were missing key players, they played in a local TV blackout, and they could comfortably compete on a 60-degree, postcard-perfect Southern California afternoon.
Those were the conditions just one month ago Wednesday.
At least one of them could be the same. With ticket uncertainty rolling over into Thursday, Bengals officials have been working hard to avoid the NFL's first postseason blackout since 2002. On the field, the Bengals and Chargers have been working to get back key members of their teams, and are anticipating playing in conditions much less favorable than what they had on the West Coast.
Sunday's playoff game isn't only a rematch of the regular-season game won 17-10 by the Bengals. It also marks the first time the teams have met in the postseason since 1981, when Cincinnati beat San Diego for the AFC championship at old Riverfront Stadium. Because of a minus-59 wind chill, that game was dubbed the "Freezer Bowl." While it shouldn't feel that cold Sunday, conditions will be tough. Snow, freezing rain and rapidly dipping temperatures are in the forecast. The weather could make passing difficult for two teams that rely heavily on their quarterbacks.
To break down Sunday's game, we turn to ESPN.com NFL reporters Eric D. Williams (Chargers) and Coley Harvey (Bengals).
Harvey:
One of the Bengals' biggest keys in the first meeting was running the ball. They rushed for 164 yards, having success even late in the game when San Diego clearly knew a run was coming. How can the Chargers prevent Cincinnati from having another prolific ground game?
Williams:
First, the Chargers will have two players available who did not play in the first game -- outside linebackers
Jarret Johnson
and
Melvin Ingram
. Both are pretty good run defenders who should help San Diego play more physical up front. Second, the Chargers have to do a better job of maintaining their gaps and not allowing Cincinnati's talented offensive line to create space for the running backs. Last, the Chargers have to do a better job of wrapping up
BenJarvus Green-Ellis
and
Giovani Bernard
. Both running backs finished with a lot of yards after contact, as San Diego had trouble bringing down the hard runners in the back end of the defense.
One thing I'm curious about is the Bengals' defense. The Bengals are tied for third in the league in turnovers forced with 31, and have six defensive touchdowns this season, all at Paul Brown Stadium. Why has Cincinnati's defense been so successful at creating turnovers?
Harvey:
If you ask defensive coordinator Mike Zimmer -- which we did Monday -- he'll say it's because his players just know they have to do whatever is necessary to pick the offense up and to put the ball back in its hands. There have been several instances when a turnover put the Bengals' defense on the wrong side of the 50, needing to come up with a stop. Defensive players say they relish those opportunities, and believe in their ability to not only hold for a field goal, but get the ball back. Cincinnati's defensive line plays a major role in helping create a lot of the fumbles and interceptions. Even after losing Pro Bowl tackle
Geno Atkins
, the defensive line has still pressured opposing quarterbacks, forcing poorly thrown balls. The line and linebackers also do a great job of stripping balls and forcing timely fumbles.
I'll add that there is something slightly different about the defense at home. When it comes to turnovers, for example, 21 of the 31 forced by the defense have come at Paul Brown Stadium. As you mentioned, six have resulted in scores. Each of those scores either changed momentum or helped ice the game.
How much do you think playing the Bengals just 35 days ago will benefit the Chargers? They clearly learned something from that loss, and haven't lost since.
Williams:
That is correct -- the Chargers are on a four-game winning streak since losing to the Bengals on Dec. 1. Defensively the Chargers have been stingy, holding teams to just 18 points a contest in the past four games. San Diego has played more consistently on offense, particularly in the red zone, scoring touchdowns instead of field goals. And the Chargers are playing with more confidence now than earlier in the season. Chargers coach Mike McCoy has figured out a blueprint for his team to win on both offense and defense -- a prolific, ball-control offense paired with a bend-but-don't-break defense that keeps teams out of the end zone.
Philip Rivers
finished the regular season tops in the NFL in completion percentage (69.5), fourth in touchdown passes (32) and fifth in passing yards (4,478). The Bengals did a nice job containing Rivers in the first matchup. What will it take for a repeat performance?
Harvey:
It's going to take a lot of pressure, and some tight coverage both downfield and near the line of scrimmage. Bengals cornerback
Terence Newman
was telling reporters this week about what he felt made Rivers special -- his intelligence. As an 11-year veteran, Newman has seen it all. According to Newman, what is most impressive is Rivers' ability to use his eyes to steer linebackers or safeties one way, only to pass another because he knows he has a tight end or running back open in a soft spot the defense isn't covering. Newman stopped short of comparing Rivers to
Peyton Manning
, but he believes the two have much in common. Members of the Bengals' secondary know they can't just key on his eyes, they have to know where his playmakers are at all times. Members of the Bengals' line know they have to keep hounding Rivers like they have hounded quarterbacks all season.
Rivers is San Diego's household name, but how important have running back
Ryan Mathews
and receiver
Keenan Allen
been to the offense?
Williams:
The Chargers leaned heavily on Mathews during the second half of the season, with good results. San Diego is 7-1 this season when Mathews has at least 19 carries. He has carried the ball at least 24 times in the past four games, all wins for San Diego. Allen finished the season with 71 receptions for a team-leading 1,046 yards, becoming the first rookie since Cincinnati's
A.J. Green
to finish with 1,000 receiving yards. Green had 1,057 in 2011. Mathews keeps defenses honest with his bruising running style, and Allen emerged as Rivers' go-to receiver when San Diego gets near the red zone. Allen is tied for the team lead in touchdown receptions with eight.
We've seen the good (33 touchdowns) and the bad (20 interceptions) from
Andy Dalton
this season. What type of performance do you expect from Dalton on Sunday? And will it matter if he does not play well?
Harvey:
Because of how good this defense is, especially at home, I'm not sure it will matter if he plays well Sunday. Last week against the Ravens, Dalton threw four interceptions -- the first came 1 yard outside Baltimore's red zone -- and the defense ended up acting as an eraser and pretending the turnovers never happened. The one interception that came on Cincinnati's 21 resulted in a field goal. An interception on the following drive also resulted in a field goal. Instead of being down 14-0 early, the Bengals trailed 6-0, giving Dalton enough confidence to calm down and make plays when he needed to as the comeback began. I'm expecting another mixed bag from Dalton. Just like last week, he has shown this season that he can pass for 270 yards, three touchdowns and still have three interceptions. I wouldn't be surprised if his nerves are elevated a little at the start of the game, but as long as the defense keeps playing the way it has been and his receivers are not dropping passes, I believe Dalton will come out OK on Sunday.
.
November, 23, 2012
11/23/12
1:30
PM ET
»
NFC Final Word
:
East
|
West
|
North
|
South
»
AFC
:
East
|
West
|
North
|
South
Five nuggets of knowledge about Week 12:
Chiefs need to harass Manning:
Kansas City Chiefs coach Romeo Crennel said earlier this week his team needs to play perfect to beat the Denver Broncos on Sunday. That means the Chiefs, who have a solid pass rush, must make Broncos quarterback
Peyton Manning
uncomfortable. That won't be easy. According to ESPN Stats & Information, Manning has been sacked or put under duress just 13.9 percent of his drop backs this season. It is the lowest rate in the NFL. The league average is 21.1 percent.
[+] Enlarge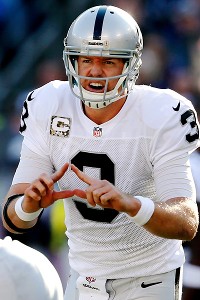 Rob Carr/Getty ImagesCarson Palmer will face his former team, the Cincinnati Bengals, on Sunday.
Bengals should be well prepared to face Palmer:
Carson Palmer
is badly going to want to beat the Cincinnati Bengals on Sunday. The Bengals traded Palmer to Oakland in October of last year. Palmer was the quarterback in Cincinnati from 2004 through the 2010 season before he essentially retired from the team because he wanted to be traded. Expect the Bengals to fiercely game plan for him. While Palmer knows the Bengals well, they have three coaches who know Palmer's every move, instinct and thought -- head coach Marvin Lewis, defensive coordinator Mike Zimmer and defensive assistant Hue Jackson. They all coached Palmer. They all worked very closely with him or against him in practice. Palmer will have to be at his very best to beat the Bengals because of the intimate knowledge that will go into their game plan.
Chargers need to step up:
The San Diego Chargers are 4-6 and have lost five of the past six games. But they are just two games out of a wild-card position, so if they can beat the Baltimore Ravens, San Diego could have some life. But the Chargers will be challenged to beat the 8-2 Ravens. The Chargers have not beaten a team that currently has a winning record. Their next three opponents are all AFC North foes. Cincinnati comes to San Diego next week and then the Chargers go to Pittsburgh. All three teams are .500 or better.
Denver stout against the run:
The best thing going for the Chiefs' offense is running back
Jamaal Charles
. Expect the Broncos' defense to concentrate on stopping him. And Denver's defense is playing great against the run. According to ESPN Stats & Information, Denver's run defense is second in the NFL with opposing teams averaging just 2.1 yards per rush before contact. Against San Diego last week, Denver hit the runner at or behind the line of scrimmage on nine of 23 rush attempts.
Ravens tough on the AFC West:
Baltimore is 2-0 against the AFC West this season and 8-1 in its past nine games against the division heading into its game at San Diego. The good news for San Diego is the Ravens' lone loss during that stretch came in San Diego in Week 15 last season. Also, the Ravens have won five straight games against teams with losing records. Yes, their last loss to a team with a losing record came in Week 15 of last season.
February, 17, 2012
2/17/12
7:58
PM ET
Hue Jackson will benefit from the
Carson Palmer
trade, after all.

Jackson
After being bypassed for offensive-coordinator jobs, Jackson
is back in the NFL
, back with the
Cincinnati Bengals
. In a strange move, Jackson – known as one of the best young offensive minds in the NFL – will assist defensive backs and special teams in Cincinnati. He hasn't coached either position in the NFL, and hasn't coached special teams in 20 years. Jackson was considered a top offensive coordinator before he took over as the head coach in Oakland last year.
New Oakland general manager Reggie McKenzie fired Jackson last month.
This is Jackson's second tour with the Bengals. He coached the receivers from 2004-06 under Bengals coach Marvin Lewis. This move signals that Jackson was willing to do anything to get back into the league. The Raiders will pay the difference between Jackson's salary from the Bengals and what he is due under his remaining contract in Oakland. Because he is not even a position coach, I wouldn't imagine the Bengals are paying Jackson much.
It's ironic that Oakland is paying Jackson to work in Cincinnati. Jackson credited his connections in Cincinnati for being able to get the Palmer trade done last October. The Raiders sent their first-round pick (No. 17) in 2012 to Cincinnati in 2012 plus either a first- or second-round pick in 2013 to get the then-31-year-old quarterback. At the time of the trade, Jackson said it was the "best trade in football." The general consensus is that the Bengals fleeced Jackson in the trade.
His personnel decisions were one of the reasons why Jackson was fired. Oakland is slated to visit Cincinnati during the 2012 season in a matchup that could be juicy enough to merit prime-time consideration.
I'm sure Jackson will hope to get either head-coaching or offensive coordinator opportunities in 2013. But in the meantime, he will be an assistant in a familiar setting, albeit in an unusual fashion.
October, 18, 2011
10/18/11
5:40
PM ET
Jason Campbell
left the Oakland Raiders' facility to get his collarbone surgically repaired with hopes of playing again this year.

Campbell
Campbell told Oakland media that he was hopeful he could return from the injury he suffered Sunday against Cleveland in six weeks. The more realistic prognosis was that Campbell was finished for the season.
Now, as Campbell begins the healing process from his surgery, the likeliest scenario is that he has played his final game as a Raider.
Now that the Raiders gave up a first-round pick in 2012 and at least a second-round pick in 2013 to get
Carson Palmer
from Cincinnati, it is safe to say the Raiders are discarding Campbell. The only way Campbell will come back is if Palmer is a complete disaster this year.
It is stunning how this situation changed. Campbell entered Sunday's game as an improved player whom the Raiders completely believed in. The expectation was that the Raiders would eventually look to extend the contract of Campbell, who will be a free agent at the end of the year.
You often hear about the brutality of this business. But I can't think of a more brutal recent situation than this. Campbell worked hard in Oakland and improved. He was a model teammate and was terrific with the media.
It's tough to see good guys deal with these types of situations, but the Raiders are trying to win now, and Oakland coach Hue Jackson did what he felt was necessary in light of Campbell's injury.
Cincinnati coach Marvin Lewis hinted Tuesday that Jackson had shown interest in reuniting with Palmer for a while. But there is no way this trade would have been made had Campbell not been hurt. Campbell was the Raiders' quarterback until he was hurt.
And now he's not.
October, 17, 2011
10/17/11
6:35
PM ET
ESPN's Adam Schefter reported that it doesn't appear
Trent Edwards
is interested in returning to the Raiders at this point. He was cut this summer when
Kyle Boller
beat him out for the No. 2 job behind starter
Jason Campbell
. Campbell is out for several weeks, and perhaps the season, with a broken collarbone.
I think the only way the Raiders would bring back Edwards is if he was a backup to Boller. Oakland coach Hue Jackson
said Monday
the team is preparing to go with Boller, but it will continue to look at other options.
Meanwhile, Cincinnati coach Marvin Lewis
reiterated that quarterback Carson Palmer
is retired in the eyes of the organization. The Raiders reportedly have tried to acquire Palmer. The trade deadline is Tuesday. With
David Garrard
unavailable because of a back injury, it appears the Raiders' best bets are either sticking with Boller or trading for
Kyle Orton
from Denver.
UPDATE:
NFL.com is reporting
the Raiders will work out quarterback Todd Bouman this week. He is 39. I'm sure it's simply as a backup. It is another indication the team is leaning toward going with Boller.
In other AFC West news:
Denver defensive lineman
Ryan McBean
was
arrested on stalking charges
.
The Raiders had
a memorial for Al Davis on Monday.
Jackson told reporters
that defensive end
Matt Shaughnessy
may be out for an extended time. He's missed the past three weeks with a shoulder injury.
September, 15, 2011
9/15/11
7:00
PM ET
It doesn't appear that
Bruce Gradkowski
will have an AFC West homecoming Sunday.

Cincinnati coach Marvin Lewis said Thursday that he expects rookie quarterback
Andy Dalton
to start at Denver on Sunday. Dalton left the opener against Cleveland with a wrist injury. Gradkowski spelled him and led the Bengals to a comeback win.
We've seen Gradkowski do that before. Gradkowski became a fan favorite in Oakland the past two seasons. Time and again, Gradkowski gave Oakland a boost as a backup. However, he had trouble bottling the same magic when he was a starter.
A favorite of former head coach Tom Cable, the Raiders choose not to pursue bringing back Gradkowski as a free agent this year. Still, he will have a place in Raiders' history because of the spunk and fire he showed. In the AFC West, we all know if Dalton suffers a setback, Gradkowski will be ready to attack Denver with his spirited play.
In other AFC West developments Thursday:
In an Insider piece
, here is hope for the Chiefs after their 34-point home loss to Buffalo in Week 1.
ESPN.com's Adam Schefter reported that the appeal of the five-game suspension of Oakland rookie quarterback
Terrelle Pryor
lasted 80 minutes Thursday. Schefter reported that the league is not expected to rule on the appeal any time soon. Pryor is already in the second week of the five-week suspension.
It has been reported that the Raiders are appealing that
Sebastian Janikowski
's field goal at Denver was actually 64 yards and not the 63 yards with which he has been credited. That is important. Of course, because Janikowski now shares the record for the longest field goal in NFL history. However, I have checked with some folks who would know if the Raiders are making that push and they said it is not a big issue for the team and that the film shows that it was, indeed, from 63 yards.
Kansas City first-round pick
Jon Baldwin
didn't practice Thursday again. He hasn't practiced in four weeks since he hurt his thumb in a reported fight with teammate
Thomas Jones
. There is little chance he'll play Sunday at Detroit.
ESPN Stats and Information
looks at how New England's
Devin McCourty
could affect San Diego quarterback
Philip Rivers
on Sunday.
January, 24, 2011
1/24/11
9:40
PM ET
San Diego linebacker
Shaun Phillips
was added to the Pro Bowl on Monday. It is Phillip's first Pro Bowl appearance. He had 11 sacks and he was a big part of the NFL's No. 1 ranked defense.
"It's huge just because of the fact that I know the work I put in," Phillips said in a statement released by the team. "In my eyes, I try to play at a Pro Bowl level every year. It's just good. It will give me additional motivation to keep working and never be satisfied."
ESPN.com's Page 2
has a terrific look at how team salaries compared to their win/loss records. The Broncos didn't fare well. They were ranked No. 31 in the NFL. The Broncos spent a lot of money for four wins, which is another indictment on the failed Josh McDaniels' era.
Al Davis' shot at Lions' receiver
Calvin Johnson
, who is on the NFC Pro Bowl roster and was named second-team All-Pro on Monday,
did not play well in Detroit
. I think Davis should be careful what he says. Johnson would look pretty good in an Oakland uniform. He'd look much better in the Silver and Black than
JaMarcus Russell
-- whom Davis took over Johnson with the No. 1 overall pick in 2007 -- ever did.
The Marvin Lewis-Chad Ochocinco
spat is continuing. Why is this important in the AFC West? Because if he is let go in Cincinnati, Ochocinco could emerge in Oakland. He played for new Oakland head coach Hue Jackson in the past and the Raiders have a need for a veteran receiver.
Ochocinco said he would
like to play for the Jets after saying he'd play for New England. He has also said he'd like to play for Jackson again. Yes, Ochocinco appears focused on doing what it takes not to be in Cincinnati in 2011.
If the Broncos want to hire Green Bay defensive line coach Mike Trgovac as defensive coordinator they must wait until after the Super Bowl, on Feb. 6. Trgovac was the defensive coordinator in Carolina for six years under new Denver coach John Fox. The Broncos interviewed New Orleans secondary coach Dennis Allen for the job Friday. In addition to Denver's defensive coordinator job, other key coaching openings in the AFC West are the offensive coordinator job in Kansas City and the defensive coordinator job in Oakland.
April, 16, 2010
4/16/10
7:50
PM ET
The Cincinnati Enquirer
believes the
Cincinnati Bengals
may be preparing to trade for
Denver Broncos
tight end
Tony Scheffler
.
Bengals coach Marvin Lewis said that the team's need for a tight end could be addressed before the draft. Scheffler is the top tight end on the market and he signed his restricted free agency tender this week to help expedite a trade. He was often in the doghouse with first-year coach Josh McDaniels in 2009 and was benched for the final game of the season for accountability issues. But McDaniels said Friday during his pre-draft press conference that the Broncos have not talked to the Bengals about Scheffler.
The Broncos want a third-round pick for Scheffler, who is a fine field-stretching receiver. The Bengals have two picks in the third and fourth rounds. They have compensatory picks in each round. Those two choices can't be dealt, though.
The Chiefs
are thinking about
using
Glenn Dorsey
at nose tackle. Hey, if it means getting production out of the No. 5 overall pick in the 2008 draft, the Chiefs have to consider it.
The Broncos
are open to trading down
in the draft. The Broncos already have three picks in the first 45 choices. Denver will be major power brokers during the draft.
Are the Raiders moving away from being
a zone-blocking offense?
If so, that may mean new offensive coordinator Hue Jackson has more influence than head coach Tom Cable. That is never a good sign for a coach's job security.
January, 16, 2010
1/16/10
1:00
PM ET
You know
how I feel about this.
Norv Turner got robbed.
The Associated Press' NFL coach of the year
was announced and Turner didn't win. It's ridiculous. Cincinnati's Marvin Lewis took home the award. My beef really isn't about Lewis. It's all about Turner, who finished third in the voting. Turner received nine of the 50 votes.
That's about 41 votes less than he deserved.
No coach had a better year than Turner. The Chargers went 13-3 and are the No. 2 seed in the AFC playoffs. San Diego has won an NFL-high 11 straight game and it is a legitimate Super Bowl contender.
Turner's team overcame several early-season injuries and a 2-3 start. Quarterback
Philip Rivers
continued his steady progress under Turner. The Chargers adopted the cool, calm demeanor of their coach as they continued to improve throughout the year.
Turner deserves great credit for his team's 2009 season. But he was shunned.
Turner deserves to be freed his reputation of being a good offensive coordinator, but an ineffective head coach. Turner received the label after lackluster head-coaching stints in Washington and in Oakland. His hiring in San Diego was widely criticized. I believe he didn't win the award because several voters couldn't get over his reputation as a bad coach. Perception ruled over reality.
The truth is Turner proved the doubters wrong. He is a fine head coach. It's a shame he wasn't rewarded for it.
January, 8, 2010
1/08/10
12:00
PM ET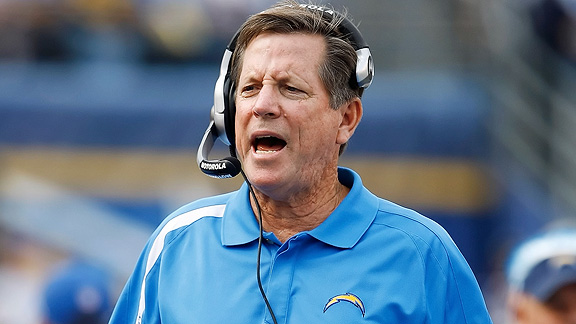 Jeff Gross/Getty ImagesNorv Turner and the San Diego Chargers haven't lost since falling to Denver on Oct. 19.
What follows is not a story of vindication or redemption. It's a tale about changing a longstanding perception.
Bad impressions are difficult to shake, but this one has to go. Now is the time for
Norv Turner
to be freed of his label as a lackluster, inept leader.
It's time for Turner to be recognized as a productive NFL coach. It's time for him to win the NFL Coach of the Year award.
Sounds weird, doesn't it? Norv Turner: NFL coach of the year. Better than Bill Belichick? Better than Mike Tomlin? Better than Jeff Fisher?
This year, Turner has been better than all of them. It will be a great injustice if Turner doesn't win the award when it's announced Jan. 17.
Perception would win out. That shouldn't happen. Turner should no longer be remembered only for sluggish head-coaching runs in Washington and Oakland. He was the ultimate example of "good offensive coordinator, lousy head coach."
But those days are over. Turner has been solid in three seasons as the head coach in San Diego. This season, he has reached the next level. He needs to be honored for it.
Turner is the clear-cut choice.
"Norv has done a hell of a job," San Diego linebacker
Shawne Merriman
said. "He deserves everything he gets. He deserves credit. He's our leader."
Sure, New Orleans coach Sean Payton, Indianapolis coach Jim Caldwell and Cincinnati coach Marvin Lewis will get some consideration for coach of the year. But none have accomplished what Turner has done this season.
San Diego ended the regular season as the hottest team in football. The 13-3 Chargers, who are ranked No. 2 in
ESPN.com's Power Rankings
, own the longest current winning streak in the NFL (11). They have a first-round bye and are the No. 2 seed in the AFC playoffs.
San Diego began its hot streak after starting 2-3 and falling 3½ games behind Denver in the AFC West. However, San Diego bounced back to win the division title. The Chargers ended up beating Denver by five games in the division.
San Diego has never lost under Turner in December. He also kept his team focused all the way through Week 17. When top playoff teams Indianapolis, New Orleans and Minnesota all experienced some type of December letdown, the Chargers kept moving forward. Even with most of its starters on the bench, San Diego closed out the regular season with a win over Washington.
[+] Enlarge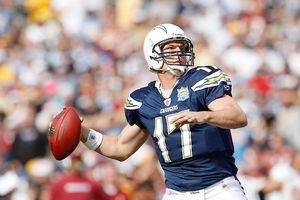 Jeff Gross/Getty ImagesChargers quarterback Philip Rivers has thrived under Norv Turner's tutelage.
But Turner's terrific job wasn't relegated to the final month. San Diego overcame many injuries, including playing most of the season without defensive tackle
Jamal Williams
and center
Nick Hardwick
. The San Diego running game sputtered all season, but Turner's passing game carried the offense. Quarterback
Philip Rivers
is in the
MVP mix
. Rivers has made steady strides under Turner's guidance the past three seasons.
Defensively, the Chargers made key adjustments in the pass defense just before their 11-game win streak.
"Norv should be the guy," said Matt Williamson of Scouts Inc. "The thing you look for in head coaches is if they can get their guys to peak at the right time. Norv is great at that. San Diego has not lost in December in 1,000 years. He deserves credit for that. It's time people start looking at Norv as a quality head coach. I think he is a top 10 head coach. I bet there are at least 20 owners in the NFL that would take Norv over their guy right now."
San Diego general manager A.J. Smith took a lot of heat when he hired Turner to replace Marty Schottenheimer after the 2006 season. Smith has stuck to his guns in his unwavering praise of Turner. But he is not about to play the I-told-you-so game.
"I'm pleased that Norv may be in the conversation," Smith said. "If he is, I understand why. He has done a good job here and I hope he continues to build a body of work here."
Turner is reluctant to push himself for the honor. He said he hasn't put much thought into his chances of winning the award. Still, he said this is one of his most satisfying seasons in his coaching career.
"I'm not very good at comparing those things, but the biggest thing for me is the job the assistant coaches have done and the number of people we have that have contributed to this team," Turner said. "That part of it is impressive. Somebody had the number, I don't know exactly what it was, but they said 60 different guys have played in games for us. That's a lot of guys, but I know that on Sundays we play a lot of people. When we win a game, I think everyone feels that they were part of it, and that's a great team feeling."
But it all starts with great coaching by Turner. Now let's see if he gets his due or if his previous reputation continues to get in the way.
February, 13, 2009
2/13/09
11:00
AM ET
Posted by ESPN.com's Bill Williamson
Now that every NFL team has a head coach (all of the jobs were filled when Oakland and Kansas City made hires last week), barring an unforeseen bombshell, Mike Shanahan will be taking the 2009 season off.
| | |
| --- | --- |
| | |
| | Rick Stewart/Getty Images |
| | Mike Shanahan will likely be a hot coaching candidate following the 2009 season. |
It will be Shanahan's first season away from being a head coach in the NFL since he was hired by the Denver Broncos in 1995. Denver unexpectedly fired Shanahan on Dec. 30 after 14 seasons with the team.
Shanahan said shortly after he was fired that he will definitely coach in the NFL again, and that he would require a special situation to coach in 2009. Several teams poked around Shanahan, but he opted to wait for an ideal situation.
He will now be part of an all-star cast of Super Bowl-winning coaches who could come back to the league in 2010. The others are Bill Cowher, Mike Holmgren and Jon Gruden. Shanahan will be as sought after as any of the coaches because of his pedigree, his offensive resume and his ability to lead a franchise.
Here is a look, alphabetically, at some of the potential fits for the former longtime Denver czar after the 2009 season:
Why: If the Bengals struggle again, coach Marvin Lewis will likely be in real trouble. The Bengals have a good passing game and Shanahan would have an instant centerpiece in quarterback Carson Palmer. Just like in Denver, Shanahan's biggest issue would be defense.
Stumbling block: Hiring a big-name, big-dollar coach such as Shanahan would be way out of character for the Bengals and Shanahan would likely have sexier options.
Chances: Not high.