March, 22, 2012
3/22/12
12:23
PM ET
Instead of backing up
Darren McFadden
,
Michael Bush
will be backing up
Matt Forte
.
However, Bush did do fine financially. He reportedly is getting $14 million over four years with $7 million guaranteed. There is no way the Raiders would be able to give Bush that type of money at this point in the process.
Bush could end up starting in Chicago. Forte was franchised and he could hold out. He could also leave after the 2012 season.
Bush entered free agency hoping to get a starter's job after being a career backup in Oakland. Interest in the entire running back class was small and no starting jobs ever developed for Bush.
This was the best combination of opportunity and salary for Bush. He can't be blamed for not going back to Oakland for lesser compensation. If Bush does get the chance to start because of a Forte holdout, he needs to prove that he can handle being the starter. His production dipped as last season progressed when he was the starter after McFadden was lost for the season in October.
I will be back later with thoughts on how this impacts the Raiders' offense.
March, 14, 2012
3/14/12
1:45
PM ET
Michael Bush
may be taking his first steps out of Oakland.
ESPN's Adam Schefter is reporting that the running back is visiting Chicago on Wednesday and he has a visit scheduled with Cincinnati on Monday. Bush would be a complement to
Matt Forte
in Chicago and he would reunite with former Oakland quarterback
Jason Campbell
if he signs with the Bears. Campbell signed with the Bears on Tuesday.
The Bengals -- who have $40 million-plus in salary-cap room -- have long been considered a potential suitor of Bush. Schefter also reports the Bengals are planning a visit with New England running back
BenJarvus Green-Ellis
. Former Oakland coach Hue Jackson is an assistant coach in Cincinnati.
If Bush doesn't sign with the Bears or the Bengals, there could be AFC West interest in him. Kansas City is visiting with Cleveland's
Peyton Hillis
and the Chargers'
Mike Tolbert
. If interest in those players falls through, the Chiefs could show interest in Bush. If Tolbert doesn't come back to San Diego, the Chargers could try to get Bush. They tried to trade for him three years ago. Denver could also show interest in Bush.
Bush finished last season as the Raiders' starter because of a season-ending foot injury to
Darren McFadden
. Oakland opted against giving Bush the franchise tag and instead placed it on safety
Tyvon Branch
. That was the right call because Branch is a starter and the Raiders have greater needs on defense.
Oakland would like to bring the bruising Bush back, but it may be unlikely.
January, 26, 2012
1/26/12
12:00
PM ET
Free agency is seven weeks away. A lot will happen before it starts. Players can re-sign with their teams; teams can place franchise tags on players. But as of right now, let's have a little fun and pick one free agent each team in the AFC West might have atop its wish list.
This is based on need and fit and not whether it is financially feasible:
Denver: Matt Forte, running back, Chicago.
Forte will likely be given the franchise tag, but if he were to hit the market, he'd be a great fit in Denver. A backfield of Forte and
Willis McGahee
would take pressure off quarterback
Tim Tebow
. I'm sure Forte would be interested in going to Denver because of the team's emphasis on the run.
Kansas City: Mario Williams, linebacker, Houston.
He could be tagged, too. Williams might not be a perfect fit for a 3-4 defense, but showed last season before he was hurt that he can play in the system. A Williams-
Tamba Hali
pass rush could be devastating.
Oakland: Cortland Finnegan, cornerback, Tennessee.
Another franchise-tag candidate. But I think this is Oakland's greatest area of immediate need and Finnegan would be an excellent fit. He is tough and brash and would go a long way in reconstructing this defense. A more realistic, and cheaper, option could be New Orleans'
Tracy Porter
. He played for new Oakland coach Dennis Allen when Allen was was the Saints' secondary coach, but Finnegan would be the dream pick.
San Diego: Carl Nicks, guard, New Orleans.
He is one of the highest-rated players in free agency, and because the Saints need to take care of quarterback
Drew Brees
, Nicks might get loose. The Chargers are facing potential major change on the offensive line. He would be a great anchor to a changing line. San Diego usually doesn't spend in free agency and it has to address receiver
Vincent Jackson
. But the Chargers have to prove to fans they mean business and this would be a nice start.
Again, it's very premature and some of these players might be not even get to the market. Who do you see fitting into the AFC West? Fill up the comment section below with your thoughts.
December, 9, 2011
12/09/11
12:00
PM ET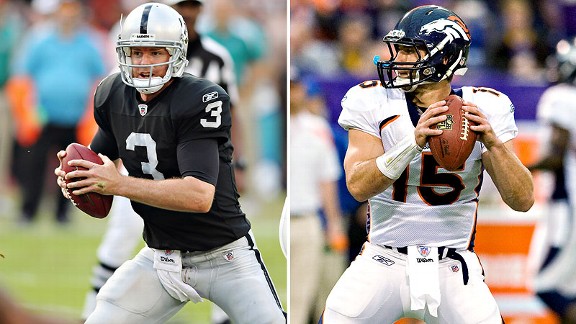 US PresswireCarson Palmer, left, and Tim Tebow have their teams in position to make a run at the playoffs.
In Week 1, the
Oakland Raiders
and
Denver Broncos
engaged in a lackluster season opener on "Monday Night Football" in which the visiting Raiders ended up winning by three points. Leaving the stadium that night (the last road game ever attended by the Raiders' late owner, Al Davis), neither squad had the look of a playoff team.
However, after a dizzying and unpredictable first three quarters of the NFL season, Denver and Oakland are engaged in one of the most exciting races in the NFL as we head down the stretch. Both teams are 7-5 and are tied for first place in the AFC West. Both are involved in the AFC wild-card race as well. Let's look at several key aspects of the race:
Who's hotter?
Few teams in the NFL are hotter than the Broncos. Denver has won six of the seven starts made by quarterback
Tim Tebow
. Denver has won five straight games. It is the third-longest current streak in the NFL this season behind Green Bay (12 wins in a row) and Houston (six in a row). Oakland was hot until getting completely outplayed at Miami in a 34-14 loss last Sunday. The Raiders went into that game on a three-game win streak.
Who is in a better position?
As of now, it's Denver. According to
ESPN's Playoffs Predictor

, Denver is projected to win the AFC West and be the No. 4 seed in the playoffs. It gives Denver a 61 percent chance of making the postseason. Oakland has a 38 percent chance of making the playoffs. However, it is currently projected to be on the outside looking in come January. The Broncos currently have the common-opponents tiebreaker over the Raiders.
What do the remaining schedules look like?
The Broncos have three home games and Oakland has two. Denver's remaining four opponents have a combined record of 26-22. Oakland's remaining opponents' record is 29-19. According to ESPN Stats & Information, Oakland's remaining schedule is tied for the fourth most difficult in the NFL.
It starts Sunday as the Raiders have to play at 12-0 Green Bay and the Broncos host the reeling
Chicago Bears
, who will be without offensive stars
Jay Cutler
and
Matt Forte
. In the final three weeks, Denver hosts New England, plays at Buffalo and hosts Kansas City. Oakland hosts Detroit, plays at Kansas City and hosts San Diego.
The quarterbacks:
On paper, there is no doubt Oakland has the advantage at the most important position on the field.
Carson Palmer
is a traditional pocket passer, and Tebow is a raw quarterback who relies on the option offense more than he does on traditional drop-back passing plays.
But the Tebow-led offense was more impressive than the Palmer-led offense last week. Tebow's offense is working, and Palmer is still getting used to playing with the Raiders. He has been the quarterback of this team for just a month as
Jason Campbell
's injury replacement, and he essentially missed the first half of the season while he stayed away from Cincinnati.
The Raiders gave up two premium draft picks for Palmer, and they expect him to carry the team during this race. That's why he was acquired. But Denver also fully believes in Tebow's impact on this offense for the stretch run.
Defensive play:
The Broncos' defense has played a major role during the team's resurgence. Denver allowed Minnesota to pass for 381 yards, but it made several huge plays to help secure the win. This unit was 32nd in the NFL last year in nearly every vital category. But it has been very timely this season.
The Raiders have more talent on defense, but they have been giving up way too many big plays, even in victories. Yes, this unit has the ability to rush the passer extremely well and it is physical, but it needs to play more consistently.
Injury status:
The Broncos have had some injuries, but they are fairly healthy right now. Rookie linebacker
Von Miller
missed last week's game with a thumb injury, but he is expected to play Sunday.
Oakland has been dealing with several injuries.
According to ESPN's John Clayton
, Oakland has missed 65 starts due to injury. It needs to get back skill-position players
Darren McFadden
,
Jacoby Ford
and
Denarius Moore
. They are all dealing with foot injuries. McFadden has missed five games, Ford has misused three games and Moore has missed two games. That is a lot of speed that the Raiders are missing.
Coaching;
This is first-year Denver coach John Fox's 10th season as an NFL head coach. He's been in these battles before with Carolina. This is not unchartered waters for him.
Oakland's Hue Jackson is a rookie head coach, but don't expect him to back down. He's a confident coach, and he will have his team ready for the next month. Remember, Jackson predicted an AFC West championship for his team earlier this season. He has a chance to be right … or wrong.
What team has more pressure?
Denver hasn't been to the playoffs since 2005, and Oakland hasn't been there since 2002. So, both teams should be loose. But I'd think Oakland would be crushed to see Denver beat it out for the title considering Oakland had a better record than Denver did a month ago. Even in the back of their minds, the Broncos couldn't have imagined this run when the Tebow era started.
Scout's view:
I asked Matt Williamson of Scouts Inc. for his thoughts on the race. Here's what he had to say:
"I would give Denver the edge in three of its four games and Oakland the edge in two of its four games. ... I didn't think Denver was the better team a week ago, but that was a really dismal performance by the Raiders [at Miami]. And although it was against a dreadful Minnesota secondary, Denver's passing game is evolving and progressing. So, give me Denver."
Conclusion:
Because there have been countless twists and turns this season in this division, anything could happen. Denver does seem to have the schedule edge, and it is hot. But if Oakland can get healthy, it can finish strong as well. In the end, I expect this race to be settled in Week 17.
December, 5, 2011
12/05/11
7:10
PM ET
The Kansas City Star reported
that Kyle Orton did not have a cast on the index finger of his throwing hand Monday a day after he was injured on his only pass as a Chief.
Kansas City coach Todd Haley didn't give much information on Orton's status Monday. The Kansas City Star believes Tyler Palko will likely remain the Chiefs' starter for the time being.
Orton was claimed off waivers two weeks ago. He is a free agent at the end of the season. Kansas City picked up the final $2.5 million of his Denver contract.
In other AFC West nuggets:
The San Diego Union Tribune reports
that injured offensive linemen Kris Dielman (concussion) and Marcus McNeill (neck) have long-term health concerns. The paper reports Dielman has considered retirement. Both players are out for the year.
It is likely these decisions will be made in the offseason, but it is clear the offensive line will be a priority in the draft and in free agency for the Chargers, who very well could have new front office and a new coaching staff making those decisions.
An ESPN Insider piece
looks at the Chargers' chances Monday night at Jacksonville.
In a radio interview,
San Diego safety Eric Weddle said the locker room is not distracted by speculation that coach Norv Turner will be fired at the end of the season.
It doesn't look like the Broncos will face
Chicago star running back Matt Forte on Sunday. He has an MCL sprain in his knee.
If the season ended today
-- and it doesn't -- Denver, not Oakland would be the AFC West winner. Both teams are 7-5 heading into the final quarter of the season.
There doesn't appear to be any clarity
about the status of the injured Raiders' standout skill-position players.
Oakland coach Hue Jackson told reporters Monday he doesn't expect
running back Darren McFadden
to miss the rest of the season, but he doesn't have a timetable on his return. The hope had been that McFadden would be able to play Sunday at Green Bay. He has missed the past five games.
December, 5, 2011
12/05/11
11:00
AM ET
Here are some areas the Denver Broncos need to focus on after a 35-32 win at the Minnesota Vikings on Sunday:
Recap:
The Denver Broncos kept rolling with another late victory.
Matt Prater
kicked the game-winning field goal as time expired. It was Denver's fifth straight win, their sixth win in seven starts with
Tim Tebow
as quarterback and their third straight win in the final moments. Denver is now 7-5 and tied with Oakland for first place in the AFC West heading into the final quarter of the season.
Biggest area to fix:
Minnesota rookie quarterback
Christian Ponder
threw for 381 yards. Denver made big plays on defense when it needed to, but that is way too many yards to give up, especially considering the Broncos face
Tom Brady
and the Patriots in two weeks.
Biggest area to build on:
The Broncos offense was terrific in the second half. The Broncos scored 28 points in the second half Sunday and played with great urgency. It gives this offense confidence it can score points in bunches.
What to watch for:
Denver hosts the
Jay Cutler
-less
Chicago Bears
next Sunday. The Bears have struggled badly on offense and now is leaking with an injury to star running back
Matt Forte
. Oakland plays at undefeated Green Bay.
November, 21, 2011
11/21/11
12:00
PM ET
Here are some areas the
San Diego Chargers
need to focus on after a 31-20 loss at Chicago:
Recap:
The Chargers are officially in a free fall. They have lost five straight games and are now 4-6. The Chargers are two games behind first-place Oakland (which won at San Diego in Week 10). This loss was like all the rest this season. The Chargers played well for pockets in this game, but they floundered late.
Biggest area to fix:
I know it's a broken record, but San Diego quarterback
Philip Rivers
made crucial mistakes. He played well for much of the game. But Rivers threw two interceptions in the fourth quarter. He has made key mistakes in the final quarter of every San Diego loss this season. Time is running out for Rivers this season.
Biggest area to build on:
The Chargers played strong run defense. They held Bears standout runner
Matt Forte
to 59 yards on 21 carries. This was a big improvement after San Diego was ravaged on the ground by Oakland in Week 10.
What to watch for:
The Chargers have to stop the bleeding at home next week against surging Denver. The Broncos have won four of their past five while the Chargers have skidded. After five games, the Chargers were 4-1 and the Broncos were 1-4. Now, Denver is 5-5 and is ahead of San Diego in the standings.
August, 22, 2010
8/22/10
1:55
PM ET
Random thoughts from Oakland's
32-17 win
at Chicago:
This was a very nice overall effort by the Raiders. The defense continued to be outstanding, and the offense joined the party.
After flailing against Dallas, the first-team offense was strong. It was led by quarterback
Jason Campbell
, who was better and more comfortable against the Bears than he was against the Cowboys. Campbell came out flinging (even though Oakland was playing without
Chaz Schilens
and
Darrius Heyward-Bey
). Campbell slowed down as his playing time continued, but he had his moments. He finished 10-of-20 for 170 yards. He did throw an interception, and there was a fumbled exchange with backup center
Chris Morris
.
Defensively, it all started with new linebacker
Kamerion Wimbley
. He had four sacks in a limited role. That is nasty good. If Wimbley can be a constant pass-rush threat, the Raiders will be in business. Oakland had six sacks total, and now has a whopping 12 sacks in two preseason games.
There was some concern for the defense. The run defense, which has long been a problem and was a focal point of this offseason, was an issue. The Bears ran for 174 yards, including an 89-yard touchdown run by
Matt Forte
. With
Chris Johnson
and the Titans looming in three weeks on opening day, the run defense has to be addressed pronto. But Oakland was playing without
Richard Seymour
and
Nnamdi Asomugha
, its two best defensive players.
Overall, Oakland seems to be on the right track as the season approaches. This was a nice, solid win by Oakland, which clearly outplayed Chicago all game long.