AFC West:

Maurice Clarett
July, 7, 2011
7/07/11
7:55
PM ET
Mary Porter, the 89-year-old grandmother of Denver Hall of Fame-elect tight end
Shannon Sharpe
,
has died
. She raised Sharpe. A large focus on his Hall of Fame acceptance speech next month will focus on his grandmother, Sharpe said. Our condolences go out to Sharpe and his family.
College Football Talk reports that there is a good chance Kansas City free-agent linebacker Mike Vrabel will join Ohio State's coaching staff. Vrabel, who will turn 36, has said he still wants to play. He is former teammates and close friends with new Ohio State coach Luke Fickell. The Chiefs would like Vrabel back because of his leadership ability. If he doesn't come back, though, the Chiefs should be able to move on at least on the field. Vrabel's ability is waning. He came over from New England in a trade along with Matt Cassel two years ago. Vrabel has been heavily involved in the lockout talks. He is on the NFLPA executive committee.
The San Diego Union Tribune looks at the freedom the Chargers may have in free agency. The Chargers have plenty to do, so it will need the freedom.
Former Denver washout Maurice Clarett is back in the UFL. He signed with the Omaha franchise.
August, 23, 2010
8/23/10
2:55
PM ET
The San Diego Chargers have signed guard Lee Grimes. He is an undrafted rookie from Texas A&M. He was recently cut by Tampa Bay.
Former Denver and Oakland receiver Javon Walker
is close to signing
with Minnesota. The Raiders cut Walker this offseason after two unproductive, but expensive, seasons.
San Diego receiver Malcom Floyd discusses his new challenge as Vincent Jackson's likely replacement as the No. 1 receiver in
this radio interview.
Former Denver general manager Ted Sundquist wants to give former Denver wash-out running back Maurice Clarett
a tryout for his UFL team.
Clarett was a third-round pick in Denver in 2005. He was cut before even playing in a preseason game.
The Chargers asserted their
broadcast rights
this weekend to make sure the Raiders' preseason game could not be shown live in the Los Angeles market. I'm sure that makes Oakland fans even more fond of San Diego.
Stan Kroenke's bid to buy the St. Louis Rams may go to a
vote this week.
Don't expect the Broncos to cause a stink, even though Kroenke owns the NBA and NHL franchise in Denver. Kroenke and the Broncos have a good working relationship, plus he is expected to give ownership of his two Denver teams to family members.
April, 21, 2010
4/21/10
9:00
AM ET
»
NFC Draft Tale
:
East
|
West
|
North
|
South
»
AFC
:
East
|
West
|
North
|
South
The Denver Broncos' selection of running back Maurice Clarett with the final pick of the first day of the 2005 draft will go down as one of the most shocking and worst picks in NFL history.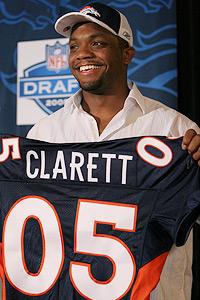 AP Photo/Ed AndrieskiDrafted by the Broncos in 2005, Maurice Clarett never played a snap for the team.
Sure, there were much bigger busts because they came with first-round price tags. But Clarett, who played one season of college football in 2002, qualifies because he was cut during his first training camp and never even played a snap in an NFL preseason game. Clarett was released after the team felt like he milked a minor injury and after he showed no interest in taking advice from Denver's veteran players.
Clarett is currently serving a prison sentence in Ohio that began months after his release in Denver.
Still, as he looks back, former Denver general manager Ted Sundquist vividly recalls the Broncos' reasons for taking Clarett. During the draft-preparation process, the Broncos kept Clarett in mind because during his one collegiate season, he displayed the dominant, one-cut, downhill running that Mike Shanahan's Broncos craved.
Once the third round started to wind down, Clarett became the main topic in the Broncos' war room.
"We felt good about him," Sundquist said. "We knew all of the warning signs, but as a football player, he fit what we did better than everyone else."
As the final pick of the first day approached, the conversation in Denver centered on how Clarett fit the Broncos' system better than any other player on the board. The Broncos didn't have a fourth-round pick and their fifth-round pick was at the end of the round. If Denver was going to make a run at Clarett, it figured it would come with the final pick of the first day, which was the team's third third-round pick of the day.
"We felt that somebody could take this guy in the fourth round. We didn't care that it was a third-round pick," Sundquist said. "It was a compensatory pick and we weren't picking for another 60 picks. We had two other guys on our board that we liked. But one was an attitude player and the other didn't pass our physical … after much discussion in that war room, Clarett was the guy."
Sundquist said Denver personnel realized that the Broncos were about to shake up the NFL world with their surprising selection at 11 p.m. ET on a Saturday night.
"It sent shock waves," Sundquist said. "I remember [Shanahan] saying something like, 'let's give them something to talk about.' "
They certainly did.
May, 27, 2009
5/27/09
9:30
AM ET
Posted by ESPN.com's Bill Williamson

Via Newsday, I ran across a blog item written by imprisoned former Denver running back Maurice Clarett.
Clarett, who could be freed from the Ohio prison system in time for the 2010 season, writes that he is ready to give football a try again.
Clarett, 25, could be joining Michael Vick by trying to transition back into the NFL after doing prison time. While Vick will not likely have an easy transition, Clarett's would be even more difficult.
I would not be surprised if teams back away from Clarett because of his combination of legal issues and his lack of an NFL pedigree. Clarett was a star at Ohio State during the 2002 season. If he tries to play in the NFL in 2010, he'll be doing so after an eight-year layoff. Who is going to be interested a player who hasn't played competitively in nearly a decade?
Clarett was a disaster in his short NFL stint. He was one of Denver's first cuts during training camp during his rookie season in 2005. Clarett never played during a preseason game. The Broncos were upset with Clarett because they thought he played up a minor hamstring injury that kept him out for his final two-plus weeks in Denver. Clarett did little to impress the team before the injury. He looked rusty after a two-year layoff.
Denver was the butt of jokes around the league after it cut Clarett after taking a third-round flyer on him. Clarett wasn't expected to be taken until late on the second day of the 2005 draft. Yet, Denver rocked the league by taking him with the final pick of the first day.
Clarett didn't get any serious bites by other NFL teams after he was cut by Denver. Five years later, his off-field baggage has increased as has his football rust. If Clarett tries a comeback next year, don't expect another team to create a bombshell as Denver did in 2005.
March, 14, 2009
3/14/09
8:21
PM ET
Posted by ESPN.com's Bill Williamson

There's been some action regarding free agency in the AFC West on Saturday.
Tackle Khalif Barnes joins Oakland after a long courtship and Karl Paymah leaves Denver for Minnesota.
Barnes and the Raiders come together after talks broke down early last week. The former Jacksonville tackle is familiar with the zone-blocking scheme Oakland uses and Oakland coach Tom Cable, whose specialty is the offensive line, wanted Barnes.
He can start at both right and left tackle so if Oakland drafts a left tackle early in the draft Barnes could slide over to the right side. Oakland opened the offseason with the hopes of signing one veteran tackle and drafting a tackle. The Raiders have the No. 7 pick in the draft and will likely choose between a receiver and tackle.
Mario Henderson played decently at the end of the 2008 season and could also be in the mix. Kwame Harris was cut after one season because of salary cap issues, plus he struggled in Oakland. Barnes is a big, strong player who has been inconsistent at times. But he does have some skills and signing him to a one-year deal was a good investment by Oakland.
Oakland has concentrated on signing its own players in free agency but these moves gives Oakland a chance to fill one of its needs.
Paymah's departure from Denver was not a surprise. Denver never tried to re-sign the cornerback and he visited several teams before signing with the Vikings.
Denver used its first three draft picks in 2005 on cornerbacks. Denver had six picks in 2005 and none of those players are on the team any longer. The list includes Maurice Clarett who was cut in the preseason of his only NFL training camp. Cornerback Darrent Williams was becoming a standout but he was shot and killed hours after the end of his second NFL season.