AFC West:

Maurkice Pouncey
January, 8, 2012
1/08/12
3:33
PM ET
January, 5, 2012
1/05/12
5:50
PM ET
While Pittsburgh quarterback
Ben Roethlisberger
made strides Thursday in preparation for the Steelers' wild-card game at Denver on Sunday, his center had a setback.
Roethlisberger practiced fully Thursday after being limited in practice Wednesday because of a lingering ankle injury. However, Pittsburgh center
Maurkice Pouncey
did not practice Thursday after having a setback in his recovery from an ankle injury.
Pittsburgh defensive stars, linebacker
James Harrison
(toe) and safety
Troy Polamalu
(calf) missed practice for the second straight day. Still, at this point, they are expected to play Sunday.
Denver safely
Brian Dawkins
(neck) and fullback
Spencer Larsen
(knee) continued to be out of practice. They are not expected to play Sunday at this point. Receiver/returner
Eddie Royal
was limited Thursday after sating out Wednesday practice with a toe problem.
In other AFC West news:
Green Bay offensive coordinator Joe Philbin will reportedly interview in Miami. He interviewed with the Chiefs on Wednesday and he is considered a legitimate candidate there.
April, 7, 2011
4/07/11
12:00
PM ET
»
NFC Draft Watch
:
East
|
West
|
North
|
South
»
AFC
:
East
|
West
|
North
|
South
Each Thursday leading up to the NFL draft (April 28-30), the ESPN.com NFL blog network will take a division-by-division look at key aspects of the draft. Today's topic: history in that spot.
Denver Broncos

The Broncos' top pick is No. 2 overall. Here are the previous seven players taken in that spot, with their NFL team in parentheses:
2010:
DT
Ndamukong Suh
(Lions)
2009:
T
Jason Smith
(Rams)
2008:
DE
Chris Long
(Rams)
2007:
WR
Calvin Johnson
(Lions)
2006:
RB
Reggie Bush
(Saints)
2005:
RB
Ronnie Brown
(Dolphins)
2004:
OL
Robert Gallery
(Raiders)
ANALYSIS:
This is the Broncos' first top-five pick since 1991, when they took linebacker
Mike Croel
at No. 4. The Broncos would love to have the success Detroit had last year with the pick. Suh looks like a unit changer, and Denver needs a similarly dominant defender. Detroit is the only team to have great success at No. 2 in the past seven years. Along with Suh, Johnson is a fabulous player. There are some good players on this list, though, with no flat-out duds. The Rams hope to see progress in Smith and Long, who made strides in 2010.
San Diego Chargers

The Chargers' top pick is No. 18 overall. Here are the previous seven players taken in that spot, with their NFL team in parentheses:
2010:
C
Maurkice Pouncey
(Steelers)
2009:
LB
Robert Ayers
(Broncos)
2008:
QB
Joe Flacco
(Ravens)
2007:
CB
Leon Hall
(Bengals)
2006:
LB
Bobby Carpenter
(Cowboys)
2005:
LB
Erasmus James
(Vikings)
2004:
DE
Will Smith
(Saints)
ANALYSIS:
This is an interesting group. It shows that teams can find franchise players at No. 18 but also that they can make a major mistake with the pick. Flacco was a tremendous value for Baltimore in 2008. Pouncey looks as if he'll be at center in Pittsburgh for the next decade. Smith has also had a terrific career and was a solid pick at No. 18. James was a terrible pick; Carpenter wasn't worth it; and the jury is still out on Ayers. The Chargers know they have to pick smart. They took linebacker
Larry English
at No. 16 in 2009 and are waiting for a payoff. It's interesting that there are four defensive ends/linebackers on this list. That's exactly the position the Chargers will be looking for with the No. 18 pick.
Kansas City Chiefs

The Chiefs' top pick is No. 21 overall. Here are the previous seven players taken in that spot, with their NFL team in parentheses:
2010
: TE
Jermaine Gresham
(Bengals)
2009:
C
Alex Mack
(Browns)
2008
: T
Sam Baker
(Falcons)
2007:
S
Reggie Nelson
(Jaguars)
2006
: RB
Laurence Maroney
(Patriots)
2005
: WR
Matt Jones
(Jaguars)
2004:
DT
Vince Wilfork
(Patriots)
ANALYSIS:
The Chiefs are not used to drafting this low. Kansas City has picked in the top five the past three years. However, Kansas City general manager Scott Pioli is plenty familiar with having the No. 21 pick. He was with New England when it had the choice in 2004 and 2006. Pioli has seen teams score with this pick and seen teams whiff with it. Wilfork was a tremendous choice, but taking Maroney was a blunder. However, the pick has paid solid dividends in recent years. This doesn't appear to be a bad spot to be in.
Oakland Raiders

The Raiders' top pick is No. 48 overall. Here are the previous seven players taken in that spot, with their NFL team in parentheses:
2010:
QB
Jimmy Clausen
(Panthers)
2009:
S
Darcel McBath
(Broncos)
2008:
TE
Fred Davis
(Redskins)
2007
: LB
Justin Durant
(Jagaurs)
2006:
DB
Cedric Griffin
(Vikings)
2005:
LB
Odell Thurman
(Bengals)
2004:
LB
Dontarrious Thomas
(Vikings)
ANALYSIS:
It's interesting that a quarterback was taken at this spot in 2010. Clausen was the third quarterback taken last year. If a quarterback such as Washington's
Jake Locker
or Arkansas'
Ryan Mallett
takes a similar tumble, we could see a quarterback taken at No. 48 again. This pick has been hit-or-miss, so it could be worth taking a gamble. Oakland picked at No. 47 two years ago and is still waiting for safety
Mike Mitchell
to develop. Last year, Oakland took defensive lineman
Lamarr Houston
at No. 44, and he had a terrific rookie season. In 2007, Oakland took standout tight end
Zach Miller
at No. 38. The Raiders know they can find talent in the second round.
April, 21, 2010
4/21/10
1:00
PM ET
»
NFC dream/Plan B
:
East
|
West
|
North
|
South
»
AFC
:
East
|
West
|
North
|
South
»
Draft Watch
:
Biggest needs
(2/17) |
Busts/gems
(2/24) |
Schemes, themes
(3/3) |
Recent history
(3/10) |
Needs revisited
(3/17) |
Under-the-radar needs
(3/26) |
History in that spot
(3/31) |
Draft approach
(4/7) |
Decision-makers
(4/14) |
Dream scenario/Plan B
(4/21)
Each Wednesday leading up to the NFL draft (April 22-24), the ESPN.com blog network will take a division-by-division look at key aspects of the draft. Today's topic: Dream scenario/Plan B.

Denver:
The Broncos will hope that both Alabama middle linebacker
Rolando McClain
and Oklahoma State receiver
Dez Bryant
are on the board when it makes its first pick at No. 11. Denver has needs at both positions and has investigated both players closely. If both players are on the board, Denver may have a tough decision to make. However, because of the Brandon Marshall trade to Miami, Denver may lean toward Bryant. If both McClain and Bryant are off the board (that may be unlikely,) Denver will likely attempt to trade down. The Broncos need a center and they could take Florida center
Maurkice Pouncey
in the mid-to-late part of the first round.

Kansas City:
The Chiefs would love for Washington to bypass Oklahoma State left tackle
Russell Okung
. However, that may be wishful thinking. The Redskins may take him. However, Washington could also consider Oklahoma left tackle
Trent Williams
. The Chiefs like both Okung and Tennessee safety
Eric Berry
a lot. They would love for both players to be on the board. If so, Okung may be the choice. If Washington does take him, the Chiefs could easily nab Berry to anchor their defense. In the unlikely event both Okung and Berry are gone, that would likely mean either
Ndamukong Suh
or
Gerald McCoy
would fall to No. 5. The Chiefs would likely entertain trade possibilities if that were the case. There have been some recent thoughts the Chiefs could take Texas safety
Earl Thomas
over Berry. If that's the case, the Chiefs could look to trade down a few slots. Here is one thought that the Chiefs could
shock the draft
and take McClain at No. 5.

Oakland:
The Raiders are in a pretty good position. They have several needs and they should be available to satisfy a need at No. 8. The Raiders need an offensive tackle and they should have several options. Williams, Iowa's
Bryan Bulaga
,
Anthony Davis
of Rutgers and
Bruce Campbell
of Maryland could all be available for Oakland. Oakland could also look at McClain or Florida cornerback
Joe Haden
. Talk about Idaho guard
Mike Iupati
is
picking up.
I think the Raiders will have at least three players to choose from on the board when they pick. The Raiders should be very pleased with their choices at No. 8. Because Oakland is flexible, it could also trade down some slots to add more picks.

San Diego:
The Chargers have a lot of options as well. They have the 28th and 40th overall picks. They also have some pressing needs, most notably at running back and nose tackle. If Fresno State running back
Ryan Mathews
falls to No. 28, the Chargers will be temped to take him. If Mathews falls past Houston at No. 20, he could be available at No. 28. San Diego will also look at defensive tackles at No. 28 because the running back class is so deep and a good player could be available at No. 40. Alabama nose tackle
Terrence Cody
will be considered. But keep an eye on UCLA's
Brian Price
, too. There has been late talk that the Chargers are looking to him fairly intently. The Chargers will likely also look to trade up and down the draft from the 25-40 range.
April, 16, 2010
4/16/10
1:00
PM ET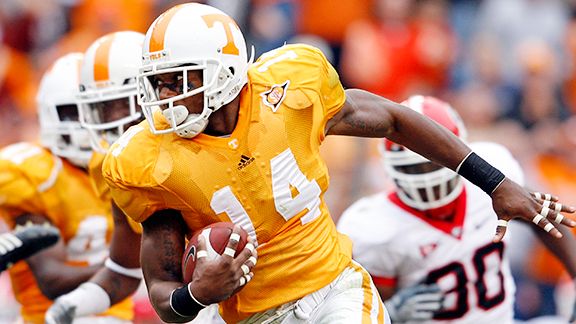 Andy Lyons/Getty ImagesThe draft could take a turn toward the unexpected at No. 5, where the Chiefs may take Eric Berry.
There are several juicy AFC West story lines to watch for as the draft unfolds April 22-24. Let's examine some of the more intriguing questions:
Will the draft change at No. 5?
There are expectations that the drama of the draft will begin when Kansas City picks at No. 5. With
Sam Bradford
,
Ndamukong Suh
,
Gerald McCoy
and
Russell Okung
expected to be the first four picks; the Chiefs represent the first question mark. Kansas City could take safety
Eric Berry
or a tackle such as
Bryan Bulaga
,
Trent Williams
or
Anthony Davis
. A trade down is also possible assuming Okung is off the board. No matter what the choice is, it will be fun when Kansas City is on the clock.
What will the Chargers do?
There will be almost as much drama when the Chargers' turn arrives. I expect them to be big draft-day players. They have the No. 28 and No. 40 picks. San Diego has big needs at nose tackle and running back. There are several solid running backs available and the Chargers will likely make one of them their new primary tailback. It will be interesting to see if the Chargers take a nose tackle or a running back first. They could also trade up (San Diego has two third-round picks in 2011 to use as bait) in the first round and get a premier player at either position. No matter what happens, expect San Diego general manager A.J. Smith to be in wheeling-and-dealing mode.
[+] Enlarge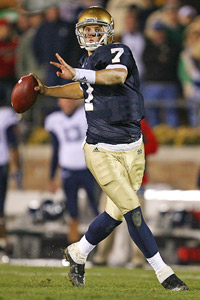 Jonathan Daniel/Getty ImagesCould new offensive coordinator Charlie Weis and quarterback Jimmy Clausen be reunited in Kansas City?
Will the Chiefs look at a Golden Domer?
Kansas City has hired former Notre Dame coach Charlie Weis to be the offensive coordinator. Could he talk the Chiefs into taking quarterback
Jimmy Clausen
at No. 5 or receiver
Golden Tate
with one of the team's second-round picks? The Clausen selection would be stunning, considering Kansas City paid
Matt Cassel
so much money last summer. However, if Tate is available at No. 36, Kansas City may jump on him. He would fill a big need and he would have advantage because he knows the offense so well.
Will Bryant replace Marshall in Denver?
The Broncos visited with Oklahoma State standout receiver
Dez Bryant
this week. Now that
Brandon Marshall
has been traded, Bryant could be the team's choice at No. 11. Bryant is very talented, but the Broncos would be adding a new set off off-field issues after trading Marshall. This would be a big story if he ends up in Denver. The Broncos could trade down from No. 11 and still get Bryant, who could tumble because of his issues.
Will Mt. Cody rise in the AFC West?
The Broncos, Chargers and the Chiefs have all shown interest in
Terrence Cody
, the huge nose tackle from Alabama. He is considered a prototype 3-4 nose tackle, and all three of those teams use that scheme. San Diego has the most pressing need for a nose tackle of the three. It wouldn't be a shock if the Chargers used the No. 28 pick on Cody. The Chiefs could potentially look at him in the second round, and -- if he lasts -- so could Denver. Fellow defensive tackles
Brian Price
and
Dan Williams
could attract interest from AFC West teams. However, Williams may be taken in the first 15 picks.
Will the Raiders address their quarterback needs?
The Raiders are clearly looking to upgrade their quarterback situation this offseason. It could happen in the draft. Clausen has been linked to Oakland with the No. 8 pick. But he does not have the huge arm coveted by Oakland owner Al Davis.
Tim Tebow
has talked to the Raiders. He'd likely require a second-round pick. Oakland has worked out Northwestern quarterback
Mike Kafka
, a likely mid-round pick. It would not be a surprise at all if Oakland drafts a quarterback to develop.
Will there be veteran trades?
The Marshall trade may not stop the veteran action in the division, Denver is also shopping tight end
Tony Scheffler
. He could be had for a mid-round pick. There is also the possibility Oakland could pursue Washington quarterback
Jason Campbell
on draft day. Campbell could likely be acquired for a mid-round pick and Oakland has reportedly shown interest. Baltimore tackle
Jared Gaither
is reportedly on the block. Both Oakland and Kansas City could add a tackle. Gaither would likely cost a second-round pick. There is also the possibility of San Diego acquiring a veteran running back such as
Marshawn Lynch
or
Marion Barber
if they become available. Still, the odds are San Diego looks to the rookie class for its new tailback.
[+] Enlarge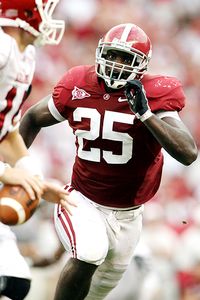 Marvin Gentry/US PresswireThe Raiders may have their eyes on Alabama's Rolando McClain.
Will the Raiders go defense first?
The Raiders' greatest need is at left tackle. But it wouldn't be a stunner if the Raiders used the No. 8 pick on a defensive player. The Raiders are said to have been snooping around Alabama middle linebacker
Rolando McClain
(who Denver could take at No. 11). Florida cornerback
Joe Haden
said he has received a lot of interest from Oakland. A Haden-
Nnamdi Asomugha
cornerback combination would be intriguing for the next few years.
Will the Tebow project continue in the AFC West?
Tebow visited with Denver this week. The Broncos have two picks in the second round and could pull the trigger on the project then. Tebow has met with Oakland officials. It would be wild to see the pristine Tebow in the Silver and Black. He wouldn't be ready to contribute right away, but he could be an interesting project. While I don't think the Chargers would address a quarterback before the third round, Tebow could be a possibility if he fell. The Chargers need to develop a young quarterback and Norv Turner can do wonders with quarterback prospects. It would be an interesting pairing.
Will the Raiders add a receiver?
The Raiders have studied the likes of Bryant, Tate and
Mardy Gilyard
. It's not out of the question that the Raiders will look at receivers early in the draft. It would be intriguing. The Raiders have a lot of young, promising players at the position. What they need is a veteran presence. If a top receiver is taken in Oakland, what does it mean for the development of existing youngsters
Chaz Schilens
,
Darrius Heyward-Bey
and
Louis Murphy
?
Will Toby Gerhart pound his way through the AFC West?
The rough-and-tumble Stanford tailback is on the radar in San Diego and in Denver. The Chargers make more sense because they have more of a pressing need. However, the Broncos also like the Heisman Trophy runner-up. The Broncos need a big back. I could see Gerhart, who is rising up draft boards, ending up in this division.
Will the Broncos find their new center?
If the season started today, the Broncos would not have a starting center. They are looking for one in the draft. The Broncos love Florida's
Maurkice Pouncey
. But taking him at No. 11 may be too high. The Broncos may have to move -- possibly up, perhaps down -- to get Pouncey. He is on their wish list, though. Boston College's Mark Tennant and Baylor's
J.D. Walton
are other possibilities.
April, 14, 2010
4/14/10
3:50
PM ET
Another April, another Pro Bowl player is traded away from Denver.
Last year, Denver traded quarterback
Jay Cutler
to Chicago after he had a dispute with new coach Josh McDaniels.
Wednesday, Denver traded
receiver
Brandon Marshall
to Miami.
Trading standout quarterbacks and receivers is no way of building a championship team. The Broncos are clearly hurt by the losses of the players and it has to find a way to stop this alarming trend.
But McDaniels can't be blamed for the Marshall trade. Marshall had issues with Mike Shanahan's staff prior to McDaniels' arrival in Denver. This divorce has long been brewing. Marshall would have been traded no matter who the coach was. While McDaniels played a major role in Cutler's departure, he inherited the Marshall issue. Marshall and McDaniels had their issues, but it's just an extension of Marshall's trend of unhappiness in Denver.
Now, all McDaniels can do is look ahead. He has to try to make his team better from the two trades.
After getting a slew of picks last year, the Cutler trade will be completed when Denver uses the No. 11 pick in the draft next Thursday. The Broncos got the No. 43 pick next week and a second-round pick next year.
If Denver can turn these picks into Oklahoma State receiver
Dez Bryant
and perhaps Florida center
Maurkice Pouncey
(which will likely require a trade up) it will be a good start.
It's difficult to replace Pro Bowl players, but Denver had no choice but to deal Marshall .Now all McDaniels can do is continue to try to rebuild his roster.
April, 14, 2010
4/14/10
12:25
PM ET
Ten months after saying he wanted to be dealt from Denver,
Brandon Marshall
is finally gone.
And the
Denver Broncos
have to rejoice with what they received in return.
Denver traded Marshall to Miami early on Wednesday morning for the Dolphins' second-round pick next week and their second-round pick in 2011. The Dolphins' pick next week is No. 43.
This is a great deal for Denver. It couldn't ask for more at this point. Remember, just four days ago, the Steelers sent
Santonio Holmes
to the Jets for a fifth-round pick.
Yes, Marshall is a better player than Holmes. But they are comparable players who are both 26 and who have dealt with off-field issues. Holmes is facing a four-game NFL suspension. But Marshall himself is one more slip-up away from getting a long NFL suspension.
The Broncos originally wanted a first-round pick for Marshall. But that was never going to happen. To get this deal so late in the process is outstanding.
Denver now has some nice drafting power in the second round. It has the Nos. 43 and 45 picks. It can now try to move up late into the first round and perhaps try to snare Florida center
Maurkice Pouncey
.
We'll have much more on this huge trade throughout the day. Please check back often.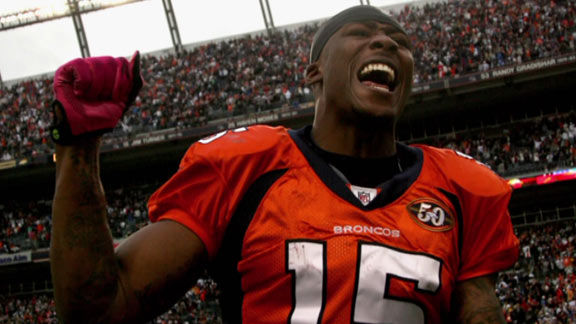 April, 10, 2010
4/10/10
3:00
PM ET
Weekend mail call:
Patrick O'Kane from Ireland wants to know
if Denver could take Florida center
Maurkice Pouncey
with the No. 11 pick.
Bill Williamson:
Pouncey is the best available center prospect and the Broncos desperately need a center. They will address the need early in the draft. So it's a natural fit. But I'm not sure Pouncey is worth the No. 11 pick. That's a little high. Still, Denver could trade down or up to the lower part of the first round where Pouncey is expected to be picked. Because of the fit, I wouldn't be surprised if Pouncey ended up in Denver.
---
Kevin from San Diego wants to know
how quarterbacks
Donovan McNabb
and
Charlie Whitehurst
were traded for comparable compensation.
BW:
Good question, McNabb was sent from Philadelphia to Washington for the No. 37 overall pick and a conditional pick in 2011 that will be either a third or fourth-round pick. Whitehurst was sent from San Diego to Seattle in a deal where the two teams switched second-round picks. San Diego will draft No. 40 and Seattle will draft No. 60. San Diego will also get a third-round pick in 2011. These deals are fairly close considering that McNabb is a perennial Pro Bowl player and Whitehurst has never thrown an NFL pass. Still, McNabb is 33 and has an expiring contract. Whitehurst will be 28 and has upside. So, there are interesting points in both deals. Still, on paper, I'd think McNabb would have been much more expensive than Whitehurst.
---
Mike from San Diego wants to know
what to expect from second-year players
Larry English
and
Vaughn Martin
in San Diego.
BW:
They are interesting players to watch. English, a linebacker, was the team's first-round pick last season and Martin, a defensive lineman, was a fourth-round pick. I'd think we'd see more from English this year. The Chargers hope he begins to flourish. He was fairly slow to adapt last season as a rookie. But he was coming from a small school and there was an adjustment period. The Chargers like him. But we need to see some of that expected pass rush in his second season. Martin played at a Canadian college. He is a project. He is massive and he has a good work ethic. He could turn out to be a good player. But it may take some time.