January, 13, 2012
1/13/12
11:45
AM ET
NFL.com is reporting
Green Bay defensive coordinator Dom Capers will be added to the list of candidates for the
Oakland Raiders
coaching job.
It makes sense. Basically, any quality Green Bay assistant will be considered by new Oakland general manager Reggie McKenzie. He came from Green Bay and he will consider good people from the great organization he came from.
Capers definitely qualifies as a quality football man. Capers, 61, had four-season stints as a head coach in Carolina and in Houston. He is considered one of the best 3-4 defensive coaches in the NFL. Oakland could do a lot worse than Capers. Still, Capers can't be hired until after the Packers' season is over. The interview process in Oakland reportedly started Friday with former Miami interim coach Todd Bowles being interviewed.
In other AFC West news:
An ESPN Stats & Information post
looks into whether Tim Tebow's time is about to run out.
Oakland kicker
Sebastian Janikowski
made the
Football Outsiders' All-Pro team.
Former Jacksonville interim coach Mel Tucker is starting with the Jaguars. He had been considered a potential defensive coordinator in Kansas City. That job is taking on less of a role because coach Romeo Crennel is going to continue to call the defensive plays.
January, 12, 2012
1/12/12
1:15
PM ET
I had the opportunity to speak to new Kansas City coach Romeo Crennel on Thursday morning about an upcoming project. However, I was able to ask him about the team's progress toward hiring offensive and defensive coordinators.

Crennel indicated that the offensive and defensive coordinator positions will likely not be filled in the immediate future. Crennel said he is in the early stages of the process and that the team needs to get some permission to talk to some candidates. That could be an indication that the Chiefs might have some candidates who are position coaches elsewhere in the league.
Crennel said he hopes to interview candidates next week and at the Senior Bowl in Mobile, Alabama the following week.
He did not discuss specific candidates. Among the potential candidates for the offensive coordinator job could include Kansas City quarterbacks coach Jim Zorn, former Jacksonville offensive coordinator Dirk Koetter and perhaps even former Oakland coach Hue Jackson. Possible defensive candidates could include Kansas City assistant Gary Gibbs, former Jacksonville defensive coordinator and interim coach Mel Tucker, and San Francisco assistant Jim Tomsula.
In other AFC West news:
Matt Williamson of Scouts Inc.
lists Kansas City's
Tamba Hali
as the third best pass-rusher in the NFL.
The San Diego Union-Tribune
believes its time
the Chargers give
Vincent Jackson
a long-term deal. I agree. I believe the sides will talk seriously about it. The Chargers would rather not put the hefty franchise tag on Jackson, so a long-term deal might be the best option.
Late-night television has gotten in on Tebowmania.
January, 9, 2012
1/09/12
4:30
PM ET
Now that Romeo Crennel has been hired as the permanent coach in Kansas City, the focus will be on his coordinator hires.

Reports suggest Kansas City will pursue a high-profile, dynamic offensive coordinator to help Crennel, who is a defensive specialist. Former Kansas City coach Todd Haley was an offensive-minded coach. Bill Muir, the Chiefs' current offensive coordinator, reportedly may retire.
The problem with finding a star offensive coordinator is the fact there aren't many available. One name to consider may be former Jacksonville offensive coordinator Dirk Koetter. He is considered an up-and-comer. He interviewed for the head-coaching job in Denver last year. Other available names include former NFL head coaches Brad Childress and Mike Martz.
Koetter might be a safer pick, though, since Childress and Martz have reportedly had issues with getting along with co-workers and/or players in the past. After firing the volatile Haley, the Chiefs want stability and that is a big reason why Crennel was promoted.
One name to keep in mind is current Kansas City quarterbacks coach Jim Zorn. He is a respected, experienced coach, who knows this team and he works well with Crennel. Considering the Chiefs have had three different offenses in the past three seasons, sticking with a familiar coach makes sense.
The defensive coordinator search is less importance since Crennel will still have a big hand in the running the unit.
One name that may surface is former Jacksonville defensive coordinator and interim coach Mel Tucker. He was on Crennel's staff in Cleveland. Another candidate could be San Francisco defensive line coach Jim Tomsula. Kansas City linebackers coach Gary Gibbs is also reportedly a candidate.
Crennel will likely get right to work on the assistant coach search and I could see the key openings being filed in the next week or so.
December, 23, 2011
12/23/11
12:00
PM ET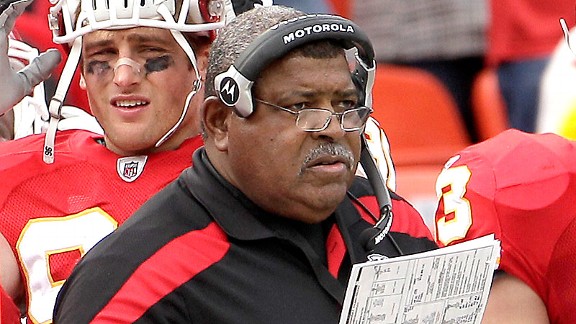 AP Photo/Charlie RiedelRomeo Crennel made a big splash in his first game as the Kansas City Chiefs' interim head coach.
When the
Kansas City Chiefs
fired coach Todd Haley earlier this month, names such as Iowa coach Kirk Ferentz, former Titans coach Jeff Fisher and Rams offensive cordinator Josh McDaniels emerged as possible replacements. .
All are high-profile coaches who would evoke emotions and excitement of varied degrees. Buried below the bigger names, though, was the candidacy of Kansas City defensive coordinator Romeo Crennel, who was named the interim coach immediately after Haley was fired and considered a candidate, but perhaps not a leading candidate
However, that all changed last Sunday when Crennel's Chiefs beat previously-perfect Green Bay in his first game as coach. Now, Crennel is considered by many as the top candidate. If the Chiefs -- who still have a heartbeat in the AFC West division race -- play well in their final two games against visiting Oakland and at Denver, Crennel, 64, could all but wrap up the job. He is already being endorsed by
key figures in the organization.
The following is a look at why the Chiefs' brass may decide to make Crennel the permanent head coach:
He'd get along with Scott Pioli:
This is a paramount. Haley wasn't fired because his injury-ravaged team was 5-8. He was fired primarily because he butted heads with Pioli, the general manager. This is a critical hire for Pioli. If he blows this one, his time in Kansas City could end.
Pioli must hire someone he is sure he can trust and someone he could work with. Pioli goes way back with Crennel, back to the Patriots' success in the early 2000s, and he is a big reason Crennel is in Kansas City. There would not be any coach-GM friction.
He just wants to coach:
One of the reasons there wouldn't be any friction is because Crennel is the good-soldier type. He is a lifer coach who is focused on teaching his players. He is not a new-school coach who wants his fingerprints on the playbook and everything else.
"Romeo trusts Scott Pioli and his ability to build a roster that can go to the Super Bowl. All Romeo would be interested in doing is coaching the team," his agent, Joe Linta, said.
He'd bring stability to the program:
The Chiefs are an interesting team. They are a building, young program that has already tasted success. This group won 10 games and the AFC West division title last year. The Chiefs, though, have been decimated by injuries this season and played virtually the entire year without young stars
Jamaal Charles
,
Eric Berry
and
Tony Moeaki
, and they have gone a long period without quarterback
Matt Cassel
. All of these players are expected to be healthy next year. This is not a depleted franchise.
Retaining Crennel would prevent the Chiefs from having to adjust to a new coaching philosophy. The learning curve would be essentially wiped out and the Chiefs could go to training camp next year raring to go.
Players like him:
Interim coaches don't get Gatorade baths -- as Crennel did after the Green Bay shocker -- unless they are respected by the players.
There is no doubt Kansas City's players like the affable, fair and above-board Crennel. The players chanted his name in the locker room after Sunday's win. Fullback
Le'Ron McClain
said
after the game
that Crennel had an instant impact on the team and he has players' support for the full-time job.
"That was a head-coach thing. We got that from Romeo," McClain said. "What a statement we made. It's great for him, for his future here. I know a lot of guys hope so. I know he had us ready to play this week and we showed it, from the first drive on out."
He's a calming force:
Haley clashed with a lot of players. That is not Crennel's nature. Teams usually look for polar opposites when they look to replace a coach, and that would be the case here. Crennel is different than Haley because he is not a screamer. Haley was volatile and would often blow up. Crennel is more of a listener. He is firm and he is not a pushover, but screaming is not Crennel's first approach. That could be refreshing for the locker room, and I bet Pioli would welcome that tact as well.
He knows the Patriot Way:
Pioli has modeled his teams after the Patriots, where he had great success as an executive with New England and was part of three Super Bowl championship teams last decade.
Crennel was the defensive coordinator on all three teams. Pioli and Crennel share the same vision. I think Pioli would be very interested in moving forward with a head coach who shared the New England experience with him.
He has head-coaching experience:
Crennel showed his head-coaching experience in the Green Bay game. It was his 65th NFL games a head coach. That type of experience is always appealing to a team. Crennel was 24-40 in four seasons (2005-08) as the head coach in Cleveland. The record in Cleveland wasn't great, but there were some front-office and talent issues there that made it a difficult situation.
"He is smart and could be one of those guys that does well with his second opportunity," said Matt Williamson of Scouts Inc., who worked in Cleveland with Crennel for a short period. "He did get a ton out of a
Derek Anderson
-led Browns team a few years ago and the players love and respect him."
He could build a good staff:
Hiring McDaniels as head coach may be a difficult sale considering he flamed out in Denver and he is part of a failing staff in St. Louis. However, if Crennel is hired as the head coach, McDaniels could be a terrific option as offensive coordinator if the Rams' staff is sent packing. McDaniels has worked with both Cassel and current Chiefs quarterback
Kyle Orton
(a pending free agent). A staff headed by Crennel with an offense led by McDaniels could be appealing. Plus, Jacksonville interim coach Mel Tucker was on Crennel's staff in Cleveland. He'd be an attractive defensive coordinator candidate.
He won't break the bank:
Unlike Fisher and Ferentz (and other big hitters such as Bill Cowher and Jon Gruden), Crennel would be reasonably priced. That would appeal to ownership. Combining Crennel's numerous positive attributes and his relatively low price tag, this could be a perfect pairing that may have begun with the Chiefs' derailment of the Packers' pursuit of perfection.
December, 2, 2011
12/02/11
1:30
PM ET
»
NFC Final Word
:
East
|
West
|
North
|
South
»
AFC
:
East
|
West
|
North
|
South
Five nuggets of knowledge about Week 13:
How Orton can help the Chiefs:
New Chiefs quarterback
Kyle Orton
may begin his Kansas City era Sunday at Chicago. He was claimed by the Chiefs (and the Bears and Cowboys too) last week after he was cut by Denver. He didn't play in Week 12. While the Chiefs are hoping to get production quickly from Orton, who played in five games with Denver this season, one area in which he might see quick success is on play-action plays. According to ESPN Stats & Information, Orton has completed 70.3 percent of passes thrown during play-action plays, seventh in the NFL. The Chiefs also have been good in this area -- the injured
Matt Cassel
was 10th. Orton will need some help from an often-unreliable Kansas City receiving crew, however. According to ESPN Stats & Information, the Chiefs lead the AFC West with 18 drops. Five receivers are tied for the AFC West lead with four drops each. Three play for Kansas City:
Dexter McCluster
,
Jon Baldwin
and
Dwayne Bowe
. The Chargers'
Mike Tolbert
and Denver's
Eddie Royal
are the other two players in the division with four drops.
Why Denver is winning:
The Broncos, who play at Minnesota on Sunday, are winning the way first-year coach John Fox won in Carolina -- with a strong ground game and a strong defense. In the past four games, all victories, Denver joined the 1971
Miami Dolphins
as the only teams in NFL history to have one or fewer turnovers, 60 or fewer points allowed and 876 yards or more yards rushing over such a span. That's a sign of a team playing complete football. Hat tip to the Broncos' PR department for providing that stat.
Lechler's impact:
Can Oakland punter
Shane Lechler
dominate at Miami on Sunday like he did last week against Chicago? He averaged 54.6 gross yards on five punts, including an unforgettable 80-yard punt that neutralized Chicago star return man
Devin Hester
-- a Raiders team record. According to ESPN Stats & Information, Lechler's big game against the Bears raised his season gross punting average to 51.47 yards per punt. If he can keep his average at that level for the rest of the season, he'd break Sammy Baugh's record of 51.4 yards per punt, set in 1940.
[+] Enlarge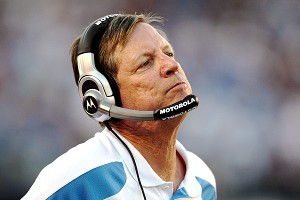 Donald Miralle/Getty ImagesWith his job in jeopardy, Norv Turner can't afford to lose to Jacksonville, led by interim coach Mel Tucker.
Turner can't be outcoached:
San Diego coach Norv Turner has virtually has no chance of remaining the team's coach after this season. The Chargers are 4-7 and have lost six in a row. They are three games behind in the AFC West and the AFC wild-card race. If the Chargers don't make the playoffs for the second consecutive season, Turner will very likely be fired -- which makes Monday night's game at Jacksonville a must-win. The Jaguars just fired coach Jack Del Rio; defensive coordinator Mel Tucker will take over as interim coach. If Tucker outshines Turner and the Jaguars beat the Chargers, Turner will be completely sunk. Turner has made several decisions in recent games that have been scrutinized. He needs to be on his game Monday if he has any hope of sticking around in San Diego.
Decker goes home:
Receiver
Eric Decker
is going back to his old collegiate field on a hot streak. Decker and the white-hot
Denver Broncos
-- who have won five of their past six games -- visit the
Minnesota Vikings
in a game played at the Metrodome. It used to be the home of both the Vikings and the Minnesota Golden Gophers before the latter opened their on-campus stadium. Decker started his college career playing in the dome for the University of Minnesota. He became one of the nation's best college players on that field, so the 2010 third-round pick and Minnesota native will be completely comfortable playing in front of many friends and family members.
November, 29, 2011
11/29/11
1:50
PM ET
There were two big stories in the NFL on Tuesday that could have ramifications for the AFC West. Let's take a look why:
Jack Del Rio fired:
The Jaguars' first game without Del Rio will be Monday night
when they host San Diego. Defensive coordinator Mel Tucker will take over on an interim basis. Playing against the Jaguars in this setting could be tough duty for the Chargers, who have lost six straight games. Expect the Jaguars to be very motivated in that game.
Suh suspended:
The NFL suspended Detroit star defensive tackle Ndamukong Suh for
the next two games
for his actions against Green Bay on Thursday. Even if Suh appeals, the decision will be expedited and it will only affect these next two games. Thus, he will be eligible to play at Oakland on Dec. 18 and at home against San Diego on Dec. 24.
One fewer team for L.A.:
Jaguars owner Wayne Weaver announced he will sell the team to businessman Shadid Khan and the team will be kept in Jacksonville. The Jaguars had been considered one of the leading contenders to end up in Los Angeles. That means the chances of the Chargers moving there may have increased. There's been speculation the Raiders could be a relocation target for L.A., but the Chargers seem more likely.
Del Rio is available:
If any of the AFC West teams are looking for a new defensive coordinator in the offseason -- San Diego or Oakland, perhaps -- Del Rio, who grew up in the Bay Area, could be a possibility.