August, 8, 2013
8/08/13
8:30
PM ET
After visiting the Kansas City camp, ESPN's John Clayton thinks the
Chiefs are primed for a major turnaround
. I look forward to my journey to St. Joseph, Mo., next week to see Andy Reid's revamped crew.
This ESPN.com Insider piece looks

at how Kansas City running back Jamaal Charles should be a strong fantasy play this season.
ESPN The Magazine
looks at the emotional Philip Rivers. Meanwhile,
things are speeding up
for the Chargers' quarterback.
ESPN analysts Merril Hoge and Herm Edwards preview the
AFC West in this video.
December, 16, 2011
12/16/11
11:46
AM ET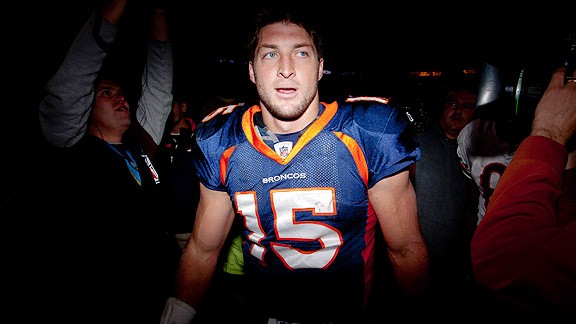 Justin Edmonds/Getty ImagesThe Denver Broncos are 7-1 this season with Tim Tebow as their starting quarterback.
Just how long can this
Denver Broncos
circus act last?
It is officially time to wonder what kind of damage the Broncos could administer if they actually get into the playoffs -- and how they match up against the best teams in the AFC.
After going 7-1 with
Tim Tebow
as the quarterback and riding a six-game winning streak (including the past four games in which they trailed in the fourth quarter, only the second time in history that has happened), the Broncos are on pace to win the AFC West and be the No. 4 seed. Denver -- which has a 78.8 percent chance of making the playoffs, according to ESPN.com's Insider

Playoff Predictor
-- leads Oakland by one game in the AFC West. If Denver beats Kansas City at home in Week 17, the Raiders will have to finish with a better record than the Broncos to win the division because of tiebreakers.
The Broncos will face their greatest challenge of the Tebow run Sunday, when they host 10-3 New England. In the most anticipated game of Week 15, we stand to find out a lot about the Broncos, who are winning with a wicked combination of Tebow's late brilliance, the league's best running attack, timely, stiff defense and clutch special teams play, all guided by first-year coach John Fox and his staff in one of the best coaching runs in the NFL this season.
Denver doesn't necessarily have to win this game to win the division, but if the Broncos can stick with the Patriots, it could send quite a message about their readiness for January football. Because Denver is winning with complete football, it is taking on the look of a team no one wants to see on the same side of the playoff bracket.
"My head says it will end this week, but my heart says they have a real shot," Gary Horton of Scouts Inc. said. "I think it's going to end every week, and then it just goes on. I talk to a lot of smart football people every day and no one has any answers for it. But we're buying in. I think this game against New England should be the end, but I can also see Denver pulling it off."
Part of the phenomenon that has been the Broncos' season is the evolution of expectations for them. After a 45-10 drubbing by Detroit on Oct. 30 in Tebow's second start, the Broncos were 2-5 and had the look of a team that would be picking in the top five and looking for a new quarterback in the offseason. Analysts gave the Broncos no chance. And they weren't alone: I remember talking to several people in the Broncos' organization that day, players included, and despair hovered over the team.
Since that day, however, the Broncos have mesmerized the league and caused several analysts to change their tune. ESPN analysts and previous Denver skeptics such as Merril Hoge, Steve Young and Trent Dilfer all said on the air this week that they are buying into what Tebow and his teammates are doing. When asked on ESPN this week if he could see Denver ending up in the Super Bowl in less than two months, analyst and former NFL head coach Herm Edwards responded this way: "I can't say no."
Beyond the comebacks, the Broncos are answering a lot of questions. Against Oakland (a 38-24 win) and Minnesota (35-32), they proved they can outscore teams. Against Chicago, Denver proved it can win when Tebow has to throw 40 times. And Denver is 5-0 on the road with Tebow as the starter. What might make Denver tough to beat in the playoffs is that it is playing at a high level in all areas,
as this ESPN Stats & Information post explains
.
Patriots coach Bill Belichick said he is not taking the Broncos lightly going into Sunday's game.
"They're a good football team and they're playing great," Belichick told reporters this week. "They're well-coached; solid team. Defensively they do a lot of things well. They run well. They have good pass-rushers, cover well. They've made a lot of big plays, third-down stops, short-yardage, goal-line, red area, turnovers. They've made them all at the right times. They're real good on special teams, good coverage team, good kickers and good returners. Offensively they do a good job of running the ball, getting it down the field. They have a lot of long passes. Again, they've made the big plays when they had to in critical situations at the end of the game, fourth quarter, overtime, third down, all those kind of things. They're at the top of their game."
How Denver hangs with New England should provide some gauge of its playoff hopes. But what about against other AFC big hitters -- Baltimore, Pittsburgh and Houston?
"It's like the Patriots, I don't like their chances," Horton said. "But then again, I do like their chances because of what the Broncos have done in the past six weeks. I think Denver's strategy in every game will be to keep it low."
Matt Williamson of Scouts Inc. doesn't think Tebow could win in the playoffs against the Ravens, Steelers or Texans.
"I can't say I see Tebow doing well at all against any of these three defenses," Williamson said.
Haven't we been saying that for weeks?
"I'm dumbfounded," Horton said. "But I'm not going to underestimate Denver anymore. Maybe they won't do anything if they get to the playoffs, but did you ever think we'd even be talking about them having a chance at the playoffs this late in the season?"
November, 25, 2011
11/25/11
12:00
PM ET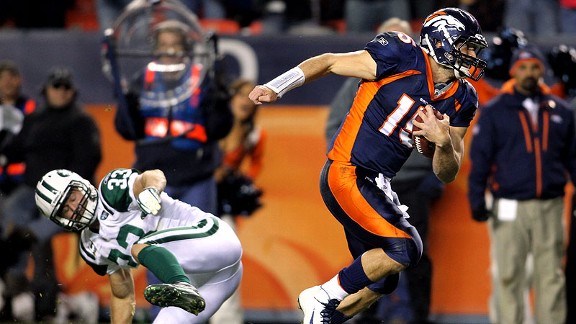 Chris Humphreys/US PresswireAs long as Tim Tebow continues to win, Denver has no choice but to keep him as the starter.
How long will the
Denver Broncos
' option offense work?
The team clearly hopes it works as long as possible, hopefully through this season so the Broncos can make their final decision on quarterback
Tim Tebow
's future in the offseason.
Denver coach John Fox believes it's the offense Tebow is most qualified to run right now. So it's either option or bust for Denver.
"We're just trying to win football games, that's all we're trying to do, take advantage of the guys on our football team and utilize their talents the best we can to win," Denver offensive coordinator Mike McCoy recently told reporters in Denver.
With the 5-5 Broncos in the AFC West hunt -- they are 4-1 in Tebow's five starts – there's little chance the Broncos will risk changing the offense now. There's not enough time to make Tebow an NFL-quality pocket-passer during the rest of the season.
While Denver has been hot, relying on the option offense is still a major risk in the final six weeks of the season. What if the
San Diego Chargers
completely shut down the option offense on Sunday?
After the Broncos had terrific success using variations on the option at Oakland and Kansas City, it was shut down for a big portion of Denver's Week 11 game against the
New York Jets
. But the offense clicked when Tebow led an aggressive, 12-play, 95-yard drive that culminated in a 20-yard touchdown run by Tebow.
The truth is, the Broncos have become better in every phase of the game since Tebow took over. The key for him is to continue to buy himself time. For each victory, Tebow will earn another chance to convince Denver football leader
John Elway
he can be the long-term solution at quarterback.
Despite the win-loss success, there have been red flags. Tebow has had a completion percentage of less than 50 percent in all four victories. According to the Elias Sports Bureau, he is only the second quarterback to do that in four wins in one season in the past 20 seasons -- and there's plenty of time left in this season.
The legendary Elway is one of the strongest-armed quarterbacks ever to play. He can't be thrilled to see his first team as an NFL executive play leatherheads football. Who would have ever thought an Elway team would be a gimmick-led offense?
Shannon Sharpe
-- a fellow Hall of Famer who was one of Elway's favorite targets -- said Denver's current offense is straight out of the
"Big Eight days."
After he watched the offense beat his brother Rex's Jets, Dallas defensive coordinator Rob Ryan said seeing the option offense in the NFL made him "vomit."
Elway is clearly not convinced, either.
He angered many Denver and Tebow fans
earlier in the week when
he said on radio
that he is not yet committed to Tebow for the long term. In the meantime, Elway and his staff have scouted many of the top collegiate quarterback prospects this fall.
It's difficult to find anyone who thinks the option offense can really fly in Denver in the long term. Countless analysts have panned the offense, calling it nothing more than a survival move. Hall of Fame quarterback and ESPN analyst
Steve Young
was one of the most ardent opponents of the idea. He said several times on the air that it is a disservice to Tebow because it is stunting his development and he guaranteed it will not work for the long haul.
ESPN's
Merril Hoge
and Mel Kiper have also chimed in with similar thoughts.
Matt Williamson of Scouts Inc. agrees. He can't see the Broncos' offense lasting even long enough to let the Broncos overtake first-place Oakland (6-4) in the division race. Plus, Williamson is unsure if Tebow can withstand the pounding he'll take using this offense the rest of the season.
"I do not think it can be the long-term answer," Williamson said. "The quarterback just takes too much of a beating and this league is won through the air."
The key for Denver to continue to have success with the offense for the rest of the season, Williamson said, is to add wrinkles. The Broncos added different option plays each week and that probably will continue Sunday at San Diego after a 10-day break since the Jets game.
For the team's short-term success and Tebow's long-term future, the Broncos must continue to develop their take on this ancient offense or the back-to-the future experiment could all go away in a cloud of dust.
October, 16, 2011
10/16/11
3:35
PM ET
OAKLAND -- The Raiders are playing without defensive end
Matt Shaughnessy
, cornerback
Chris Johnson
, fullback
Marcel Reece
and special-teams ace
Rock Cartwright
.
Manase Tonga
will start for Reece, rookie
DeMarcus Van Dyke
will play for Johnson.
Jarvis Moss
will start for Shaughnessy. Receiver
Louis Murphy
is active. It will be his first game since he suffered a sports hernia in training camp.
Rookie quarterback
Terrelle Pryor
is still listed as a roster exemption after his five-game NFL suspension ended. The Raiders will likely activate him Monday.
Meanwhile, here are some highlights from ESPN's "Sunday NFL Countdown," in which the 3-2 Raiders were a topic:
Tom Jackson:
"I'm buying 'em because they are built in the image of Al Davis."
Merril Hoge
: "The Raiders didn't get the memo -- that this is a passing league. They didn't get that memo because they run the football on the perimeter better than anybody."
Bill Parcells:
"If they could cut down a little on that recklessness, cut those penalties down, they're going to go right to the top of that discipline index, and that usually means winning."
October, 11, 2011
10/11/11
1:35
PM ET
The
Denver Broncos
are going back to training camp in an attempt to save their future.
[+] Enlarge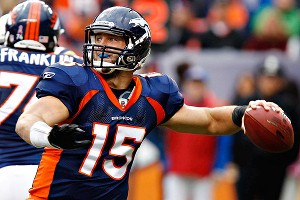 Andrew Carpenean/US PresswireThe Tim Tebow era wil begin in Denver in two weeks.
The Broncos will have training camp-like practices Tuesday and Wednesday as they adjust to playing with
Tim Tebow
as their starting quarterback. Denver then breaks for the bye. When the Broncos return Monday, they will fully prepare to begin the Tim Tebow era.
Whether it lasts 11 games or 11 years is up to Tebow.
The team is in for a major adjustment. The truth is, Tebow hasn't had many repetitions on John Fox's Broncos. Although Tebow started the final three games of last season, he had been relegated as a deep backup this past summer after a lost offseason due to the lockout. Tebow practices much less than
Kyle Orton
-- whom Tebow replaces as the starting quarterback -- and even less than
Brady Quinn
in camp and in the preseason. Once the regular season starts, the backups don't get a lot of practice time.
It is scramble time as the 1-4 team moves to the Tebow era.
Ironically, though, a lack of practice time with Tebow might not matter much. Dating back to his college days, Tebow has long been known as a better game-day player than a practice player.
As he showed in the second half against San Diego, Tebow takes the ball and runs around, trying to make plays. Yet, in the NFL, if long-term success is going to be achieved, Tebow is going to have to make improvements as a traditional quarterback.
Denver leader and Pro Football hall of Fame quarterback
John Elway
has often said Tebow will need to show he can be an effective pocket passer to succeed. Tebow has had trouble staying in the pocket and completing accurate passes. On "SportsCenter" on Tuesday, ESPN NFL analyst Merril Hoge -- who has been critical of Tebow -- broke down several areas Tebow needs to work on.
Hoge expects Tebow to work out of the shotgun often because he bobbled three center snaps in the second half Sunday. The center exchange was an issue during Tebow's cameo appearance last season. Hoge also said that Tebow's accuracy is one of his biggest downfalls and that he is unsure whether that can improve.
Denver will do its best to coach up Tebow and allow him the best chance to succeed. There's no doubt the workaholic quarterback will do his part to try to be successful.
In the end, though, Tebow's best attribute is being Tebow. You saw it Sunday. He gave his team instant energy. He moved the chains. The entire offense elevated its game. Even the entire defense played better with Tebow cheering it on wildly on the sideline, counting the plays before he could get back on the field as the home crowd roared with an excitement that had been missing for the past two years in Denver.
Tebow brings unbridled enthusiasm to his team. Now, if he can make the necessary quarterback improvements to go with his jolt of energy, the Broncos might be on to something.
September, 12, 2011
9/12/11
6:10
PM ET
NFL.com thinks
Nick Novak is a prime candidate to replace Nate Kaeding as the Chargers' placekicker. Kaeding was lost for the season on Sunday. The team plans to work out kickers Tuesday and then sign one. He has been with San Diego before.
Kansas City quarterback Matt Cassel didn't fare well in
Sunday's total QBR standings.
Buffalo receiver Stevie Johnson is
defending his block
on Kansas City star safety Eric Berry, who was lost for the season with a torn ACL in his knee on the play.
New Denver football leader John Elway plans to watch the game Monday night from Denver's coach's box, according to ESPN's Chris Mortensen. Also, Elway texted Mortensen – in response to Mortensen's question of who Elway's wife, Paige, will be rooting for – that the Mrs. has "converted from the dark side." Paige Elway is a former Raiders' cheerleader.
After being hard on Denver quarterback Tim Tebow this summer,
ESPN analyst Merril Hoge
lauds rookie linebacker Von Miller, who makes his NFL debut Monday night after being the No. 2 overall draft pick.
August, 22, 2011
8/22/11
1:30
PM ET
Raiders chief executive Amy Trask
is frustrated
that the team's fans are being stereotyped in conjunction with a spate of violence at the team's game at San Francisco on Saturday night.
The Chiefs are hoping for big things from their
return game
.
In an Insider piece
, KC Joyner explains why Oakland running back Darren McFadden is an underrated fantasy choice. I don't do fantasy, but I can't see how McFadden could be underrated in any aspect of the game. He is a beast.
Here's an interesting nugget: On ESPN's "SportsCenter" this morning, analyst Merril Hoge said the Chargers' offense is the most "well versed" in the NFL. That's quite a statement.
August, 5, 2011
8/05/11
12:40
PM ET
Tim Tebow
has heard the avalanche of criticism.
He is fighting back.
In a rare show of anger, frustration and vulnerability, the embattled second-year
Denver Broncos
quarterback
opened up to the Denver Post
.
"My dream, since I was a young boy, of being a starting quarterback in the NFL seemed to be coming true," Tebow said."Then, I felt like it was grabbed back away. . . ."
It's been a tough week for Tebow. First, he saw his chance to be the Broncos' starter disappear when a proposed
Kyle Orton
trade to Miami died, then he saw his first-team snaps go away and then he became the
center of a firestorm
when ESPN analyst Merill Hoge expressed major doubts about whether Tebow could ever make it as an NFL quarterback.
Tebow admits hearing such criticism sticks with him. Still, he is not giving up. Not even close.
"I'm trying to insulate myself from what people in the media are saying, but I've seen some of it, and it hurts because it's coming from people who haven't seen me practice, haven't seen me play, haven't seen what I can do," he said. "I did an interview the other day with someone on the NFL Network who said last year I'd never play a down in the NFL. He was wrong. ... Others who say I won't make it are wrong. They don't know what I'm capable of and what's inside me. My family and my friends have been bothered by what's gone on, and I tell them to pay no attention to it. I'm relying as always on my faith."
Like the criticism levied against Tebow, his words won't mean much unless he produces on the field. I'm more interested to see how Tebow reacts on the field in the preseason rather than how he reacts to the criticism with his words.
August, 4, 2011
8/04/11
9:20
PM ET
LeBron James
has company
when it comes to defending Denver quarterback
Tim Tebow
against criticism levied by ESPN analyst Merril Hoge.
Former Oakland quarterback Rich Gannon questioned the ability of Hoge -- a former running back -- to evaluate quarterback play. Wednesday on "SportsCenter," Hoge was highly skeptical of Tebow's ability to become an effective NFL quarterback. James tweeted about it later Wednesday, supporting Tebow.
[+] Enlarge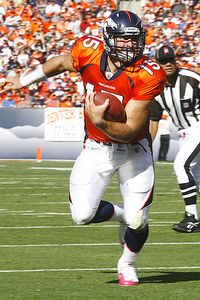 AP Photo/Kevin TerrellIn limited action last season, Tim Tebow threw for 654 yards and ran for 227 more.
Continuing the firestorm, Gannon spoke about it Thursday on his Sirius radio show. "It bothers me when old running backs or old offensive linemen who've now become analysts start analyzing the quarterback position," Gannon said. "They're not experts at it. They've never played the position. I'm always curious, when they put on the tape, what are they watching? Are they watching footwork? Are they watching mechanics? Are they watching anticipation? Do they understand what the quarterback is told in terms of the progressions, where the read is? You know, so those are the things that really bother me and I just thought he came out and his comments were very strong and I thought a little out of line when you talk about Tim Tebow."
Gannon said he thinks Tebow will succeed in the NFL.
"[Tebow] did some good things last year," Gannon said. "I think he has a bright future in the league. He's no different than a lot of young quarterbacks. There's things he's got to work on, things he has to get cleaned up. The only way he's going to do that is to go play. And so you got to be patient with him. He played a handful of games last year. … And this guy is a good kid and he wants to be great, he wants to do the work. Teammates out there love him, he's competitive, he works at it, he does all the things you like in a quarterback. Yeah, does he have to get better in terms of his accuracy, in terms of his mechanics and things he's got to get cleaned up? Certainly, but we have to give the guy a chance … You look at Tim Tebow, he's got some of the things I admire in a young quarterback. I think he's tough, he's got some grittiness, he's a competitor and I think he works at it. He's got great feet, he's got mobility, he can run with the football, he's tough and yet he's got some things he's got to get better at in terms of the passing game ... As you look at him there's a lot of things that I like about him and I just think he's going to prove a lot of people wrong if people will just give him a chance."
What does it mean? Not much. Just like the fact that Hoge's criticism doesn't mean Tebow will have a lousy career, Gannon's assessment doesn't mean Tebow will be a star. It is further evidence that Tebow is perhaps the most polarizing player in the NFL.
August, 4, 2011
8/04/11
1:05
AM ET
Tim Tebow
has responded to
the harsh criticism
of him by ESPN NFL analyst Merril Hoge.
Tebow
In his first tweet
in nine days, Tebow wrote this Wednesday evening: "Hey Merril ...... 'ppreciate that."
It was in response to Hoge's analysis of Tebow on "SportsCenter" on Wednesday morning.
Hoge said he has studied film of Tebow's play last year and was not impressed. Hoge said Tebow has the skill set of a player drafted in the sixth or seventh round. Former Denver coach Josh McDaniels drafted Tebow in the first round (No. 25 overall) in 2010. Hoge said Tebow's accuracy is "awful" and there is no way he is ready to start in the NFL. Hoge equated it to a Clydesdale running in the Kentucky Derby.
Tebow has fallen well behind
Kyle Orton
in the race to be Denver's starting quarterback. Tebow's tweet is not surprising. He has always been motivated by criticism.
Interestingly, Tebow received support Wednesday from another professional athlete who knows a thing about being maligned lately -- LeBron James.
He sent out a series of tweets
regarding Tebow and Hoge. This is one of James' tweets: "Tim Tebow will succeed in the NFL. He's a hard worker, a student of the game, a natural born leader and most of all a WINNER! It takes time and he'll be nice."
I'm sure Tebow 'ppreciates James' words as well.