AFC West:

Merriman 101013
October, 13, 2010
10/13/10
4:40
PM ET
I caught up with the knowledgeable Matt Williamson of Scouts Inc. to discuss the San Diego Chargers' impending release of
Shawne Merriman
.
The Chargers are releasing the former star pass-rusher because he can't stay healthy.
"I don't see it as a massive loss," Williamson said. "I'm not a big Shawne Merriman fan. I don't think he is nearly as good of a player as he thinks he still is. Injuries have really taken a toll since 2008. He wasn't helping that team."
Williamson said he believes the Chargers' defense, which is ranked No. 2 in the NFL, is well coached, but it doesn't have an anchor player. He said he thinks the Chargers will survive the loss of Merriman, because they were basically playing without him anyway. He was playing on a limited basis this season.
Williamson believes
Shaun Phillips
is a solid player at outside linebacker and he believes second-year player
Larry English
, who was drafted at No. 16 overall to eventually replace Merriman, can become a solid player.
"I don't love their depth there," Williamson said. "But they've already kind of moved on from Merriman anyway. So, I don't expect any big changes now that he is gone for good."
October, 13, 2010
10/13/10
4:10
PM ET
Linebacker
Shawne Merriman
, through his publicist, released a statement about his forthcoming release from the
San Diego Chargers
.
San Diego put Merriman on the injured reserve list with a minor injury and the team must release him when he regains his health this season. He is expected to play for a new team in 2010.
Merriman was a star pass-rusher for the Chargers from 2005-07 but injuries have limited him since 2008. Merriman was very positive and complimentary of the Chargers in his statement. Here it is:
"I have been blessed to call San Diego my home for the past six years. I can't say enough about my teammates, the coaching staff and of course the fans who have made my career with the Chargers such an amazing experience. I am approaching this situation as an opportunity to grow as a player and to bring my leadership and talents to a new organization. I am ready for the next chapter in my career and I am excited about the opportunity to continue my journey with a new team."
October, 13, 2010
10/13/10
3:20
PM ET
There have been signals for more than a year that
Shawne Merriman
would not end his career with the
San Diego Chargers
.
But we could never imagine his stay with the Chargers would end like this.
[+] Enlarge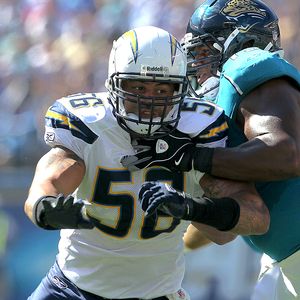 Stephen Dunn/Getty ImagesShawne Merriman has played in just 18 games since the start of the 2008 season.
The
Chargers will release Merriman
after the team deems he is recovered from a nagging calf injury. It will be within the next six weeks. The Chargers placed Merriman on injured reserve Wednesday, but because the injury was minor, he must be cut when healthy. Merriman will be eligible to play for another team during the 2010 season. He cannot play for the Chargers this season.
But that's fine with San Diego. It was ready to cut ties with him. San Diego didn't have to take this tact. The Chargers could have waited for Merriman to get healthy by keeping him on the roster. But San Diego grew tired of waiting on Merriman. The team realized that its defense is fine without Merriman and it has moved on without him, even though he is just 26.
Three years ago, this scenario seemed like an impossibility. But that's the problem. Merriman hasn't been a factor in three years. The No. 12 overall draft pick in 2005, Merriman used to be a superstar. He was the NFL Defensive Rookie of the Year and he had a league-high 39.5 sacks in his first three seasons.
But Merriman, who was suspended in 2006 for using a banned substance, has been breaking down physically the past three seasons. In 2008, he missed all but one game with a major knee injury. He dealt with several issues last year.
After holding out until late in training camp this year, Merriman dealt with injuries from almost the moment he started practicing. He started just one game this season and he has been bothered by a calf injury since Week 3.
The Chargers finally concluded that they couldn't count on Merriman staying healthy and they felt like they needed to move on.
San Diego, which shopped Merriman on the trade market over the past year and likely wasn't going to sign him when he was eligible for unrestricted free agency in 2011, realized it can play good defense without Merriman. Despite being beat up at linebacker, the Chargers are ranked No. 2 in the NFL on defense.
A healthy Merriman would make this unit better, but there's been no evidence that he could stay healthy. So, the Chargers are moving on.
Three years ago, Merriman looked like he'd be a Charger for life. He was a runaway freight train as a pass-rusher and he was a better all-around player than the Chargers even hoped he'd be when he was drafted out of Maryland. Merriman was a charismatic force who thrilled Chargers fans with his patented "Lights Out" sack dance.
He was a star. Then, he couldn't stay healthy.
There is likely further life in the NFL for Merriman, although it may be a long shot that he becomes an impact player again. Still, this is a passionate player whose health issues are likely bothering him more than they ever annoyed the Chargers.
Seeing a quality player like this deteriorate physically to the point where the team would make this drastic move is stunning.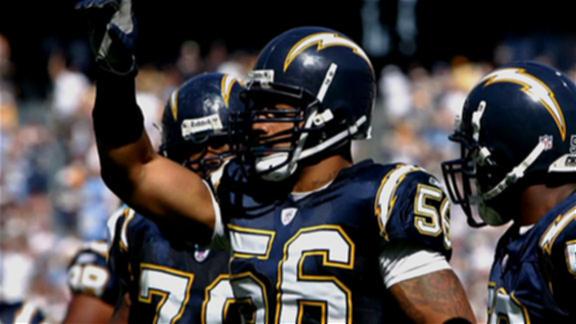 October, 13, 2010
10/13/10
1:25
PM ET
The
San Diego Chargers
just put out a release saying that oft-injured linebacker
Shawne Merriman
was put on the injured reserve and he will be released when he is healthy.
Merriman
The release said Merriman, 26, was put on the IR with a calf injury and a minor-injury designation (less than six-week injury), meaning he must be released when he regains his health. Should he clear waivers at that point, the Chargers could try to bring him back, but that may be unlikely. There had been talk that the team was tiring of Merriman's unreliable health.
Merriman re-injured his calf against Oakland. He was limited in the first five weeks of the season. Merriman missed all but one game in 2008 because of a major knee injury that hampered him last season. Merriman had a league-leading 39.5 sacks in his first three NFL seasons. He has had four sacks since.
The Chargers have been ravaged by injuries at linebacker this season. Merriman is the fourth linebacker to be put on the IR.
Antwan Applewhite
will start while 2009 first-round pick
Larry English
heals from a broken foot. He will likely be out for, at least, two more weeks.
I will come back with more thoughts on Merriman's situation later.
AFC WEST SCOREBOARD
Thursday, 11/20
Sunday, 11/23