February, 25, 2014
Feb 25
2:10
PM ET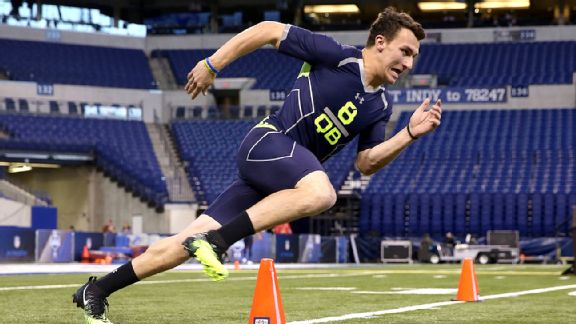 AP Photo/Ben LiebenbergWhile the combine has evolved into a big event, it remains just a piece of the puzzle for NFL teams.
INDIANAPOLIS -- Back before there were signs at an airport that is no longer used, before it was broadcast live and before it was one of the most publicly dissected parts of an NFL offseason, the scouting combine was simply a no-frills piece of the draft puzzle, conducted in the peace and quiet of relative anonymity.
"The first one I was at was the second one at Arizona State -- obviously held outdoors,"
New England Patriots
coach Bill Belichick recalled this week. "One of the days ended, not in total darkness, but certainly past dusk. I still have the image of Refrigerator [William] Perry doing the vertical jump out there ... in the middle of the Arizona State field, in almost total darkness."
And now that the combine has exploded into a live broadcast where runs and jumps are on-the-scroll news in a 24/7 cycle, the combine is still a piece of the draft puzzle for those who make the decisions around the league. Just a piece of the puzzle, likely no bigger than it used to be, even though so much of the results are now a big part of the public discourse on the draft.
"It is a tool," Broncos executive vice president of football operations/general manager John Elway said. "It's useful to have all of these players in one place to see them, meet them, talk to them. But overall, it's just part of the big picture. Decisions are made by the work the scouts have done all year getting to know these guys, on the road and by what they've done on the field. ... The combine is one of the things you consider."
So, as
Jadeveon Clowney
,
Michael Sam
and
Johnny Manziel
had their workouts beamed coast to coast, there is a perception that a prospect's draft status can undergo a substantial improvement or decline after what happens in Lucas Oil Stadium. Especially as combine ratings soar and apparel companies such as Under Armour work to outfit the prospects and Adidas drops $100,000 on Oregon State wide receiver
Brandin Cooks
for his 40-yard dash time posted in its shoes.
But the swing after the combine is far less drastic inside most NFL teams' draft meetings.
"It's up to us to rely on all of the information that we've gotten over the last 12, 13, 14 months,''
Atlanta Falcons
general manager Thomas Dimitroff said. "If you trust your system and if you trust your scouting staff and you trust basically your budget and everything that you've put into your scouting process, then you shouldn't be swayed by all of the other noise out there or the projections or the prognostications."
The irony in all of the interest in the combine? For the teams, the most important parts of the annual event are still the ones that remain unseen to the outside world: the medical exam and the face-to-face interviews prospects have with team officials.
Of all the things that happen at the combine, the medical exam is likely the most important. Medical staffs from every team get the opportunity to examine all of the prospects invited to the combine, and every prospect is put through a full battery of X-rays.
Any players with previous injuries or injuries/issues discovered during their medical exam at the combine are sent to a local hospital for more tests, including MRIs. Several scouts at the combine over the last week said Alabama tackle
Cyrus Kouandjio
may have had his draft status affected the most of any prospect at this year's combine, for example, when knee troubles were revealed.
Kouandjio acknowledged being sent for additional tests this past weekend, but said he had "no issues" with his knee.
"But the medical, that's probably where you get the most information you don't have about a guy," Broncos coach John Fox said. "You check their backgrounds and you can see what they've done on the field, that's on the film, but the medical is something you haven't seen until that point."
The face-to-face interviews, both in the form of formal, scheduled 15-minute blocks each night of the combine, or informal as coaches and prospects pass in the stadium concourses before and after the workouts, are also a chance for personnel executives, as well as coaches, to zero in on a few specific topics. They are able to ask prospects, face to face, about everything from an off-the-field arrest to explain specific plays from their seasons.
Some teams ask prospects, especially quarterbacks, to break down a play or explain what should happen in various situations. Teams record the interviews, as well, and review them later with some teams going as far as to have behavioral experts evaluate the video.
In the end, however, no matter how often 40-yard dash times are thrown into the public domain or vertical jumps mulled over, the games still mean the most. What happened on the field and the rest becomes added on to formally set the player's draft value. And even though their quiet, little gathering is anything but, the combine remains what it once was to those who will make the picks in May's draft.
"You have to take the best player,"
Philadelphia Eagles
general manager Howie Roseman said. "And you have to build your team for the long term and look at the draft as long-term decisions for your football team. That's how we want to build. Have a core group of players going forward that are together and in this together. That the names on the back of the jerseys will mean something, because obviously the name on the front of the jersey means something to all of us.''
February, 25, 2014
Feb 25
8:00
AM ET
A brief look at five more intriguing players who worked out at the NFL combine Monday in Indianapolis, and who could draw interest from the
Oakland Raiders
, who hold the No. 5 overall pick in the draft ...
DE Jadeveon Clowney (South Carolina)
The 6-foot-5, 266-pounder put on a show with an unofficial 40-yard dash time of 4.47 seconds that was later changed to an official 4.53 seconds. He also had a vertical jump or 37.5 inches and a broad jump of 10 feet, 4 inches. Clowney "only" 21 reps in the 225-pound bench press on Sunday. Athletically, he seems to be the top pick in the draft.
OLB Khalil Mack (Buffalo)
While the Raiders seem set at linebacker, Mack would only improve the unit as a pass rusher. At 6-2, 251 pounds, he is sleek and fast. He ran the 40 in 4.65 seconds, had a 40-inch vertical jump, a 10-8 broad jump and ran the 20-yard shuttle in 4.18 seconds.
OLB Anthony Barr (UCLA)
Did not blow anyone's doors off at the combine with a 4.66-seconds 40-time or his 34.5-inch vertical jump, but his 6.82 seconds in the three-cone drill was third best among linebackers. Like Mack, the 6-5, 255-pound Barr, who began his college career as a running back, would add a sorely-needed pass-rushing element from the outside.
DT Aaron Donald (Pittsburgh)
Not really considered an early first-round prospect, the 6-1, 285-pounder may have changed a few minds with his combine measurables. Donald had the best numbers for a defensive tackle in the 40-yard dash (4.68 seconds), bench press (35 reps) and three-cone drill (7.11 seconds).
DE Michael Sam (Missouri)
Sam did not flop, necesarrily, but his relatively slow 40 time (4.91 seconds), combined with a 25.5-inch vertical jump and a 9-6 broad jump just might cause the co-SEC defensive player of the year's stock to drop. The Raiders do like getting undervalued players, though, and he showed he can rush the passer in college football's most NFL-like conference.
February, 22, 2014
Feb 22
4:35
PM ET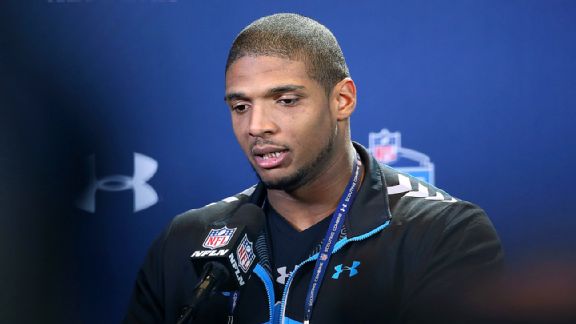 AP Photo/Ben LiebenbergDefensive end Michael Sam has told NFL executives he can be the pass-rusher every team covets.
INDIANAPOLIS -- It was a 12-minute, 30-second glance into the future.
But when
Michael Sam
, the NFL's first openly gay draft hopeful stood before a huge array of cameras, digital recorders and smartphones sending his image to Twitter on Saturday at the NFL's scouting combine, he simply owned the moment.
He was composed, witty, engaging. He handled himself the way he's going to have to handle himself in the days, weeks and months ahead in whatever becomes of his professional football career. Sam looked ready, sounded ready, oozed ready for what's to come.
He is at the front of the line, a player who will have to wrestle, control and handle all of the attention that will be along for the ride.
Sam understands all of it, at least he says he understands. He received a standing ovation when the Missouri football team was honored at halftime of a recent Missouri-Tennessee basketball game in one of his few public appearances since his Feb. 9 announcement that he is gay.
Saturday, he repeatedly lauded those in and around the Missouri campus for "all of the support," including a "Stand with Sam" button he wore at the combine, given to him, he said, by a "very kind lady." And Sam's announcement, as well as his appearance at the combine, has brought all of the is-the-NFL-ready-for-a-gay-player storylines. For the past two weeks, players have been quoted, both anonymously and on the record, about Sam's football future.
There have been gay players in NFL locker rooms before, some who have acknowledged it to teammates and some who have not. But Sam will be the first to have publicly announced it before arriving.
Baltimore Ravens
general manager Ozzie Newsome constructed two Super Bowl teams as a team executive, and he was a Hall of Famer as a player. Newsome said Saturday that Sam already has dealt with teammates who knew Sam was gay. The challenge, at this point, Newsome said, is how Sam deals with the public and the media in a wired world.
"He's been a good player, he's been in the locker room, it's what you, the media, what are y'all going to do with him," Newsome said. "Once he gets in, and he can rush the quarterback, get the quarterback on the ground and make tackles, he's going to be a good teammate. The biggest thing is how the media is going to deal with it."
Newsome was then asked -- as an executive who makes roster decisions, who builds depth charts -- if the attention given to Sam would be a deterrent for those trying to figure out where Sam should be drafted.
"This is something that is new to the league and we all will have to adapt to it," Newsome said. "What I was talking about, I think our locker room has had the tendency to adapt to things a lot smoother than maybe the media does."
The Broncos' top decision-maker, John Elway, also a Hall of Famer as a player, has said Sam's announcement would have no impact on how he will be evaluated as a player. That "having spent 16 years in an NFL locker room [as a player], the bottom line is that it's about treating others with respect and earning that respect. By all indications, it appears Michael has done just that throughout his football career."
That was the message Sam delivered for all those gathered in front of him Saturday. His "whole focus" has been preparing for the combine, preparing for his pro day next month.
"Heck, yeah, I wish you guys would ask me, 'Michael Sam, how's football going?'" he said. "I would love for you to ask me that question, but it is what it is. And I just wish you guys would see me as Michael Sam the football player instead of Michael Sam the gay football player."
In his interviews with NFL team executives at the combine, Sam's message has been he can be the pass-rusher every team covets, that concerns he's too small to be a defensive end and did not perform well in linebacker drills at the combine are things he can alleviate with the benefit of opportunity.
"I'm a pass-rusher. If you put me in a situation to get the quarterback, I'm going to get the quarterback," Sam said. "Whoever the coaches, the GMs, this league is a passing league, and I like to believe in myself as a good pass-rusher."
While the attention Sam has in tow will come in large part because of his off-the-field life, Sam said his concentration is on football, and that football should determine his professional future.
Those who know Sam believe he can handle the attention, or as Missouri defensive end
Kony Ealy
said Saturday, "I expect him to go in there and just do his job. … He motivates. … He's just that type of player, that type of person, off the field, all around."
Sam was asked Saturday if he felt like a trailblazer in all of this, and his answer showed his mindset, showed what he has presented to the league's decision-makers.
"I feel like I'm Michael Sam."
Michael Sam, the football player.
February, 10, 2014
Feb 10
8:15
PM ET
Does Missouri defensive end
Michael Sam
coming out as gay Sunday night on ESPN's "Outside the Lines" affect the
Oakland Raiders
' thinking on the NFL draft prospect?
Doesn't sound like it, so long as Sam has the skill set to play in the NFL.
"The Oakland Raiders have long championed diversity and opportunity," Oakland general manager Reggie McKenzie said in a team-issued release Monday afternoon. "The organization will evaluate Michael Sam based purely on his ability as a football player."
Indeed, as an organization under the late Al Davis, the Raiders hired a Latino head coach in Tom Flores, who became the first minority head coach to win a Super Bowl as he won two, the first African-American head coach in modern NFL history in Art Shell, who was the league's coach of the year in 1990, and the highest-ranking female executive in former CEO Amy Trask.
Sam, who was the SEC's co-defensive player of the year with 11 ½ sacks and 19 tackles for a loss, would seem to fill a need for the Raiders, who are in search of an edge rusher. Plus, defensive ends
Lamarr Houston
,
Jason Hunter
and
Vance Walker
are all free agents.
Still, Oakland already has a project in
Jack Crawford
and the 6-feet-2, 260-pound Sam might be a bit undersized for the Raiders' needs in their 4-3 defensive alignment. If he is still around in the later rounds of the draft, perhaps the Raiders take a shot.
Raiders players have been silent on their Twitter feeds regarding Sam's announcement but Pro Bowl fullback
Marcel Reece
took part in a public service announcement last summer regarding gay athletes.
The theme was "If you can play, you can play," and Reece joined other Bay Area sports personalities such as
San Francisco 49ers
tight end
Vernon Davis
, Oakland Athletics center fielder Coco Crisp, San Francisco Giants pitcher Barry Zito, Golden State Warriors guard/forward Klay Thompson, San Jose Sharks center Joe Thornton and San Jose Earthquakes striker Chris Wondolowski in the inclusivity-promoting PSA.
February, 10, 2014
Feb 10
5:45
PM ET
John Elway
was a Hall of Fame quarterback as a player and now is charged by
Denver Broncos
owner Pat Bowlen to build the team's roster as an executive.
So, Elway knows what goes on in an NFL locker room as well as the decisions that are made to put the players in one. And Monday, Elway said Missouri defensive end
Michael Sam
's announcement
that he is gay
would have no impact on the team's evaluation of Sam as a player or Sam's draft status with the team.
"I applaud Michael Sam and wish him the very best as he continues the pursuit of his NFL dream," Elway said. "As we look toward the combine and draft, we will evaluate Michael just like any other draft prospect -- on the basis of his ability, character and NFL potential. His announcement will have no effect on how we see him as a football player."
Elway also added, "Having spent 16 years in an NFL locker room, the bottom line is that it's about treating others with respect and earning that respect. By all indications, it appears Michael has done just that throughout his football career."
Sam was the Southeastern Conference's co-Defensive Player of the Year when he finished with 19 tackles for loss and 11.5 sacks. Missouri finished 12-2, including a loss to Auburn in the SEC Championship Game, as well as a 41-31 victory over Oklahoma State in the Cotton Bowl.
Sam played a defensive end spot in the Tigers' 4-3 defense. The Broncos also play a 4-3 much of the time with undersized rushers like linebacker
Von Miller
playing at the defensive end spot in some pass-rush situations.
Sam measured in at 6-foot-1 5/8-inches, 260 pounds at the Senior Bowl last month. The Broncos didn't use any players at an edge-rusher spot shorter than 6-3 this past season. While the Broncos do use the 6-3, 250-pound Miller in pass-rush situations, Miller also plays the traditional strong-side linebacker spot on early downs. In that same situation for Sam, that would be a potential transition, playing the run from off the line of scrimmage as well as dropping into coverage, to a linebacker spot with the Broncos.
But the Broncos have evaluated Sam heavily given the conference he plays in and the sack numbers he posted in what is considered the most powerful conference in the nation.
Elway did not release a formal statement, but offered his thoughts after several requests were made to the team from Denver media.