AFC West:

Michael Strahan
April, 23, 2014
4/23/14
7:30
AM ET
The
Denver Broncos
hope
DeMarcus Ware
-- he of the 117 career sacks, seven Pro Bowl selections and seven seasons with at least 11 sacks -- can have a positive impact on uber-talented linebacker
Von Miller
in the days and weeks ahead.
And this week Ware said he received some advice from a Hall of Famer that the team certainly hopes works its way back to Miller.
As Ware prepares to enter his 10th season he was asked if he had taken the time to break down some of the great pass-rushers, including Hall of Famers, or sought them out for tips on maintaining a high performance level at this stage of his career.
"Actually, I have," Ware said as the Broncos opened their offseason program at the team's Dove Valley complex. "Actually, they got a little bit more consistent in what they were doing. I actually talked to Michael Strahan and he tells me, 'You know what? You've got to make sure you're lean. Make sure you're able to run, because your body now is a totally different deal once you hit the 30s. So you've got to make sure you're able to stay out there on the field and you have the endurance.' That's what I'm trying to do now."
[+] Enlarge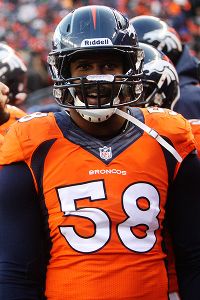 Chris Humphreys/USA TODAY SportsVon Miller's weight was reportedly up to 270 pounds before he suffered an ACL injury that ended his season.
It is something Ware has been successful at throughout his career. The Broncos list Ware at 6-foot-4 and 258 pounds on their current roster. At the 2005 NFL scouting combine, Ware was listed at 6-4 and 251 pounds, so physically Ware is largely the same player now as he was when he entered the league almost a decade ago.
Ware said he had already spent time watching game tape with Miller, talking about specific pass-rush moves in a variety of situations against a variety of offensive linemen. But there are certainly plenty of people in and around the Broncos who hope Ware extends the message to Miller about staying lean.
Miller's weight was a topic of conversation last season when he returned from his six-game suspension for violating the league's substance-abuse policy. The bottom line is many Broncos' decision-makers and Miller's teammates saw him as a special player when he tipped the scales between the 246 pounds he weighed at the 2011 scouting combine and the 255 pounds he said he weighed during the 2012 season when he had 18.5 sacks.
But even before his suspension last year, Miller had made the decision -- for reasons he only described as "it could help me" -- to get bigger. He said he was just over 260 pounds when the Broncos gathered for their offseason program a year ago and by the time he returned from his suspension in October he said he was just over 270 pounds so he "could play with more power."
And while he flashed the disruptive play that put him in the conversation for the league's Defensive Player of the Year award in the 2012 season, Miller wasn't consistently the same player when he returned to the field in 2013 as he had been the year before. He finished with five sacks in nine games before he tore a ligament in his knee in December against the
Houston Texans
.
Given he is returning from an ACL injury, it would seem playing at a lighter weight would help take some stress off the joint even as he works to strength the muscles around the knee. The Broncos currently list Miller at 6-3, 250 pounds, but they also listed him at that last season when Miller said he weighed at least 20 pounds more when he returned in Week 7 from his league-imposed punishment.
But at a few offseason appearances, Miller has looked slightly leaner than he did last season. Broncos coach John Fox has said "everything is on target," with Miller's return, but he is expected to be limited during the team's organized team activities (OTAs) in May and June and, at the moment, is not expected to participate fully in training camp.
"Now I have an opportunity to shed some advice onto him," Ware said. "He is a great player and I look forward to playing with him this season."
December, 15, 2009
12/15/09
11:00
AM ET
»
NFC Stock Watch
:
East
|
West
|
North
|
South
»
AFC
:
East
|
West
|
North
|
South
Falling
1. Elvis Dumervil's chances of sack record:
Dumervil's chance of breaking Michael Strahan's record of 22.5 sacks in a season is now a huge long shot after he was shut out in Indianapolis.
Dumervil has 15 sacks in 13 games. He still has a chance to become the eighth player since the NFL started counting sacks as an official statistic in 1982 to register 20 sacks in a season. He is two sacks from breaking Denver's season record for sacks.
2. Matt Cassel's accuracy:
Cassel, the Chiefs' quarterback, appears to be tiring as the season progresses. He is getting sloppy with the ball as a result.
Earlier in the season, Cassel was very protective of the ball. He went 153 passes without an interception. However, he threw four interceptions against Buffalo Sunday. His last interception was a toss deep in Buffalo territory on the final play of the game. He threw two interceptions against the Broncos in Week 13.
3. Oakland's offense:
It is clear the Raiders play better with
Bruce Gradkowski
on the field instead of
JaMarcus Russell
. Gradkowski gave Oakland life in his four starts. However, when he went down in the third quarter with two knee injuries and Russell was inserted into the game, the offense imploded again.
While Russell didn't do much to help his cause, the offense fell apart. He was sacked six times in less than a half of play. The energy Gradkowski gave the offense totally disappeared without him.
[+] Enlarge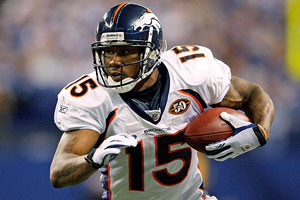 Andy Lyons/Getty ImagesBrandon Marshall caught 21 passes for 200 yards and two touchdowns in Sunday's loss.
Rising
1. Brandon Marshall, Broncos receiver:
Nobody in the league is rising like Marshall this week. He had 21 catches for 200 yards in a loss to Indianapolis on Sunday.
It was an NFL record for receptions in a game. His performance shows that Marshall is fully part of Josh McDaniels' offense in Denver, so expect him to produce in big doses the rest of the season.
2. Chargers' Super Bowl chances:
The Chargers are playing at an elite level. They have won eight straight games and they are on pace for the No. 2 seed in the AFC playoffs.
At this point, San Diego has to be considered, along with 13-0 Indianapolis, as the AFC's best bet to advance to the Super Bowl. Other than the Chargers and the Colts, no team in the conference is currently playing at an elite level.
3. Vincent Jackson, Chargers receiver:
After catching a combined eight passes in the past three games, Jackson got hot again in Week 14.
He had seven catches for 120 yards. It was his fifth 100-yard receiving game of the season. Jackson made the play of the game as he caught a 39-yard pass from San Diego quarterback
Philip Rivers
on third-and-long in the fourth quarter. San Diego scored a touchdown on the next play to take a 17-10 lead in an eventual 20-17 win.
December, 3, 2009
12/03/09
4:00
PM ET
Denver, Elvis Dumervil, linebacker:
Dumervil has an outside chance to set the NFL record for sacks.
Michael Strahan
owns it with 22.5 sacks. Dumervil has 14 sacks, which leads the NFL, with five games remaining. He needs to have a couple of big games to have a chance. Sunday, at Kansas City, may be a good opportunity for him. The Chiefs have a porous offensive line, so Dumervil has a chance to get closer to the record.
Kansas City, Jamaal Charles, running back:
Charles is a fascinating player to watch. Since taking over when
Larry Johnson
was cut last month. Charles has shown great game-breaking ability. He is a work in progress, but every game he has shown something that impresses. Let's see what he can do against a Denver run-defense that has been inconsistent.
Oakland, Trevor Scott, defensive end/linebacker:
Scott played linebacker at Dallas, showing he can move around. The second-year defensive end is a nice talent. He could have a future at either spot. He is a natural pass rusher with a nose for the ball. Expect him to be his normal active self at Pittsburgh.
San Diego, Vincent Jackson, receiver:
Jackson's productivity has slowed in the past three games, when he has just seven catches for 93 yards and no touchdowns. He had 42 catches for 718 yards and seven touchdowns in the first eight games. Teams have been trying to take away Jackson and have done a good job of it. If San Diego has a chance to go deep in the postseason, it will need Jackson to regain his receiving stroke. Sunday against Cleveland would be a good time for him to get back on track.
November, 27, 2009
11/27/09
1:59
AM ET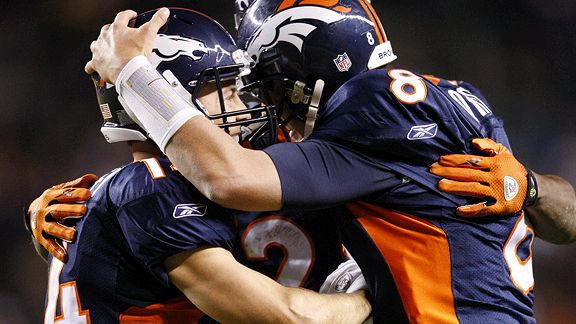 AP Photo/Jack DempseyThe Broncos got back on track with a victory over the Giants Thursday night.
DENVER --
Brandon Marshall
and
Knowshon Moreno
had it all planned out.
Had they been on the field together when one of them scored, they were going to celebrate -- by pushing each other in the end zone. The two were going to remake "Rocky II."
The two skill-position players provided the nadir of Denver's four-game free fall when they engaged in a sideline shoving match after Moreno had a key fumble against San Diego on Sunday in a game that left Denver out of first place in the AFC West.
Moreno did score Thursday night in a
26-6 win
over the
New York Giants
that may have saved the Broncos' season.
However, Marshall wasn't on the field. Still, Marshall is hopeful that the two former combatants can still display their celebration when Denver next plays, Dec. 6 at Kansas City.
"Maybe we'll kiss," said Marshall, hamming it up in a suddenly joyous Denver locker room on a late holiday evening.
Does one night cure all of Denver's ills? No, but it's all the team has and it welcomed the dose of good football and good cheer.
Against the Giants, the Broncos looked like the impressive, balanced bunch that started the season 6-0 and shocked the NFL world. The team played terrific in every phase of the game, and made big, timely plays when it needed to.
The result was Denver's first victory in 38 days.
After looking like they were incapable of ever winning again during a four-game losing streak in which they were outscored 117-37, the Broncos came alive Thursday. They really had no choice.
The Broncos would have been cooked had they lost to the Giants. Now, though, the team is 7-4 heading into the stretch run of December and January. The Broncos have two games remaining against the 3-7 Chiefs and a home game against the 3-8 Raiders. Denver's other two games are on the road against Indianapolis and Philadelphia. Still, the Broncos, who trail the 7-3
San Diego Chargers
by a half game in the AFC West, are still very much alive in the playoff chase.
The complete win ends a trying period for the Broncos, who struggled badly on both sides of the ball and dealt with off-field issues.
Tuesday, veteran safety
Brian Dawkins
called a players-only meeting to help stop the bleeding and to squash any tension that lingered after the Marshall-Moreno incident.
The meeting clearly played a role in re-energizing the Broncos.
"We have a lot of good leaders on this team," said veteran receiver
Brandon Stokley
, who had a 17-yard touchdown catch with 10:15 to go in the game to give Denver a commanding 23-6 lead. "We got back together. Most importantly, we played good football again."
For the first time since Denver beat San Diego on Oct. 19, it enjoyed a dominant performance.
The key was the play of quarterback
Kyle Orton
. Orton showed no signs of a badly sprained ankle that kept him out of about three quarters the past two games. Orton, who struggled in Denver's first two losses of the season, far outplayed Giants quarterback
Eli Manning
.
Orton completed 18 of 28 passes for 245 yards. He had one touchdown. The Broncos moved the ball at ease all game. They also broke out of their two-plus-game red zone funk by scoring two touchdowns from inside New York's 20-yard line.
Orton had plenty of help from an inspired Denver offense that entered the game with just three points in its previous six quarters. Marshall had a fabulous game with six catches for 86 yards.
Moreno also has a big bounce-back game. He had 88 yards on 19 carries and he often carved up the Giants' defense.
"It was just a good overall game by the offense," Marshall said. "We have to continue to play this way."
Defensively, Denver also stepped up. The Broncos' defense carried the team in the first six games. Thursday, it looked like that unit.
Denver went back to the blitz after straying from it in recent games. Manning was uncomfortable all game. Linebacker
Elvis Dumervil
had two of Denver's three sacks and he now leads the NFL with 14. He is in striking distance of Michael Strahan's single-season sack record of 22.5.
Perhaps most encouraging was that Denver played strong run defense. The Giants had 57 yards on 16 carries. Denver was ravaged against the run in the past three games. San Diego had 203 yards on the ground Sunday.
"We made the plays that we needed to make," Denver defensive end
Vonnie Holliday
said. "That's what we did in the early season. It was good to see."
All is well in Denver again. If only for a night.