April, 21, 2014
Apr 21
10:30
AM ET
They all dream of finding the next star player, the one nobody else knows about. That's how football scouts kill the endless hours on the road. But the reality? It just doesn't happen much anymore. In the age of YouTube, it's as easy for fans to research players as scouts.
That doesn't stop them,
Kansas City Chiefs
general manager John Dorsey included, from trying. His team is no different from any of the others but perhaps a little more inclined to look for players in obscure places.
The Chiefs' roster is well stocked with players from tiny football schools as well as those in the so-called power conferences. They have one player from Alabama, but also one from West Alabama. They have one each from Penn State and Pittsburgh but two from California of Pennsylvania.
They have two former Ivy Leaguers, a guy who before joining the Chiefs never played beyond junior college and one who didn't play football in college at all. He was a basketball player.
[+] Enlarge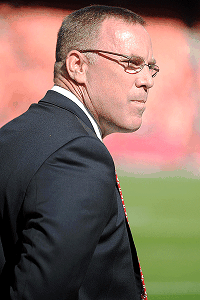 Denny Medley/USA TODAY SportsFrom the CFL to college basketball, Chiefs GM John Dorsey has used numerous avenues to find talent.
While a scout for the
Green Bay Packers
, Dorsey twice went to Australia to find a punter. One of them didn't work out but the other, Chris Bryan, kicked for a time in the NFL, not with the Packers but the
Tampa Bay Buccaneers
.
"We all have our avenues to find players," Dorsey said. "There are different ways of doing it. It's my responsibility to the Kansas City Chiefs to do everything within our power to make sure we've got everything covered. We're going to do that because if you're not out there working, somebody else is and they'll find those guys. Everybody does such a thorough job now.
"In today's football, it's really hard because all 32 teams are doing their due diligence in terms of working to unearth talent. The objective is to get real players. Anybody can go and find obscure players but they have to be able to play at the end of the day."
The ability to mine players from out-of-the-way places isn't a bad one to have this time of year, with the draft looming. The Chiefs are down to six picks this year, having sent their second-round choice to the
San Francisco 49ers
in last year's trade that brought quarterback
Alex Smith
.
So they could use a late-round or undrafted player to come through and replace at least some of the long-term production they probably would have received from that second-round pick.
Perhaps that player is already on their roster. He might be
Weston Dressler
, a tiny but quick slot receiver the Chiefs signed over the winter after he played several seasons in the Canadian Football League. It could be
Mike Catapano
, a seventh-round pick last season from Princeton who showed uncommon ability to rush the quarterback for a one-time Ivy Leaguer.
Yet another candidate is tight end
Demetrius Harris
, who played basketball but not football in college at Wisconsin-Milwaukee. It's no longer rare for football teams to try to make a tight end from a former power forward, but Harris, who was once a standout high school football player in Arkansas, attracted the attention of the Chiefs in a typical Dorsey way.
"I was down at the [high school] all-star game maybe two or three years ago, Texas vs. the Nation. I happened to be out to dinner and was talking to some gentleman and he started talking about great high school players from Arkansas who didn't play football in college. He said to keep an eye on [Harris] because he was all-state and this and that. I always have a Franklin planner with me where I keep notes. I just wrote down his name with the note to research him when he was eligible for the draft.
"I have a lot of those notes in that planner from conversations I've had about players who might not be eligible for the draft for two or three years."
The Chiefs last spring looked into Harris, who had finished his collegiate eligibility. They were in on him early and aggressively.
Word eventually spread around the NFL about Harris and though neither the Chiefs nor any other team drafted Harris, he became the object of a post-draft signing battle with Kansas City and the
Baltimore Ravens
among the finalists.
Harris signed with the Chiefs as much out of loyalty for their early interest as anything else.
"Demetrius just felt comfortable there," said Matthew Pope, Harris' agent. "We needed a long-term commitment and the Chiefs were willing to give us their word on that.
"John's history is that he's not going to look at where the player comes from. He'll just look at what the player does."
Harris spent his rookie season on the Chiefs' practice squad. Much of that time was spent getting reacquainted with football. But late in the year he showed signs of developing into a player.
"He did a nice job in his year on the practice squad," Dorsey said. "Remember that he hadn't played football in four years. He started to get in the groove about Week 12 or 13. He started to feel comfortable and get back in football shape."
The odds against Harris ever becoming another
Jimmy Graham
or
Antonio Gates
are great. But if he does, give Dorsey some credit for finding a great player who at least for a time nobody else knew about.
April, 18, 2014
Apr 18
7:30
AM ET
The
Kansas City Chiefs
drafted last year for the first time with John Dorsey as their general manager and Andy Reid as their head coach. This will be a much different draft for the Chiefs, who had four of the top 99 picks last year. They have just one of the top 86 this year.
But a look back can provide some idea of what the Chiefs can expect from this year's draft.
The season behind:
The Chiefs didn't get much from this group when they were rookies. In fact, their rookie of the year was a seventh-round draft pick of the
San Francisco 49ers
, cornerback
Marcus Cooper
. Fisher started 13 games at right tackle but his season wasn't what could reasonably be expected from the first overall pick in the draft. His play was uneven at best, particularly earlier in the season. He struggled as a pass-blocker against stronger opponents and their power moves. He proved unreliable, missing three regular-season starts plus the playoff game with injuries ranging from shoulder to concussion to groin. The Chiefs were counting on productive playing time from Kelce and Commings before injuries cost them all of their rookie seasons. Kelce in the preseason developed a knee ailment that eventually required surgery. Commings broke his collarbone during the first practice of training camp. The Chiefs were hopeful Johnson could be a starter at inside linebacker, but a preseason injury set him back and he never made a serious challenge. Kush and Catapano were drafted as developmental players and that's the role both settled into, though injuries forced the Chiefs to use Catapano at times and he showed some pass-rush ability. Wilson was a huge disappointment, even as a sixth-round pick. He was cut during the preseason and the Chiefs didn't think enough of him to bring him back to their practice squad.
The seasons ahead:
Fisher may be the only full-time player from this group again in 2014, but it's reasonable to believe the Chiefs could still get some production from the others -- Wilson being the exception. The Chiefs are confident that despite his rocky debut season, Fisher will eventually become the player they envisioned when they drafted him. He will move over to left tackle after playing on the right side and should benefit greatly from an offseason in the Chiefs' weight program. Commings could wind up as the starter at free safety if the Chiefs don't draft a player to fill that position. Otherwise, the Chiefs will look for ways to get him on the field. He was going to challenge for playing time in their nickel defense last year before his injury. The Chiefs are eager to get Kelce involved in their passing game. He was very involved before his injury. The Chiefs lined him up in a variety of spots to best use his ability to get down the field and beat coverage to make catches. Davis became more involved as last season went on and should get more playing time this year, assuming the leg he broke in the playoff game allows him to and his fumbling habit doesn't reappear. Eventually, Davis could be the replacement for
Jamaal Charles
. At 227 pounds, he's bigger and more powerful than Charles and he's fast for a player his size. He probably won't ever give the Chiefs what Charles delivered as a pass receiver last season. It speaks to what the Chiefs think of Johnson that one of their first moves in free agency was to sign veteran
Joe Mays
to be a starter at inside linebacker. Johnson may be a special-teamer for whatever remains of his Chiefs career. Catapano may never develop into a full-time player but his ability as a pass-rusher gives him a shot at a lesser role. Similarly, Kush may continue to be a backup, but watch what the Chiefs do with starting center
Rodney Hudson
, who is scheduled to become a free agent next year. If he doesn't re-sign with the Chiefs, Kush could inherit the spot if he develops as the Chiefs hope.
Best pick:
As expected for the first overall pick, Fisher should become this draft's best player. Despite his struggles last season, he frequently showed the athletic ability a great offensive tackle needs. But Kelce should eventually become the best pick from a value standpoint. He could become the Chiefs' best pass receiver at tight end since the traded
Tony Gonzalez
.
Worst pick:
Since Wilson couldn't hang around until the end of his rookie preseason, he has to qualify, for now. The others still have a chance to be productive players. But the situation doesn't look good for Johnson, either. As an inside linebacker, he would be a part-time player, coming out of the game on passing downs. But the Chiefs evidently believe he's not advanced enough to handle it yet.
March, 15, 2014
Mar 15
9:00
AM ET
It was a hectic week for the Kansas City Chiefs this week as the free-agent signing period began. They lost five players who were regulars at some point last year (wide receiver
Dexter McCluster
, defensive end
Tyson Jackson
and offensive linemen
Branden Albert
,
Jon Asamoah
and
Geoff Schwartz
) but signed three players from other teams (linebacker
Joe Mays
, defensive lineman Vance Walker and offensive lineman Jeff Linkenbach) and re-signed two of their own free agents, reserve linebacker Frank Zombo and backup safety
Husain Abdullah
.
Now, in this week's Twitter mailbag, we're looking ahead, in some cases toward 2015.
September, 27, 2013
9/27/13
7:30
AM ET
KANSAS CITY, Mo. – There's not a
Kansas City Chiefs
player listed in the top 20 of this week's installment of
Mel Kiper's NFL rookie rankings
.

Let's hope you weren't disappointed or surprised by this. Who was he supposed to throw in there?
A proper judgment on this year's draft class can't be made for some time yet, but it's a fact this year's Chiefs group is off to a very slow start. The Chiefs were missing their second-round pick, having sent it to the
San Francisco 49ers
in return for quarterback
Alex Smith
.
Still, with the Chiefs holding the first overall pick and a choice at or near the top of every round from the third on, it was reasonable to expect them to get more than what they've received so far from their eight draft picks.
Maybe with the Chiefs at 3-0 we shouldn't complain. But looking into the near future, it's easy to see where they're going to need help from players like
Travis Kelce
and
Knile Davis
. That doesn't look likely to happen.
Here is a look at what the Chiefs have received so far from each of their eight draft picks:
First-round OT Eric Fisher.
I'll have a more detailed look at Fisher's play in a Friday post, but it hasn't been pretty. Say this for Fisher: At least he's playing. He's their starting right tackle and played on all but one offensive snap.
Third-round TE Travis Kelce.
He looked during the offseason as if he was a major part of the Chiefs' offensive plans. He hasn't played a snap during the regular season other than on special teams because of soreness in his knee. Kelce Thursday referred to the injury as "a microscopic stress fracture in a bone in my knee. I've never dealt with this before so it was kind of all new to me. It's been frustrating. I'm getting better slowly but surely. It's feeling a lot better than what it was but I'm not quite there yet. I'll definitely be back out there within the next couple of weeks." But he hasn't practiced yet this week, so it appears unlikely he will be available for Sunday's game against the
New York Giants
at Arrowhead Stadium.
Third-round RB Knile Davis.
He has played on 24 of the Chiefs' 212 offensive snaps, or about 11 percent. He has 37 rushing yards and caught one pass but the Chiefs obviously are still uneasy about using him in a lot of situations. His signature play was his fumbled kickoff in the game against the
Dallas Cowboys
.
Fourth-round LB Nico Johnson.
A high-ankle sprain he received during the preseason has set him back. Johnson has resumed full practice but has yet to dress for a regular-season game.
Fifth-round DB Sanders Commings.
He broke his collarbone during the first practice at training camp and is on the injured-reserve list. He could return later in the season, but of what value is a rookie who hasn't practiced for months?
Sixth-round C Eric Kush.
It was obvious in the preseason that Kush, from tiny California University of Pennsylvania, needed more time to develop. Sure enough, he got in for the last snap of the game in the opener in Jacksonville but has been inactive for each of the past two games.
Sixth-round FB Braden Wilson.
The former Kansas State player was released during the preseason.
Seventh-round DE Mike Catapano.
In terms of playing time, he's been the most productive of this year's draft picks other than Fisher. Catapano played 31 snaps in Jacksonville, though he has played only on special teams since.
September, 13, 2013
9/13/13
7:30
AM ET
KANSAS CITY, Mo. -- Rookie defensive end
Mike Catapano
was like a lot of
Kansas City Chiefs
fans last week. Catapano was initially wondering what he, a seventh-round pick less than a year removed from his senior season of Ivy League football, was doing rushing the Jacksonville quarterback in his regular-season debut.
Catapano
Then, on one of his first plays, Catapano put a hit on Jaguars quarterback
Blaine Gabbert
. Any doubt in Catapano's mind disappeared.
"That's when I told myself, 'Yeah, I belong here.'" Catapano said. "You can't rush and be a good player or do anything well in this league unless you have that confidence. Getting that hit early on really took the edge off for me. After that, I was just playing ball.''
Catapano was a situational pass-rusher for the Chiefs in his first NFL game. He had an impact on four Jacksonville passes, the most of important of which being a fourth-down play on which he forced
Chad Henne
to hurry a throw that wound up incomplete.
Catapano played against Jacksonville only because he was replacing
Allen Bailey
, who missed all of the practice week after the death of his father. But Catapano was impressive enough against the Jaguars that he should get some playing time this week against Dallas even though Bailey has returned.
"I'll say this: His role isn't getting reduced," defensive coordinator Bob Sutton said. "He'll just keep playing."
Catapano showed pass-rush skills in college at Princeton, but the Chiefs drafted him as a developmental player. He wasn't expected to play so soon and when he missed a couple weeks of training camp with a leg injury, Catapano looked like a strong candidate for the practice squad.
But he played well enough in the final preseason game that the Chiefs believed he was ready now.
"The consensus opinion was that we could use this guy right now in (passing) situations," Sutton said. "He's a good rusher. He can be inside or outside as a rusher. He's got a great motor. Obviously he's an intelligent guy so he can take on a lot of different jobs."
The Chiefs are well-stocked with pass-rushers, so Catapano will not be the star. The Chiefs are OK with that given Catapano's football roots.
"Coming from the Ivy League, being a seventh-round draft pick, not going to the combine, that all just makes my story a lot more fun," Catapano said. "It fuels my fire. I just want to show everybody what I can do."
September, 3, 2013
9/03/13
6:05
PM ET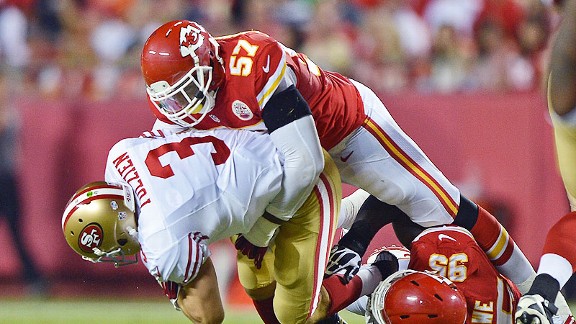 Peter Aiken/Getty ImagesThe Chiefs' Nico Johnson was making a hefty impact before suffering an ankle injury.
Earlier I posted some thoughts on the progress of the Chiefs offensive rookies and where I thought they fit in as the regular season begins. Here, I talk about the five defensive rookies:
April, 27, 2013
4/27/13
9:00
PM ET
Here are some random draft thoughts:
The Chargers added another interesting young cornerback -- Cal's Steve Williams in the fifth round. He has a chance to quickly climb the depth chart.
Denver added yet another interesting receiving weapon when they took Georgia's Tavarres King in the fifth round. He averaged more than 19 yards per catch for his career.
I like the two tight ends Oakland took in the sixth round, Colorado's Nick Kasa and Tennessee's Mychal Rivera. This is a two tight end league, so it makes sense. These picks put some pressure on David Ausberry. He has yet to develop. He better do it now or the youngsters will take his job.
The Raiders took a promising Division II pass-rusher in David Bass of Missouri Western in the seventh round. He has natural pass-rush skills. Yet, he is a long-term project.
Oakland general manager Reggie McKenzie did a nice job wheeling and dealing. He turned seven picks into 10. That is important for a team that is totally rebuilding. All 10 players have a legitimate chance to make Oakland's roster.
For what it's worth, Kansas City coach Andy Reid said the Chiefs were not going to take USC quarterback with the second pick of the fourth round. The Eagles moved up ahead of the Chiefs and took Matt Barkley with the first pick of the day. Barkley said he heard the Chiefs were interested in him. Kansas City did not take a quarterback.
Reid said fourth-round pick Nico Johnson will compete with free-agent newcomer Akeem Jordan for an starting inside linebacker spot. My money is on Johnson. Big-league player.
The Packers are reportedly interested in trading running back James Starks. Oakland could use another running back. It did take Central Florida's Latavius Murray in the sixth round.
With the Vikings drafting a punter, perhaps Chris Kluwe will become free at some point and perhaps Oakland could show interest. It only has unproven Marquette King in the aftermath of longtime star Shane Lechler signing with Houston.
Reid said fifth-round pick Sanders Commings will play free safety and seventh-rounder Mike Catapano will play outside linebacker. The Princeton product has strong pass-rush skills.
New Denver pass-rusher Shaun Phillips -- the former Charger who signed Saturday -- said he is fine playing defensive end in a 4-3. He was a linebacker in the Chargers' 3-4. Regardless of the spot, Philips' position will be as a pass-rusher and he will be moved around.