March, 9, 2011
3/09/11
9:45
PM ET
Denver will
reportedly have a pre-draft visit
with Oklahoma running back
Demarco Murray
. I don't put too much stock into pre-draft visits. Every team conducts several visits prior to the draft. Yet, it is interesting that Denver is looking at running backs. New Denver coach John Fox will clearly look to add help for
Knowshon Moreno
either through the draft or in free agency. Murray could be a third-fourth round prospect.
Oakland is set to visit with Fresno State defensive end/linebacker Chris Carter. He is expected to be a mid-round prospect.
Adam Schefter lists the Broncos and Raiders as two of his four options as potential landing spots for Tiki Barber in his comeback. I could see minor, but not major interest from the Broncos and Raiders.
December, 5, 2010
12/05/10
3:25
PM ET
SAN DIEGO -- San Diego star tight end
Antonio Gates
is active. He has been dealing with a foot ailment for the past month. He played last week at Indianapolis after missing two games. He was very limited in practice this week.
Receiver
Malcom Floyd
is expected to play after dealing with a hamstring injury. As expected, receiver
Vincent Jackson
is out with a calf injury he suffered on the second play at Indianapolis.
Mike Tolbert
, who was questionable with a hand injury, is active and he will start. Rookie tailback
Ryan Mathews
will play after dealing with an ankle injury the past two games. He'll backup Tolbert.
Guard Tyrone Green will play start his second straight game for
Louis Vasquez
, who is out with a neck injury.
Stephen Cooper
(knee) is active, but
Brandon Siler
will start in his place at inside linebacker.
Oakland receiver
Chaz Schilens
is a surprise active player. He's been out all year with foot and knee issues. He has only practiced sparingly this season. The Raiders have given no indications how much he will play Sunday.
Cornerback
Nnamdi Asomugha
(ankle) and tight end
Zach Miller
(foot and leg contusion) are active and are expected to start.
Meanwhile, Kansas City standout cornerback
Brandon Flowers
is playing Sunday after missing last week's game with a hamstring that limited him in practice much of the week.
The Kansas City Star
has an interesting look at what makes these upstart Chiefs unique amongst NFL teams.
Denver Post Broncos' beat writer Mike Klis
thinks Denver head coach Josh McDaniels could be in trouble.
McDaniels was a subject on ESPN's NFL Sunday Countdown. He wasn't getting rave reviews. Here's a taste:
Mike Ditka:
"I think coaching is about a lot of things, X's and O's we know that's important. I think people are more important. How you handle your people, how you relate to your people and how you make your personnel decisions and that's where he's had a problem."
Tom Jackson:
"The defensive coordinator really responsible for that 6-0 start is now in Miami….now you have Brady Quinn, I don't know if he can play pro football. You've got the greatest collegiate player in history in Tim Tebow, I don't know if he can play pro football. And you got caught cheating in the last two weeks."
Cris Carter:
"As a young coach, you have to be careful how you wield your power…If you mismanage that power and you try to wield your power too strong, then guys, you won't get the best out of them and that's what's happening in Denver."
October, 31, 2010
10/31/10
10:52
PM ET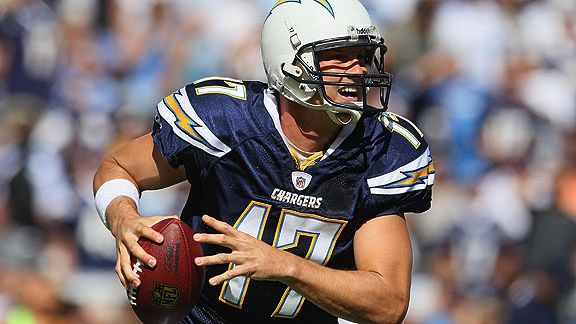 Jeff Gross/Getty ImagesFollowing a passionate halftime speech from Norv Turner, Philip Rivers helped rally the Chargers to victory over the Tennessee Titans.
SAN DIEGO -- The outside world had given up on the
San Diego Chargers
, tired of their maddening mistakes.
Yet, Norv Turner let his team know he hadn't given up on it, but it was time for it to start playing up to its potential and stop the self-destruction. Turner, who has a reputation for being laid back and lacking fire, delivered the most impassioned halftime speech of his four-year tenure in San Diego. The theme of the loud, colorfully worded address was belief.
"I've never seen him like that before," San Diego safety
Eric Weddle
said. "He told us how much he cares about us and he'd do anything for us. ... But he also told us it was time to get going. It was basically 'now, let's go freaking get it done.' ... I think that speech was a big reason why we came out like we did in the second half."
Losers of their past three games, the Chargers were in serious danger of seeing their AFC playoff hopes vanish Sunday. Tennessee was up by 12 points at one point in the first half. But spurred on by Turner's words from the heart, San Diego took over in the second half and
beat the Titans 33-25
.
The Chargers are now 3-5. They trail Kansas City (5-2) and Oakland (4-4) in the AFC West. The Chargers have come back with a strong second half in each of Turner's first three seasons, all of which ended with division titles. Yet, had San Diego not won Sunday, it would have been entering the second half of the season in a major hole.
"It's not a sigh of relief -- we're 3-5," San Diego running back
Mike Tolbert
said. "It's not like we're 8-0, or 7-1. ... But it's a start. We know we're capable of winning again."
And now so do all the critics. Along with Dallas, San Diego has been a major disappointment this season. The Chargers took a shellacking on ESPN's "Sunday NFL Countdown" on Sunday morning.
Here is a sampling of the verbal beating San Diego's players, Turner and general manager A.J. Smith took:
Keyshawn Johnson:
"No players. And when you don't have players, you can't win in this league. ... I put the blame on the general manager. He's the guy in the offseason that made a decision not to sign certain guys, run certain guys off."
Tom Jackson:
"It looks like the opportunity has passed them by and A.J. eventually is to blame."
Mike Ditka:
"The front office is horrible to make the decisions it's made."
Chris Berman:
"I'm embarrassed for the Chargers."
The Chargers missed the nationally televised dressing down because they were preparing to face the Titans. Smith wasn't available to react to the comments. But I had a chance to discuss them with some of the players after the game.
They were amused.
"No talent?" Weddle said. "OK, I'll take this no-talented team any day of the week. That's fine. It's OK no one respects us. Our coach does and we do, too."
Added Tolbert: "That's what happens when you are 2-5. People have been killing us all season. But what matters most is what our coach and everyone in this room thinks about us."
I didn't get the chance to ask Turner about the comments, but in his news conference, he alluded to outside criticism.
"I'm truly excited for those guys in that room because they don't blink," Turner said. "There are some people that might doubt them. We know who we are."
It was only one game, but if San Diego takes off, Sunday's performance and Turner's speech will be viewed as the turning point. San Diego has done this before. It won its final six games of the 2007 season, its final four games of the 2008 season and its final 11 games of the 2009 season.
"This is something to build on," San Diego cornerback
Antoine Cason
said. "Let's go build on it."
San Diego cut the Titans' lead to 19-14 with 1:55 to go in the first half. It evolved into a 20-0 run by San Diego, which led by eight points twice in the fourth quarter.
The catalysts, as usual, were quarterback
Philip Rivers
and tight end
Antonio Gates
. Playing without his top four wide receivers (and playing with undrafted rookie
Seyi Ajirotutu
), Rivers threw for 305 yards. It was the fifth time he has thrown for 300-plus yards this season. He has passed for 2,649 yards this season. No other quarterback in the history of the NFL has thrown for more yards after eight games.
Gates, playing with a bum toe, had five catches for 123 yards, including a 48-yard touchdown catch in the third quarter. It was a gutsy comeback performance by the two leaders on this team.
It wasn't all perfect for San Diego. It had its fourth punt blocked this season (that gave the Titans a safety early in the game) and an extra-point attempt was muffed in the fourth quarter, which kept it an eight-point game. The San Diego defense, which like the Chargers' offense entered the game ranked No. 1 overall, gave up way too many big plays.
But the Chargers found a way to overcome mistakes. That hadn't been the case this season. This has to be looked at as progress in San Diego. Perhaps this will be the start of another turnaround. If it is, the Chargers will always remember a rare show of intensity by their coach.
"I can tell you the fire I was able to see in [Turner's] eyes and what it meant to him," Gates said. "It meant the world to me for a coach to have that faith and belief in his team."
October, 10, 2010
10/10/10
3:48
PM ET
ESPN's "Sunday NFL Countdown" crew is high on the
Kansas City Chiefs
, who started the season 3-0 heading into today's game at Indianapolis.
The following is a taste of the mostly positive comments the analysts had to say about the upstart Chiefs:
Keyshawn Johnson:
"They're as real as a slice of bread. When you look at this football team, they're out there having fun. They're young and playing the way they should. And they're being coached by a guys with a lot of experience. The guys that Herm Edwards drafted are playing better for this staff."
Cris Carter:
"They got it right because of the head coach. When they hired a young, offensive-minded coach in Kansas City in Todd Haley, they got it right."
Tom Jackson:
"How did they win? Special teams, smoke and mirrors and defense, and I believe at some point that harms them. You have to have a quarterback that plays well in this league to get to the playoffs and go deep into the playoffs. At some point the QB has to play better."
Mike Ditka
: "Kansas City, they didn't make the schedule. They're not a mirage. They haven't used mirrors. They're 3-0. If they lose today, they're still up by one in their division. You better take them serious."
September, 27, 2010
9/27/10
6:54
PM ET
George Blanda was
Brett Favre
without the waffling.
Blanda, the quintessential old-school NFL player, played until he was a month shy of his 49th birthday as a kicker. He played quarterback well into his 40s. He won games quarterbacking and kicking on the same day and had a wonderful run in the 1970s for the Raiders.
Blanda, who played a staggering 26 years of professional football, died Monday at age 83.
One of the all-time ironmen in the history of sports, he was a close friend of Oakland owner Al Davis, who is two years younger than Blanda.
There will never be a player like Blanda in the NFL again. We're watching Favre hold on at age 40 now. Add eight more years and that was Blanda.
Blanda, who started playing in the NFL in 1949, joined the Raiders at the age of 38 and was an effective backup quarterback (who came in and saved the Raiders more than once) and kicker.
On ESPN's SportsCenter on Monday, Mike Ditka remembered his old friend as an all-time competitor who hated losing, even if it was "pitching pennies."
My one experience with Blanda certainly backs up that reputation.
In 2000, while I was covering the
Minnesota Vikings
, I contacted Blanda, who was 73 at the time. Vikings kicker Gary Anderson was just about to pass Blanda as the NFL's all-time leading scorer. When the record fell, the old record holder is often sought out to bring perspective. Usually, the old record holder is supportive of his record being broken.
Not old George. He wanted nothing to do with it. In fact, he was pretty salty about it. As Ditka said Monday, Blanda was ultra-competitive even well after his retirement. He hated to lose.