AFC West:

Mike Heimerdinger
July, 11, 2014
Jul 11
10:00
AM ET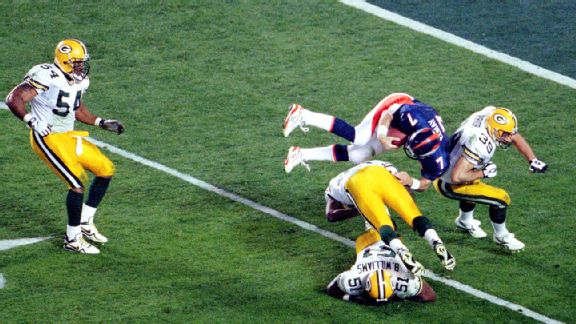 Photo by Kevin Reece/Getty Images
Score:
Broncos 31, Packers 24
Date:
Jan. 25, 1998
Site:
Qualcomm Stadium
We have a winner. The voters and I agree that The Helicopter is the
Denver Broncos
' most memorable play.
John Elway
played quarterback for 16 seasons for the Broncos, started five Super Bowls, and was the winningest starting quarterback in NFL history when he retired following the 1998 season. He went 148-82-1 with 47 game-winning or game-saving drives in the fourth quarter or overtime.
For many, he will always be the face of franchise, now as the team's top football decision-maker.

And if Elway says his put-it-all-on-the-line dive for a first down in the Super Bowl is the favorite play of his career, as he has stated on several occasions, it's probably worth a long look for any list, and it sits at the top of this one.
In terms of franchise context -- the context of Elway's career before the play and what the play meant on the game's biggest stage -- it is the most memorable play of all the plays the Broncos have run. It was Elway's fourth career Super Bowl start, his career was in the homestretch, and a Super Bowl ring had eluded him to that point.
The Broncos -- with a passionate fan base that has produced an ongoing streak of multiple decades worth of sold-out home games -- had done plenty through the years, but had not won a Super Bowl since the team's inception in 1960.
And with the title on the line and the game tied 17-17, Elway did what Elway had done so many times in so many situations; he turned trouble into football prosperity. But this time he hurled his then-37-year-old body at three Packers defenders to do it.
Tucked in the game's play-by-play, it reads simply as an 8-yard run for a third-quarter first down. But for the players on the field with Elway, those on the sideline, the coaches who saw it unfold, and thousands of the team's faithful who simply call it The Helicopter, it will always stand alone.
The late Mike Heimerdinger, the former Titans and Jets offensive coordinator who was a wide receivers coach in Denver at the time, once simply called it "probably the greatest thing I ever saw on a football field. You just knew when he started to run he was going to do it, and when he got up and went back to the huddle you just knew we were going to win that ring."
September, 26, 2013
9/26/13
12:30
PM ET
ENGLEWOOD, Colo. -- Talk to offensive playcallers in the NFL about the endless pursuit of points in the now pass-happy world and the number 500 will eventually come up.
Or at least it will come up after a short lecture about how statistics do not really tell the whole story after they have waded through a mountain of data to make a call sheet.
[+] Enlarge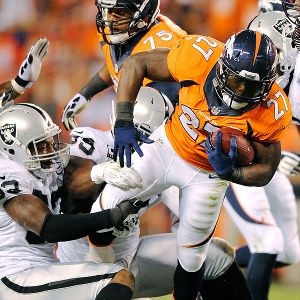 AP Photo/Jack DempseyThe Broncos will have to get Knowshon Moreno and the rest of their running backs more involved.
But 500 points in a season has routinely been the Holy Grail for those who draw up plays. Former
Denver Broncos
head coach Mike Shananan often spoke wistfully of his only 500-point team in Denver -- in 1998 -- which is still the only 500-point team in the franchise's history.
Which brings us to the current Broncos, who are on the staggering, albeit unrealistic, pace to be the league's first 600-point team. The Broncos, at 42.3 points per game, are averaging 10.3 more points per game than any other team in the league.
While it's only been three games and it is a small sample size, they are the only team that has already crossed the 100-point barrier. Quarterback
Peyton Manning
has thrown more touchdown passes (12) than 29 teams have scored overall.
As tight end
Julius Thomas
put it earlier this season, "That's Madden right there.''
Yet history shows the highest of the offensive high rollers have rarely found Super Bowl gold at the end of the rainbow.
It is a question I've put to more than a few offensive coordinators through the years: Why is the 500-point barrier considered to be the benchmark for an offense that isn't just good, but special, yet those offenses rarely power a champion?
The late Mike Heimerdinger, who was part of a 500-point offense in Denver as a wide receivers coach in 1998, one that did win the Super Bowl, simply put it "because at some point, no matter how good you are at throwing it, how good your [quarterback] is at spinning it, you're going to have to run the ball on somebody late in the year and if you lean too far one way, it's not going to be there when you need it.''
And there just might be something to that.
Of the 16 teams that have scored at least 500 points in a season since the 1970 AFL-NFL merger, only four went on to win the Super Bowl -- the 1999 Rams (526 points), the 2009 Saints (510 points), the 1994 49ers (505 points) and those '98 Broncos (501 points). Included in those impressive, sling-it-around teams that didn't get it done are the 16-0 Patriots of 2007 (589 points) and the 15-1 Vikings (556 points) in 1998.
But the '99 Rams scored 32.9 points per game as the Greatest Show on Turf, and they were fifth in the league in rushing (128.7 yards per game). The '09 Saints were sixth in the league in rushing (131.6 yards per game). The 1994 49ers were sixth in the league in rushing (118.6 yards per game). And the 1998 Broncos, with Hall of Famer
John Elway
at quarterback, were second in the league in rushing at 154.3 yards per game.
There are also two members of the 500-point club who went to a Super Bowl, but lost in the title game to a top five rushing attack. The '83 Redskins (541 points) were third in the league in rushing and the 2001 Rams (503 points) were fifth in the league in rushing.
The '07 Patriots were 13th in rushing; the '98 Vikings were 11th.
The only member of the 500-point club with a top-six rushing attack that didn't at least play in the Super Bowl were the 2011 Saints -- 510 points, sixth in the league in rushing and lost in the NFC divisional round. The 1999-2001 Rams teams, with Mike Martz calling plays, are worth a look, especially since Martz was a coaching mentor for current Broncos offensive coordinator Adam Gase; some of Martz's influence can be seen in the current Broncos' attack.
The 2000 Rams scored more they did in 1999 (540 points compared to 526), but were 17th in rushing and lost in the wild-card round. The '01 Rams crossed the 500-point barrier and got the rushing attack back in the top five, and that team played in the Super Bowl.
Now, the argument that there is still a place for running the ball smacks a little of remember-when grumpiness, even for the most elite of offenses.
If memory serves, last season's Super Bowl between the two teams that ran the ball the most in the postseason was decided on a goal-line stand because one of those teams elected not to pound the ball a distance of roughly six feet to go get the trophy. So, run to set up the pass, pass to set up the run. Whichever you choose, the run component is going to have to be there.
What does it mean? It means the Broncos will need a little more from the three-man rotation at running back than they're getting. Not much more -- they're 14th in rushing at the moment -- especially when things get squeaky tight down the stretch.
For his part, Manning has played in one 500-point offense previously in his career. The 2004 Colts, with three 1,000-yard receivers, rolled up 522 points on the way to a 12-4 finish. And with the league's 15th-ranked rushing attack, they lost in the divisional round a week after throttling the Broncos in the AFC wild-card game.
So, points are great, points are exciting and throwing the ball to do it all is what most people say they want. But even the most elite of offenses have had to get their hands dirty from time to time, at least if they want to wrap them around the trophy.
And so will the Broncos before 2013 is said and done.
June, 29, 2012
6/29/12
6:40
PM ET
NFL Commissioner Roger Goodell has let NFL teams know that the league is making process toward going to back Los Angeles,
according to the Los Angeles Times.
The Chargers and the Raiders are among the potential candidates to relocate to Los Angeles.
October, 15, 2011
10/15/11
1:45
PM ET
Denver leader
John Elway
was among
the many NFL types
to attend the funeral of Mike Heimerdinger in Nashville, Tenn., on Friday. Heimerdinger died of cancer Sept. 30. He had two stints as an assistant coach in Denver.
The San Diego Union Tribune
has an impressive player-by-player breakdown of the Chargers at their bye week.
Receiver
Keary Colbert
is enjoying a
career resurgence
with the Chiefs. He hasn't played in the NFL since 2008.
Mike Lombardi of the NFL Network
believes there is a"90 percent" chance Denver trades Pro Bowl receiver
Brandon Lloyd
by Tuesday's trading deadline. The Broncos are reportedly searching for a mid-round pick in return for Lloyd, who is in the final year of his contract.
October, 1, 2011
10/01/11
12:40
PM ET
It's a rough start to the NFL weekend.
The league is mourning the death
of Mike Heimerdinger after a fight with cancer that lasted nearly a year. He was 58.
Heimerdinger had key assistant-coaching roles with the Broncos, Jets and Titans. He had a long career in Denver and was on the team's staff as the receivers coach when it won back-to-back Super Bowls in the 1997 and '98 seasons. He was the assistant head coach in Denver in 2006 and 2007. He and former Denver coach Mike Shanahan were roommates at Eastern Illinois, and they were best friends as adults.
He was the Titans' offensive coordinator last year and he coached battling the disease.
Known simply as "Dinger" to nearly everyone, Heimerdinger was intelligent, hard-working and caring.
Former Denver receiving great Rod Smith routinely credits Heimerdinger for his development. They remained close.
I always enjoyed my time spent with Heimerdinger. He was always cordial and generous with his time.
Rest in peace, Dinger. My condolences go out to his family and friends.
Here's a statement the Broncos released Saturday:
The Denver Broncos are heartbroken to learn of Mike Heimerdinger's passing on Friday night following his courageous battle with cancer.

Mike coached for the Broncos during the most successful period in team history, highlighted by the club's back-to-back World Championship seasons of 1997-98. Known affectionately as Dinger, Mike earned respect and admiration from this franchise and around the NFL for his grit, passion and "never-give-up" attitude.

He remained close with several members of the organization following his final year with the Broncos in 2007, including some who visited him last week before the team's game in Tennessee.

The Broncos extend their deepest sympathies and prayers to Mike's wife, Kathie, and the rest of his family and friends during this most difficult time.
November, 25, 2010
11/25/10
6:40
PM ET
The AFC West-leading
Kansas City Chiefs
, 6-4, got good and bad news Thursday on the injury front as they prepare to play Sunday in Seattle.
Standout rookie tight end
Tony Moeaki
returned to full participation in practice Thursday after dealing with a head injury that kept him out of the Chiefs' win against the Cardinals on Sunday. If he doesn't have a setback, he should play at Seattle. It also looks like fellow rookie, receiver/running back/returner
Dexter McCluster
is on track to play Sunday. He practiced fully for the second straight day Thursday after missing four games with an ankle injury.
However, cornerback
Brandon Flowers
, who is having an outstanding season, didn't practice again Thursday because of a hamstring injury he suffered against Arizona. It might be difficult for him to play Sunday. Guard
Ryan Lilja
(foot) and tackle
Branden Albert
(groin) continued to be limited in practice Thursday.
In Oakland, Raiders' coach Tom Cable said star left cornerback
Nnamdi Asomugha
is
"90 percent"
and remains on track to play Sunday against Miami, as expected. He's missed two games with an ankle injury.
Denver linebacker
D.J. Williams
was limited in practice for the second straight day with a concussion suffered Monday night in San Diego. The team is hopeful he'll play against St. Louis. Linebacker
Robert Ayers
looks to be on track to play against St. Louis. He practiced fully Thursday for the second straight day after missing several weeks with a foot injury.
Some players in Pittsburgh
are not pleased
that Oakland defensive lineman
Richard Seymour
didn't get fined heavier for knocking down Steelers quarterback
Ben Roethlisberger
on Sunday. Seymour was fined $25,000.
It is not being received well
in Tennessee, either.
Former Denver assistant Mike Heimerdinger is
going to finish his work week
, remarkably, before starting treatment for cancer next week. He is the offensive coordinator in Tennessee.
It was a tough day for former Denver cornerback
Alphonso Smith
in Detroit's 21-point loss to New England on Thursday. Smith gave up three touchdowns and was benched in the Lions' loss. He has five interceptions this season. Denver traded its 2010 first-round pick (No. 14) to take Smith at No. 37 in 2009. Denver gave up on him and traded him to Detroit in September.
November, 24, 2010
11/24/10
9:10
PM ET
It looks like Kansas City rookie
Dexter McCluster
is on his way back to the field. The receiver/running back/returner practiced fully Wednesday for the first time in a month. McCluster missed the past four games with an ankle injury. If he doesn't have a setback, I'd expect him to play Sunday at Seattle.
However, standout Kansas City cornerback
Brandon Flowers
did not practice with a hamstring injury. He was hurt in the Chiefs' win over the Cardinals on Sunday. Safety
Jon McGraw
has been out for two weeks and he didn't practice Wednesday, either because of a head injury.
Left tackle
Branden Albert
(groin), guard
Ryan Lilja
(foot) and tight end
Tony Moeaki
(head) were limited Wednesday. Moeaki didn't play against Arizona.
Oakland coach Tom Cable indicated that star cornerback Nnamdi Asomugha is making progress toward playing Sunday against Miami. He's missed two games with an ankle injury. Cable also said that receiver Chaz Schilens is now dealing with a setback from an old foot injury. Schilens has been out all season with a knee injury. This kid is talented, but he just has to find his health.
For Denver, linebacker D.J. Williams was limited due to a concussion he suffered Monday night at San Diego. Linebacker Robert Ayers was practicing fully after missing several games with a foot injury. There is a good chance he will play Sunday against visiting St. Louis.
Tennessee offensive coordinator Mike Heimerdinger has cancer. He was previously Denver's offensive coordinator and receivers coach. Former Denver receiving great Rod Smith credits Heimerdinger for making him a quality NFL player. Heimerdinger and former Denver coach Mike Shanahan were college roommates at Eastern Illinois. Heimerdinger is a quality coach and a good man. Best wishes to him and his family.
April, 4, 2009
4/04/09
10:30
AM ET
Posted by ESPN.com's Bill Williamson
Jay Cutler discusses his new digs. He didn't take any shots at his former team in the process.
Meanwhile, here is a radio interview Denver coach Josh McDaniels had concerning the Cutler matter.
Meanwhile, Kyle Orton, acquired from Chicago in the Cutler trade, is already in Denver and he is ready to roll.
The Kansas City Chiefs are looking at defensive players prior to the draft and are considering moving down in the draft. This wouldn't be a bad move since the Chiefs, who have the No. 3 overall pick, need multiple players.
Former Denver backup quarterback Patrick Ramsey signed with Tennessee. He reunites with former Denver offensive coordinator Mike Heimerdinger.
This Oakland Tribune story ponders if Michael Vick would be a good fit for the Raiders as a backup quarterback.
April, 2, 2009
4/02/09
12:11
AM ET
Posted by ESPN.com's Bill Williamson
The Washington Post reported Wednesday night that the Redskins are actively pursuing Denver quarterback Jay Cutler.
I have long heard that Washington would be in on the Cutler sweepstakes. The Redskins are one of the most aggressive franchises in the NFL. There are several teams pushing for Cutler but the Redskins can end this chase quickly.
A name surfacing around the league is Washington cornerback Carlos Rogers. He could be part of a package that would land Cutler in Washington. Whatever the package, is it is going to be complicated and it could involve multiple teams.
A source close to the situation said Wednesday night teams joining Washington in the Cutler sweepstakes include Chicago, Tampa Bay and Tennessee. The Titans' interest would be fascinating since they already have Kerry Collins and Vince Young. There are connections, though. The team's offensive coordinator, Mike Heimerdinger, coached Cutler in Denver and Cutler played at Vanderbilt in Nashville. Cutler (who attended an UFC event in Tennessee on Wednesday night) is a local hero there.
Meanwhile, the Cutler and Denver camps continue to throw verbal jabs. The Cutler side said the Broncos haven't tried to get in touch with the QB in recent days as the team said. In the team's release Tuesday night, announcing that it will pursue trading Cutler, it said Denver officials had tried unsuccessfully to get in touch with Cutler in a 10-day span. No matter what the truth is, it doesn't matter. The two sides are getting divorced. It's over.
December, 31, 2008
12/31/08
6:44
PM ET
Posted by ESPN.com's Bill Williamson
It is being reported the Cleveland Browns are planning to talk to Mike Shanahan about their open position. Shanahan could be intrigued by the power that the Cleveland job would offer and the chance to work with young quarterback Brady Quinn. The word is Shanahan is as open to coaching in 2009 as he is intrigued by the idea of talking the season off.
In his press conference, Pat Bowlen said that Broncos' personnel staff is safe. The thinking of the organization at this point is to bring in a new coach and have him work with the current front office.
The team may keep passing game coordinator Jeremy Bates. If so, that could mean the team is leaning toward keeping a defensive-minded coach.
Here are some of the more interesting quotes from Bowlen and Shanahan's press conference in Denver Wednesday:
BOWLEN
On whether he has a role available for John Elway

"John Elway has lots of things to do and he's got a business life of his own and he is a very busy man, involved with the (Arena Football League) Crush. I haven't talked to John, and I don't have any idea if he has any interest."
On whether he has talked with any of the players and gotten their reactions

"I talked to (QB) Jay Cutler, and Jay understood the conversation. I talked to him this morning. I didn't get any negative feedback. I think he understands enough about the business of football, the game of football, that there are going to be coaching changes and changes in organizations. I didn't sense that Jay had any negative feelings about it, and I'm sure he is very interested in who is going to be the next head coach. Obviously, he is the man around here now, so I will be talking with Jay."
On how he would react if Shanahan got a job within the AFC West

"I wouldn't be too happy if it was Kansas City. But Mike will have a lot of opportunities to go to different teams. If I am consulted by one of those teams, I will give him the highest marks I can."
SHANAHAN

On what he thought Bowlen was going to talk to him about

"I wasn't really sure. Maybe lunch, my new restaurant that I have to promote that I'm not getting any cash for right now."
On what he is looking for in his next job

"Everything... and players. (Whatever) gives you the best chance to win. A person (owner) that wants to compete, a person that wants to win the championship as badly as you do. That would be No. 1. Ownership that wants to win just like you do and is willing to go to extremes to get that done."
On if he talked with QB Jay Cutler

"I did talk to Cutler this morning. He tried to get in contact with me last night, and I called him this morning."
On the importance of Denver keeping some of its offensive staff

"Whoever the head coach that comes in (is), if he doesn't see what the offense did both in the running game and the passing game and the youth, (he) would have to be crazy not to try to keep the people that made it happen."
On if he wants to coach in college or the NFL

"Yeah, I think I'm an NFL guy. I'm not ruling anything out because when you don't have any jobs, beggars cannot be choosers. I'll just kind of wait and see. I'll look at anything out there to be honest with you, but I do love the NFL."
On if he would be surprised with John Elway working in Denver

"I think it would be great. You know what John Elway means to Denver. If I was a free agent coming in and John Elway was there, I would sign for no money. So it all depends on what John wants to do. There is a lot of time involved and John has got a lot going on. But I think John would be perfect for any organization, especially this one, if that's what he wanted to do."
This is what former Denver coach Dan Reeves had to say about Shanahan's firing on SIRIUS NFL radio:
"First of all it's a shock. I had no idea that that would happen. I don't think anybody did. Gosh, I think Mike had three years left on his contract and he and [owner] Pat [Bowlen] seemed to have such a great relationship. I certainly didn't see that. I know that had to be a big disappointment, having a three-game lead with three games to go and to have that happen. It had to be disappointing for everybody. I was shocked. They have constantly been one of the top offensive teams in the National Football League since Mike has been there and their defense over the last six or eight years has really struggled. But, you know, when you're in charge of everything then certainly the brunt of the decision has to fall on your shoulders."