April, 30, 2013
4/30/13
10:00
AM ET

While anything can change, don't expect Mike Holmgren to join the Oakland Raiders' front office at this point.
Raiders owner Mark Davis a few months ago spoke with the former coach and executive
about a leadership role within the organization
. And while such a role could be revisited down the road, the word around the NFL is that the pairing likely won't happen. Davis has said he is looking for more leadership in the front office, and has considered hiring a business leader with the intent of helping the team secure a new stadium.
I don't think it's a bad thing if the Raiders don't bring Holmgren in. He is a football man, not a businessman. If he were brought in, it could undercut general manager Reggie McKenzie, and I don't think Holmgren would be interested in doing that. The two go back to their Green Bay days together in the 1990s.
Having someone like Holmgren in the building could put undue pressure on McKenzie and could create acrimony in the front office. The Raiders are rebuilding, and McKenzie needs to build the team his own way. Having Holmgren looming over him could potentially be counterproductive.
Davis wants to win, and he should be applauded for considering someone like Holmgren. But as this pairing seems unlikely, I think the Raiders can continue to focus on getting better under the guidance of McKenzie.
February, 26, 2013
2/26/13
10:05
PM ET
Following up on our report
on the Raiders talking to Mike Holmgren about a leadership role,
NFL.com noted
that the team could still hire former Madison Square Garden president Scott O'Neill in a business role.
If O'Neill is hired, trying to secure a new stadium would be a primary role. I believe that is on the table.
And it is clear that Holmgren would likely come in as an organizational leader, with football being the emphasis. After all, that is his area of expertise. If Holmgren -- who still wants to work and who wants to stay on the West Coast -- does join the Raiders, it will be interesting to see how that works with Raiders general manager Reggie McKenzie and coach Dennis Allen.
Both men's jobs would be safe, but Holmgren wouldn't join the team unless he had a major influence.
In other AFC West news:
Denver quarterback
Peyton Manning
and former Indianapolis teammate
Austin Collie
are
going on a trip to visit the troops
. Collie, a wide receiver is a free agent. Thus, Manning will have plenty of time to recruit one of his former favorite targets to Denver. The biggest question with Collie is his health. If he can pass physical, I expect Denver to seriously consider signing him.
ESPN.com columnist Jeffri Chadiha
thinks the Chiefs will score with a trade for
Alex Smith
. That possibility is looking more likely every day.
The Arizona Republic reports
that the Cardinals are also interested in dealing for Smith. I'd think the 49ers would rather send Smith to the AFC instead of keeping him in the division if everything else was equal.
February, 26, 2013
2/26/13
6:35
PM ET
The
Oakland Raiders
have been looking for a new leader for the organization for months, and their conversations with Mike Holmgren indicate the team is serious about trying to get better in all facets of the organization.
John Clayton and I are reporting
Raiders owner Mark Davis is considering hiring Holmgren to lead the organization as a whole. Holmgren has been to the Raiders' facilities. At this point, he is considered a candidate for a position.
Holmgren is currently in Europe. There isn't a timeline for the hire. NFL executive Ray Anderson and former Madison Square Garden president Scott O'Neal have been linked to a leadership role in Oakland.
Securing a new stadium is a major goal for the Raiders, and a new leader is expected to be a big part of pursuing that.
[+] Enlarge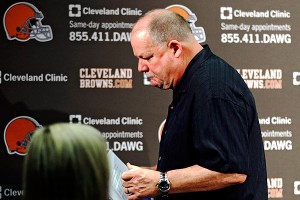 AP Photo/Mark DuncanMike Holmgren, who considered a return to coaching this offseason, is a candidate for a leadership role with the Raiders.
If Holmgren joins the team, he'd certainly have a role on the football side because that is his background. Holmgren, a former head coach in Green Bay and Seattle, was the team president in Cleveland from 2010 to '12. He left the Browns late last year after an ownership change.
The Browns weren't a winner under Holmgren's watch, but he did help get the team's finances together and the team drafted well the past two years under his leadership.
Holmgren, 64, is from San Francisco and wants to be on the West Coast. He said he was open to coaching this year, but he didn't get any looks from the eight teams looking for a coach. If Holmgren heads to Oakland, the entire team would be under his umbrella. It would create an interesting dynamic on the football side.
The team hired Reggie McKenzie (who was in Green Bay with Holmgren) last year to be the general manager. He is in charge of the football operations. I'm sure Holmgren and McKenzie would work well together, but there's no doubt there would be another football mind in the building. That is undeniable. So a power structure would have to be established. I don't see Holmgren joining a team with which he wouldn't have a powerful role.
Also, the addition of Holmgren could hover over coach Dennis Allen. Holmgren is on the record as saying he'd coach again. What if Oakland, which went 4-12 last season, starts slowly again? Would Holmgren consider naming himself coach? That looming possibility could be uncomfortable for Allen.
There are a lot of reasons to like this potential partnership. Holmgren has a great NFL track record and has won before. But there would be plenty of new questions if he joins the team as well.
January, 9, 2013
1/09/13
7:30
PM ET
Now, that the
San Diego Chargers
have hired former Indianapolis executive Tom Telesco to take over as general manager, the search is fully focused on finding the team's new head coach.
The plan is to make a hire by the end of next week. The Chargers, who fired general manager A.J. Smith and coach Norv Turner on Dec. 31, have started the coaching search, but Telesco takes over.
There have been several names connected to the job including former Chicago coach Lovie Smith, Indianapolis offensive coordinator Bruce Arians, UCLA coach Jim Mora and former Seattle and Green Bay coach Mike Holmgren.
I think Smith and Arians may be the favorites of that group, although anything could happen.
Two more names could be part of the team's list as well. Cincinnati offensive coordinator Jay Gruden could interest the team. Telesco played at John Carroll University with San Francisco offensive coordinator Greg Roman. Cincinnati defensive coordinator Mike Zimmer could also be part of the process.
While the Chargers' immediate ends are on offense, Telesco has worked in programs that have been led by both offensive and defensive-minded head coach.
Arians has long been considered a favorite for this job. the fact that he and Telesco were key parts of the team's wonderful turnaround likely won't hurt his chances. But I'm not sure if it increases the chances of Arians being hired because I think Telesco will be open minded.
Telesco is also connected to Smith in a round-about way. Telesco was with the Colts when Tony Dungy coached there. Smith is part of Dungy's coaching tree. Overall, I think everything is one the table for San Diego as it fully concentrating on replacing Turner now that Telesco is in place.
UPDATE:
ESPN's Adam Schefter reports Arians will tentively is set to interview with the Chargers on Monday.
January, 6, 2013
1/06/13
2:30
PM ET
Well, six days into the
San Diego Chargers
' coaching search and we have our most intriguing name: Mike Holmgren.
CBS Sports is reporting that the Chargers
could talk to Holmgren
.
That would be quite the pursuit.
It makes sense in some areas because Holmgren is an offensive mind, he'd likely be intrigued to coach quarterback
Philip Rivers
and he is from the West Coast. Ron Wolf is consulting the Chargers during their general manager and coach search. Holmgren and Wolf won a Super Bowl together in Green Bay.
But the Chargers want to continue with a more traditional power structure where the coach reports to the general manager and the team is near the end of its general manager search. Would Holmgren, 64, listen to a young general manager? Would he want to be part of that structure?
Perhaps he'd simply be interested in coaching and be happy with the Charges' setup. If that is the case, he would certainly be an interesting candidate.
Other candidates are expected to be former Chicago coach Lovie Smith, Colts offensive coordinator Bruce Arians and UCLA coach Jim Mora.
January, 1, 2013
1/01/13
2:05
PM ET
Mike Holmgren
is open to returning to coaching
and rumors continue to swirl around Jon Gruden.
They are two of the biggest names who could be available this offseason for the seven teams looking for a coach. Could the two men be in play for the
Kansas City Chiefs
and the
San Diego Chargers
?
Both former Super Bowl winning-coaches are offensive minded and I think that is what the Chiefs and Chargers are looking for. I see the Chiefs as a better fit for Holmgren and the Chargers would be a better fit for Gruden.
I think the Chiefs are open to the idea of bringing in a high-profile coach. And the Chiefs are open to any new leadership structure with general manager Scott Pioli being evaluated and not guaranteed of being retained.
The issue with Holmgren is he is 64 and he has a history of not staying in a position for the long haul. The Chiefs may not be a quick fix with a question mark at quarterback and a young roster. They will need someone interested in putting down roots. I don't know if Holmgren is that guy.
Gruden -- an analyst on ESPN's "Monday Night Football -- has maintained he is not interested in returning to coaching. However, every offseason, there is speculation Gruden could consider a return. The Bears and Chargers have been mentioned as possibilities for Gruden because they have established quarterbacks in
Jay Cutler
and
Philip Rivers
, respectively.
I could see Gruden and Rivers working well together. Gruden would have to be agreeable to working with a general manager because San Diego ownership likes to operate with that structure. Such an arrangement has not been a problem for Gruden in the past.
These pairings are far from being in play but there are reasons to think they could make sense for both the Chiefs and the Chargers.
October, 31, 2012
10/31/12
4:00
PM ET
Midweek mail call:
John Gallagher from Encinitas, Calif., wants to know
if the Chargers could hire Mike Holmgren to replace Norv Turner.
Bill Williamson:
If they did, he'd probably come after the team fired both Turner and general manager A.J. Smith, which is possible if the Chargers completely fall apart. Holmgren has said he is open to coaching again. He is an offensive guru and he could re-energize
Philip Rivers
. But he is 64 and he'd be expensive. It could be a hard sell for ownership.
---
Mike O'Connell from San Diego wants to know
if the Raiders could trade
Jacoby Ford
.
BW:
I don't see that happening. Ford is out until next year with a foot injury. I don't see the trade market being very hot. But I do think Ford can help the Raiders as a slot receiver and as a returner. If he can stay healthy, he is a dangerous player. I think the Raiders look forward to giving him that chance next year.
---
John from Fort Collins, Colo., wants to know
if
Michael Vick
could be the Chiefs' next quarterback.
BW:
I don't see that happening. I think the Chiefs will first look at the draft for their next quarterback. Plus, if Vick is available it will be because he failed in Philadelphia. The Chiefs need to find an answer at the position. Trying to catch fire with a flawed and aging Vick probably is not the way the Chiefs should go.
January, 31, 2012
1/31/12
3:30
PM ET
Maybe the Green Bay Way will prevail in Oakland after all.

When the
Oakland Raiders
hired longtime Green Bay executive Reggie McKenzie to take over as general manager this month, it was expected that they would become the East Bay Packers. But McKenzie changed that perception quickly when he bypassed several former Green Bay cohorts in favor of Denver defensive coordinator Dennis Allen.
Yet,
in comments made to the San Francisco Chronicle on Monday
after Allen's introductory news conference, McKenzie showed that he, indeed, will build his team from the Green Bay model.
During and after the news conference, McKenzie talked about how important it is for the general manager and the coach to work together. McKenzie said he and Allen will be a team. During his time in Green Bay, McKenzie watched similar partnerships.
"Fortunately, I come from a situation in my 18 years where most of those years that's where we excelled. You know, when coach Holmgren and Ron Wolf, watching them work together, and then piecing it together how we did that… and they were always in communication. They were always in each other's office. And I saw how it's supposed to be done.
"Up until the end, with coach McCarthy and Ted Thompson, how their relationship was. It was never things forced on the other. And it was always the right hand knew what the left hand was doing. They were in communication. And I think that's vital."
McKenzie is a bright guy. He saw how important the relationship with the coach is for someone in his role. It has produced championships in Green Bay, and McKenzie is clearly looking to duplicate it with his own partnership, even though Allen doesn't have Green Bay ties.
December, 12, 2011
12/12/11
12:03
PM ET
Todd Haley's firing
from the
Kansas City Chiefs
pushes
St. Louis Rams
offensive coordinator Josh McDaniels into the spotlight as a potential replacement.
Last offseason, the Rams lost coordinator Pat Shurmur to Cleveland largely because Browns president Mike Holmgren knew and trusted Shurmur.
McDaniels' strong ties to Chiefs general manager Scott Pioli make him a person to watch even though the Rams' offense has averaged fewer than one touchdown per game.
The Chiefs named no replacement for Haley in announcing the firing. McDaniels is in Seattle for the Rams' Monday night game against the Seahawks. He worked with Pioli in New England. McDaniels was the
New England Patriots
' offensive coordinator and quarterbacks coach when the team went 10-5 with current Chiefs quarterback
Matt Cassel
in the lineup.
The fact that two people worked together in the past doesn't necessarily make them a match. But if the Chiefs wanted to stick with Cassel, McDaniels could make sense for them.
March, 14, 2010
3/14/10
7:30
PM ET
My reaction to the Denver Broncos' decision to trade for
Brady Quinn
?
Why not?

Quinn

Orton
It's worth taking a chance on this former No. 1 pick. Denver did not give up much for Quinn, swapping backup running back
Peyton Hillis
, a sixth-round pick in 2011 and a conditional 2012 pick for Quinn.
That's not a whole lot for a former first-round pick who is just 25 years old. Quinn may be heading toward bust status, but he has not been officially written off as a wasted prospect.
Denver coach Josh McDaniels has a great reputation for working with quarterbacks. Quinn fits McDaniels' system. McDaniels made
Matt Cassel
a strong player in New England in 2008 and
Kyle Orton
performed well much of last season under McDaniels.
Maybe McDaniels can help Quinn reach his potential. Quinn will likely be very comfortable with McDaniels coaching him. Quinn played for Charlie Weis at Notre Dame. McDaniels is a Weis protégée.
Denver considered making a run at Quinn last year. The price tag would have been much higher. Denver got Quinn at a bargain basement price Sunday because Cleveland washed its hands of him. Quinn was 2-7 as Cleveland's starter last year. He was mistake prone.
It does say something that new Cleveland head honcho Mike Holmgren had no interest in keeping Quinn. Holmgren knows his way around a quarterback room.
Still, McDaniels sees something in Quinn and he didn't overspend to get him. It is worth it. If Quinn is the same bumbling player in practice in Denver as he was in games in Cleveland, it will go down as a low-cost mistake.
Orton will likely go into the 2010 season as the starter, but Quinn will be given the chance to compete with him and make his case to be the long-term quarterback. At the very least, Quinn appears to be an upgrade at backup quarterback over
Chris Simms
, who was atrocious last year when he had to play for an injured Orton.
Orton will surely feel more heat from Quinn this summer than he did from Simms last year. Denver brought in Quinn to see if he can become a solid starter at some point. Orton has to know it. Simms was never a threat.
It will be interesting to see if Orton shows up for Denver's offseason conditioning program that starts Monday. Orton is a restricted free agent (he was given the first-round tender) and most restricted free agents aren't expected to report to the offseason programs because they won't sign their tenders until the summer. Perhaps Orton will feel the need to show up.
Or perhaps he will stay away as a form of protest.
I don't expect Quinn to be ready to beat out Orton right away. It may take McDaniels some time to help Quinn erase his past on-field demons. But if Quinn has a good training camp and a better preseason than Orton, Denver might want to give him a chance to become the long-term answer at quarterback.
Quinn's arrival in Denver may mean the Broncos won't draft a quarterback early and go with a trio of Orton, Quinn and 2009 sixth-round pick
Tom Brandstater
in 2010.
In short, this move gives Denver options and it gives it a chance to resurrect the career of a player who was considered a top-flight prospect just three years ago.
At the price, it was a worthy trade.
March, 25, 2009
3/25/09
2:56
PM ET
Posted by ESPN.com's Bill Williamson
DANA POINT, Calif. -- It's so strange not seeing the familiar faces of the NFL this week.
Where are Mike Shanahan, Mike Holmgren and Jon Gruden?
We're still getting used to not seeing Bill Cowher at the annual NFL owners' meeting, and now we must face the fact that three other Super Bowl winning coaches are no longer in the league.
Weird.
Shanahan and Gruden were both unexpectedly fired after the 2008 season. Holmgren went into retirement, although the expectation has been he will return as soon as next season as a coach or executive.
The league's trend toward younger coaches has been a story line at the meeting this week, and there have been several fresh faces walking the hotel corridors. Josh McDaniels and Raheem Morris are both 32. McDaniels replaced Shanahan in Denver and Morris took over for Gruden in Tampa Bay.
The league constantly changes, but it still takes time getting used to the absence of legends. Shanahan had been at every meeting since 1995. Holmgren went even further back, dating back to 1992. Gruden has been around since 1998.
They all could be back, some as soon as next year. Shanahan has made it clear he will return. He almost certainly will be a hot ticket next January -- as will Cowher, Holmgren and Gruden. Maybe the meeting won't be so unfamiliar next year.
February, 13, 2009
2/13/09
11:00
AM ET
Posted by ESPN.com's Bill Williamson
Now that every NFL team has a head coach (all of the jobs were filled when Oakland and Kansas City made hires last week), barring an unforeseen bombshell, Mike Shanahan will be taking the 2009 season off.
| | |
| --- | --- |
| | |
| | Rick Stewart/Getty Images |
| | Mike Shanahan will likely be a hot coaching candidate following the 2009 season. |
It will be Shanahan's first season away from being a head coach in the NFL since he was hired by the Denver Broncos in 1995. Denver unexpectedly fired Shanahan on Dec. 30 after 14 seasons with the team.
Shanahan said shortly after he was fired that he will definitely coach in the NFL again, and that he would require a special situation to coach in 2009. Several teams poked around Shanahan, but he opted to wait for an ideal situation.
He will now be part of an all-star cast of Super Bowl-winning coaches who could come back to the league in 2010. The others are Bill Cowher, Mike Holmgren and Jon Gruden. Shanahan will be as sought after as any of the coaches because of his pedigree, his offensive resume and his ability to lead a franchise.
Here is a look, alphabetically, at some of the potential fits for the former longtime Denver czar after the 2009 season:
Why: If the Bengals struggle again, coach Marvin Lewis will likely be in real trouble. The Bengals have a good passing game and Shanahan would have an instant centerpiece in quarterback Carson Palmer. Just like in Denver, Shanahan's biggest issue would be defense.
Stumbling block: Hiring a big-name, big-dollar coach such as Shanahan would be way out of character for the Bengals and Shanahan would likely have sexier options.
Chances: Not high.