September, 1, 2012
9/01/12
2:10
PM ET
The
Denver Broncos
have announced seven members of their practice squad. They have one more move to make.
The list is highlighted by defensive tackle
Ben Garland
. The Air Force product is a team favorite and he has a chance to develop. Also on the Denver practice squad are safety
Duke Ihenacho
, tight end
Cornelius Ingram
, running back
Jeremiah Johnson
, receiver
Greg Orton
, nose tackle
Sealver Siliga
and guard
Wayne Tribue
.
In other AFC West notes:
It's interesting that Oakland has kept punter
Marquette King
. He was put on injured reserve with a toe injury. If star punter
Shane Lechler
leaves after the season as a free agent, perhaps King can be groomed. King is not NFL ready, but he has a live leg and he has potential.
The Chiefs reportedly are considering signing quarterback
Mike Kafka
, who was cut by the Eagles on Saturday.
April, 18, 2011
4/18/11
1:50
PM ET
Kansas City Chiefs
running back
Jamaal Charles
might have not made it past the quarterfinals of the chase to be the "Madden 12" cover man. However, there still is an AFC West connection.
In a stunning upset,
Cleveland running back
Peyton Hillis
beat Super Bowl MVP
Aaron Rodgers
in the semifinals in the SportsNation poll that will result in the winner being on the next Madden cover. Hillis will face Philadelphia's
Michael Vick
in the final.
Hillis is a former Denver running back. The Broncos drafted him out of Arkansas in the seventh round in 2008, and he had success as a rookie. However, he was buried by first-year Denver coach Josh McDaniels in 2009 and then traded to the Browns last year in package that brought No. 3 quarterback
Brady Quinn
. Hillis had instant success in Cleveland, rushing for 1,177 yards.
Hillis was immensely popular in Denver and many fans were upset he was traded. His trade was considered one of McDaniels' biggest mistakes in his 23-month stay in Denver.
Here are some other AFC West-relate nuggets Monday afternoon:
The Chiefs and Raiders
are being connected
to Eastern Washington running back Taiwan Jones. The speedster has become a hot draft name to watch since he ran a 4.3 40-yard dash last week.
It's being reported
that the Eagles could trade third-string quarterback
Mike Kafka
. The Raiders showed interest in him prior to last year's draft when the Eagles took him in the fourth round.
The Kansas City Star
reasons that the Chiefs might go for offense in the draft.
Abilene Christian receiver Edmond Gates
is reportedly visiting the Broncos.
The speedster will likely be a mid-round pick.
April, 24, 2010
4/24/10
12:10
PM ET
The
Oakland Raiders
are trying to replicate their fourth-round magic from 2009.
It looks like they are off to a good start. Oakland, which has wheeled-and-dealed in the lower portion of this draft, has scored with two fine value picks in the fourth round.
It took Maryland tackle
Bruce Campbell
and Clemson receiver
Jacoby Ford
in the fourth round. Oakland traded a fifth-round pick and linebacker
Kirk Morrison
to Jacksonville for the chance to take Ford.
Both Campbell and Ford were combine stars. Ford was the fastest receiver at the combine. He should have a role as a situational receiver and as a returner in Oakland.
Many league observers thought Oakland would take Campbell very high because of his outstanding combine and because he filled a big need. However, because of his rawness and shaky game film, many league observers thought he was taken at the right place. Along with third-round pick Jared Veldheer, Oakland has two good tackle prospects to develop.
I really like that Oakland took Campbell and Ford. They have a chance to be solid contributors in a couple of years. Last year, Oakland scored in the fourth round with receiver
Louis Murphy
and defensive end
Matt Shaughnessy
.
The Raiders liked Northwestern quarterback Mike Kafka. However, he was taken by Philadelphia in the fourth round. Oakland could look at other quarterbacks
Jonathan Crompton
and
Dan LeFevour
.
April, 23, 2010
4/23/10
10:07
PM ET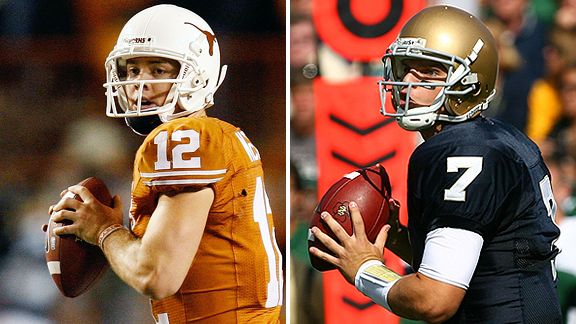 Getty ImagesThe Oakland Raiders had the opportunity to draft quarterbacks Colt McCoy and Jimmy Clausen, but passed on both.
Keep getting in shape,
JaMarcus Russell
. It appears you will be getting another chance.
Unless
Jason Campbell
ends up in Oakland -- and is he really a long-term answer? -- it appears the Raiders are comfortable moving ahead with their current group of quarterbacks for the time being.
To me, the lack of attention the Raiders gave two big-time quarterback prospects Friday night is the story of the second and third rounds in the AFC West.
The Raiders saw both
Jimmy Clausen
and
Colt McCoy
fall into their laps. And they swatted the two youngsters away, ignoring a huge issue. The Raiders have other needs and it wouldn't have bothered me if they entered the draft with the idea of not taking a quarterback early.
But when two potential starters like Clausen and McCoy fall, you have to adjust. Oakland didn't.
The Raiders did a terrific job of landing star-in-waiting middle linebacker
Rolando McClain
at No. 8 on Thursday night. They then traded down from No. 39 to No. 42 to No. 44 in the second round to compile a couple of late-round choices. The Raiders took Texas defensive tackle
Lamarr Houston
at No. 44. No complaints. He is a run-stuffer and he fills a need. He'll team nicely with McClain as Oakland tries to stop being a sieve against the run.
But Clausen was sitting there at No. 44. It could have been a nice gift for Oakland to take the Notre Dame product, who appears to be pro-ready. He went later in the second round to Carolina.
In the third round, Oakland addressed its biggest need with tackle Jared Veldheer from tiny Hillsdale College. He is an interesting prospect. He could be good, but he is not going to help right away.
A play for McCoy at No. 69 could have been worth the risk.
Yes, I get that McCoy is small and he doesn't have a cannon arm. But guess what? That's exactly the book on
Bruce Gradkowski
, who is currently Oakland's most exciting option.
I know Al Davis loves rocket-armed quarterbacks, but that's what got him this mess with Russell. Winning quarterbacks don't have to have big arms.
The Raiders need to do something. Why didn't they take a shot at Clausen or McCoy? Both players would have been freebies because they weren't expected to be on the board.
Oakland looked into quarterbacks this offseason. They have been linked to
Donovan McNabb
,
Ben Roethlisberger
, Campbell and even
Sage Rosenfels
. Perhaps Oakland will make a play for Campbell, whether he is traded for a late draft pick or if he is released by Washington. But he doesn't create excitement for the future.
You can't blame Oakland for looking. Russell has been a disaster. Gradkowski is a short-term answer at best.
Charlie Frye
and
Kyle Boller
don't exactly stir confidence either.
As of now, it looks like Oakland will actually go to camp with Russell and Gradkowski fighting for the starting job. The Raiders are ready to give Russell one more chance. We all know what is going to happen. Gradkowski will outplay Russell in the preseason and the offense will perform better with Gradkowski than Russell, as was the case last year. Russell will prove he is a failure and the Raiders will have to look for a franchise quarterback in next year's draft. By the way, the Raiders don't have a first-round pick in next year's draft.
They could have given themselves a crack at one this year for a cheap price in the form of Clausen or McCoy, who went late in the third round to Cleveland.
Oakland could very well take a quarterback with one of its six picks in the final four rounds. The team likes players such as Mike Kafka of Northwestern and
Jonathan Crompton
of Tennessee. Both are long-term projects.
There are no easy answers. That's why Clausen and McCoy should have been looked at.
April, 22, 2010
4/22/10
11:00
AM ET
In the third of our four-team mock draft, here's a look at the Oakland Raiders:

The massive Thomas fills a big need on the defensive line and the Raiders may have to hope Gilyard falls to them in the third round. Kafka is a player the Raiders have been quietly targeting.
April, 16, 2010
4/16/10
1:00
PM ET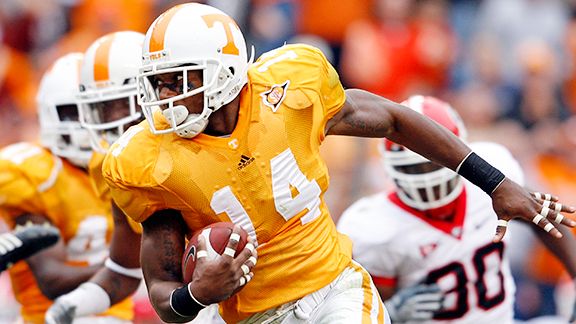 Andy Lyons/Getty ImagesThe draft could take a turn toward the unexpected at No. 5, where the Chiefs may take Eric Berry.
There are several juicy AFC West story lines to watch for as the draft unfolds April 22-24. Let's examine some of the more intriguing questions:
Will the draft change at No. 5?
There are expectations that the drama of the draft will begin when Kansas City picks at No. 5. With
Sam Bradford
,
Ndamukong Suh
,
Gerald McCoy
and
Russell Okung
expected to be the first four picks; the Chiefs represent the first question mark. Kansas City could take safety
Eric Berry
or a tackle such as
Bryan Bulaga
,
Trent Williams
or
Anthony Davis
. A trade down is also possible assuming Okung is off the board. No matter what the choice is, it will be fun when Kansas City is on the clock.
What will the Chargers do?
There will be almost as much drama when the Chargers' turn arrives. I expect them to be big draft-day players. They have the No. 28 and No. 40 picks. San Diego has big needs at nose tackle and running back. There are several solid running backs available and the Chargers will likely make one of them their new primary tailback. It will be interesting to see if the Chargers take a nose tackle or a running back first. They could also trade up (San Diego has two third-round picks in 2011 to use as bait) in the first round and get a premier player at either position. No matter what happens, expect San Diego general manager A.J. Smith to be in wheeling-and-dealing mode.
[+] Enlarge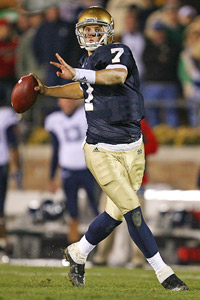 Jonathan Daniel/Getty ImagesCould new offensive coordinator Charlie Weis and quarterback Jimmy Clausen be reunited in Kansas City?
Will the Chiefs look at a Golden Domer?
Kansas City has hired former Notre Dame coach Charlie Weis to be the offensive coordinator. Could he talk the Chiefs into taking quarterback
Jimmy Clausen
at No. 5 or receiver
Golden Tate
with one of the team's second-round picks? The Clausen selection would be stunning, considering Kansas City paid
Matt Cassel
so much money last summer. However, if Tate is available at No. 36, Kansas City may jump on him. He would fill a big need and he would have advantage because he knows the offense so well.
Will Bryant replace Marshall in Denver?
The Broncos visited with Oklahoma State standout receiver
Dez Bryant
this week. Now that
Brandon Marshall
has been traded, Bryant could be the team's choice at No. 11. Bryant is very talented, but the Broncos would be adding a new set off off-field issues after trading Marshall. This would be a big story if he ends up in Denver. The Broncos could trade down from No. 11 and still get Bryant, who could tumble because of his issues.
Will Mt. Cody rise in the AFC West?
The Broncos, Chargers and the Chiefs have all shown interest in
Terrence Cody
, the huge nose tackle from Alabama. He is considered a prototype 3-4 nose tackle, and all three of those teams use that scheme. San Diego has the most pressing need for a nose tackle of the three. It wouldn't be a shock if the Chargers used the No. 28 pick on Cody. The Chiefs could potentially look at him in the second round, and -- if he lasts -- so could Denver. Fellow defensive tackles
Brian Price
and
Dan Williams
could attract interest from AFC West teams. However, Williams may be taken in the first 15 picks.
Will the Raiders address their quarterback needs?
The Raiders are clearly looking to upgrade their quarterback situation this offseason. It could happen in the draft. Clausen has been linked to Oakland with the No. 8 pick. But he does not have the huge arm coveted by Oakland owner Al Davis.
Tim Tebow
has talked to the Raiders. He'd likely require a second-round pick. Oakland has worked out Northwestern quarterback
Mike Kafka
, a likely mid-round pick. It would not be a surprise at all if Oakland drafts a quarterback to develop.
Will there be veteran trades?
The Marshall trade may not stop the veteran action in the division, Denver is also shopping tight end
Tony Scheffler
. He could be had for a mid-round pick. There is also the possibility Oakland could pursue Washington quarterback
Jason Campbell
on draft day. Campbell could likely be acquired for a mid-round pick and Oakland has reportedly shown interest. Baltimore tackle
Jared Gaither
is reportedly on the block. Both Oakland and Kansas City could add a tackle. Gaither would likely cost a second-round pick. There is also the possibility of San Diego acquiring a veteran running back such as
Marshawn Lynch
or
Marion Barber
if they become available. Still, the odds are San Diego looks to the rookie class for its new tailback.
[+] Enlarge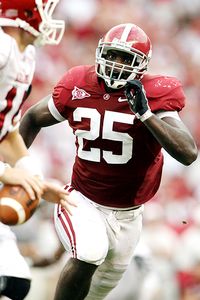 Marvin Gentry/US PresswireThe Raiders may have their eyes on Alabama's Rolando McClain.
Will the Raiders go defense first?
The Raiders' greatest need is at left tackle. But it wouldn't be a stunner if the Raiders used the No. 8 pick on a defensive player. The Raiders are said to have been snooping around Alabama middle linebacker
Rolando McClain
(who Denver could take at No. 11). Florida cornerback
Joe Haden
said he has received a lot of interest from Oakland. A Haden-
Nnamdi Asomugha
cornerback combination would be intriguing for the next few years.
Will the Tebow project continue in the AFC West?
Tebow visited with Denver this week. The Broncos have two picks in the second round and could pull the trigger on the project then. Tebow has met with Oakland officials. It would be wild to see the pristine Tebow in the Silver and Black. He wouldn't be ready to contribute right away, but he could be an interesting project. While I don't think the Chargers would address a quarterback before the third round, Tebow could be a possibility if he fell. The Chargers need to develop a young quarterback and Norv Turner can do wonders with quarterback prospects. It would be an interesting pairing.
Will the Raiders add a receiver?
The Raiders have studied the likes of Bryant, Tate and
Mardy Gilyard
. It's not out of the question that the Raiders will look at receivers early in the draft. It would be intriguing. The Raiders have a lot of young, promising players at the position. What they need is a veteran presence. If a top receiver is taken in Oakland, what does it mean for the development of existing youngsters
Chaz Schilens
,
Darrius Heyward-Bey
and
Louis Murphy
?
Will Toby Gerhart pound his way through the AFC West?
The rough-and-tumble Stanford tailback is on the radar in San Diego and in Denver. The Chargers make more sense because they have more of a pressing need. However, the Broncos also like the Heisman Trophy runner-up. The Broncos need a big back. I could see Gerhart, who is rising up draft boards, ending up in this division.
Will the Broncos find their new center?
If the season started today, the Broncos would not have a starting center. They are looking for one in the draft. The Broncos love Florida's
Maurkice Pouncey
. But taking him at No. 11 may be too high. The Broncos may have to move -- possibly up, perhaps down -- to get Pouncey. He is on their wish list, though. Boston College's Mark Tennant and Baylor's
J.D. Walton
are other possibilities.
April, 9, 2010
4/09/10
7:45
PM ET
The Washington Post is reporting
that replaced Redskins starting quarterback Jason Campbell is about to sign his restricted free agent tender. That could expedite a trade out of Washington. It was reported earlier this week the Raiders are interested in Campbell.
It doesn't appear
the Raiders had a scouting contingent at Jimmy Clausen's Pro Day on Friday. ESPN's Mel Kiper believes he will be the team's pick at No. 8. The lack of an Oakland presence doesn't necessarily mean much, but if the Raiders were seriously considering him, they'd probably take a close look at Clausen at some point.
It is being reported
Oakland is looking at Northwestern quarterback Mike Kafka. He is expected to be a mid-round pick. There's no doubt Oakland is hoping to add a quarterback somehow this offseason.
In a radio interview
, Kansas City quarterback Matt Cassel talks about the differences between his second and his first offseason in Kansas City.