May, 31, 2013
May 31
2:30
PM ET
One of the most impactful coaches in AFC West history is Marty Schottenheimer
Schottenheimer was a commanding, successful head coach in both Kansas City and San Diego. He turned both franchises into winners.
Fair or not, Schottenheimer is famous for his team's failures in the postseason. Often dominant in the regular season, Schottenheimer teams were 5-13 in the playoffs. While Schottenheimer never won big when it counted, some of his protégés have.
Schottenheimer is famous for his coaching tree.
It is one of the most impressive in NFL history. Two of his former assistants, Bill Cowher and Mike McCarthy have won Super Bowls as a head coach.
Schottenheimer also affected several other coaching careers. So, while he never won the big game, Schottenheimer's NFL impact is undeniable.
January, 31, 2012
1/31/12
3:30
PM ET
Maybe the Green Bay Way will prevail in Oakland after all.

When the
Oakland Raiders
hired longtime Green Bay executive Reggie McKenzie to take over as general manager this month, it was expected that they would become the East Bay Packers. But McKenzie changed that perception quickly when he bypassed several former Green Bay cohorts in favor of Denver defensive coordinator Dennis Allen.
Yet,
in comments made to the San Francisco Chronicle on Monday
after Allen's introductory news conference, McKenzie showed that he, indeed, will build his team from the Green Bay model.
During and after the news conference, McKenzie talked about how important it is for the general manager and the coach to work together. McKenzie said he and Allen will be a team. During his time in Green Bay, McKenzie watched similar partnerships.
"Fortunately, I come from a situation in my 18 years where most of those years that's where we excelled. You know, when coach Holmgren and Ron Wolf, watching them work together, and then piecing it together how we did that… and they were always in communication. They were always in each other's office. And I saw how it's supposed to be done.
"Up until the end, with coach McCarthy and Ted Thompson, how their relationship was. It was never things forced on the other. And it was always the right hand knew what the left hand was doing. They were in communication. And I think that's vital."
McKenzie is a bright guy. He saw how important the relationship with the coach is for someone in his role. It has produced championships in Green Bay, and McKenzie is clearly looking to duplicate it with his own partnership, even though Allen doesn't have Green Bay ties.
March, 18, 2011
3/18/11
12:00
PM ET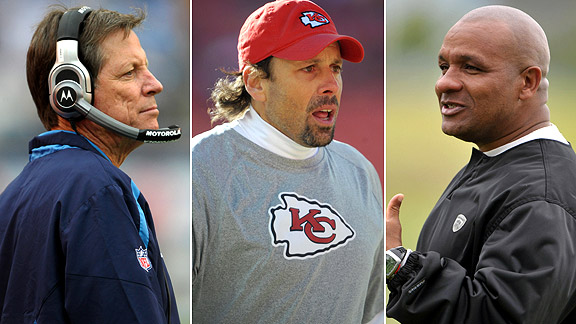 Kirby Lee/Image of Sport/US PresswireNorv Turner, left, Todd Haley, middle, and Hue Jackson are all expected to be in the play-calling mix.
New
Oakland Raiders
coach Hue Jackson realizes the most challenging aspect of his role as a first-time head coach at any level is finding the time to do everything it takes to run a team.
"It's amazing. You just don't have any time," said Jackson, who joked at the NFL combine last month that the biggest sacrifice since becoming a head coach is his physical fitness. "You look up, and you want to go work out and you don't have the time to do it."
Jackson is not doing his schedule any favors. In addition to all of the usual roles taken on by head coaches, Jackson will join the alternative ranks of head coaches who call their own offensive plays.
Although it's not a large movement around the NFL, it has become a major trend in the AFC West. Jackson, San Diego's Norv Turner and Kansas City's Todd Haley are all expected to call their own plays. Turner has long performed the duty. Haley called the plays in his first season in Kansas City in 2009 before relinquishing the job to Charlie Weis in 2010. With Weis now at the University of Florida, Haley promoted offensive line coach Bill Muir to offensive coordinator.
Haley –- who calls play calling "an art" -- has said multiple times since promoting Muir that he has not decided whether he will call the plays. However, he has also said he is not opposed to doing it. Under Jon Gruden in Tampa Bay, Muir ran the offensive meetings and Gruden called the plays on game day.
Assuming Haley will be, at least, very involved in the play calling, the AFC West will be the epicenter of coaches who call plays. Ironically, had Denver not fired Josh McDaniels, the AFC West would have been a full house of head coaches who call their own plays. In a poll of my ESPN.com blog network colleagues, a total of 10 head coaches are expected to call their own plays.
In addition to Jackson, Turner and Haley, Buffalo's Chan Gailey, New Orleans' Sean Payton, San Francisco's Jim Harbaugh, Houston's Gary Kubiak, Green Bay's Mike McCarthy, Cleveland's Pat Shurmur and Dallas' Jason Garrett are all expected to call their own offensive shots. Arizona's Ken Whisenhunt may be actively involved as well.
Payton and McCarthy have won the past two Super Bowls using this approach. It's a proven winning formula.
Still, there are two schools of thought: Some people don't like to see a head coach call his own plays because he may have too much on his plate. Others like it because it keeps the head coach in control of his team.
The general managers of two of the teams that employ the system both say the bottom line is whether it is effective.
"Experience is what matters, no matter who calls the plays," San Diego general manager A.J. Smith said. "In our particular case, Norv has been calling plays for a long time and it runs very smooth and very well for us."
Added Kansas City general manager Scott Pioli: "I've been a part of it where coaches have been playcallers on offense or defense. What matters is whether you get it right."
While Jackson knows his challenge, Gary Horton of Scouts Inc. thinks Jackson is starting his head-coaching career the right way. In fact, Horton would be bothered if Jackson, who was Oakland's offensive coordinator last season, wasn't calling his own plays.
"I'd hate to see a guy like Hue not call plays as a head coach," said Horton, who is a former longtime NFL scout. "That's why he was hired. He was hired because he has terrific play-calling skills. I want him calling the plays. I'd hate for him to say, 'Well, I have other things to worry about.' Play to your strengths. If you were a great playcaller as an offensive coordinator, I want to see you do it as a head coach. If I'm an owner, I'm going to demand it. 'This is why I'm hiring you. Go call the plays.'"
Matt Williamson of Scouts Inc. agrees that if a head coach thinks he's the best playcaller on the staff, he should assume the role as a head coach. However, Williamson said he has seen coaches who call the plays lose touch with the rest of the game.
"It can be too much if you're not careful," said Williamson, another former NFL scout. "I think it is similar to coaches who are also general managers. I think it can be a failing combination. You see these guys have their back turned to the field sometime when the defense is on the field because they are talking with the quarterback. There is so much to worry about during a game. There's clock management, knowing when to call a timeout. It's a lot to juggle."
The key is delegation. Coaches who call their own plays must trust their assistants, particularly their defensive coordinators.
"You have to have a strong guy over on the other side," Horton said. "You look at a guy like Todd Haley. He's in good shape because he has Romeo Crennel. Romeo will take care of the defense and allow Todd to run his offense."
If he does call the plays, expect Haley to be more prepared than he was when he called the plays in 2009. Haley suddenly took over the duties in the preseason when he fired Gailey.
"In Year 1, you're comparing apples to oranges to where we are now as a team and as a staff," Haley said. "We've had two years full years to lay our foundation [and] the system now is in place. ... Play calling is an art. It's instinctual. There are guys that are good at it and guys that aren't so good at it."
In 2011, success in the AFC West may depend on head coaches dealing with the challenge of calling plays.
February, 25, 2011
2/25/11
8:25
PM ET
INDIANAPOLIS -- There are indications
Kansas City Chiefs
center
Casey Wiegmann
is leaning toward returning for the 2011 season, rather than retire. However, his agent Joe Linta said no official decision has been made. But at this point, it would be a surprise if Wiegmann doesn't return in 2011. Wiegmann will be 38 in July.
Kamerion Wimbley
is expected to sign his franchise off sheet early next week. The
Oakland Raiders
put the franchise tag on him Thursday. He will be paid more than $10 million in 2011.
In an Insider piece on ESPN.com,

Mel Kiper has
Denver Broncos
quarterback
Kyle Orton
listed as the third most tradable quarterback in the NFL this offseason.
Green Bay Packers
coach Mike McCarthy
isn't saying
much about Oakland's reported interest in two of his assistants.
The Chiefs are trying to reduce their list of
potential free agents.
A look at
the San Diego Chargers' needs at safety.
February, 8, 2011
2/08/11
12:00
PM ET
The NFL is a copycat league. When a team has success, other teams study the reasons why and often try to implement a similar plan. Teams across the NFL will likely study the newly crowned Super Bowl champion
Green Bay Packers
to figure out how to win next year's Super Bowl.
In my mind, the three keys to Green Bay's championship run were stellar quarterback play by
Aaron Rodgers
, dominant 3-4 defense and strong leadership by general manager Ted Thompson and coach Mike McCarthy.
Let's look at the four AFC West teams and see if they are equipped similarly:

Denver
Elite quarterback?
No, the team is likely about to start the
Tim Tebow
era. But he has a long way to go before he can be considered even a potential elite quarterback.
Dominant 3-4 defense?
The Broncos are probably going to switch back to the 4-3 defense and an unsuccessful two-season run with the 3-4.
Strong leadership structure?
We'll see. General manager Brian Xanders is taking on an expanded role, legendary quarterback
John Elway
is the team's new football leader and John Fox is the new coach.

Kansas City
Elite quarterback?
No, but
Matt Cassel
showed in 2010 he can be a good quarterback. Cassel needs to continue to develop before he can be considered a true plus-quarterback.
Dominant 3-4 defense?
The Chiefs run the 3-4 and it was pretty good in 2010. This is a young group. It could use a big nose tackle and another pass rusher, but this group is solid.
Strong leadership structure?
Yes, the Chiefs have strong leadership. In two years, general manager Scott Pioli and coach Todd Haley showed they are capable of turning this program around.

Oakland
Elite quarterback?
No.
Jason Campbell
will be Oakland's quarterback in 2011. He has been inconsistent, but at his best, he can be an effective game manager.
Dominant 3-4 defense?
We don't know who will be Oakland's defensive coordinator so we won't know if scheme the Raiders will use. If they do switch to a 3-4, there are some good starting pieces on the unit.
Strong leadership structure?
We all know Al Davis runs this show. And we all know his results haven't been great for a long time.

San Diego
Elite quarterback?
Yes.
Philip Rivers
is a top-tier quarterback who is capable of taking his team on a long run run.
Dominant 3-4 defense?
The Chargers will stay in the 3-4 defense that was No.1 in the NFL in 2010 under coordinator Ron Rivera, now the head coach in Carolina. This unit could use another pass rusher, but it's pretty strong.
Strong leadership structure?
The Chargers have a strong general manager in A.J. Smith who makes the decisions. Norv Turner's job is to coach. This is a pretty similar setup to Green Bay's.
July, 13, 2008
7/13/08
9:31
AM ET
Posted by ESPN.com's Bill Williamson
Many of the game's great signal callers, including Pro Football Hall of Famer John Elway, feel for Aaron Rodgers.
As the Green Bay Packers and Brett Favre get deeper if their game of chicken, Rodgers has become a sympathetic figure. As Favre and the Packers wait each other out, Rodgers sits in the middle of a huge firestorm.
Of course, this weekend Rodgers is relaxing at a celebrity golf tournament near Lake Tahoe. Many of his quarterback brethren are with him and from reading these quotes, it appears he has their full support.
The indications from the quotes from the other QBs at the tournament is that many feel like Favre is putting Rodgers and the Packers in a tough spot. Elway, who retired after just two straight Super Bowl wins, admitted it was tough to leave the game but he believes Favre needs to make a decision.
When Elway retired in 1999, that was it. There were never any stories of his possible return. The Broncos were able to move on, but Rodgers and the Packers are not moving along as quietly.

AFC WEST SCOREBOARD
Thursday, 12/12
Sunday, 12/15