October, 24, 2013
10/24/13
8:30
PM ET
ALAMEDA, Calif. -- Bittersweet, or simply the nature of the business?
I asked Raiders coach Dennis Allen this in the wake of Oakland cutting a member of the first draft class in the Allen/Reggie McKenzie Era: defensive tackle
Christo Bilukidi
. The move was made to to make room for linebacker
Martez Wilson
.
Bilukidi
"Really," Allen said, "it's the nature of the business. This is a production business and we're going to continue to try to do everything we can to upgrade our roster to help our football team. We felt like being able to take a look at Martez was a good chance for us to upgrade the roster."
No doubt Bilukidi was a project when the Raiders used a 2012 sixth-round draft pick on the Georgia State product, the fifth player ever taken by McKenzie and Allen.
And while Bilukidi appeared in 13 games as a rookie and five more this season, getting a sack of Jacksonville's
Chad Henne
in the Raiders' home opener, it was not enough.
"No," Allen said, when asked if he had, indeed, seen enough to warrant keeping Bilukidi and his sack.
In fact, small sample size and health issues be damned, you could say the same about that entire first draft class, which was already stretched thin due to trades under the previous regime that left the Raiders without a pick until the end of the third round.
In fact, two undrafted rookie free agents from 2012 start for Oakland now: receiver
Rod Streater
and left guard
Lucas Nix
.
"I think part of the draft process is picking up some players, and if you have numbers and volumes of players, your percentages of hitting on those guys are pretty good," Allen said.
"I think we'll see some good things, not only out of the 2012 guys, but some of these guys we drafted this past season. I think that as we keep moving down the road, I think those guys will help us."
Just not right away.
September, 1, 2012
9/01/12
5:45
PM ET
The
Oakland Raiders
have signed four players to their practice squad. They have four remaining spots.
Heading the group is linebacker
Nathan Stupar
. The seventh-round pick was a star in the preseason and it was somewhat surprising he did not make the 53-man roster. The other three are receivers
Brandon Carswell
and Travionte Session and linebacker
Kaelin Burnett
.
Also, Oakland reportedly signed former Washington tackle
Willie Smith
, who fits the zone-blocking scheme the team uses. He has some starting experience, but he will likely be added for depth. There is no word of who will be cut to make room on the 53-man roster for Smith.
September, 1, 2012
9/01/12
12:05
AM ET
Click
here
for the complete list of
Oakland Raiders
' roster moves.

Most significant move:
Putting starting linebacker
Aaron Curry
on the reserve/physically unable to perform list. He has been out all camp with knee problems. This is good news, because there was a thought he could end up on the injured reserve. Now Curry can come back to practice Oct. 16. He will likely be replaced in the starting lineup by fourth-round pick
Miles Burris
. I think Oakland will look for some linebackers in the coming days as well. As expected, young tight end
David Ausberry
made the team and he will continue to develop. They are high on sixth-round pick, defensive tackle
Christo Bilukidi
. He is raw, but he has big potential and he can learn without urgency because he is on a top-notch line. Cornerback
Bryan McCann
made the team and he could be the starting punt returner. As expected, punt returner
Roscoe Parrish
, who was cut by the Chargers on Monday and quickly signed by the Raiders, was cut after he fumbled two punts Thursday at Seattle.
Onward and upward:
Defensive lineman
Dominique Hamilton
was caught in a numbers game. He was impressive in the preseason but he is likely headed to the practice squad. Rookie free-agent receiver
Derek Carrier
is probably not headed to the practice squad at this point. The team was very high on him after the draft, but he fell behind other rookie receivers such as fifth-round pick
Juron Criner
and fellow undrafted rookie
Rod Streater
. Both those players made the team and should be part of the rotation. However, rookie receiver
Brandon Carswell
could be practice-squad bound. Rookie linebacker
Chad Kilgore
could also be headed to the practice squad. He looked good in the preseason. Linebacker
Nathan Stupar
, a seventh-round draft pick, was a surprise cut after he had a strong preseason. I could see him being claimed elsewhere. If not, I'm sure Oakland will try to put him on the practice squad.
What's next:
I expect the Raiders to be very busy in the next few days. Depth is a big problem because of a salary-cap issue and a lack of draft picks the past two years. The Raiders' lack of depth was a serious problem in the preseason. I think the Raiders could use help at running back, tight end, the offensive line, and linebacker and in the secondary. Yes, they could be busy. Among the players Oakland could look at include
Rock Cartwright
,
Tim Hightower
,
Joselio Hanson
,
Justin Miller
and
Chris Cooley
. Oakland could also be on the lookout for a pass-rusher. It worked out
Andre Carter
recently, but he reportedly isn't healthy enough to sign anywhere.
August, 31, 2012
8/31/12
1:31
AM ET
A look at the Raiders'
21-3 road loss
Thursday night:


It was a night for the backups for the Raiders and it looked like it.
The Raiders weren't very good, but not many of these players will even be factors in the regular season. But it shows the biggest problem this team has -- depth.
Backup running back
Mike Goodson
had 26 yards on eight carries and
Taiwan Jones
added 12 yards on seven carries. I'll say it once again: Oakland needs another backup running back behind
Darren McFadden
for depth purposes.
Terrelle Pryor
wasn't as dynamic against Seattle as he was against Detroit last week. After playing like a star late in that previous outing, Pryor wasn't overly productive Thursday. That's OK. He is a project. Sure, we might see some Pryor packages this season, but he is still a developing player.
Seattle ran and passed at will against an Oakland defense that was pretty strong in the preseason.
Rookie linebacker
Nathan Stupar
had a big night and should make the team when the roster is trimmed to 53 players Friday.
Newly signed punt returner
Roscoe Parrish
fumbled twice. I could see Parrish, cut by San Diego on Monday, getting the axe. Cornerback
Coye Francies
, claimed this week, also fumbled a punt. He could easily get cut Friday as well. If so, Oakland could look for a punt returner because of injuries. Punt returners are easy to find on the waiver wire. It could keep
Bryan McCann
as well. He had a nice game as a returner and a cornerback Thursday.
August, 3, 2012
8/03/12
12:00
PM ET
NAPA, Calif. -- One of the biggest curiosities in the NFL this summer is what is occurring in Wine Country. Graced with the prettiest training camp setting in the league, the
Oakland Raiders
are changing in front of our very eyes.
On the same practice field where the late Al Davis used to famously stalk practice from a nearby golf cart, the Raiders are a drastically different franchise as they enter their first full season since Davis died last October at the age of 82.

The team is now run by first-time general manager Reggie McKenzie, a respected former Green Bay executive and former Raiders linebacker. He was handpicked by several of Davis' closest confidantes. McKenzie chose Dennis Allen, who at 39 is the NFL's youngest coach, to take over the team.
For a franchise that was closely ruled by Davis until his death, the Raiders are hoping a dose of NFL modern structure will pay dividends. Even though it has been 8-8 in the past two seasons, Oakland hasn't had a winning record in 10 years and it is tied for the second-longest playoff drought in the league.
Perhaps McKenzie and Allen are the winning combination for Oakland.
"I think everybody is interested to see what happens," said Oakland safety
Michael Huff
, who has been with the Raiders since 2006. "I've only known one way. To have this new structure is new to me."
THREE HOT ISSUES
1. Keep McFadden healthy:
The Raiders' best player is running back
Darren McFadden
. He has to stay healthy, but that hasn't been easy for the fifth-year player. He has missed at last three games in each of his four NFL seasons. He missed the final nine games of last season with a serious foot injury. If McFadden can stay healthy, the Oakland offense will be dangerous and it will help quarterback
Carson Palmer
make a difference in his first full season in Oakland. If McFadden can't stay healthy, the Raiders could be in trouble. They are not deep behind him and lose a major dimension with McFadden sidelined. McFadden has looked good so far, but the key is that he looks healthy.
2. Improve on defense:
Allen is the first defensive-minded head coach of the Raiders since John Madden, who was hired in 1969. There is a reason McKenzie went with a defensive coach: the Raiders need the most help on that side of the ball. Oakland has been sloppy and has allowed too many big plays on defense. Allen helped change the defensive culture in Denver last year during his one season as the defensive coordinator there. His quest to improve Oakland's defense begins now.
[+] Enlarge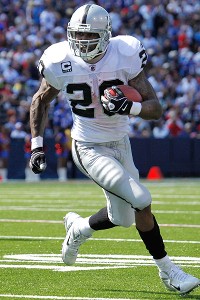 AP Photo/Derek GeeA healthy Darren McFadden is crucial for Oakland's success.
3. Cut down on penalties:
The Raiders set NFL records for penalties and penalty yardage last season. It has long been a problem in Oakland. Now, it is up to Allen to get it figured out. Playing disciplined, correct ball is a focus of every camp. It has to be drilled into this team on a daily basis. To his credit, former coach Hue Jackson tried to fix penalties on a weekly basis last year and it didn't work. It's now one of Allen's greatest challenges. Allen stresses the importance of discipline every day and he will need to change this self-destructive trend.
REASON FOR OPTIMISM
This roster has a lot of talent on it. The Raiders were on the edge of the playoffs last year, and there are lot players who think they are capable of taking the next step. Palmer has talked playoffs, and McKenzie says he thinks his team is headed in that direction.
The offense has the capability to score a lot of points, and the defense is loaded up front. It's not like this team is going to be horribly overmatched on a weekly basis. You can watch training camp and you see good players on the field.
REASON FOR PESSIMISM
This team is pretty thin at a lot of places because of the loss of several players through free agency, salary dumps and small draft classes the past two years. Again, there is talent assembled in this camp, but there are holes on this team. Positions such as running back, tight end, offensive line, linebacker and the secondary cannot afford too many injuries.
This camp is about keeping the top players healthy and hoping it all comes together. If injuries occur, Oakland will have to get creative to stay competitive.
OBSERVATION DECK
The offense looks crisp. The pace of practice has been fast as the team adjusts to playing in the West Coast offense under coordinator Greg Knapp. The unit does not look behind.

Harry How/Getty ImagesCarson Palmer threw for 2,753 yards in 10 games with the Raiders last season.

Palmer throws a pretty deep ball. With the Raiders' speed at receiver, they should parlay that combination into a lot of fast scores this season.

There is a lot of talent at receiver. I can see this team using five receivers in a game. There will be a lot of options.

Defensive lineman Tommy Kelly looks to be in good shape. He is one of the more underrated defensive linemen in the league.

Defensive linemen Matt Shaughnessy is looking good after missing much of last season with a shoulder injury. He is known as a stronger pass-rusher, but he can also stop the run. He is aiming for a big year.

I don't anticipate a big adjustment period for second-year player Stefen Wisniewski as he moves from guard to center. He has played center before and he originally projected as an NFL center. He is a smart player who seems comfortable at the position.

Don't expect too much from quarterback Terrelle Pryor right away. He is a work in progress and he will be up and down in camp. I think Matt Leinart has a pretty strong hold on the No. 2 job as of now.

Second-year cornerback DeMarcus Van Dyke has a chance to make a push for a starting job. He opened camp as a starter with Ronald Bartell out with a hamstring injury. I could see Van Dyke pushing Bartell or Shawntae Spencer at some point.

The team is impressed with rookie linebackers Miles Burris and Nathan Stupar. Both players are instinctive and professional. I wouldn't be surprised if Burris earns major playing time.

The team is high on third-round guard Tony Bergstrom. The game doesn't look too big for him, and he is a mature player.

New defensive coordinator Jason Tarver has a lot of energy. Watching him operate with his lively personality and blond hair invokes memories of a young Jon Gruden wearing the Silver and Black. Like Gruden, the intelligent Tarver is a young coach to watch.

I think we will see tight ends Brandon Myers, David Ausberry and Richard Gordon all get ample playing time in the preseason. I think that can continue into the regular season if each player carves their own niche.

Safety Mike Mitchell is the early leader in the clubhouse to replace Rock Cartwright, now in San Francisco, as the punt protector.

Receivers Denarius Moore and Jacoby Ford will get most of the camp looks at punt returner for now.

Undrafted rookie receiver Rod Streater has taken off where he left off in the OTAs. He has been an early camp star.

I could see a scenario in which the Raiders keep fullback Owen Schmitt in addition to Marcel Reece. The tough Schmitt and the versatile Reece offer different things to the offense.
June, 7, 2012
6/07/12
3:20
PM ET
The
Oakland Raiders
have gotten in the draft-pick-signing game.
The team announced it has signed three of its six 2012 draft picks. The Raiders signed fifth-round pick, defensive lineman
Jack Crawford
, and sixth-round picks, defensive lineman
Christo Bilukidi
and linebacker
Nathan Stupar
.
Third-round guard
Tony Bergstrom
, fourth-round linebacker
Miles Burris
and fifth-round receiver
Juron Criner
remain unsigned.
There are six unsigned rookies in the AFC West. The Chargers have signed their entire class.
April, 28, 2012
4/28/12
8:00
PM ET
The
Kansas City Chiefs
are obviously happy with
Matt Cassel
as their quarterback. They inspected several of the top quarterbacks, but in the end, Kansas City did not add one in the draft.
Instead, like they did in free agency, the Chiefs built around Cassel. Thus, Cassel has at least one more year in Kansas City to prove he can be a difference-maker.
With the 250th pick, the Chargers stole Michigan State running back
Edwin Baker
. ESPN analyst Mel Kiper thought Baker was the eighth best running back in the draft. He has some fumbling issues, but he has real ability and he can grow into a good player.
San Diego got a potential future starter in Michigan center
David Molk
. He is very strong and he is battler. He could be Nick Hardwick's eventual successor. The Chiefs got nice value in Michigan receiver
Junior Hemingway
. He was the Sugar Bowl MVP and he is a strong possession receiver. He was way under-valued.
Chiefs' fourth-round pick, Fresno State receiver
Devon Wylie
, has often drawn comparisons to New England's
Wes Welker
. The man who picked Wylie, Scott Pioli, of course, was in New England with Welker.
Wylie and Oakland fourth-round pick, San Diego State linebacker
Miles Burris
went to high school together in Granite Bay, California, near Sacramento.
Denver could use their fourth-round pick, center
Philip Blake
, at guard as well.
I wonder if the Chargers will still look for a veteran running back with Baker on board. The Chargers, and perhaps Oakland, are looking for a veteran free agent running back since they didn't add one in the draft. There are some solid veterans available who can fill a backup role. Among the veterans available are
Ryan Grant
,
Cedric Benson
,
Joseph Addai
and
Tim Hightower
.
The Raiders did not draft any cornerbacks despite studying several extensively. The Raiders' two starting cornerbacks are Ronald Barrtell and
Shawntae Spencer
. They are both 30 and are both signed to one-year deals.
Denver sixth-round pick, Kentucky linebacker,
Danny Trevathan
, compiled 287 tackles in the past two seasons. Watch him make an impact on special teams as a rookie.
New Denver quarterback
Brock Osweiler
worked out with
Tim Tebow
earlier this offseason when Tebow was still a Bronco.
Denver third-round pick, running back
Ronnie Hillman
, won't turn 21 until September.
Oakland seventh-round pick, linebacker
Nathan Stupar
, is the nephew of former Oakland quarterback
Jeff Hostetler
.