AFC West:

new coaches 072513
July, 25, 2013
7/25/13
12:00
PM ET
A look at the Kansas City Chiefs as they begin the Andy Reid era:
Biggest change to expect:
This will be a professional, well-prepared squad. Andy Reid's tenure in Philadelphia may have ended poorly, but there is no denying Reid is a top-level coach. His 14-year era in Philadelphia was mostly successful: He is known as a strong leader and as a coach who knows how to run a program. Expect Reid to stick with what worked for him in Philadelphia. He will run his version of the West Coast offense. He likes to throw more than run, but he will not waste star running back
Jamaal Charles
. Charles will get his carries, but expect Reid to find a happy medium and use Charles as a receiving weapon out of the backfield. Defensively, Reid is showing flexibility and keeping the Chiefs in their 3-4 defense. Reid has a good staff and he has added Brad Childress and Chris Ault as consultants. Preparation is paramount in Reid's approach.
[+] Enlarge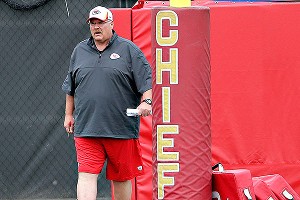 AP Photo/Charlie RiedelExpect the biggest changes for the Chiefs under Andy Reid to come on offense.
What success would look like:
If the Chiefs make a big improvement in 2013 under Reid, it will be because of the offense. The Chiefs' offense has been lacking in recent years (particularly in the passing game). Reid is an offensive specialist and has had a lot of NFL success. The key is new quarterback
Alex Smith
. Reid has always liked Smith, who was the best quarterback available in the offseason. Smith is a smart, controlled quarterback who should fit in well in Reid's offense. Smith will not be asked to do too much and will be given the opportunity to do what he does best. The Chiefs failed in the past because quarterback
Matt Cassel
was a turnover machine. If Reid can direct Smith to play clean football, this offense has a chance to score a lot of points, and in turn, win a lot of games.
Burned out or re-energized?
Reid will be watched closely in his first season in Kansas City. Many league observers thought Reid should have taken a year off after his long Eagles tenure ended. His son died last summer and it was an emotional last few years in Philadelphia. Yet, Reid said many times he felt the need to start fresh immediately. Friends say he is refreshed and energized. Time will tell.
More or fewer wins?
The bar is not set high at all. Romeo Crennel's team went 2-14 last season. Reid's team should easily surpass that total. If all goes right, the Chiefs could contend for a wild-card spot.
July, 25, 2013
7/25/13
12:00
PM ET
A look at what to expect as the San Diego Chargers begin the Mike McCoy era:
Biggest change to expect:
McCoy is a mystery because he became a head coach for the first time at age 40. But from his days as an offensive coordinator and from watching and listening to him, I expect a very straightforward approach. McCoy is a buttoned-up guy who will not be Mr. Rah-Rah. But he is highly detail-oriented and his new players seem to like him. McCoy is known for adjusting to his talent. Remember, as Denver's offensive coordinator, McCoy scrapped the Broncos' entire offense at midseason in 2011 to adjust to
Tim Tebow
at quarterback. The risk resulted in a division title and a playoff victory. One NFL head coach recently told me it was the greatest in-season coaching move he'd ever seen. McCoy said flexibility will be crucial in every facet as he begins this journey with the Chargers; his approach will be dictated by what his players do best. So there will be a learning process in San Diego as the McCoy era gets going.
[+] Enlarge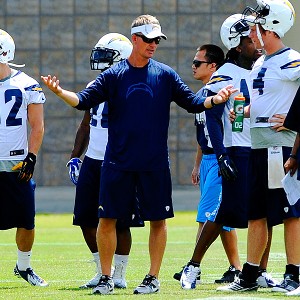 Christopher Hanewinckel/USA TODAY SportsNew Chargers coach Mike McCoy has a reputation for adjusting to the talent around him.
What success would look like:
The Chargers are going to stay the same on defense, where John Pagano remains coordinator. If they are going to make a move from last season's 7-9 record, it will come due to more success on offense. That's why McCoy was hired -- the Chargers believe he is the man to get the unit on the right track. Norv Turner was a fine offensive mind, but he just couldn't sustain success as a head coach, and the Chargers definitely needed a new approach. I think the Chargers will be refreshed by a new leader and I expect McCoy to have more success with in-game decisions than Turner.
All about the quarterback:
The focal point for McCoy in 2013 will be getting more out of signal-caller
Philip Rivers
. After playing at a high level, Rivers' play dipped the past two seasons, with turnovers a particular issue. Not all of Rivers' problems are on him, however. The talent level on San Diego's offense has cratered, and the offensive line has been ravaged by injuries. But Rivers does need some fixing. That's why McCoy was hired: He has had great success with quarterbacks. And the new head coach is on the record as saying Rivers will have a big year in 2013 -- something the Chargers are counting on.
More or fewer wins?
This is a difficult team to try to pin down. The talent level is better in some areas than it was during the 7-9 campaign in 2012, but there are still big questions on the offensive line and in the secondary. I think this is the beginning of a good era in San Diego, but I wouldn't be surprised if the Chargers stay in the seven- or eight-win range.