November, 6, 2013
11/06/13
9:00
AM ET
ALAMEDA, Calif. -- You knew this was going to be a rebuilding year for the
Oakland Raiders
and, before Sunday's embarrassing
49-20 loss
to the
Philadelphia Eagles
, Oakland was playing above expectations. Indeed, after a 4-12 season last year, the Raiders had a chance to win their fourth game at this year's midway points.
Alas, the Eagles and
Nick Foles
, who threw a record-tying seven touchdowns, had different plans and it makes you wonder if these are indeed the same old Raiders who have not been to the playoffs since 2002, let alone had a winning season since that Super Bowl campaign. The difference, at least on the surface, is this team has been in every game save two -- at Denver and against the Eagles.
But the NFL is a results-oriented business and at the midway point, the Raiders sit at 3-5.
September, 24, 2013
9/24/13
1:55
AM ET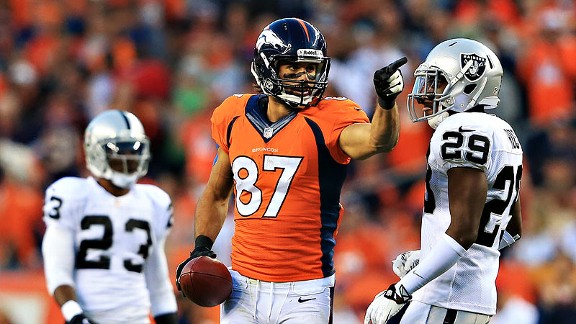 Doug Pensinger/Getty ImagesEric Decker and the Denver Broncos are heading in the right direction in the AFC West.
DENVER -- Three weeks into the season and there is one team in the NFL that has scored more than 100 points.
Actually, one team in the NFL that has scored more than 110 points. OK, one team in the NFL that scored more than 120 points.
And with their third consecutive game with at least 37 points the
Denver Broncos
formally announced their plans in the AFC West on Monday night with a nationally-televised
37-21 win
over the
Oakland Raiders
at Sports Authority Field at Mile High.
Raiders rookie tight end
Nick Kasa
, a suburban Denver native who played at the University of Colorado and has spent a lifetime discussing the Broncos with friends and relatives, may have put it the best.
"They're a devastating team," Kasa said. "That's obvious from [Monday night]."
As August drew to a close, there were plenty of folks in and around the NFL who wondered how things would look in the AFC West. After all, the Broncos, with
Peyton Manning
behind center, are surrounded by three rebuilding projects in the division.
The Raiders are in the second year of what has been the league's most extreme makeover and sported 10 different defensive starters from a year ago Monday night. In San Diego, former Broncos offensive coordinator
Mike McCoy
is in his first season as the team's head coach.
They are both 1-2 after three weeks and despite some quality moments in those three games -- small glimpses of potential -- they both look like there's plenty of work still to do before all is said and done this season.
The Chiefs are another matter. First-year coach Andy Reid has Kansas City out of the gate at 3-0 with a defense that has surrendered just 34 points. But Chiefs-Broncos matchups are for another day.
What the Broncos showed Monday was division games are important to them. Everybody talks a good game about division games, about how they're the only guaranteed road into the postseason for any team, but idle mid-week chatter is one thing, getting it done is another.
The Broncos showed the focus of a team with designs on bigger things, and that they want to leave no doubt in the division along the way.
Quarterback Peyton Manning will routinely say division games "count double," and losses in the division, especially home losses in the division, sting a little more. John Elway reeled in perhaps the greatest marquee player to hit the open market in the free-agency era. One of the reasons he wanted Manning so badly, beyond the extended and sometimes breathtaking list of quarterback stuff, was Manning's constant push for his team to be a little better tomorrow than it was today.
Elway has described it as "that uncomfortable feeling," at times.
That can be seen in how the Broncos have handled their division business of late. In 2011, or YBM (the year before Manning) when they won the division at 8-8 overall, they were just 3-3 in AFC West games. Last season, Manning's first in Denver, the Broncos were 6-0 in the division on the way to a 13-3 mark.
Or as linebacker
Wesley Woodyard
put it after Monday's victory: "It's a division opponent, and the Raiders, they always bring their best shot. I hate losing to any division guys, especially the Raiders."
The bottom line is, in a league cocooned in overreaction, with every win celebrated like a lunar landing and every loss treated with a this-team-stinks-forever approach, the good teams simply need a get-off-my-lawn guy or two to keep the heads level. They need some grumpiness to sweep up the rose petals that get tossed from time to time.
Sure, there is a line there between some kind of joyless pursuit of victory and the easily obtained misplaced ego, but a good team needs some perspective as much as touchdowns. And the Broncos showed Monday night they are good, ruthlessly good at times, with a dose of perspective.
Manning threw three touchdown passes, was as dialed in with the Broncos receivers as he has been at any point in his career -- at one point late in the first half both of his incompletions were drops -- and the Broncos put up their second 500-yard game of the season.
The defense stifled the Raiders' run game -- Oakland had averaged just more than 198 yards rushing coming in -- as Oakland finished with 49 yards on 17 carries. Yet after surrendering a touchdown in the third quarter and another in the fourth quarter, Woodyard, for one, was swatting away any compliments.
"No, I'm not pleased at all," Woodyard said. "We gave up 21 points. We've got to stop them at the end of the game. I'm not satisfied at all with that win. … We'll definitely take a win any time we can get one, but to give up 21 points, got to stop that leaky football."
Monday's win was the Broncos' first in division play this season and will also be the last time they face a division opponent until Nov. 10, at San Diego. A lot can happen between now and then, but it's pretty clear Denver has the goods and may have to wrestle with itself a bit along the way because of it.
"We have to just play our football," Broncos defensive tackle
Kevin Vickerson
said. "I say fast, physical and violent, but we can't give up garbage points, make mistakes, things like that. We just have to keep grindin', man. Win your division first, worry about week to week; do that and things will work out. And we want things to work out, so everybody knows you have to do that. We're 3-0 and moving on. That's it, look at the win and get to work."
August, 18, 2013
8/18/13
12:00
PM ET
Sunday is a vital day for
D.J. Hayden
.
He is truly a football player again.
The Oakland Raiders' rookie cornerback has been cleared for contact and he will begin fully practicing with his teammates Sunday. He is expected to make his preseason debut Friday against Chicago. Hayden had been spending most of training camp wearing a red jersey (like quarterbacks), meaning he could not have any contact.
Hayden, the No. 12 overall pick in the April draft, had life-threatening heart surgery last November after taking a hit on the practice field while at the University of Houston. Hayden then had stomach surgery this offseason to repair scar tissue stemming from the original surgery.
But it appears Hayden is now ready to play fully. Hayden is somewhat behind, but the fact that he has been on the practice field in a non-contact role is vital. Oakland coach Dennis Allen told reporters that the next few weeks are crucial for Hayden. He is expected to be a starter at a big need area in Oakland.
"It'll be good to get him in a game situation and let him get out there and play," Allen said. "We brought him to New Orleans with us this week, we let him go through the pre-game warm ups, again to try and give him that feeling of being back out there on the field again, and I think he's anxious and excited about getting an opportunity to play this week."
Meanwhile, Allen announced tight end
David Ausberry
will miss the rest of the preseason with a shoulder injury. Ausberry is very much in the mix of young tight ends along with
Richard Gordon
, and rookies
Nick Kasa
and Mychel Rivera. At this point, Ausberry is probably the most advanced of the group.
August, 7, 2013
8/07/13
12:00
PM ET
NAPA, Calif. -- The
Oakland Raiders
are basically starting over.

In the second year of the Reggie McKenzie-Dennis Allen era, the team has hit the reset button. The Raiders kept several high-dollar players at start of the post-Al Davis era in 2012 and saw their decade-long malaise continue. Oakland, which has not been to the playoffs since 2002, lost eight of its final nine games last season and finished 4-12.
McKenzie flushed several players in an attempt to get control -- finally -- of a salary cap that got away from the previous regime. The result is that Oakland, which will be in fine salary-cap shape next year, has questions throughout the roster heading into this season.
Yet, Oakland isn't ready to give up on another season, waiting for better fiscal times. Oakland is beginning the rebuilding process with several players handpicked by McKenzie and Allen.
The theme of these newcomers is the same: "They love football," Allen said.
Almost every time I've heard Allen talk in 2013, he has mentioned the will and desire of his team. Allen doesn't dwell on the past, but it is clear he didn't believe some of the players on his first Oakland roster would totally sell out for the game.
McKenzie said it was crucial to get high-character players in the building.
"This is the only way we are going to get this thing going," McKenzie said. "We need to get guys who want it. I think this team, as a whole, wants it. You need talent but you need high-desire players. Sometimes, that is more important than talent. Now, we have talent, but the key is to find guys who have both. We think we have the kind of guys who can be here when we turn this thing around."
It is doubtful Oakland will be a factor in the AFC West this season, but it's all about the building process. Having players whom McKenzie and Allen believe in is a start.
"We have to build a swagger," Allen said. "This team has to have a vision and a belief that this is going to be a good football team."
THREE HOT ISSUES
1. The quarterbacks:
Like most positions in Oakland, there is flux at the most important position on the field. The Raiders became a mystery at quarterback when
Carson Palmer
declined a pay cut. With a sudden hole, McKenzie turned to
Matt Flynn
in a trade with Seattle. Flynn was with McKenzie in Green Bay. He has two NFL starts under his belt, and he is 28. He has been the most consistent of the Oakland quarterbacks this summer, but he is far from dynamic.
[+] Enlarge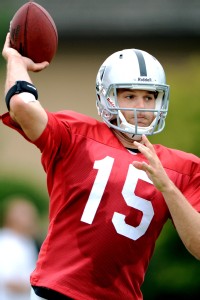 Kirby Lee/USA TODAY SportsMatt Flynn, who has started two games in a five-year career, has been the most consistent quarterback for the Raiders this summer.
The Raiders hope he can be a solid game manager and a short-term answer. He must show that in camp. The Raiders also have
Terrelle Pryor
and rookies
Matt McGloin
and
Tyler Wilson
. I get the sense that the Raiders have higher, long-term hopes for Wilson, although he has struggled some in camp. If Pryor can find some consistency and Flynn falters, he or McGloin could get a chance. But the same goes for Wilson, a rookie, if there are no better options later in the season. For the immediate future, the Raiders hope Flynn can show he can be an effective starter.
2. Will McFadden have an impact?
Running back
Darren McFadden
has long been Oakland's best player. The Raiders need him to regain form to ensure this offense can be competitive. If McFadden and the running game don't take off, there will be immense pressure on Flynn.
McFadden is looking for a bounce-back season. Oakland scrapped the zone-blocking scheme and will employ a power-blocking attack under new offensive coordinator Greg Olson. McFadden has had success in the latter scheme but must remain healthy regardless of scheme. He has missed at least three games in all five of his NFL seasons. If McFadden, who is in his contract year, can play at a high level again, Oakland's offense will have a fighting chance. This training camp is about getting him prepared to do so.
3. Where's the pass rush?
Defensively, camp is about trying to find a pass rush. Oakland had little pass rush last season, and the team did little to improve in that area in the offseason. The team's best pass-rushers are veteran
Andre Carter
and
Lamarr Houston
. But they are far from elite. Oakland has to find some pass-rushers to emerge in camp, and it also needs improved play in the secondary to help with the pass rush.
REASON FOR OPTIMISM:
The back seven on defense appears to be improved. Oakland may have as many as nine new starters on defense and six in the back seven. Oakland feels better about its overall depth at linebacker and in the secondary.
In fact, I get the sense that the team's brass is most excited about the linebackers and defensive backs.
The exact linebacker rotation is not clear, but the team is really high on middle linebacker
Nick Roach
and rookie outside linebacker
Sio Moore
. Roach has been a leader and has shown high intelligence. Oakland thinks Roach will set the tone for an improved defense. Moore, a third-round pick from Connecticut, has the look of a player who can make an instant impact.
Last season, Oakland's secondary was one of the worst in the NFL. That doesn't appear to be the case now.
The cornerbacks are much improved with veterans
Mike Jenkins
and
Tracy Porter
and rookie
D.J. Hayden
. The addition of safety
Charles Woodson
gives Oakland hope on the field and in the locker room.
REASON FOR PESSISISM:
The roster is not deep, and there are holes and questions all over.
There are some talented players, and some of these young players will emerge. But getting them ready in this camp is daunting.
The key in the NFL is depth. Injuries can occur at an alarming rate. The teams that survive are the teams with the deepest rosters. Oakland doesn't seem to have a deep roster. McKenzie acknowledges this.
[+] Enlarge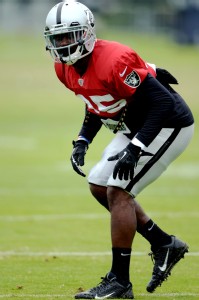 Kirby Lee/USA TODAY SportsFirst-round pick D.J. Hayden has the want-to attitude his coaches are looking for.
"I can't afford to get too many injuries," McKenzie said. "We have to stay healthy. If we do, I think we can be OK. Guys will emerge as camp goes on."
OBSERVATION DECK
The Raiders love Hayden's attitude. The No. 12 overall pick has the type of want-to attitude the team is looking for.

Cornerback Taiwan Jones, who switched positions from running back in the offseason, is a long shot. But because he plays so well on special teams, he has a chance to make the 53-man roster.

It is no sure thing that wide receivers Rod Streater and Denarius Moore will be strong starters this year, but both have big potential. Streater, an undrafted fee agent last year, looks particularly comfortable.

I love how center Stefen Wisniewski and left tackle Jared Veldheer are looking. These are two of the better young offensive lineman in the game.

I get the sense Allen is very pleased with this staff. This group seems like it is working well together.

The punting job probably will go down to the wire as Oakland looks to replace Shane Lechler, now in Houston. As expected, veteran Chris Kluwe has shown consistency, but Marquette King has a stronger leg. King has a chance if he can find consistency in the next several weeks.

Seventh-round pick and pass-rusher David Bass has shown some nice burst. He has a chance to develop.

The tight end position continues to be in flux. The team's four tight ends are David Ausberry, Richard Gordon and sixth-round picks Nick Kasa and Mychal Rivera. I'd say Ausberry is the favorite to win the job. Still, it is a work in progress.

The team likes what it sees in returner Josh Cribbs. He has a great attitude and is a good influence in the locker room.

Journeyman offensive lineman Alex Barron has looked good. Once considered a longshot to make the team, Barron has a chance to play a lot.
August, 6, 2013
8/06/13
6:10
PM ET
Monday,
we looked at the interesting battle
brewing between rookie quarterbacks
Tyler Wilson
and Matt McGloin in Oakland.
[+] Enlarge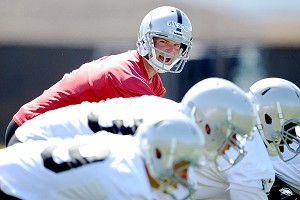 Kirby Lee/USA TODAY SportsRookie quarterback Tyler Wilson, a fourth-round draft pick, appears to have slipped to fourth on the Raiders' depth chart.
Tuesday, the story took another turn when the Raiders
released their first depth chart.
McGloin actually is listed ahead of Wilson as the third-string quarterback. McGloin is an undrafted free agent out of Penn State, whom the team did not sign right away. Wilson is a fourth-round pick out of Arkansas. In the offseason, there was much speculation that Wilson could vie for the starting job as a rookie.
This latest news, though shows Wilson is far from making that a reality. Wilson now must overtake
Matt Flynn
,
Terrelle Pryor
and McGloin if he wants to be the starter this year. That's a long road. Wilson's biggest problem has been his consistency.
Still, it's will difficult to fathom Wilson not on the Raiders' 53-man roster, even if the three other quarterbacks play well. Cutting him and trying to stash him on the practice squad would be difficult.
There are a couple of depth-chart moves that stand out: Rookie
Sio Moore
is a starting outside linebacker. It looks like the Raiders are going to show Moore the field and hope the instinctive, talented third-round pick never leaves it.
The Raiders have
Richard Gordon
listed as the top tight end. But that is a fluid situation.
David Ausberry
and sixth-round picks
Nick Kasa
and
Mychal Rivera
are also in the mix.
As expected, veteran punter
Chris Kluwe
is holding off young
Marquette King
. Things can change, but Oakland is impressed with Kluwe's consistency more than King's at this point.
July, 30, 2013
7/30/13
8:00
AM ET
NAPA, Calif. -- The
Oakland Raiders
' roster is full of question marks as the team looks for young talent to emerge.
Perhaps no position is more in flux than at tight end.
The Raiders have four tight ends who figure to get a chance to play. They are young veterans
David Ausberry
and
Richard Gordon
and sixth-round picks
Nick Kasa
and
Mychal Rivera
.
Oakland is open to adding a veteran at the position and it will certainly study the waiver wire after the 53-man rosters are set in early September. But the current young tight ends will get long looks.
"The good thing is we don't have to make a decision right now," head coach Dennis Allen said. "We have time."
Allen said all four players have unique skill sets and all offer the team something. He said improvements are being made by the group as camp progresses.
While there is a long way to go in this case, I think Ausberry has a chance to emerge. He is highly athletic and has great size. If he can find a consistency, Ausberry can become a solid player.
June, 4, 2013
6/04/13
8:00
AM ET
Our AFC West positional rankings continue with a look at an underwhelming group of tight ends:
1. Antonio Gates, San Diego:
Gates is not longer an elite player, but he is by far the most dangerous one on this list.
2. Jacob Tamme, Denver:
Tamme is not flashy, but he does a lot of things well -- and he has chemistry with
Peyton Manning
.
3. Anthony Fasano, Kansas City:
He is an underrated type who always gives a solid effort.
4. Joel Dreessen, Denver:
He can stretch the field and is a solid rotational player.
5. Tony Moeaki, Kansas City:
Injuries have hurt his career. Moeaki has big talent, but can't stay on field.
6. John Phillips, San Diego
: The Chargers are excited about this premier blocker. Not a stats guy, but he will help.
7. Ladarius Green, San Diego:
We are into the "has potential" portion of this list. Green, 23 and entering his second season, could replace Gates some day.
8. Travis Kelce, Kansas City:
I have a feeling the new Chiefs regime will give Kelce a chance to play a lot as a rookie.
9. David Ausberry, Oakland:
Ausberry gets first crack, but he hasn't shown much. Sixth-round picks
Nick Kasa
and
Mychal Rivera
are awaiting their chances.
10. Richard Gordon, Oakland:
See above.
11. Virgil Green, Denver:
He has skills, but has to take next step. Perhaps fellow young Denver tight end
Julius Thomas
can stay healthy and get on this list next year.
April, 27, 2013
4/27/13
9:00
PM ET
Here are some random draft thoughts:
The Chargers added another interesting young cornerback -- Cal's Steve Williams in the fifth round. He has a chance to quickly climb the depth chart.
Denver added yet another interesting receiving weapon when they took Georgia's Tavarres King in the fifth round. He averaged more than 19 yards per catch for his career.
I like the two tight ends Oakland took in the sixth round, Colorado's Nick Kasa and Tennessee's Mychal Rivera. This is a two tight end league, so it makes sense. These picks put some pressure on David Ausberry. He has yet to develop. He better do it now or the youngsters will take his job.
The Raiders took a promising Division II pass-rusher in David Bass of Missouri Western in the seventh round. He has natural pass-rush skills. Yet, he is a long-term project.
Oakland general manager Reggie McKenzie did a nice job wheeling and dealing. He turned seven picks into 10. That is important for a team that is totally rebuilding. All 10 players have a legitimate chance to make Oakland's roster.
For what it's worth, Kansas City coach Andy Reid said the Chiefs were not going to take USC quarterback with the second pick of the fourth round. The Eagles moved up ahead of the Chiefs and took Matt Barkley with the first pick of the day. Barkley said he heard the Chiefs were interested in him. Kansas City did not take a quarterback.
Reid said fourth-round pick Nico Johnson will compete with free-agent newcomer Akeem Jordan for an starting inside linebacker spot. My money is on Johnson. Big-league player.
The Packers are reportedly interested in trading running back James Starks. Oakland could use another running back. It did take Central Florida's Latavius Murray in the sixth round.
With the Vikings drafting a punter, perhaps Chris Kluwe will become free at some point and perhaps Oakland could show interest. It only has unproven Marquette King in the aftermath of longtime star Shane Lechler signing with Houston.
Reid said fifth-round pick Sanders Commings will play free safety and seventh-rounder Mike Catapano will play outside linebacker. The Princeton product has strong pass-rush skills.
New Denver pass-rusher Shaun Phillips -- the former Charger who signed Saturday -- said he is fine playing defensive end in a 4-3. He was a linebacker in the Chargers' 3-4. Regardless of the spot, Philips' position will be as a pass-rusher and he will be moved around.