April, 26, 2012
4/26/12
4:10
PM ET
Here are some of the highlights form our draft-crazed AFC West chat, which was held earlier Thursday:
Denver
Jesse Bliss from Boise, Idaho:
Wouldn't it make more sense for Denver to address the future quarterback next year. Peyton has three really good years left. I believe the quarterback should sit two years behind Peyton, and then be the starter.
Bill Williamson:
I can see the argument for either move. If the Broncos love someone like Cousins, Osweiler or Foles, they should take him. But they can certainly wait if they are not sold on any of these prospects.
Kansas City
Travis from Missouri:
What AFC West teams are most interested in Brandon Weeden? Me as a Chiefs fan really likes this guy. Seems he has what it takes to propel us to the next level. How do you think he fits in the Chiefs plans today or tomorrow?
BW:
The only possibility is Kansas City. I think the only way he ends up there is if the Chiefs trade up and take him before the Browns do in the second round. For what it's worth, I'm a believer in Weeden.
Oakland
Dan A. from Rochester, NY:
Bill, in the past comp picks were not (allowed to be traded). With the new CBA, is that still the case? I know people want the Raiders to trade up from 95, but I don't think that is an option.
BW:
Comp picks cannot be traded. The only picks the Raiders can trade in this draft are the fifth and sixth-round picks. Thus, if the Raiders want to move up in second or the third, they will likely have to deal future picks. I think Reggie McKenzie wants to keep his future picks, so any major trade up could be unlikely.
San Diego
Robert from Bloomington:
Any feel for Chargers opinion on the USC pass-rusher
BW:
I think Nick Perry could be available in the No. 26-35 range. Trade down possibility. If somehow, the Chargers got Perry and Smith, it'd be a good early part of the draft.
April, 20, 2012
4/20/12
12:00
PM ET
With the NFL draft starting in six days, there are many interesting storylines involving the AFC West. Let's take a look:
Will the Chiefs make a big move up?
The
Kansas City Chiefs
could become the story of the division with a move up for Texas A&M quarterback
Ryan Tannehill
. There has been recent buzz that the Chiefs may be one of the teams interested in moving up for Tannehill. If he is available at No. 7 (Miami may take Tannehill at No. 8), I could see the Chiefs jumping in the mix. Jacksonville, which has the No. 7 pick, probably would be willing to part with the pick or the Chiefs could take a risk and hope he falls to No. 11. Tannehill is the only attainable quarterback who could immediately press
Matt Cassel
.
Will a second-day quarterback be on the way?
I think a Friday storyline could be the addition of a second-tier quarterback in the division. If the Chiefs don't take Tannehill, they could take a quarterback in the second or third round, and Denver could take one on the second day as well. The quarterbacks available on the second day probably will be Oklahoma State's
Brandon Weeden
, Michigan State's
Kirk Cousins
, Arizona State's
Brock Osweiler
and Arizona's
Nick Foles
. Kansas City could look at any of the four and Denver is probably in the mix for all but Weeden. He will soon turn 29, and with
Peyton Manning
in Denver, I don't think the Broncos will take an older quarterback.
[+] Enlarge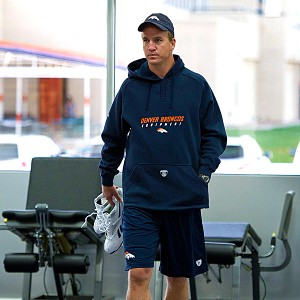 AP Photo/Eric BakkeWill AFC West teams draft differently now that Peyton Manning is in the division?
Will there be a Manning factor?
The Chiefs and Chargers could both opt to use their first-round picks on defensive players. With Manning entering the division, focusing on defense may be the right call in Kansas City and San Diego.
Will there be a changing of the guard?
Stanford's
David DeCastro
is considered one of the best guard prospects in the past several years and he is considered a sure thing. Both the Chiefs and Chargers are considered teams that could land DeCastro.
Will the Raiders make a move up?
The Raiders don't pick until No. 95, the final pick of the third round. Oakland could move up to get a better prospect, but I wouldn't think Oakland would move too far up the draft. Sooner or later, the team must stop mortgaging future picks, and I think new Oakland general manager Reggie McKenzie gets that. I'd expect him to suck it up and deal with what he has this year for the most part.
Will the Chiefs add a running back?
There was early talk Kansas City could make a play for Alabama's
Trent Richardson
, which could require a move up to No. 5. That may not be a likely scenario. However, the Chiefs could still take a running back in the early rounds.
Jamaal Charles
is coming off a torn ACL and
Peyton Hillis
signed a one-year deal. The Chiefs have been visiting with running backs, so I could see them taking one at some point.
Will the Chargers and Broncos take a running back early?
There have been projections that both Denver and San Diego could take a running back as early as the second round. I'd think Denver is the more likely of the two teams to take a running back early. Boise State's
Doug Martin
, Virginia Tech's
David Wilson
, Miami's
Lamar Miller
and Oregon's
LaMichael James
are all possibilities.
Will A.J. Smith make a splash?
The Chargers probably will have to make the playoffs for San Diego general manager A.J. Smith and coach Norv Turner to keep their jobs. The Chargers have been aggressive in free agency and they have always been aggressive in the draft. I could see the Chargers taking a chance and moving up for the right impact player.
Will Denver take a defensive tackle?
The Broncos haven't taken a defensive tackle since 1997 when they took
Trevor Pryce
. It is the team's greatest need. However, if players such as LSU's
Michael Brockers
and Mississippi State's
Fletcher Cox
are gone by No. 25, Denver may opt for another position or trade down rather than reach for another defensive tackle prospect.
Will the Raiders be a draft factor?
The Raiders only have five picks, but I think they can still get a couple of developmental players. It may be too much to ask for the Raiders to find instant impact players, but I think McKenzie will salvage this class.
Will the Chargers reach for their top need?
The Chargers badly need an impact pass-rusher, but it isn't a deep class. By the time the No. 18 picks rolls around, the top pass-rushing prospects -- South Carolina's
Melvin Ingram
, North Carolina's
Quinton Coples
and Alabama's
Courtney Upshaw
-- all may be gone. The next level of players include Syracuse's
Chandler Jones
, USC's
Nick Perry
and Illinois'
Whitney Mercilus
. Many scouts think taking those players at No. 18 may be too high. So, the Chargers could be on the move down if that scenario develops.
Will the Chiefs be swayed by Poe's beauty?
Memphis defensive tackle
Dontari Poe
is a high-risk, high-reward player. He has all the measurables and he has big potential. But he has unimpressive game tape against second-level competition. Many teams are leery of taking him. The Chiefs could use him, but with a recent history of taking under-achieving defensive linemen, can Kansas City general manager Scott Pioli take the risk?
Another Georgia Tech receiver in Denver?
If the Broncos bypass a defensive tackle at No. 25, they could look to give Manning another weapon. A name to keep an eye on is Georgia Tech's
Stephen Hill
. The Broncos have been scouting him and they wouldn't mind adding another former Georgia Tech receiver. Denver took
Demaryius Thomas
out of the school with the No. 22 pick in 2010.
Will Golden Domers head to the beach?
Two players Smith likes a lot are Notre Dame receiver
Michael Floyd
and safety
Harrison Smith
. Floyd could require a trade up and Smith could be a candidate via a trade down. Don't be surprised if one of the two ends up a Charger.
Is Josh Chapman AFC West bound?
One of the underrated players on a strong Alabama defense is versatile defensive tackle Josh Chapman, a fit for both 4-3 and 3-4 defenses. He has visited both the Raiders and the Chiefs and could be a target of any team in the division in the third round.
April, 17, 2012
4/17/12
2:00
PM ET
One of the more difficult draft minds to predict belongs to
San Diego Chargers
general manager A.J. Smith.
Smith has made plenty of first-round picks made by that have been under the radar. Few expected him to take Illinois defensive end
Corey Liuget
last season or Northern Illinois pass-rusher
Larry English
in 2009.
Don't be surprised if Smith springs another surprise this year with the Chargers' No. 18 pick.
A lot of people (myself included) think the Chargers will take a pass-rusher such as Alabama's
Courtney Upshaw
, Illinois'
Whitney Mercilus
, Syracuse's
Chandler Jones
or USC's
Nick Perry
or an offensive lineman such as Stanford's
David DeCastro
or Georgia's
Cordy Glenn
.
But I think it would be a mistake to simply think in such a limited scope.
If Notre Dame receiver
Michael Floyd
is available, I could see him being the choice despite the heavy focus on receivers in free agency. Floyd is a special talent and the Chargers like him.
San Diego could also draft a cornerback such as Alabama's
Dre Kirkpatrick
or South Carolina's
Stephon Gilmore
. Cornerback isn't a major need area, but if the Chargers like a certain player there, a case could be made.
I know the Chargers like their inside linebackers, so maybe Smith will nab Alabama's
Dont'a Hightower
. Why can't an impact defender be a classic inside 3-4 linebacker?
What does this all mean?
We're dealing with Smith and that means everything is on the table, pressing needs or not.
March, 25, 2012
3/25/12
9:00
AM ET
Weekend mail call:
Peter from NYC wants to know
what I think the Chiefs think of quarterback
Ricky Stanzi
.
Bill Williamson:
By signing
Brady Quinn
to be
Matt Cassel
's backup, the Chiefs made it clear they don't think Stanzi is ready to be the No. 2 quarterback; expect him to remain the No. 3 for the second consecutive season. That could change if the Chiefs pick a quarterback early in the draft. I wouldn't be shocked if the Chiefs showed interest in Oklahoma State's
Brandon Weeden
or Michigan State's
Kirk Cousins
in the second round. If either of the players or drafted, Stanzi would be in trouble. But I do think he will get another year to develop.
Edward Moretti from Imperial Beach, Calif.,
wants to know
which of these players --
Nick Perry
,
Harrison Smith
,
Luke Kuechly
and
David DeCastro
– has the best chance of being the Chargers' pick at No. 18?
BW:
In my latest mock draft I have Illinois' pass-rusher
Whitney Mercilus
going to the Chargers in the first; that area is San Diego's biggest need. If Mercilus, and the other top pass-rushers are off the board and Perry, Smith, Kuechly and DeCastro are still available, the Chargers would be in a great spot because all are terrific players. Kuechly and DeCastro would be the best value picks and Perry and Smith would fill the biggest holes. But, in that instance I think DeCastro could be the choice because of the combination of value and need.
William Denning from Atlanta
wants to know if I think Denver could take Alabama cornerback
Dre Kirkpatrick
at No. 25.
BW:
I think defensive tackle will be Denver's biggest need and that's where it will start. Kirkpatrick could be a backup plan and I think he will be considered. But the Broncos' draft needs start on the defensive front.
March, 8, 2012
3/08/12
1:45
PM ET
As expected, the Raiders have begun the restructuring process of contracts as they work to get under the salary cap by Tuesday.

Oakland will restructure several more contracts and may cut a player or two if a restructuring can't be agreed upon.
Oakland reportedly restructured
the deals for defensive lineman
Richard Seymour
and defensive back
Michael Huff
. They were two of the major candidates for restructuring.
Reportedly, Seymour lowered his $7.5 million base salary to $925,000 and turned the rest into a roster bonus that will be spread out over the remaining years of the contract. Another year was tacked on to his deal to make it work. Yet, the reality is, Seymour is probably year-to-year with the Raiders after this season. Remember,
Stanford Routt
had years added to his deal last year and he was cut last month.
Huff reportedly had two years added to his deal to make his restructure work. The two moves saved the Raiders about $11 million in cap room. Earlier this week, they were $20 million over the cap and that was before they committed $6.2 million to safety
Tyvon Branch
when they gave him the franchise tag.
Expect quarterback
Carson Palmer
to soon restructure his deal in addition to some other players. Linebacker
Kamerion Wimbley
remains a prime candidate to be cut if a new deal isn't struck. As of Wednesday, there hasn't been any progress made and those close to Wimbley thought it was likely he would be cut. Yet, Wimbley remains open to being creative. Whatever happens, expect Oakland to be cap compliant by Tuesday's deadline.
In other AFC West notes:
First Take debates
the Broncos' interest in
Peyton Manning
and what it means to
Tim Tebow
. Meanwhile,
a Denver columnist
doesn't think Manning is a good fit for the Broncos.
USC pass-rusher
Nick Perry
could be a target
of the Chargers at No.8. It makes sense since he'd reunite with a former coach there.