AFC West:

Nnamdi Asomugha 72911
July, 29, 2011
7/29/11
8:10
PM ET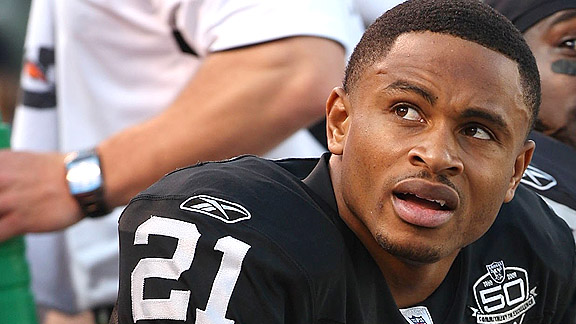 Jed Jacobsohn/Getty ImagesOakland was never really serious about re-signing Nnamdi Asomugha.
This has to be a difficult day in the Raider Nation.
It lost its best player in an agonizingly long departure.
In the end,
Nnamdi Asomugha
-- arguably the best cornerback in the NFL and, by far, the top free-agent prize of 2011 -- departs the
Oakland Raiders
and becomes a member of the
Philadelphia Eagles
. He agreed to a five-year, $60 million deal with $25 million in guaranteed money.
But there is much more to the story. Asomugha's saga took three days to unfold and several teams, including the
New York Jets
,
Houston Texans
,
Dallas Cowboys
and (gulp) even the
San Francisco 49ers
all made a push for Asomugha. They were all waiting for him. He kept holding off on his decision.
It cruelly gave Raider Nation hope that perhaps, somehow, Asomugha could come back to Oakland. In the end it appears Asomugha and the Raiders were never close to re-joining forces.
In a way, it's stunning. Al Davis rarely loses his top players. He is known for overpaying his players to stay. He paid Asomugha $30 million in the past two seasons before Asomugha's contract voided in January.
Asomugha was a great Raider and a true shut-down corner. Even playing in Oakland's man-to-man defense, Asomugha excelled. He only saw 50-plus passes thrown his way in the past three seasons combined.
Even though it's surprising to see Davis allow a top talent to walk, there were plenty of tell-tale signs that Asomugha was likely on his way out.
At the news conference to announce the hiring of Hue Jackson in January, Davis said that he'd try to keep Asomugha but the money spent on him could be used for two or three players. Prior to the lockout, Oakland was, by far, the most aggressive team in the NFL when it came to securing its own free agents. The Raiders locked up several players including
Richard Seymour
,
Stanford Routt
,
John Henderson
and they gave
Kamerion Wimbley
the franchise tag,
The deal to Routt was telling. He was given $30 million for three years. That's No.1 cornerback money. Then, the Raiders took cornerbacks in the third and fourth rounds of the draft.
Now Asomugha is gone and all the Raiders have are memories of a great defender and a probable third-round comp pick next year.
There has been reasons for hope in Oakland. The team is stocked with young, exciting talent and the Raiders went 8-8 last season -- breaking a seven-season spell of 11 or more losses, which was an NFL record.
The Raiders still have high hopes, but it will be difficult to improve without their best player. Their young cornerbacks must improve and the promising front seven has to flourish to make up for the lack of the shut-down presence of Asomugha. They could pursue a veteran cornerback such as
Antonio Cromartie
or
Nate Clements
. While neither player is in Asomguha's class, they are both proven veterans.
While money is clearly an issue, the Raiders have to find a way to make some moves. They are trying to work out a long-term deal with Wimbley (the pass rusher wants big money) to open up cap room. They must lock up Pro Bowl tight end
Zach Miller
and there have been reports of a potential deal for tackle
Jared Gaither
to shore up the offensive line, which is Oakland's weakest spot.
I know enough about Davis to know, he clearly will not stop trying to win. But there's no doubt, it did get tougher with Asomugha's departure.
July, 29, 2011
7/29/11
6:26
PM ET
Nnamdi Asomugha
is taking his talents to South … Philly.
In a dramatic three-day saga that had much of the same drama as LeBron James' free-agent trek last year, the
Oakland Raiders
' free-agent cornerback has agreed to a five-year, $60 million contract with the
Philadelphia Eagles
, according to ESPN's Adam Schefter.
Oakland's best player is leaving after eight seasons.
I will have more thoughts on this stunning story later.
July, 29, 2011
7/29/11
6:14
PM ET
Nnamdi Asomugha
is not going to the
New York Jets
and
Jared Gaither
is not yet with the
Oakland Raiders
.
ESPN's Adam Schefter just reported
the Jets are out of the Asomugha talks. The
Dallas Cowboys
are still in. Perhaps the Raiders can get back in these talks since it's getting crazy.
While numerous reports have stated that Gaither has agreed to contract terms with Oakland, his agent, Drew Rosenhaus,
has tweeted
that is not the case.
Perhaps it can still happen. The Raiders have been linked to him for the past few days and Oakland is trying to clear salary-cap room.
Gaither could be an interesting addition to Oakland.
Stay tuned all on all fronts.
July, 29, 2011
7/29/11
11:42
AM ET
The
wee hours of Friday morning
have passed and
Nnamdi Asomugha
is still a free agent.
For how long?
Asomugha entered Tuesday's feeding frenzy as the top available prize, and after a head-spinning amount of agreements and high-profile trades around the league, Asomugha remains on the open market. The
New York Jets
are holding off on moving to other matters, and Oakland Raiders fans are hoping that Asomugha will, in the end, decide not to leave them.
ESPN's Adam Schefter said on "SportsCenter" he thinks the Asomugha saga will end Friday or Saturday. He said there is an 80 percent chance Asomugha will team with fellow stellar cornerback
Darrelle Revis
in the Big Apple. Schefter said the Cowboys are also in it and perhaps another mystery team will step up.
Mike Lombardi
of NFL Network tweeted that the Jets and Cowboys are the finalists for Asomugha and that the Raiders' Bay Area rivals, San Francisco, are out of the running. That is, at least, some solace for Raiders fans. It would sicken many Oakland fans to see Asomugha play across the bay.
Meanwhile, the Jets are
clearing more cap room
in an apparent attempt to squeeze in Asomugha.
What does it all mean? More of the same. Keep pulling your hair out and wait patiently, please.