AFC West:

Oakland Riaders
August, 20, 2013
8/20/13
3:35
PM ET
Kansas City linebacker
Justin Houston
checks in at No. 87 and San Diego pass-rusher
Dwight Freeney
comes in at No. 90 on
ESPN.com's top 100 defensive players list.
These are two players at different ends of their careers. Houston is establishing himself as one of the better young pass-rushers and Freeney, in his first season in San Diego, is hoping to show his patented pass-rush burst for another year or two.
In other AFC West notes:
U-T San Diego reports Chargers rookie linebacker Manti Te'o is back in a walking boot. Te'o, who was hurt Aug. 8 against Seattle, reportedly was out of the boot Monday. He was supposed to be out for a week. Now, it looks like he will have a difficult time playing Saturday at Arizona. That is a blow since Te'o is set to start in the regular season and he needs the preseason work.
Oakland safety
Charles Woodson
stuck up for former teammate
Aaron Rodgers
. Former Green Bay receivers
Greg Jennings
and
Donald Driver
have been critical of Rodgers recently. Woodson said Rodgers was
the catalyst of the Packers.
Oakland's starting defensive line practiced together Tuesday for the first time this camp after defensive tackle
Pat Sims
returned after missing extensive time and fellow defensive tackle
Vance Walker
returned to practice Monday.
Oakland has signed tackle
Tony Hills
. He was cut by Buffalo on Sunday. The Raiders need bodies at the position. Still, it is unlikely Hills can be a factor in the regular season. The Raiders waived injured kicker
Eddy Carmona
. With
Sebastian Janikowski
present, Carmona was always on borrowed time in Oakland.
Former Oakland business leader Amy Trask has joined CBSSports.com. She left the Raiders in May.
August, 11, 2013
8/11/13
9:00
AM ET
Weekend mail call:
Jonathan Coleman from Smithville, Mo., wants to know
if I think the Chiefs could trade left tackle
Branden Albert
to Green Bay because of the season-ending injury to
Bryan Bulaga
.
Bill Williamson:
I think that ship has sailed. The Chiefs are happy with Albert and now that training camp is in full swing, the Chiefs are totally intent on keeping Albert, for this year, at least. Plus, rookie
Eric Fisher
is focused on playing right tackle. It would be counterproductive to move him with the season so close.
Hunter from San Diego wants to know
what I think
Philip Rivers
' job security is like with the Chargers.
BW:
I think we will have our answer after this season. The new brass wants to see him improve and it thinks he can. If Rivers, 31, has takes another step back, I think the Chargers will start to think about the future. I think he will be the quarterback in San Diego in 2014 regardless, but San Diego is not going to wait too long for Rivers to get it together.
Mike MacPherson from Ottawa, Canada, wants to know
if I think Oakland quarterback
Terrelle Pryor
has improved this summer.
BW:
Yes, Pryor has shown some improvement as a passer at times. But he also has some moments that frustrate the Oakland coaching staff. He remains a total work in progress as a quarterback.
April, 22, 2013
4/22/13
12:55
PM ET
Yahoo! Sports is reporting
that Kansas City left tackle Branden Albert wants a contract in the range that former Miami left tackle Jake Long recently signed with St. Louis. Long signed with the Rams for $34 million over four years. Yahoo! reports the Dolphins will not continue to pursue a deal unless Albert lowers his demands.
While it could be a holdout, I think the situation is fluid and the demands are just part of the process. I could see Albert lowering his price to get a deal done before or during this week's draft. A potential trade would very likely involve one of Miami's two second-round picks, so the deal will be made by Friday night if it happens.
In other AFC West news:
According to Todd McShay and Mel Kiper , the first round of the draft doesn't change much for the AFC West because of the Darrelle Revis trade from the Jets to the Buccaneers.
Washington is visiting with San Diego cornerback Quentin Jammer. The Chargers have mild interest in bringing Jammer back.
Former Oakland linebacker Rolando McClain was arrested for the third time in the past year and a half in his Alabama hometown. McClain was recently cut by the Raiders and signed by Baltimore. He was the No. 8 overall draft pick in 2010.
Here is an ESPN video with former Oakland quarterback JaMarcus Russell. He is trying to come back after being cut by the Raiders three years ago.
It seems Denver pass-rusher Von Miller is looking forward to the Chiefs drafting his former Texas A&M teammate Luke Joeckel.
Denver safety Rahim Moore seems to have a good handle on things as he prepares bounce back from a colossal playoff gaffe.
March, 12, 2013
3/12/13
7:23
PM ET
The
Kansas City Chiefs
have agreed to terms with defensive tackle
Mike DeVito
.
DeVito is considered a strong player. He is a run-stuffing lineman and should make a nice pairing with
Dontari Poe
in a rotation that should benefit both players. The Chiefs are getting more stout up front.
DeVito played for new Kansas City defensive coordinator Bob Sutton with the New York Jets, where he spent the first six seasons of his career. The Chiefs, who have been immensely busy in the past couple of weeks, signed DeVito, tight end
Anthony Fasano
and quarterback
Chase Daniel
on Tuesday. They have also brought in starting quarterback
Alex Smith
and cornerback
Dunta Robinson
in addition to keeping several key free agents.
Kansas City, which went 2-14 last season, has to be one of the early winners of the NFL offseason.
In other AFC West news:
Former Green Bay linebacker
Erik Walden
reportedly had interest from the Chiefs and Raiders before going to the Colts.
Great statistic from the Broncos: New Denver right guard
Louis Vasquez
, who signed from the Chargers on Tuesday, has played 3,435 snaps in the NFL with just one penalty. Some offensive lineman can't go one set of downs with just one penalty.
The Raiders re-signed cornerback
Phillip Adams
to a one-year deal. He is a decent rotational player.
Linebacker
Stewart Bradley
is set to visit Denver.
Linebacker
Karlos Dansby
, cut by the Dolphins, could be a fit in San Diego.
February, 2, 2013
2/02/13
6:33
PM ET
There weren't any AFC West surprises Saturday when the 2013 Pro Football Hall of Fame class was announced.

Curley Culp and Warren Sapp were the favorites of the four finalists with AFC West ties, and they ended up in the Hall of Fame class. Former Oakland receiver Tim Brown and former Kansas City guard Will Shields did not get into the final 10. They were both considered long shots.

Culp, a senior committee nominee, played his first seven of a 16-year career in Kansas City. Sapp played his final four seasons in Oakland. Sapp did little with the Raiders and will always be remembered as a Tampa Bay Buccaneer.

Culp does have legitimate AFC West ties. He was a key part of the Chiefs' Super Bowl IV-winning team. He was considered the first real 3-4 nose tackle. Culp is in the Chiefs Hall of Fame, and he participates in alumni programs. His election Saturday will be embraced and celebrated in Kansas City.

"On behalf of the entire Chiefs family, we'd like to congratulate Curley Culp on his induction into the Pro Football Hall of Fame," Chiefs owner Clark Hunt said in a statement. "Curley was a dominating force on the defensive line for the Super Bowl IV championship team and one of many great players that helped build the tradition and foundation of the Kansas City Chiefs. … We look forward to seeing him take his rightful place in Canton."

Saturday's developments are disappointing for Brown and Shields, but there are silver linings for both. Cris Carter finally gained election, so the receiver logjam lessened. I still think Andre Reed might get in before Brown.

There has been some chatter that Brown's recent comments that former Oakland coach Bill Callahan "sabotaged" the team's Super Bowl loss to the Buccaneers 10 years ago might have hurt his chances. Brown was considered a long shot prior to causing that firestorm.

Shields was likely blocked by first-year nominee Larry Allen, who gained election. With Allen in, I can see Shields getting elected in the next couple of years.
December, 9, 2012
12/09/12
1:38
PM ET
Saturday,
Jamaal Charles
was in Austin, Texas for the funeral of a family member, ending an incredibly sad and confusing week.
Sunday, in Cleveland, Charles did what he does best. He ran 80 yards for a touchdown on the first play from scrimmage to give the Chiefs a 7-0 lead over the Browns.
Charles and several other members of the Chiefs' team flew to Cleveland on Saturday after attending the funeral of Kansandra M. Perkins. Perkins, 22, was murdered by her boyfriend
Jovan Belcher
, a starting linebacker on the Chiefs, last Saturday. Belcher then went to the team's facility and killed himself. The team went to a memorial service for Belcher on Wednesday.
The tragedy was especially difficult for Charles. Perkins was the cousin of Charles' wife, Whitney. Charles and his wife introduced Belcher and Perkins.
For Charles to be able to even suit up in the past two games is an accomplishment. For him to excel, is special.
In other AFC West news:
CBS Sports reports
the Raiders won't suffer financial issues if they cut linebacker
Rolando McClain
, He is eligible to return to the team Monday. If he is not cut, the belief is McClain may be inactive for the final three games of the season and then cut in the offseason.
The Chiefs released offensive lineman Hayworth Hicks and promoted wide receiver
Josh Bellamy
from the practice squad to the 53-man roster.
December, 7, 2012
12/07/12
11:00
AM ET
Here are some areas the
Denver Broncos
need to focus on after a 26-13 win at Oakland on Thursday:

Recap:
The Broncos dominated Oakland and this game was never truly close. The Broncos failed to capitalize on several drives, but this game was never in danger for the Broncos, who won their eighth straight game and improved to 10-3. The Broncos now have a half-game lead over Baltimore and New England, both 9-3, in the quest for the No. 2 seed and a first-round bye in the playoffs.
Biggest area to fix:
Red zone offense. Denver was just 2-of-7 in the red zone. That has change in the playoffs. Denver moved up and down the field, but it was not crisp inside Oakland's 20-yard line. After the game, Denver quarterback
Peyton Manning
lamented the team's red zone woes, but he vowed to fix the issue.
Biggest area to build on:
Knowshon Moreno
. He had a terrific game. Moreno had 119 yards rushing on 32 carries and he added 48 yards on four catches. Manning seems to trust Moreno and it is evident Denver is trying to establish Moreno for the next month or so. He will be the team's starter until the AFC title game (if the Broncos make it) when
Willis McGahee
is set to come back from a knee injury. According to ESPN Stats & Information, Moreno (who was inactive for eight straight games this season) had a career-best 69 yards after contact, which is the second most by a Denver running back in the past four seasons.
What to watch for:
The Broncos have a huge game in Week 15 at Baltimore. This game will have major implications in the AFC playoff race and will be a strong message game for both teams.
October, 27, 2012
10/27/12
9:01
AM ET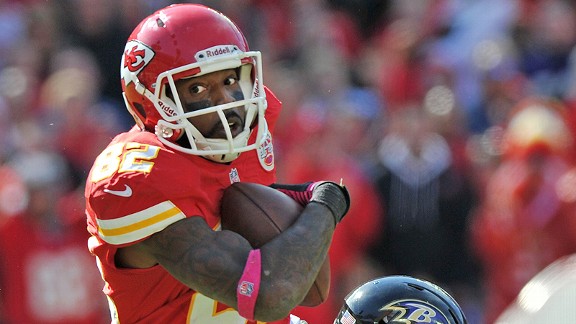 Peter G. Aiken/US PresswireDwayne Bowe has caught 34 passes for 427 yards and three touchdowns for the Chiefs this season.
If the
Kansas City Chiefs
are going to trade
Dwayne Bowe
, it will happen in the next four days.
The NFL trade deadline is Tuesday. We don't usually see a lot of blockbuster deals (although the Raiders did land quarterback
Carson Palmer
at the deadline a year ago), but Bowe is one of the more intriguing players to keep an eye on as the deadline approaches.
There has been speculation he could be the biggest name sent packing this year, and there was a recent report that Bowe desperately wants out of Kansas City. He is a free agent after the season, so, at the very least, Bowe might be preparing to play his final 10 games with the Chiefs.
Let's look at some reasons swapping Bowe before Tuesday's deadline could behoove the Chiefs:
Contract:
We've already broached the main reason trading Bowe might make a lot of sense. He probably won't be a Chief next season. Bowe is 28 and in his prime. He is a legitimate No.1 receiver who has made plays on an offense known for running the ball and for poor quarterback play. He will be popular on the open market. The Chiefs might as well get something for Bowe when they can.
Unless both the Chiefs and Bowe have a major change of heart, there isn't much of a chance Bowe will be back in Kansas City in 2013. He held out until after training camp this year after he was franchised at more than $9 million this season. There is little chance the Chiefs (who might need to franchise left tackle
Branden Albert
) will put the franchise tag on Bowe again at increased rate. The Chiefs have yet to show a strong interest in finalizing a long-term deal for Bowe, so what's to say they'd do it now? And if you believe the noise, Bowe probably is not jumping to sign with the Chiefs again.
Better compensation:
If Bowe leaves as a free agent, the best the Chiefs will do is a compensatory draft pick in 2014. The highest it would be is No. 97, at the end of the third round. By trading Bowe, the Chiefs could get two picks. At least one would be higher than at the end of the third round, and the picks probably would be in next year's draft. I think the Chiefs could get a second-round pick with perhaps a condition for another pick by trading Bowe now. Miami, St. Louis and the Jets, among other teams, could be interested in Bowe. Perhaps the Chiefs can drum up a bidding war to increase compensation.
Added ammunition:
There is no doubt the Chiefs will be looking for a quarterback in the first round of the draft. We know how the quarterback market works in the draft. It is reasonable to think USC's Matt Barkley and West Virginia's Geno Smith could be the first two picks of the draft in April. If the Chiefs fall in love with one of these players -- and don't already have one of the first two picks -- they would have to trade up. Getting picks for Bowe would add to the Chiefs' trade arsenal in April. Remember, it took a slew of picks for the Redskins to move from No. 6 to No. 2 in a trade with the Rams this year to take
Robert Griffin III
. Stockpiling picks might be beneficial to Kansas City.
Bowe is not helping Chiefs now:
Many people think the Chiefs would be conceding the season by trading Bowe. Look, this season is already lost. There have been major injuries, failures on both sides of the ball and a quarterback change. The Chiefs are 1-5 and are probably not going anywhere in 2012. Trading Bowe wouldn't be a sign of conceding but a sign of interest in long-term recovery.
Bowe has not made the Chiefs a better team this year even though he has played well. Now that
Brady Quinn
is taking over at quarterback, having Bowe around would make life easier for the Chiefs on offense. But it isn't as if Bowe is a magical savior for this disastrous season.
He's replaceable:
One of the reasons the Chiefs drafted
Jon Baldwin
in the first round in 2011 was insurance in case Bowe, who has 34 catches for 427 yards and three touchdowns this season, were to leave in free agency. Baldwin has potential, but he still needs to develop. By trading Bowe, the Chiefs could make a commitment to Baldwin to prepare him for the future. Also, the Chiefs are always good at managing the salary cap. They can always add a starting receiver in free agency. Bowe is not untouchable or impossible to replace.
Although trading Bowe might make sense, it might be an upset to see a deal actually happen. NFL trades aren't that easy to make. But it might be worth the Chiefs' time to consider one in the coming days.
October, 11, 2012
10/11/12
6:00
PM ET
To spark some life into a porous punt return game, Denver has announced it has claimed diminutive returner
Trindon Holliday
. He was cut by Houston on Wednesday.

He replaces
Jim Leonhard
as the returner. Denver cut safety
Duke Ihenacho
to make room for Holliday.
Holliday, 5-foot-6, 169 pounds, is a speedster who has the ability to make things happen on special teams.
Meanwhile, Denver receiver
Demaryius Thomas
(hip) and left tackle
Ryan Clady
(hamstring) were limited in practice Thursday in preparation for Monday's game at San Diego.
In other AFC West news:
San Diego left tackle
Jared Gaither
(groin) is getting rested Thursdays. The team is hopeful he can play Monday.
Oakland defensive tackle
Tommy Kelly
(foot) and tight end
Richard Gordon
(hamstring) did not practice.
August, 16, 2012
8/16/12
5:40
PM ET
Kansas City coach Romeo Crennel said standout cornerback
Brandon Flowers
is consulting physicians because his bruised foot injury is lingering. Flowers hasn't practiced since July 31. Initially, Crennel said he didn't think the injury was serious.
Crennel said despite the fact that the injury is taking time to heal, it doesn't "necessarily" mean the injury is worse than expected.
"He's still working to try to get better," Crennel said. "I saw him this morning, and he's doing all that he can. We're sending him to the doctors and we're trying different things to try and get it better. He's getting better slowly, not fast enough, but all we can do is kind of hang on and see what happens … It's just one of those things that they haven't been able to pin point exactly why he's not getting better as fast as we want him to get better."
In other AFC West news:
The Chiefs break training camp in St. Joseph, Mo. on Thursday afternoon.
Oakland signed the nephew of former Seattle linebacker Brian Bosworth, Korey Bosworth. The UCLA product was with the Broncos in camp two years ago. He has an uphill battle to make the team. There is some irony here, of course. The bombastic Bosworth is most remembered for being run over by former Raiders' running back Bo Jackson in a game 25 years ago.
The Broncos set a new team record for training camp attendance. The team said 84,380 people attended camp practices this year. It nearly doubled the previous total set last year. It's another sign that Manning-mania is actually bigger than Tebow-mania in Denver.
ESPN's Josina Anderson reports former Denver defensive tackle Marcus Thomas is signing with the Giants.
His teammates are raving about San Diego first-round pick, pass-rusher Melvin Ingram. They should be. Ingram was stunning in the preseason opener last week.
The NFL suspended San Diego defensive lineman Garrett Brown for four games for violating the NFL policy on performance enhancing substances. He was a long shot to make the 53-man roster.
Oakland coach Dennis Allen has excused starting safety Michael Huff from Friday's preseason game at Arizona so he can attend to the birth of his first child.
March, 20, 2012
3/20/12
7:35
PM ET
The San Diego Chargers' interest in Jackie Battle has taken the next step.
UT San Diego is reporting
the Chargers are visiting with Battle on Tuesday. He would back up Ryan Mathews if signed.
The Chargers started focusing on Battle last week as a possible replacement for Mike Tolbert if he left in free agency. Tolbert signed a four-year deal with Carolina on Monday. Battle is a solid backup who likely fell out of the Chiefs' plans when they signed Peyton Hillis last week.
In other AFC West news:
Kansas City general manager Scott Pioli
was asked about the team's pursuit
of Manning. After losing out on Manning, Pioli deserves credit for giving his offense a big boost in the form of Hillis, tackle Eric Winston and tight end Kevin Boss. Matt Cassel remains the Chiefs' quarterback and he got a lot of help.
As expected, former Oakland pass-rusher Kamerion Wimbley has agreed to terms with Tennessee. Oakland cut Wimbley in a salary-cap dump last week.
As expected, receiver Jerricho Cotchery is visiting the Chiefs on Tuesday. He would be a rotational receiver in Kansas City. He had 16 catches last season for Pittsburgh.
Rick Reilly looks
at the Tim Tebow-John Elway relationship as it appears to be ending.
In a radio interview,
Denver receiver Demaryius Thomas discusses the major change on the team.
In a radio interview,
Broncos' hall of famer Shannon Sharpe discusses Manning's impact in Denver,
In a radio interview,
Winston discusses the possibilities with his new team.
San Diego free-agent linebacker Everette Brown is going to visit with the Lions. There is little chance he will return to the Chargers.
UPDATE
:
The Raiders are reportedly one of the teams interested
in Cincinnati defensive lineman Manny Lawson. I have talked to a source close to the situation and the Raiders are, indeed, one of several teams interested in Lawson. The process is expected to heat up in the next couple of days. There is no favorite team to land Lawson at this time.
He would be a rotational player in Oakland. One advantage Oakland could have is Lawson and new Oakland defensive coordinator Jason Tarver was in San Francisco together. Lawson has experience in both 4-3 and 3-4 schemes. The Raiders have not publicly said whether they will be a 4-3 or a 3-4 but new coach Dennis Allen has said the Raiders will use multiple fronts.
August, 2, 2009
8/02/09
11:51
PM ET
Posted by ESPN.com's Bill Williamson
SAN DIEGO -- Wrapping up a Sunday night in the AFC West:
The Chargers looked very crisp in their first practice in full pads this training camp. The team flew around the field and there was very good contact made. San Diego coach Norv Turner was pleased with the effort.
Safety Steve Gregory, who is fighting for playing time, played very well Sunday evening. He had an interception and broke up some passes.
Cornerback Quentin Jammer continued to look impressive.
It was a mixed day for Oakland's receivers. Veteran Javon Walker reportedly looked very good working out on his own during practice. Three of Walker's past four seasons have been altered by injuries. If Walker can have a bounce-back year, it will be a huge boost for Oakland, which is hungry for solid receiver play.
Meanwhile, top pick Darrius Heyward-Bey continued to have trouble holding onto the ball. His hands are a major concern. Oakland owner Al Davis talked to Heyward-Bey after the practice. Heyward-Bey's development will be closely monitored.
In Denver, receiver Brandon Marshall did not practice in the evening. He left the morning practice with an apparent hamstring injury.
Three more starters are back on the practice field in Kansas City after they failed the team's conditioning test Friday.