July, 15, 2010
7/15/10
1:00
PM ET
»
NFC On the Radar
:
East
|
West
|
North
|
South
»
AFC
:
East
|
West
|
North
|
South
A player, coach or issue that should be on your radar as training camp approaches.
[+] Enlarge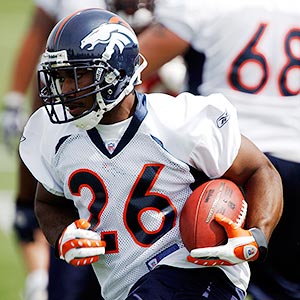 AP Photo/David ZalubowskiJ.J. Arrington is getting another chance with Denver.
The
Denver Broncos
are giving
J.J. Arrington
another chance to be their short-yardage back. Denver signed Arrington as a free agent in 2009. But he failed his physical because he needed major knee surgery.
Denver re-signed Arrington this year with the hope he can give the team a spark. The Broncos desperately need a third-down back who can produce. Arrington, who also could be in the return-game mix, has ability and showed flashes while with Arizona. If he can stay healthy, the Broncos will use him extensively.
Denver visited with veteran third-down back
Brian Westbrook
in May. But the Broncos decided to take a long look at Arrington in training camp. If Arrington can stay healthy, and if he looks good, Denver will keep him. If not, and Westbrook is still a free agent, the Broncos could come calling.
But Arrington will be given the chance to succeed in Denver. It's clear the Broncos want it to work out with Arrington or they wouldn't have brought him back.
July, 8, 2010
7/08/10
1:00
PM ET
»
NFC On the Radar
:
East
|
West
|
North
|
South
»
AFC
:
East
|
West
|
North
|
South
A player, coach or issue that should be on your radar as training camp approaches.
There is a lot of excitement in Oakland this offseason.
[+] Enlarge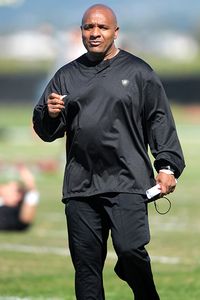 Kirby Lee/Image of Sport/US PresswireNew offensive coordinator Hue Jackson will team with new quarterback Jason Campbell to try to turn Oakland's offense around.
The Raiders and their fans believe the worst is behind an organization that has been mired in a seven-year funk. Oakland has lost at least 11 games in each of the past seven seasons -- an NFL record for futility.
Still, hopes are high in Oakland (as they are every offseason). One of the reasons is the presence of offensive coordinator Hue Jackson.
Jackson was an assistant in Baltimore last year. He has a good reputation around the league and helped develop
Carson Palmer
in Cincinnati and
Joe Flacco
in Baltimore.
Jackson will have a lot of responsibility in Oakland. He will be in charge of turning around a dismal offense. Jackson has proven to be very vocal in Oakland's offseason workouts and he has received high marks from Oakland's players. The Raiders hope the combination of Jackson and new quarterback
Jason Campbell
will help the team out of its doldrums.
Jackson is expected to call plays and the team is going to become more smashmouth under his guidance.
If the Raiders stumble early, it is not out of the question that head coach Tom Cable gets fired (his job status was in question for weeks this offseason) and Jackson takes over. That's how Cable became the head coach when Lane Kiffin was fired during the 2008 season.
Whatever happens, expect Jackson to be a major storyline in Oakland as the season gets going. Oakland needs offense and is entrusting Jackson to provide it.
July, 1, 2010
7/01/10
1:00
PM ET
»
NFC On the Radar
:
East
|
West
|
North
|
South
»
AFC
:
East
|
West
|
North
|
South
A player, coach or issue that should be on your radar as training camp approaches.
The more I hear about this player, the better I like him.
[+] Enlarge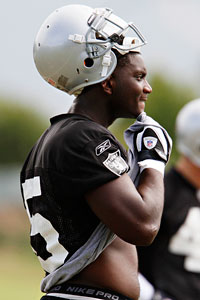 AP Photo/Eric RisbergThe Raiders' Rolando McClain may make a push for defensive rookie of the year.
I think Oakland scored big here. I don't see any chance of
Rolando McClain
not being a positive player for the Raiders. He has it all.
For a team that earned a reputation for making major draft mistakes in the first round, Oakland played it safe by taking the middle linebacker from Alabama with the No. 8 pick.
And it will pay off.
Again, I don't want to put extra expectations and pressure on McClain, but I believe he is going to be a pro's pro.
This is a kid who asked the Raiders to send him their playbook -- a day after he was drafted. The next week at the team's minicamp, McClain looked like he had been the quarterback of the Raiders' defense for 10 years.
In May, McClain said that there is virtually no chance he will stage a training-camp holdout. He reasoned that he is a football player and the best place for a football player is on the football field.
This guy will make Oakland better.
I'm not going to get carried away and say McClain will solve all of Oakland's problems, but he will make the Raiders better against the run and I think in a couple of years, he will be the face of the defense.
Rolando McClain is a quality football player and I look forward to seeing him make a push for the defensive rookie of the year award. After years of striking out early, there seems to be little chance that Oakland whiffs on this pick.
June, 24, 2010
6/24/10
1:00
PM ET
»
NFC On the Radar
:
East
|
West
|
North
|
South
»
AFC
:
East
|
West
|
North
|
South
A player, coach or issue that should be on your radar as training camp approaches.
The
Oakland Raiders
have an intriguing defensive line. If this defense is going to turn around its fortunes (and in turn help the team turn around), it will start on the line.
Give Oakland credit for trying to upgrade the unit, which has been spotty, lethargic and ineffective in recent years.
[+] Enlarge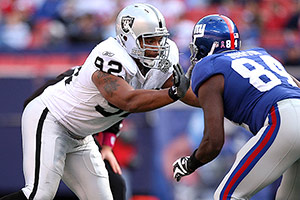 Jim McIsaac/Getty ImagesThe Raiders would like more than four sacks from Richard Seymour in 2010.
Since last September, Oakland has added
Richard Seymour
through a trade, signed free agent
John Henderson
and drafted
Lamarr Houston
. With Seymour signing his franchise tender last week, Oakland's defensive front appears set. Now, all it has to do is perform well.
It all starts with Seymour. He is the best defensive lineman in the AFC West and he can be a dominating force. But he was uneven in his first season in Oakland. Seymour has to be more consistent in his second season. Henderson is an interesting run-stuffer, which is key because Oakland has been terrible against the run in recent seasons. The 6-foot-7, 325-pound Henderson is past his prime, but he can still be effective against the run for 25 to 35 plays a game. That will help.
The team is very excited about Houston, who probably will play end in the NFL, although he can also play defensive tackle. He is stout against the run. The second-round pick from Texas has proved to be very feisty in Oakland's offseason camps. It's a lot to expect a rookie to change the demeanor of a unit, but Houston has a chance to do just that.
All three of these new players can play in the 3-4 defense, so Oakland will have flexibility.
Add these players to the likes of
Tommy Kelly
and promising second-year player
Matt Shaughnessy
and Oakland has some decent pieces on the line. The key will be finding the right rotation.
If this unit comes together, Oakland should be much improved on defense.
June, 17, 2010
6/17/10
1:00
PM ET
»
NFC On the Radar
:
East
|
West
|
North
|
South
»
AFC
:
East
|
West
|
North
|
South
A player, coach or issue that should be on your radar as training camp approaches.
[+] Enlarge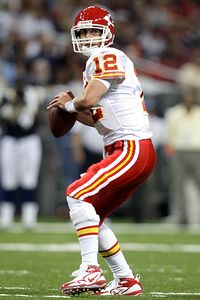 AP Photo/Jeff RobersonChiefs backup quarterback Brodie Croyle could have potential trade value if he performs well in the preseason.
Brodie Croyle
is one of the more interesting players in the AFC West.
He is a former starting quarterback in Kansas City who has been forgotten. But the truth is, the guy has some skills.
The Kansas City Star reported that he was a star of the team's mandatory minicamp last week.
There was a time when Croyle was considered a top prospect in Kansas City. He was the team's starting quarterback in 2008, but injuries derailed his career. When he was healthy, the former Alabama star showed promise. However, Croyle's star fell when the Scott Pioli-Todd Haley era began in 2009. Understandably, Pioli wanted to begin the era fresh and he acquired
Matt Cassel
, who played well for Pioli in New England when
Tom Brady
was hurt.
The Chiefs think Cassel represents the future. Croyle's best chance in Kansas City is as a backup. Haley, a quarterback specialist, has praised Croyle. Teams value backup quarterbacks, so if Croyle continues to make strides the Chiefs will value him. If Cassel regresses or gets hurt, the Chiefs could be in good hands with Croyle.
Of course, if Croyle lights it up in the preseason and another team suffers a setback at quarterback, it's not out of the question that Croyle becomes a valuable trade commodity.
Croyle's Kansas City's career might have suffered a setback last year, but there's no reason why he can't still have a productive NFL career in some fashion.
June, 10, 2010
6/10/10
1:00
PM ET
»
NFC On the Radar
:
East
|
West
|
North
|
South
»
AFC
:
East
|
West
|
North
|
South
A player, coach or issue that should be on your radar as training camp approaches.
The Chargers are looking at a potential issue at receiver if star
Vincent Jackson
holds out into the season.
[+] Enlarge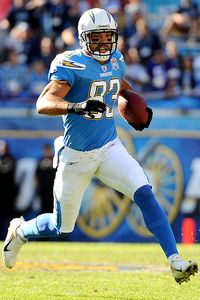 Harry How/Getty Images The contract situation between Vincent Jackson and the Chargers could get ugly.
Jackson is a restricted free agent who has not signed his tender. The Chargers are expected to reduce the tender offer to Jackson next Tuesday, which is the deadline to reduce a restricted free agent's salary to 110 percent of the previous season's salary if they don't sign their tender. Standout left tackle
Marcus McNeill
also could hold out as a restricted free agent.
Jackson probably will stay away from the team until he gets a long-term deal. That does not seem to be on the team's radar. San Diego general manager A.J. Smith is not intimidated by players or their actions. Thus, this situation has the potential to get ugly.
The Chargers would surely miss Jackson. He has developed into one of the better receivers in the NFL and is Philip Rivers' favorite target. Jackson had 68 catches last season, averaging 17.2 yards per grab. He is a matchup nightmare and has terrific size and speed.
The San Diego offense would survive without Jackson but it would certainly lose an important element. The team would have to rely heavily on young receivers
Malcom Floyd
,
Legedu Naanee
and
Craig Davis
. Floyd and Naanee are quality players while Davis has been dealing with injuries.
If Jackson misses time, expect the Chargers to use tight ends
Antonio Gates
and
Randy McMichael
and running backs
Ryan Mathews
and
Darren Sproles
even more in the passing game.
As we get closer to training camp, it looks more and more like the idea of playing without Jackson could become a reality.
June, 3, 2010
6/03/10
1:00
PM ET
»
NFC On the Radar
:
East
|
West
|
North
|
South
»
AFC
:
East
|
West
|
North
|
South
A player, coach or issue that should be on your radar as training camp approaches.
[+] Enlarge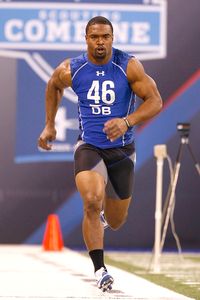 Scott Boehm/Getty ImagesRookie safety Darrell Stuckey has the chance to contribute right away for the Chargers.
Darrell Stuckey
is going to be an interesting player to keep an eye on this summer.
The safety was a fourth-round pick by San Diego. The early offseason camp returns on the Kansas product have been strong. He was sharing starting repetitions during last week's minicamp with veteran
Steve Gregory
.
Stuckey has a chance to become a significant contributor right away. He can take advantage of
Kevin Ellison
's legal issues. The Chargers had Ellison stay away from minicamp last week after he was arrested for allegedly having 100 Vicodin pills in his possession.
The Chargers are clearly upset with Ellison. He could be released.
Ellison was a sixth-round draft pick last year. He started the final nine games of last season. Still, the Chargers drafted Stuckey to give him an opportunity to take Ellison's spot. In the aftermath of Ellison's arrest, Stuckey clearly has to be considered a frontrunner to start.
Stuckey is a big, strong player who has good instincts. He has a chance to play early and Ellison's off-field issues will expedite his opportunity.
May, 27, 2010
5/27/10
1:00
PM ET
»
NFC On the Radar
:
East
|
West
|
North
|
South
»
AFC
:
East
|
West
|
North
|
South
A player, coach or issue that should be on your radar as training camp approaches.
One of the reasons for hope in Oakland is young receiver
Chaz Schilens
. The seventh-round pick in 2008 has shown nice flashes. Many league observers think he has a chance to develop into a solid No. 1 receiver. He is the best of Oakland's several young receivers.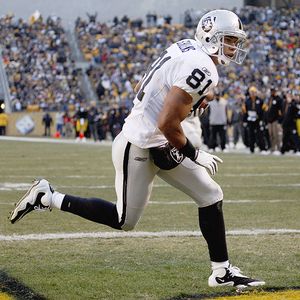 Gregory Shamus/Getty ImagesWhen healthy, receiver Chaz Schilens is a bright spot for the Raiders.
He has good hands. He's big, fast and runs good routes. And he's still learning. His upside is very high.
However, there is also a major injury concern. Schilens is still feeling the effects of a broken foot he suffered during training camp last year. He missed several games because of the surgically repaired foot. Then he had a follow-up surgery this offseason because of complications. He is expected to miss the rest of the offseason workouts, and he isn't expected to be ready until training camp.
This isn't disastrous news, but NFL teams have OTAs for a reason -- Schilens is missing valuable time. He has a new offensive coordinator, Hue Jackson, and he has to find a rhythm with new quarterback
Jason Campbell
. These things can be addressed during training camp, but it would be helpful for Schilens to have this time to work with the rest of the offense.
The biggest concern is if the foot will cause him any more problems during training camp. Two surgeries should do the trick. But the fact that he is still bothered by the injury nine months after it happened is cause for concern.
Oakland has to keep close tabs on Schilens and hope he is 100 percent once training camp arrives in late July. The Raiders are better team with Schilens than without him.
May, 20, 2010
5/20/10
1:00
PM ET
»
NFC On the Radar
:
East
|
West
|
North
|
South
»
AFC
:
East
|
West
|
North
|
South
A player, coach or issue that should be on your radar as training camp approaches.
[+] Enlarge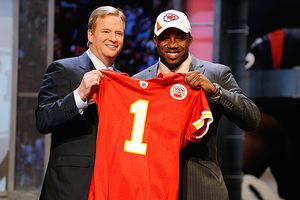 Jeff Zelevansky/Getty ImagesEric Berry is just one of three Chiefs rookies from the SEC expected to make an impact.
While I was at our meetings in Bristol last week, I had the opportunity to catch up with Chris Low,
our outstanding SEC blogger.
We had plenty to discuss. I will be covering several of the players who starred in the SEC last season after the AFC West went SEC-heavy in the draft.
Three of the players who dominated our conversation were the first three picks of the
Kansas City Chiefs
. Kansas City took Tennessee safety
Eric Berry
in the first round at No. 5 overall and then took Mississippi running back/receiver/returner
Dexter McCluster
and Alabama cornerback/returner
Javier Arenas
in the second round.
If Low's thoughts are any indication, the Chiefs will be very happy with these players. Low thinks all three will be NFL standouts.
Low said that Berry, McCluster and Arenas are all very fast, productive and bright. Expect plenty of playmaking from a trio expected to make immediate contributions.
Berry should start. McCluster will be a slot receiver and returner. Arenas will be the nickel cornerback and probably return kicks as well.
Let's face it: The best college football in the country is played in the SEC. The best players reside in that conference. I think we are going to see Kansas City begin the transformation to respectability on the strength of these three excellent draft choices.