February, 22, 2014
Feb 22
4:35
PM ET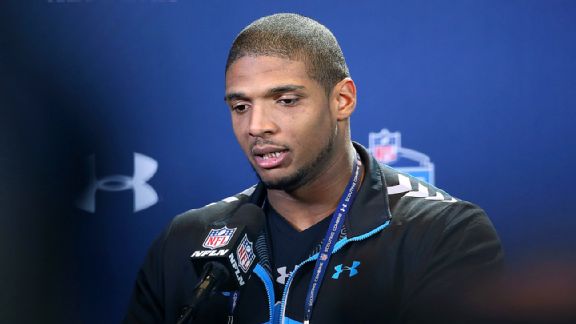 AP Photo/Ben LiebenbergDefensive end Michael Sam has told NFL executives he can be the pass-rusher every team covets.
INDIANAPOLIS -- It was a 12-minute, 30-second glance into the future.
But when
Michael Sam
, the NFL's first openly gay draft hopeful stood before a huge array of cameras, digital recorders and smartphones sending his image to Twitter on Saturday at the NFL's scouting combine, he simply owned the moment.
He was composed, witty, engaging. He handled himself the way he's going to have to handle himself in the days, weeks and months ahead in whatever becomes of his professional football career. Sam looked ready, sounded ready, oozed ready for what's to come.
He is at the front of the line, a player who will have to wrestle, control and handle all of the attention that will be along for the ride.
Sam understands all of it, at least he says he understands. He received a standing ovation when the Missouri football team was honored at halftime of a recent Missouri-Tennessee basketball game in one of his few public appearances since his Feb. 9 announcement that he is gay.
Saturday, he repeatedly lauded those in and around the Missouri campus for "all of the support," including a "Stand with Sam" button he wore at the combine, given to him, he said, by a "very kind lady." And Sam's announcement, as well as his appearance at the combine, has brought all of the is-the-NFL-ready-for-a-gay-player storylines. For the past two weeks, players have been quoted, both anonymously and on the record, about Sam's football future.
There have been gay players in NFL locker rooms before, some who have acknowledged it to teammates and some who have not. But Sam will be the first to have publicly announced it before arriving.
Baltimore Ravens
general manager Ozzie Newsome constructed two Super Bowl teams as a team executive, and he was a Hall of Famer as a player. Newsome said Saturday that Sam already has dealt with teammates who knew Sam was gay. The challenge, at this point, Newsome said, is how Sam deals with the public and the media in a wired world.
"He's been a good player, he's been in the locker room, it's what you, the media, what are y'all going to do with him," Newsome said. "Once he gets in, and he can rush the quarterback, get the quarterback on the ground and make tackles, he's going to be a good teammate. The biggest thing is how the media is going to deal with it."
Newsome was then asked -- as an executive who makes roster decisions, who builds depth charts -- if the attention given to Sam would be a deterrent for those trying to figure out where Sam should be drafted.
"This is something that is new to the league and we all will have to adapt to it," Newsome said. "What I was talking about, I think our locker room has had the tendency to adapt to things a lot smoother than maybe the media does."
The Broncos' top decision-maker, John Elway, also a Hall of Famer as a player, has said Sam's announcement would have no impact on how he will be evaluated as a player. That "having spent 16 years in an NFL locker room [as a player], the bottom line is that it's about treating others with respect and earning that respect. By all indications, it appears Michael has done just that throughout his football career."
That was the message Sam delivered for all those gathered in front of him Saturday. His "whole focus" has been preparing for the combine, preparing for his pro day next month.
"Heck, yeah, I wish you guys would ask me, 'Michael Sam, how's football going?'" he said. "I would love for you to ask me that question, but it is what it is. And I just wish you guys would see me as Michael Sam the football player instead of Michael Sam the gay football player."
In his interviews with NFL team executives at the combine, Sam's message has been he can be the pass-rusher every team covets, that concerns he's too small to be a defensive end and did not perform well in linebacker drills at the combine are things he can alleviate with the benefit of opportunity.
"I'm a pass-rusher. If you put me in a situation to get the quarterback, I'm going to get the quarterback," Sam said. "Whoever the coaches, the GMs, this league is a passing league, and I like to believe in myself as a good pass-rusher."
While the attention Sam has in tow will come in large part because of his off-the-field life, Sam said his concentration is on football, and that football should determine his professional future.
Those who know Sam believe he can handle the attention, or as Missouri defensive end
Kony Ealy
said Saturday, "I expect him to go in there and just do his job. … He motivates. … He's just that type of player, that type of person, off the field, all around."
Sam was asked Saturday if he felt like a trailblazer in all of this, and his answer showed his mindset, showed what he has presented to the league's decision-makers.
"I feel like I'm Michael Sam."
Michael Sam, the football player.
February, 12, 2014
Feb 12
2:00
PM ET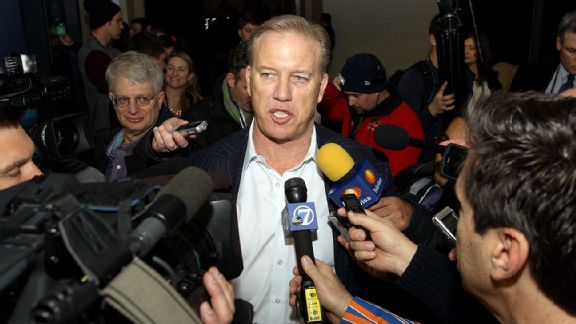 Brad Penner/USA TODAY SportsJohn Elway has delivered impressive results in his short time as Denver's top football executive.
John Elway has been, and still is, a lot of things to those in and around the
Denver Broncos
, to those who live and breathe with the team's fortunes.
Hall of Fame quarterback.
Your basic football legend, one with a been-there, done-that swagger taken straight out of central casting.
Face of a franchise.
Heart of a franchise.
Businessman.
Restaurateur.
Celebrity.
Take your pick, even as you drive around in your car, purchased at one of Elway's dealerships, to eat in one of his restaurants before you take one of the afternoon tours of the stadium where his name is in the team's Ring of Fame.
But now add another. The one Elway, if he would admit to such things, wears with pride to go with a new contract extension that runs through 2017.
Football Guy.
When Broncos owner Pat Bowlen fumed over what his team had become in 2010 -- cheaters, to many in the outside world, that were set to finish 4-12, with an already fired head coach, a Spygate scandal in tow, and a growing number of empty seats in the home stadium -- he looked to Elway to save the day and the ones that followed.
Bowlen looked to the guy he had seen do all things amazing, to the guy he had seen make the most of any situation the Broncos had been in, regardless of down and distance, the odds, or even the weight of history and expectations.
Bowlen has called Elway "a great treasure." In fact, Bowlen did it as he introduced Elway as the Broncos' top football executive on Jan. 5, 2011. Still, some wondered if this all had a ceremonial feel to it.
That if a franchise's marquee player, a Hall of Fame passer no less, with a potential lifetime of celebrity golf and lucrative corporate speaking engagements already guaranteed and waiting, could really be interested in coming back to roll up his sleeves and run the football side of a team.
Because no matter how much wood paneling they put up in the offices, that's not really an executive job, not at its core anyway. It has an executive title and executive salary, but it is a get-down-to-it vocation for grinders.
This is a job for those who are actually interested in finding players, maintaining stability, building a roster, sorting through problems, keeping a franchise out of salary-cap trouble, making the correct decisions about who to keep and who to not keep, standing for something and sifting through the hours of digital video it takes to do that.
This is what those in the game call a Football Guy.
As a scout who works for a team whose top decision-makers didn't make the trip to last month's Senior Bowl said, "My guys aren't here, and I look up in the stands and I see [expletive] John Elway the week before his team is in the Super Bowl. All you need to know."
Sure, all of the Senior Bowl practices, every one-on-one or team drill, are available on video for all to see later in the comfortable confines of a nicely appointed office. It's why some choose not to make the trip to Mobile, Ala., each January for the best all-star game for NFL hopefuls each year.
And sure, Elway could get all that on video, too. But leaders lead, they set expectations and make sure everyone is doing things properly to meet them. For real leaders, that includes themselves.
They also empower people to know what they do is important to the organization, to the goal as a whole. And nothing, repeat
nothing
, is more disheartening to a football team's scouting staff, the guys who grind it out on the road throughout the year, than a general manager or head coach who doesn't show all that much interest in what they're doing until it's time to make the picks in the draft.
A team's top football decision-maker can say whatever about the importance of player evaluation, but when the staff sees you taking an interest, being a part of the evaluation process before the video rolls, it means something.
Ozzie Newsome, Elway's Hall of Fame peer in the personnel business and the one who calls the football shots for the
Baltimore Ravens
, takes that approach. Newsome is visible at the Senior Bowl, the East-West Game, the scouting combine. He shows his staff what they're doing is important by how he conducts himself. He leads, he does the work and his team consistently finds players and wins.
It's no accident Newsome was one of the people Elway contacted after accepting Bowlen's offer three years ago.
Even as the Broncos have won an AFC West title in each of Elway's three years since his return, even with a Super Bowl appearance 10 days ago, there are those who have wondered, including some who have known Elway for some time, if the constant all-or-nothing drumbeat of criticism that comes in the social media era for those who don't raise the trophy would make Elway decide the effort wasn't worth it, decide the returns didn't equal the investment.
But behind all of the rest is a Football Guy. One who answered a disheartening Super Bowl loss with a signature on a contract extension that promises he'll keep trying for four more years.
Maybe if folks had listened a little more closely three Januarys ago, to the usual here's-what-we're-going-to-do declarations that opening news conferences bring, the hints that Elway would be the guy for the long haul were there.
"When I retired from football, I was 38 years old. And I was not done doing what I needed to do in this life. And I believe that I am a guy that likes challenges. I am a guy that likes to compete. I am a guy -- and I have had several people say, 'How many times are you going to climb up another mountain?' And I said, 'Probably [until] I get too tired.' But I am not too tired to climb another mountain. Obviously, this is a mountain here that we need to climb, and I look forward to the challenge. That is the way that I am built. I do not look at myself as an icon. Maybe people from the outside look at it that way, but I look out from my eyes. The way I look out of my eyes and what I want to do with my life is that I love the challenges that Mr. Bowlen has given me here. So, I am truly excited about it. Talk about legacy -- the thing that I would want to do is look back and say, 'You know what? You had a chance to go do something as big as this and as the position that was given to you.' To be able to walk away from that, I would have never been able to forgive myself. That is not what I am about."
So, it seems, Elway called this play a while back.
April, 10, 2013
4/10/13
7:21
PM ET
By
ESPN.com staff
| ESPN.com
Former
Oakland Raiders
linebacker
Rolando McClain
has agreed to a deal with the
Baltimore Ravens
, a league source told ESPN NFL Insider Adam Schefter.
McClain
Before the contract is formalized on Friday, McClain is required to pass a physical and meet with general manager Ozzie Newsome and head coach John Harbaugh regarding their expectations.
McClain told a newspaper in Alabama on Wednesday that he expects to sign a one-year deal with the Ravens.
"It's a move that can't go wrong and I'm looking forward to playing in Baltimore as the Ravens run the same or very similar defense as I was a part of at the University of Alabama," he
told the Madison (Ala.) Weekly News
.
"
Ray Lewis
retired after winning the Super Bowl and I look to fill his slot," McClain told the newspaper. "No one can fill his shoes, but I can fill his slot. I just want to fill out the shoes of Rolando McClain. This is a perfect fit for me personally."
For the full story, click
here
.
August, 17, 2010
8/17/10
11:25
PM ET
ST. JOSEPH, Mo. -- While I'm visiting Chiefs camp, let's take some time to catch up on some evening headlines:
December, 28, 2008
12/28/08
7:41
PM ET
Posted by ESPN.com's Bill Williamson

Gonzalez
Tony Gonzalez had one of his most productive seasons in his 12th season with the Chiefs. Will it be his last there?
Thanks to the Chiefs' PR staff, here are some interesting statistical tidbits concerning Gonzalez. He had five catches and now has caught a pass in 131 straight games. It is the second longest streak for a tight end in NFL history behind Ozzie Newsome at 150 games.
Gonzalez had 96 catches in 2008, the third most in his career. He had 99 catches last season and 102 in 2004. His 195 catches in the past two seasons is the best two-year stretch of his career.
Will Gonzalez return to Kansas City in 2009? Gonzalez, 32, wanted to be traded in October and he said recently that he hasn't yet decided what he wants to do in the future. One thing is for sure, Gonzalez didn't go in the tank when he wasn't traded. Of his 96 catches, 75 came in the 11 games after the trade deadline,
Once again, Gonzalez proved to be a class act and a bright light in a 2-14 season for the Chiefs. If this was his last season in Kansas City, he went out strong.